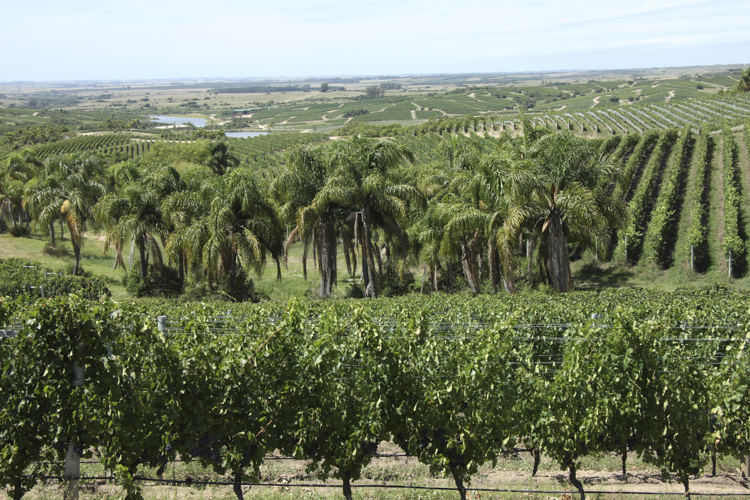 EN ROUTE THROUGH ATLANTIDA TO MALDONADO
Carrying on up the coast from Montevideo towards the region of Maldonado, the muddy brown waters of the immense estuary of the River Plate eventually gives way to the deep blue sea and crashing waves of the Atlantic Ocean, creating a unique climate for cultivating grapes. This is very much the promised land for new ventures, with intense new planting and the use of the latest cellar techniques, funded by serious investment from neighbouring South American countries rather than the sweat and toil of Italian immigrants. And while Tannat may still be the benchmark for quality, it is Portugal and Spain's white Albarino grape that flourishes the best in Maldonado's soil and climate.
The perfect place to begin a search for the roots of this region's wine heritage is Vinedo de los Vientos the historic winery of Pablo Fallabrino. This is genuine wine tourism, a face-to-face tasting with Pablo himself, a tour of his sustainable vineyard, and delicious dishes cooked by his wife, Mariana. The vineyard is located in Atlantida, officially still part of Canelones, but the salty winds whipping in from the Atlantic beaches, give hints of the character of Maldonado.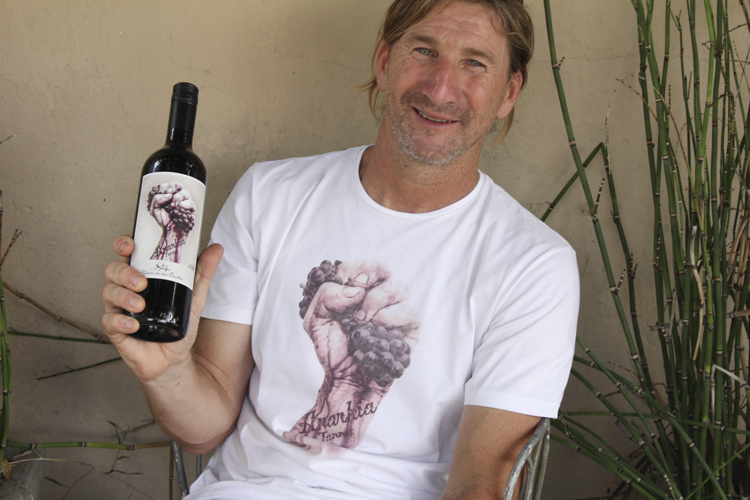 From the Italian winemaking region of Monferrato, Piedmonte, Pablo's grandfather arrived here a century ago in 1920. The family planted vines and built up one of Uruguay's biggest bulk wineries. When Pablo inherited the original 30 hectare family estate just by the coast he proceed to plant 12 hectares but with a weird and wonderful selection of grapes; Nebbiolo, Arneis, Barbera, Dolcetto. "These are Piedmont grapes," he exclaims, "planted as a hommage to my grandfather and because they grow perfectly in this part of Uruguay." Using no sulphites, natural yeasts, no fermentation and little maceration, Pablo explains that, "I am an anarchic winemaker, an outsider who never studied oenology. So I have no preconceptions, just making wine with the one essential element, the grapes." The results may not be for everyone, but they make for a sensational tasting session – Notos, a raw, vibrant Nebbiolo, with no ageing just immediate bottling, a bubbly PetNat blending Arneis and Chardonnay, Anarkia, a 100% Natural Tannat, unlike any other Tannat you will taste in Uruguay.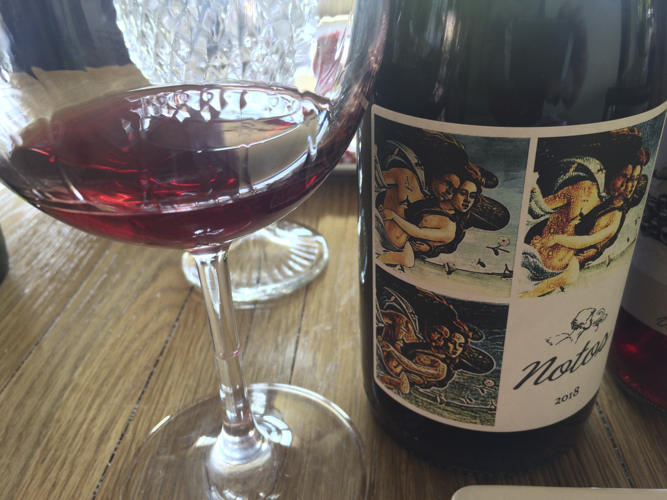 Pablo's neighbour is Bodega Bracco Bosca a small 11 hectare vineyard recently brought back to life by another 'figura' of the Uruguay wine scene, Fabiana Bracco. Wine influencer, promoter, publicist and media personality, Fabiana took over the family vineyard when her father passed away, and has rapidly transformed it into a niche boutique brand selling 70% of production overseas, to 18 different countries. Make the effort to visit and you discover an idyllic setting, rolling hills surrounded by swaying eucalyptus trees, the Laguna del Cisne eco-zone, and the Atlantic Ocean just ten minutes drive away. Her hipster cellar mixes modern technology with eye-catching street art murals, a rock&roll sommelier conducts tastings, and while the Petit Verdot is a delightful surprise, pride of place goes to the fruity, fresh Moscatel, another of Uruguay's signature grapes.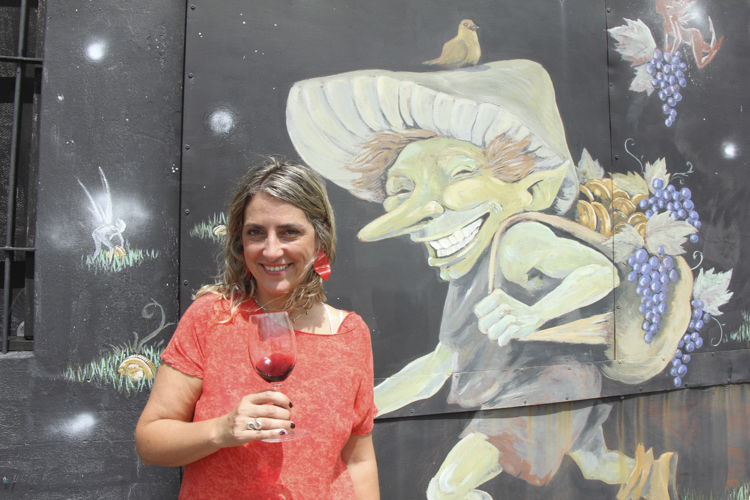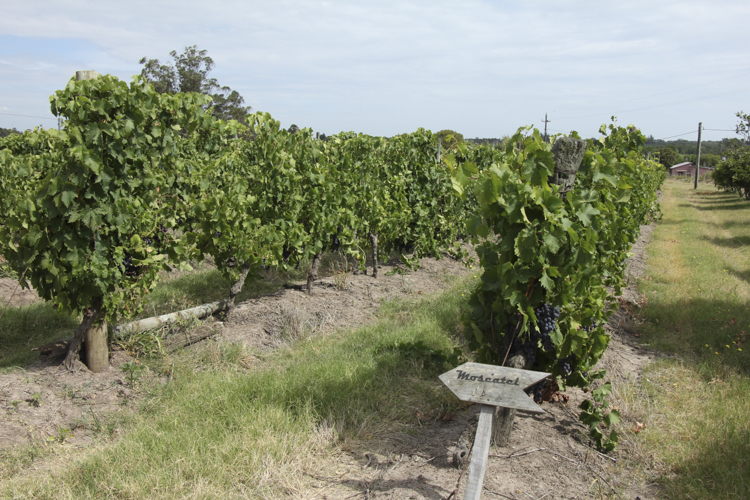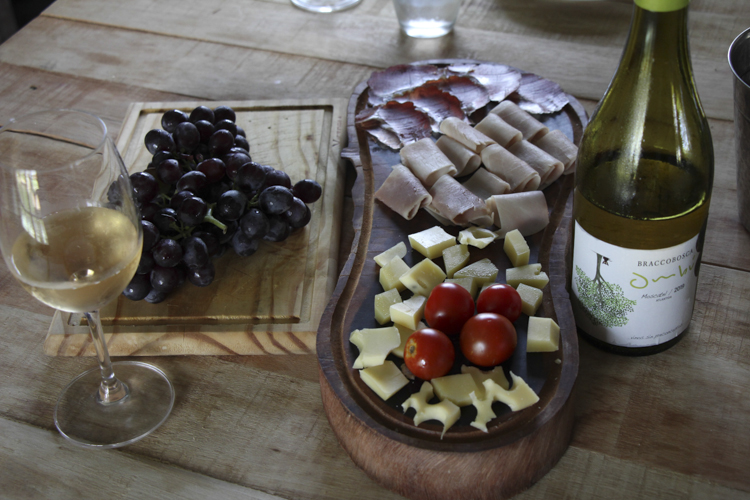 Nothing quite prepares you for the spectacular first view of Maldonado's latest and most revolutionary eco-friendly winery, Vina Eden. The rolling hills and plains of the pampas rise up steeply at the village of Pueblo Eden, and sitting atop Cerro Negro, an 800 foot rocky outcrop is a futuristic, almost surreal metal and glass winery. Rising up three levels to maximise the force of gravity during vinification, Vina Eden also features two wind turbines which provide power for the bodega and local village, while crisscrossed with the neat parcels of vines down below are graphic screens of solar energy panels. The huge investment for this groundbreaking project comes from Brazilian entrepreneur Mauricio Zlatkin. Innovation extends to the cellar too, where Tulip-shaped cement tanks for ageing, not coated as is usual with epoxy, dominate the winemaking process. And quality is high, with just 60,000 bottles produced each year from the7 hectares that have been planted since 2009. I tasted a surprising Pinot Noir rose, crisp and fruity, along with the smooth unoaked Tannat Cemento, but it is the zero-dosage Brut Nature Method Champenoise that stands out during a tasting.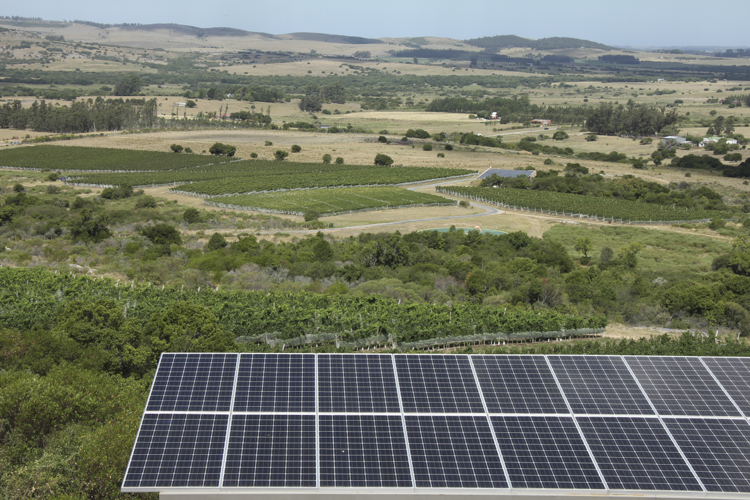 While Vina Eden is inland from Uruguay's famed glamour beach resort of Punta del Este, you need to go further up the coast as far as the latest fashionable seaside hideaway, Jose Ignacio, to discover another new creative and innovative winery, Bodega Oceanica Jose Ignacio, a project that encompasses art and architecture as much as wine. Marcelo and Natalia Conserva made a second start to their lives after successful business careers to build a dramatic rusty-red metallic gravity-led cellar, commissioned immense sculptures by local Uruguayan artists for both their vineyards and olive groves, while even the wine boxes are collage-like works of art. 22 of their 30 hectare property produces award-winning olive oil, while the 7 hectares of vines are predominantly Albarino and Pinot Noir. Their multinational Flying Winemaker, Hans Vinding Diers, is based in Patagonia, and while supervising the 2020 harvest, tells me that, "we are making clean, precise wines that speak of this unique ocean terroir – easy to drink, not needing to be aged, with a saline, maritime character."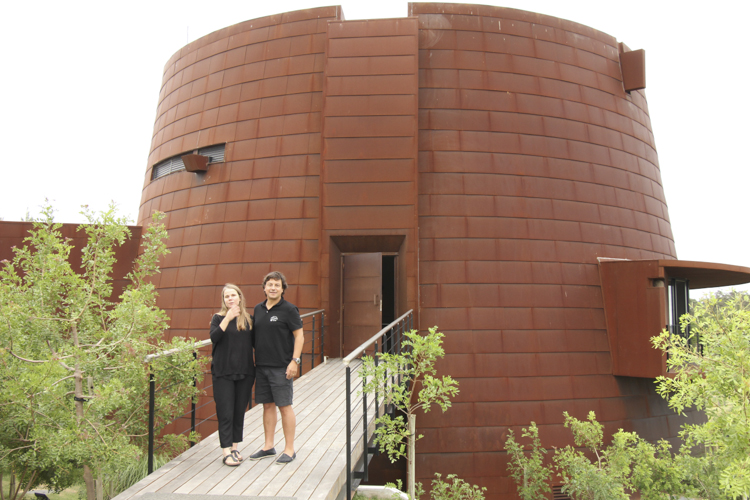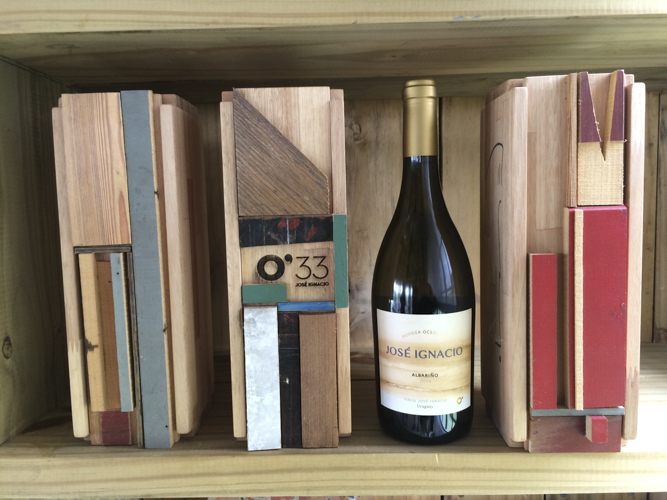 The winery that defines Maldonado and for many defines modern Uruguay winemaking is Bodega Garzon. It is certainly a unique state-of-the-art project that has already been elected top winery in South America. While the two driving forces creating and inspiring Garzon wines are Uruguayan – agronomist Eduardo Felix and cellar manager German Bruzzone – the financing and unique concept of Garzon comes from Argentinian, Alejandro Bulgheroni , who owns 15 wineries across the globe, from Mendoza and Napa to Bordeaux and Tuscany. Garzon was a dusty rural pueblo before he invested in 1,000 hectares, recognising the tremendous potential of Maldonado to produce high quality wines. It is no coincidence that the rolling vine-clad hills are known as Uruguay's Tuscany, and the 240 hectare vineyard he has planted so far already produce some 2 million bottles. I follow Eduardo round the vineyrad as he scuttles between tiny parcels of immaculate vines, sipping Uruguay's other favourite drink, Mate, from his metallic mug, vacuum flask wedged in his elbow. He was the winemaker who first planted Albarino in Uruguay, and is rightly proud of their Petit Clos Albarino, harvested at night, fermented in cement tanks then aged in a unique cigar-shaped Vicard barrel. An exceptional wine.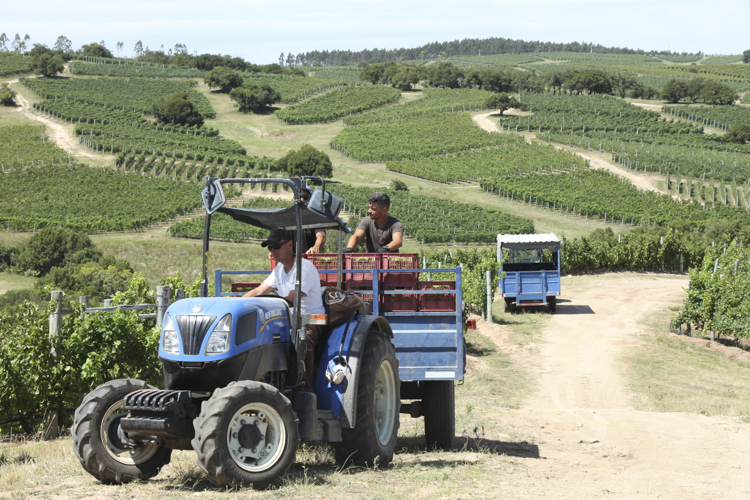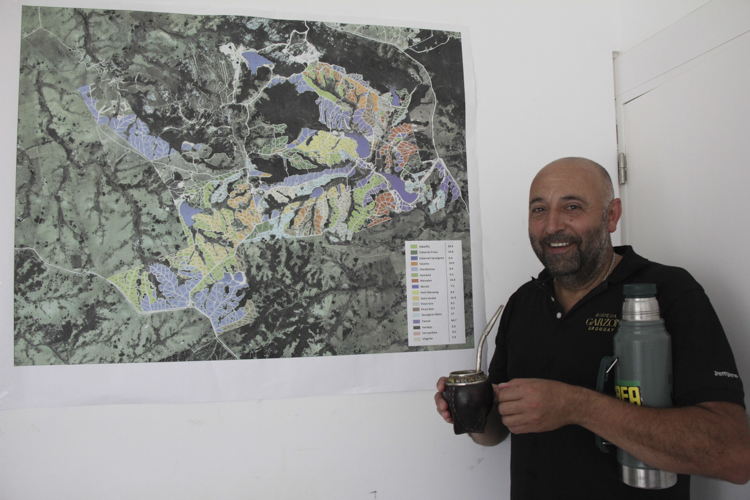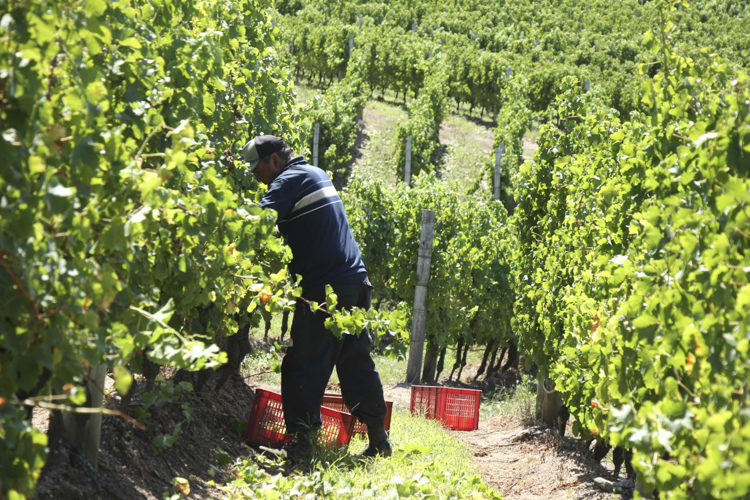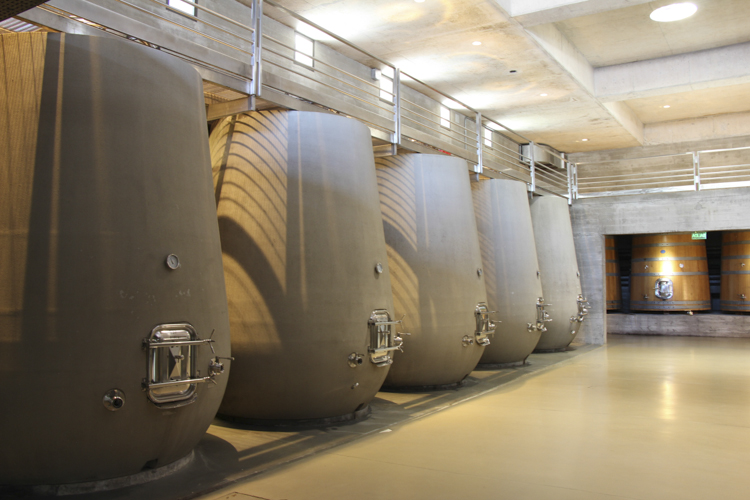 Winelovers can easily spend a whole day enjoying Bodega Garzon, from hiking and picnicking in the vineyards, creating your own blend with an oenologist or a cooking lesson with the Bodega's gourmet restaurant chef, Ricki Motta. The cuisine here is under the watchful eye of Argentina's world renowned chef, Francis Mallmann, who has his own restaurant and hotel in Garzon village. My last memory of this Uruguay wine trip was a memorable wine pairing lunch looking out over the vineyard with my Garzon and Inavi hosts. Wonderful wines, delicious food, great company – every reason to plan a return trip as soon as the world returns to some kind of post-Covid normality.