INTRODUCTION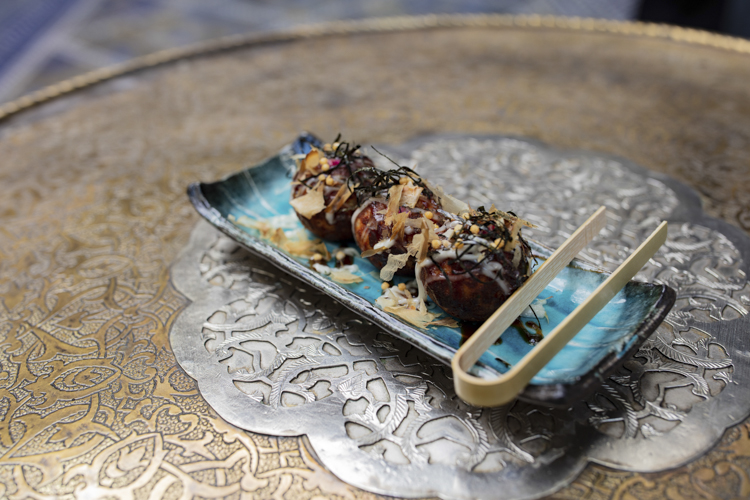 Marrakech ranks as one of the world's ultimate foodie destinations, be it sitting down for a gourmet tasting menu in a sumptuous palace hotel, whose haute-cuisine restaurants are invariably overseen by an international  celebrity chef, or feasting off traditional Moroccan specialties cooked up at the hundreds of tantalising stalls around the ancient Medina's immense Jemaa El-Fna square. But the line between fine dining and street food has become blurred for some time now, especially during this new era of pandemic travel when time almost seems to stand still. It is the perfect moment for reflection, to step back and ask the question; what kind of gastronomy will travellers be looking for in this new uncertain world? In Paris, London and New York, food lovers are now used to ordering simple Click&Collect meals prepared by the restaurants of stellar gourmet chefs.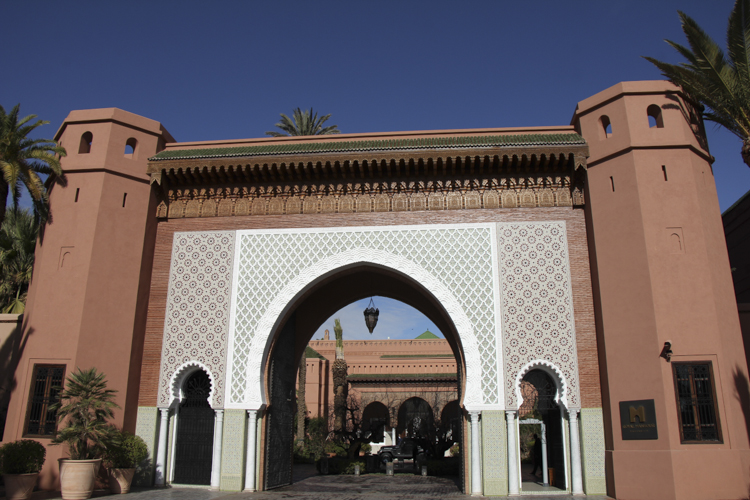 Here in Marrakech, it is the city's most prestigious, most luxurious address, the Royal Mansour, that has launched a pioneering initiative. The Food Lab is a unique competition, throwing down the gauntlet to the hotel's predominantly local Moroccan kitchen staff to create exciting new dishes from a melting pot of local and global food trends.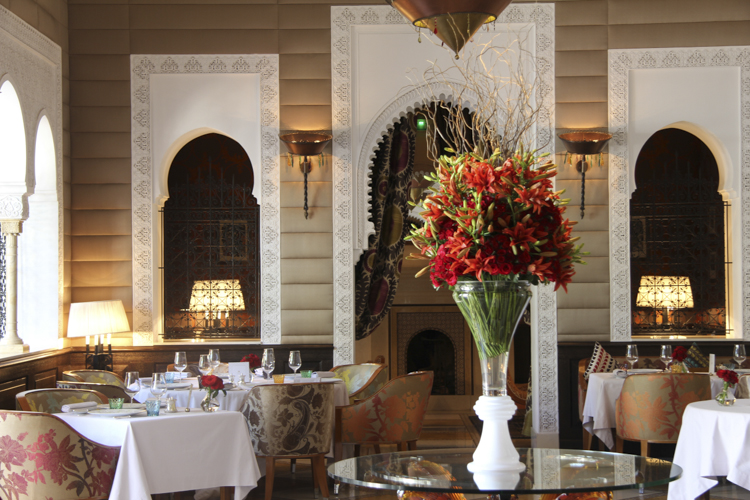 The 100-strong brigade of the Royal Mansour already work under the supervision and inspiration of two of the world's most renowned Three Star Michelin chefs, Yannick Alleno from France and Italy's Massimiliano Alajmo. But the hotel's innovative director, Jean-Claude Messant, admits that, 'there is a challenge to keep staff motivated, creative and busy during a pandemic.' His solution is the Food Lab, an unconventional competition open to everyone working in the kitchens, calling for recipes with 'freshness, colour, taste, pleasure, audacity', with the ultimate prize of the top three dishes being featured on the hotel's menu. He explains how, 'it was essential to demand creativity, to ask everyone to think out of the box, beyond the constraints of classic Escoffier-style training, instead taking inspiration from World Food and Street Food, where you maybe only need to spend 15 minutes perfecting a dish rather a meticulous 8 hours.' And this really seems the right time to offer something different for discerning diners. Monsieur Messant is adamant that, 'the new generation of food-loving traveller just wants to eat well. That is all. The crucial word is now 'gourmand' – tasty – and no longer gourmet or gastronomic. He wants to be tempted by Chinese and Indian dishes, raw fish prepared Japanese or Peruvian style, Middle Eastern vegetarian, exotic takes on pizza; to be surprised by new tastes, new spices, new ingredients. That is the challenge we laid down in the Food Lab, and the response and results have been simply sensational.'
A total of 28 kitchen teams worked the best part of a month during the quieter moment of lockdown, creating 56 cosmopolitan, eclectic dishes for the 6-man jury of the Food Lab. Revisiting the food heritage of the likes of Mexico and Vietnam, Senegal and India, Zanzibar and Japan, then adding in a certain Moroccan touch, it is difficult to imagine many of these trainee chefs had not even travelled outside the Morocco. But the competition gave them the freedom for a virtual global foodie tour to seek inspiration.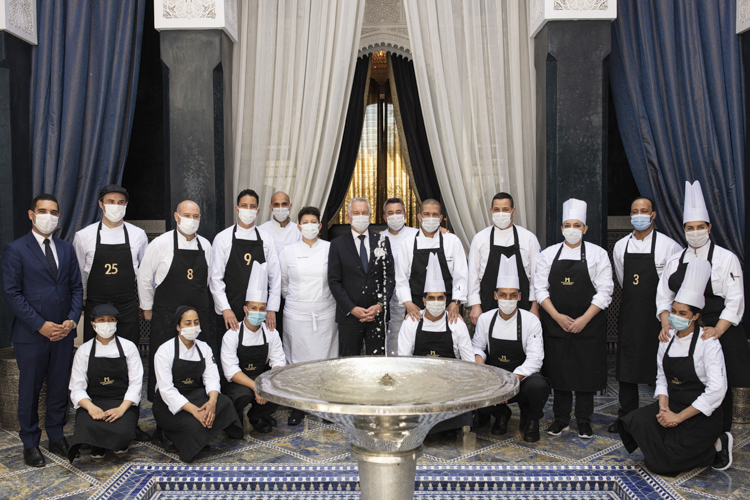 Below, discover the stories of ten tastes of the competition. The first three will soon be enjoyed by guests at the Royal Mansour, but all the Food Lab's dazzling dishes merit applause.
TOP TEN DISHES
Bành Xéo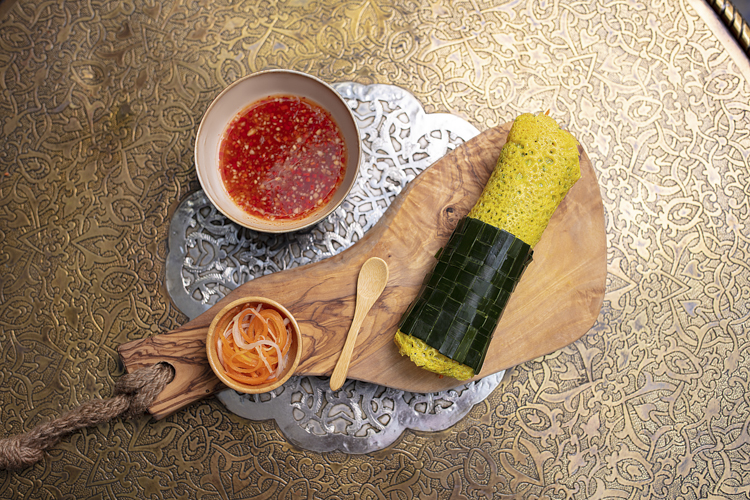 You find many French influences in Vietnamese street food, dating back to the  colonial days of Indochine, with surprising local favourites like a baguette stuffed with luncheon meat, Banh Flan crème caramel, and Bành Xéo, the local take on crepes. Zahira Lasri and and Mariam Hammoudi, are experienced chefs, currently in Massimiliano Alajmo's Italian-influenced Sesamo restaurant, and have worked together in many of the Royal Mansour's restaurants since they arrived direct  from Marrakech's Ecole de Cuisine.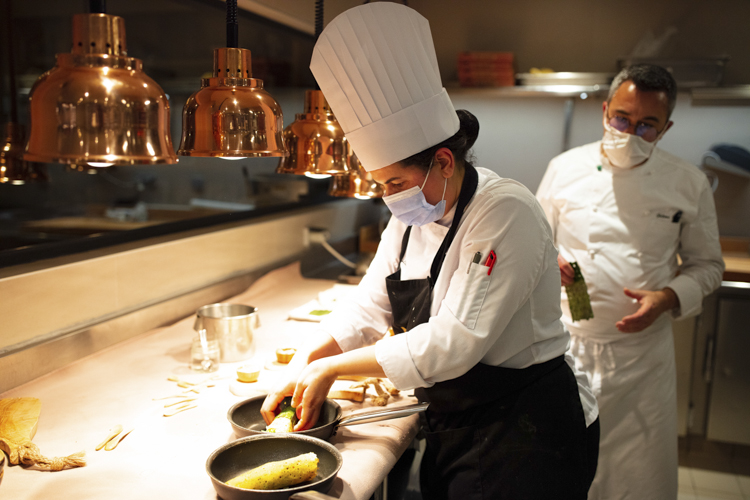 Zahira has travelled to Italy for training in Alajmo's Three Star Michelin restaurant just outside Venice, while Mariam has visited France to test the cuisine there. 'But we both really love Asian cuisine, even if we have never been there,' says Zahira with a smile, 'and Bành Xéo sounded like something different, interesting to taste and also a good dish for people with lactose problems. Rather than classic French crepes, ours are crispy rice pancakes which we fill with plump shrimp, soya shoots, pickles and herbs. For the guests of a hotel like the Royal Mansour, presentation is critical, and for that we were inspired by our local market where rural women come in to sell Jben, every Moroccan's favourite creamy fresh cheese delicately wrapped in palm leaves, that looks so good you are desperate to eat it!'. Not content with creating one dish, this adventurous pair also proposed Tokoyaki, delicious octopus balls flavoured with spring onion, ginger and a fragrant sweet sauce, which will also find its place on one of the hotel's restaurant menus.
Pani Puri
The uncontested star of Indian street food are the delicious snacks known as Pani Puri. Round, hollowed-out balls of deep-fried, crisp dough are filled with a mysterious savoury mix, with each street vendor proudly guarding his own secret recipe to attract loyal customers.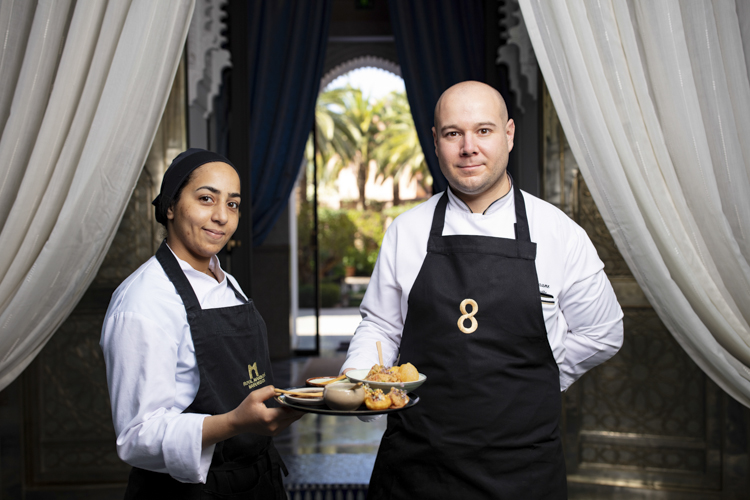 Quite a challenge to recreate this for one of the Royal Mansour's dining rooms, but one that caught the imagination of Frenchman Guillaume Laratte and Moroccan Meriem Inaam. Guillaume has experience of working with not just the Royal Mansour's Yannick Alléno, but Three Star Michelin chefs Alain Ducasse and Gordon Ramsey in Paris, London and New York. 'But I have never travelled to India,' he admits, 'and my chef friends are always talking about the amazing cuisine there. So the Food Lab was to occasion to try something new. Although Pani Puri is essentially street food we wanted to create a version that could be served in the hotel, so it needed to be elegant and appetising.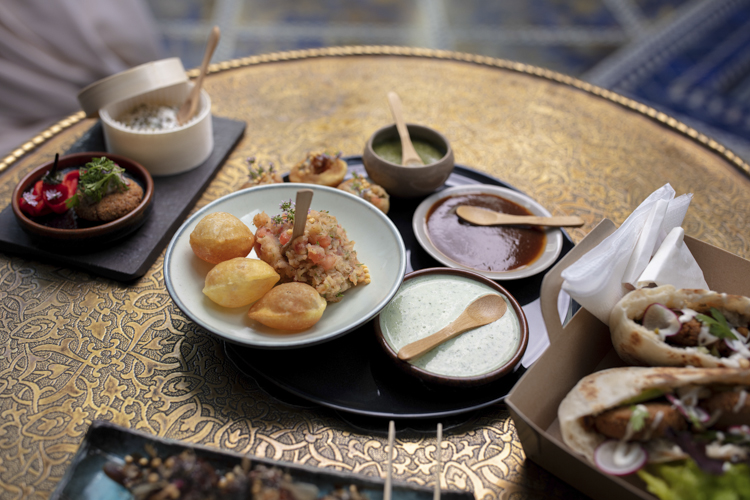 We decided to resist the allure of chili and instead created 3 dipping sauces for the deep-fried bread balls – tamarind, minty yogurt and coriander sweetened with palm sugar.'
Falafel Sandwich
Jaouad Boulaayat is joint Chef de Cuisine of the Royal Mansour's prestigious Grande Table Marocaine, one of the country's leading restaurants dedicated to Moroccan gastronomy. But his first working experience was in one of Marrakech's Lebanese restaurants, where he discovered the subtle recipes of Levantine cuisine, inspiring him for the Food Lab to transform an iconic mezze into a surprising Falafel Sandwich.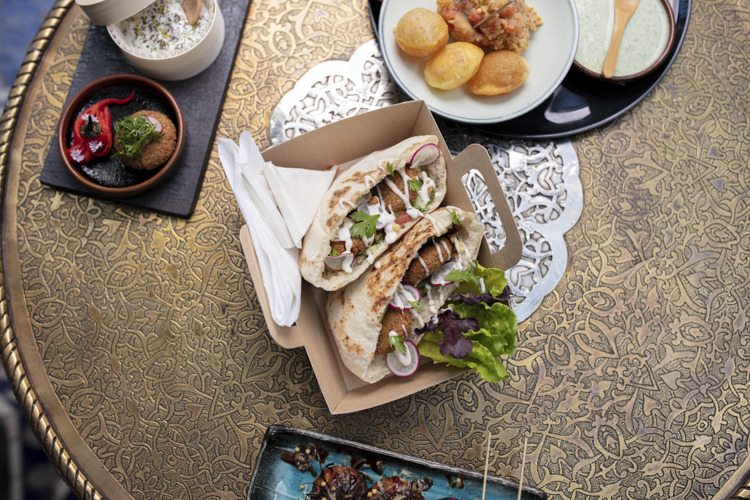 'I have always been excited and intrigued by any kind of Oriental cuisine,' recounts Chef Jaouad, 'and this dish combines the flavour and heritage of Lebanon's iconic falafel with our traditional Moroccan batbout bread, accompanied by the Middle Eastern flavours of babaganoush and tahini, grilled pine nuts, and garlicky tzatziki to awaken the palate.' Assisted by Mohamed Ben Doudou, a young Demi Chef de Partie in Room Service, who has worked with Jaouad since he was a trainee, the pair explain how 'we both jumped at the challenge of this competition, firstly to share our own experiences and ideas, and also in the hope that if our dish becomes part of the hotel's menu, that may give us the chance to travel overseas to both show other people our Moroccan cuisine and discover new ideas and influences.'
Pho Gà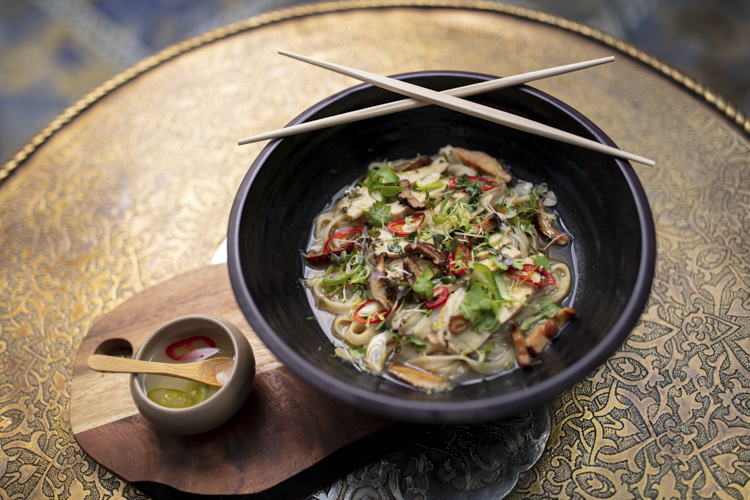 When it comes to tempting Comfort Food nothing quite compares to a nourishing dish of chicken noodle soup, known in Vietnamese cuisine as Pho Gà. You will see rickety stalls on every street corner from Hanoi to Saigon, with a pot of bubbling chicken broth balancing atop a red-hot charcoal brazier, ladled into a bowl brimming with delicate rice noodles, fragrant herbs and spices. Customers usually perch on tiny pavement stools, but it will be very different when Abdelhadi Mamri and Fatima Khabir's version of Pho Gà is served in the Royal Mansour's chic Le Jardin restaurant. Abdelhadi has the important position of overseeing the preparation of meals for the Royal Mansour's staff. 'I love Asian food,' he enthuses, 'even cooking it at home. Fatima and I found the recipe for Pho Gà in the hotel's library but decided to adapt it for Morocco. The base is still an 8 hour slow-cooked chicken broth, with shitake mushrooms, cabbage and rice noodles. But for the spices, apart from the Asian ingredients of basil, mint, ginger and lemongrass, we add in Moroccan cardamon, star anise, coriander seeds, cinnamon and cloves. Well, not only did my family love it, but the Food Lab jury approved too, so we are very proud.
Tostones Rellenos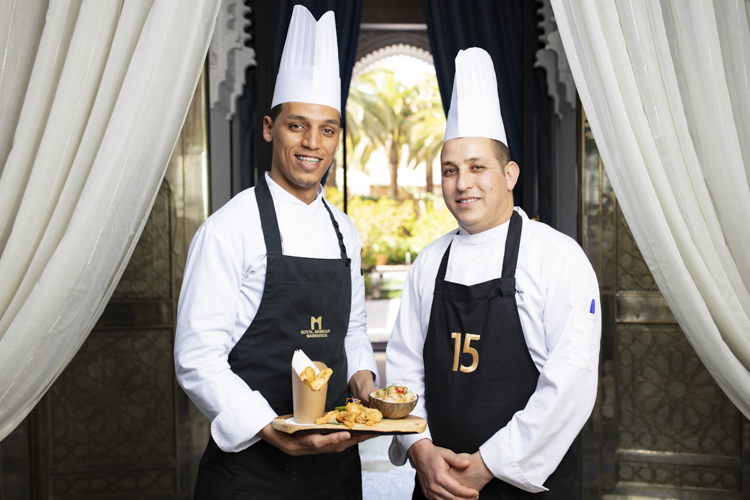 While many of the 56 members of the Royal Mansour's kitchen brigade who took part in the Food Lab competition found inspiration in the virtual world of global cuisine on show on the internet, Chef Amine Abdelai has worked here since the day the hotel opened and is more old-school in his methods. 'Our Executive chef, Jerôme Videau, has the most amazing collection of cook books from around the world, ' he enthuses, 'a real library where I love to come to seek inspiration for new recipes.' Amine is aided and assisted by Abderrazak Anzaoui, who is just starting out as a young Commis straight our of college, and the two have both travelled extensively around their native Morocco. 'We love the varieties and uniqueness of our regional cuisine,' they declare, 'so for this project we chose the country of Mexico for inspiration because it also has many regional specialities. We took a traditional recipe from there and revisited in with our Moroccan touch to add freshness, gourmandise, tastiness and simplicity. This meant adding in coconut milk, marinating with lime and using espelette, a less forceful chilly than Mexican ones, and to substitute local green bananas for Latin American plantains. To be one of the three winners is a great honour, and who knows, when the world finally goes back to some kind of normality, one day the Royal Mansour might send the two of us to Mexico to look for ideas for new recipes!'
Ice Cream Pastilla
Aziz Bouzkri and Soukaina At Said both work in the pâtisserie section of the Royal Mansour, essentially catering for room service right now while travel restrictions continue.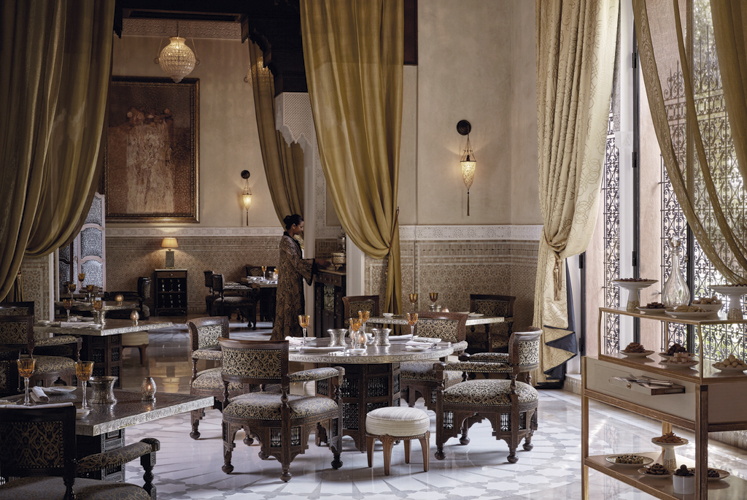 'Before confinement,' relates Aziz, 'I worked in the Grande Table Marocaine preparing traditional Moroccan desserts, and for the competition I wanted to try something different, combining the use of our traditional flaky pastilla pastry with the freshness of homemade ice-cream.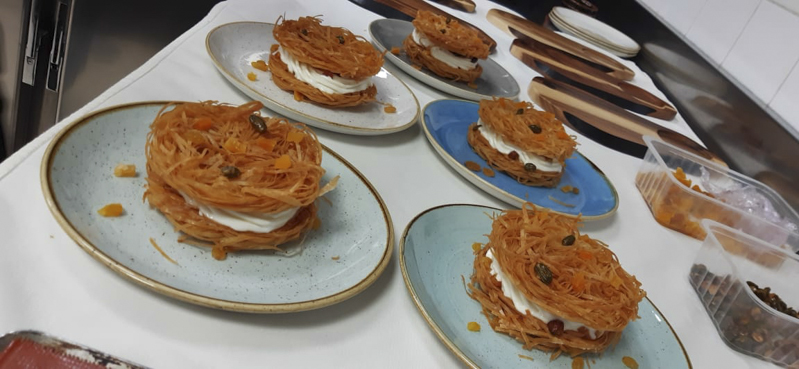 Rather than use classic vanilla flavour, we opted for a neutral milk ice-cream to let our ingredients come to the fore; dried apricots and raisins, almonds.' Soukaina adds with a satisfied smile that, 'we worked together for a month to come up with the dish, and although in the kitchen we always have to have total respect for hygiene regulations and social distancing, I think for the whole time we actually managed to forget about the pandemic, the lockdowns, and just concentrate on such an exciting, creative project.'
Sucrine Salad with Ketiakh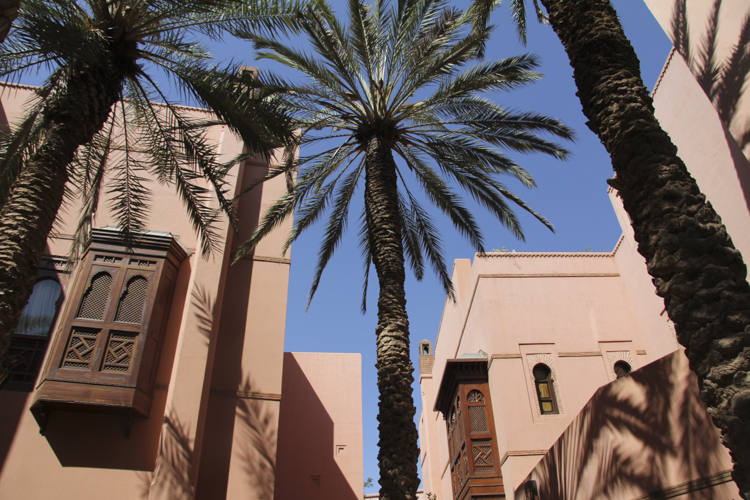 Karim Ben Baba and Mouna Al Yachiri travelled far to find the inspiration for their Food Lab dish, across to the West coast of Africa, where ketiakh is a treasured ingredient in the cuisine of Senegal. 'I am very interested in the principles of natural, sustainable conservation,' recalls Karim, 'and when a Senegalese friend told me about ketiakh, preserved sardines or anchovies, I wanted to create a dish using them.' The idea of leaving fish to dry in the sun, to rot almost, was created by the Romans with their Garum anchovy sauce, and it is the same principle used today in Senegal where ketiakh is a staple ingredient with rice and sago. Karim and Mouna were enchanted by the empathy of this dish – the connection between the fisherman who catches the sardines for his wife, whereby she salts and sun dries them, he debones and cleans them, and then she prepares the dish.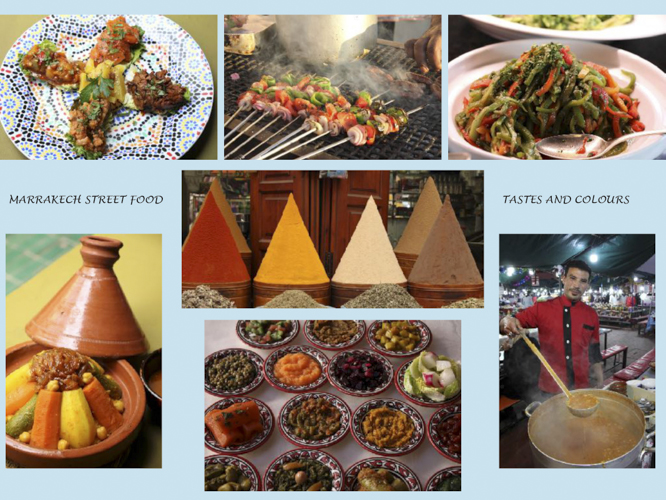 'But we decided to revisit the ingredient by creating a light, fresh dish, using crispy sucrine salad, locally-caught sardines, and a touch of Morocco with orange, persimmon and cinnamon.'
Croustillette Savoyarde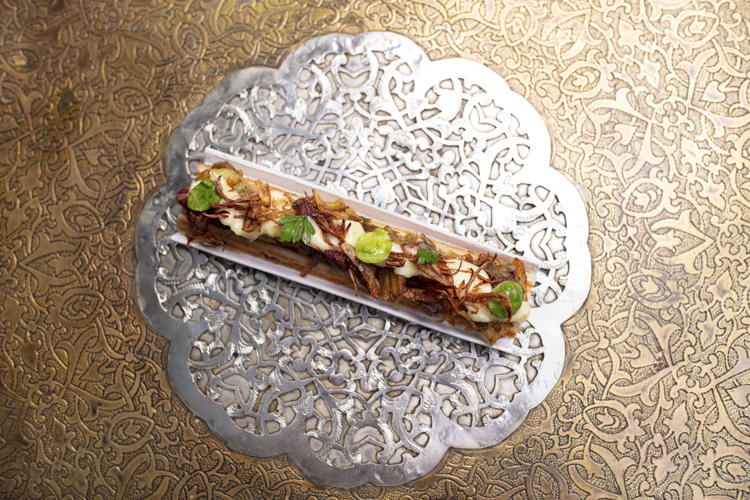 Romain Correze arrived at the Royal Mansour from France just before the pandemic started. Though he may not have seen much of Marrakech, life in the kitchens has been busy, testing new creations, where he and Chaima Mouharare both work as pastry chefs.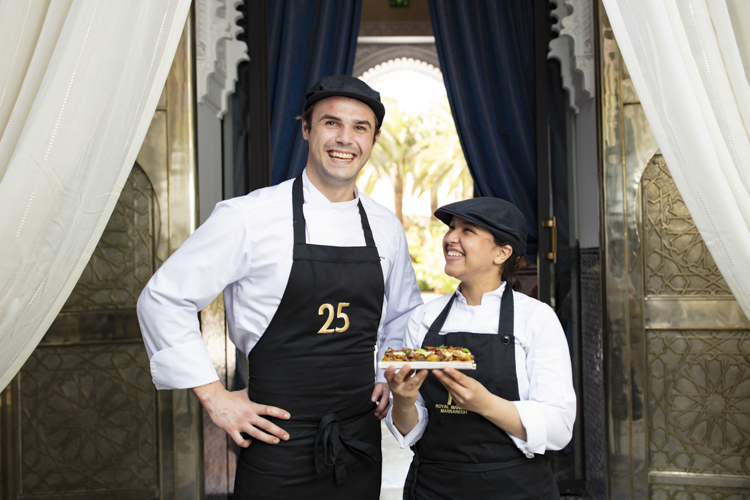 They made the conscious decision to propose something completely different than their speciality pâtisseries. 'I have no experience of street food,' admits Romain, 'and am not even from the Alps in Savoie where our recipe comes from. But we wanted to experiment. Under the hot sun of Marrakech, it was a gamble to propose such a hearty, wintery dish, but everyone seems to like it. Although there are several key ingredients, in the street food spirit, everything can be put together quickly, as long as everything is perfectly prepared; a thin crispy puff pastry bread is filled with sautéed and puréed potatoes, tasty onion jam, smoked beef bacon, fried shallots and creamy melted Reblochon cheese. We thought about adapting the recipe for sweet ingredients, our speciality, but this tastes too delicious!'
Steamed Nori Fish East-West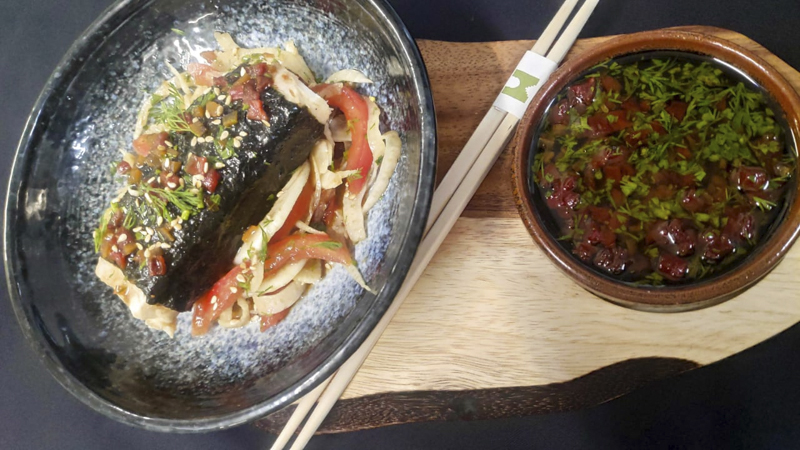 The culinary heritage of Japan has been inspiring for many of the Food Lab recipes, but chefs Youssef Ait Belkas and Ali Timouni went one step further by combining the fresh, line-caught fish from the coast of Morocco with Japan's emblematic nori seaweed that has become a global trend for chefs searching to recreate the elusive deliciousness of 'umami' flavour. Youssef recalls that he had never even heard of nori before working in the Royal Mansour's kitchens, 'and it is an ingredient that can add a totally new dimension to this recipe where we unite two of the great cultures of cuisine, Morocco and Japan.' Their dish creates an osmosis between local seabass, the West, and flakes of nori seaweed from the East. 'The best, simplest way to eat fish is steamed,' explains Youssef, 'so the seabass is wrapped in nori leaves, but from Marrakech's market, we add in lemon confit for acidity and sundried tomatoes for freshness.'
Waffles with Spices
Belgian cuisine has long lived in the shadow of French gastronomy, but it is responsible for giving the world several of its favourite dishes; crispy, irresistible frites, delicious steamed mussels, 'moules marinières', while the humble waffle, 'gaufre', has been turned into an art form by Belgian chefs.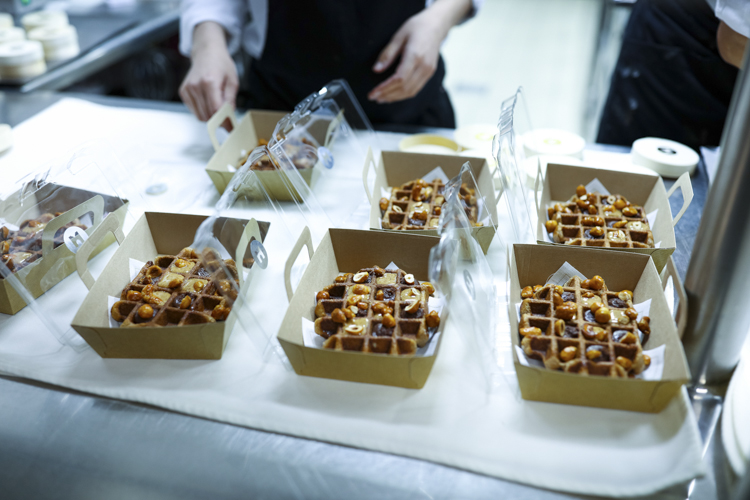 Jaouad Oualadi, assistant Chef Pâtisserie for all the Royal Mansour's restaurants, along with Lamya El Jazy, a specialist in Moroccan pastries, decided to relook the waffle for the Food Lab competition, explaining that, 'Belgian waffles are already a popular street food here in Marrakech but we wanted to recreate the traditional recipe from Liège. Their technique involves using a brioche dough instead of a liquid batter, creating two different doughs, one a classic chocolate base, the other totally Moroccan, a smooth praline using local almonds and Argan oil. 'I think this will surprise foodlovers,' says Jaouad, 'when they see what looks like a traditional waffle which then surprises with the flavours of Marrakech.'