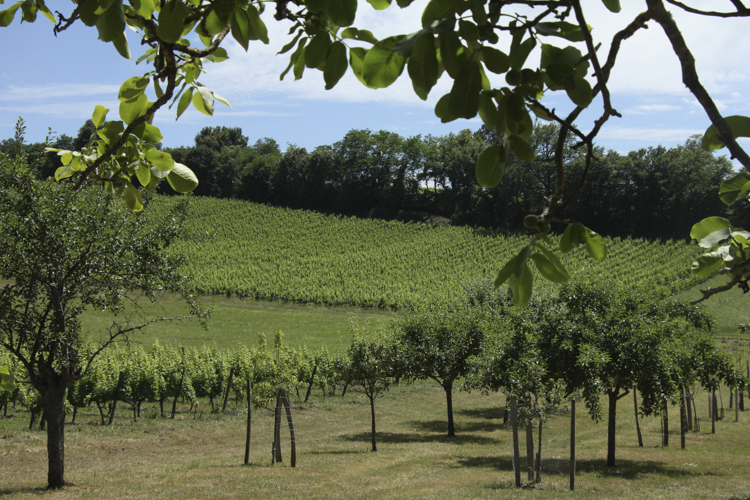 Introduction
Many winemakers in Bordeaux are examining possibilities of how to go further in sustainable cultivation in their vineyards. And the answer increasingly seems to lie in the philosophy of agroforestry, bringing trees, shrubs and hedges closer together again to the vine, a bold step to look beyond a grape monoculture that for so long has dominated the landscapes of the world's wine producing regions.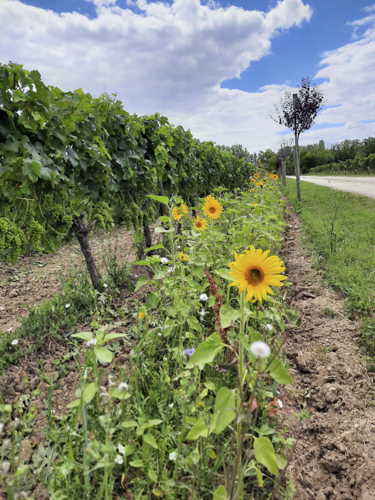 This really is a new evolution, transforming a vineyard by planting fruit trees alongside a line of vines, surrounding different parcels of the vineyard with hedgerows to protect the grape, position flowering shrubs and bushes imbetween two vines to attract a new a vibrant biodiversity of insects, birds, bees and even nature's alternative to chemical pesticides, the predatory bat.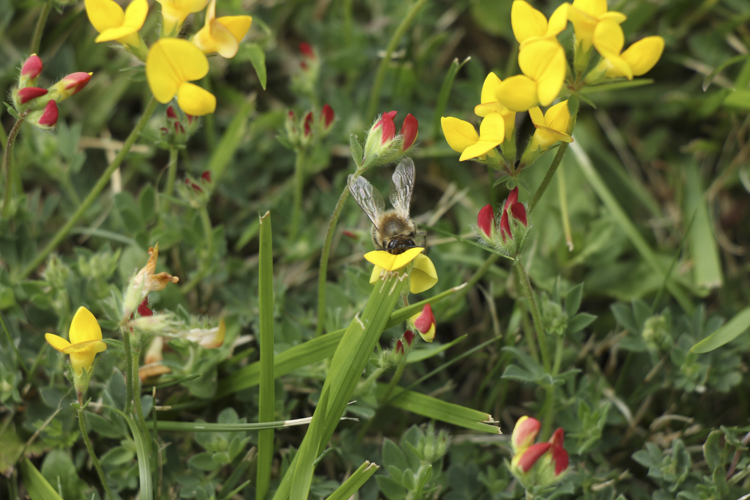 This return to an environment of active agro-ecology, with cereals planted in the vineyard, weeds left to grow wild, the ground no longer disturbed by mechanical ploughing, can all contribute to an energetic regeneration of the soil while fortifying the vine at the same time. This new agriculture ecosystem can induce a lower carbon imprint, create microclimates that combat global warming, and encourage biodiversity.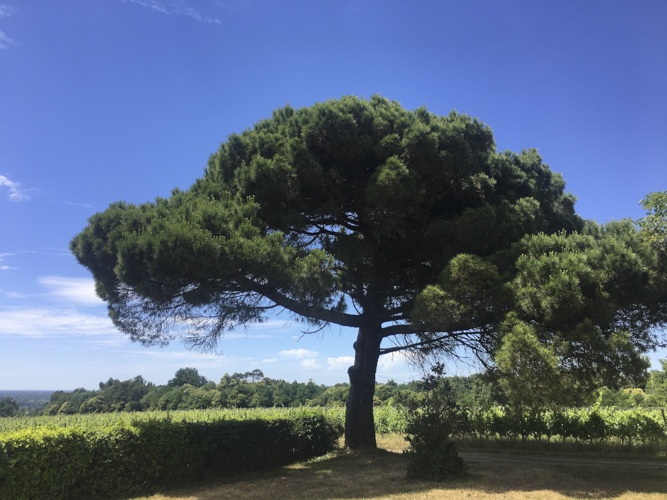 How does it then effect the quality of the wine? Well these are early days, but below are some of the pioneering agroforestry Bordeaux vignerons to both visit and see the dramatic visual impact on the landscape and then enjoy a tasting of their wines.
A narrow country road leads through fields and vineyards and it is only when you turn off into the drive of Château d'Esther that you see the bank of the mighty Dordogne river. The front garden is filled with camper vans, people sitting outside enjoying an alfresco breakfast while chickens run wild.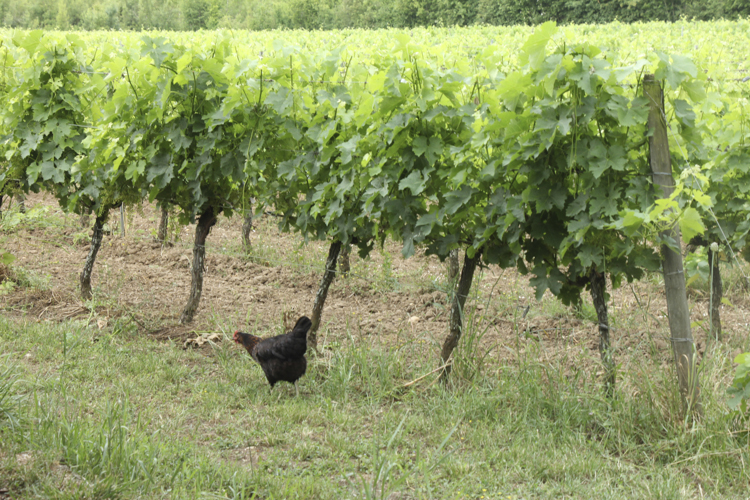 This small 5 hectare vineyard is the perfect place to begin to understand just what agroforestry is all about. Thomas Bastian and his wife Eva, purchased the estate in 2001, completely changing career but with very firm ideas and ambitions on how they wanted to run their property. "When we bought the domaine everything was in ruins. Since then we replanted 70% of the vineyard and purchased an extra 7 hectares, where we have no intention of extending the monoculture of grapes. When we began, no one used the term agroforestry, but what shocked me was I found there was no life left in and around the vine, and we have spent 20 years trying to change that. So apart from immediately implementing both organic and biodynamic cultivation, we started planting trees, hedgerows and cereals. Between each line of vines we plant sunflower and buckwheat, not for commercial reasons, as we do not even harvest, but to bring life back to the soil. There are 250 fruit trees in the midst of the vineyard, along with hedges surrounding each side.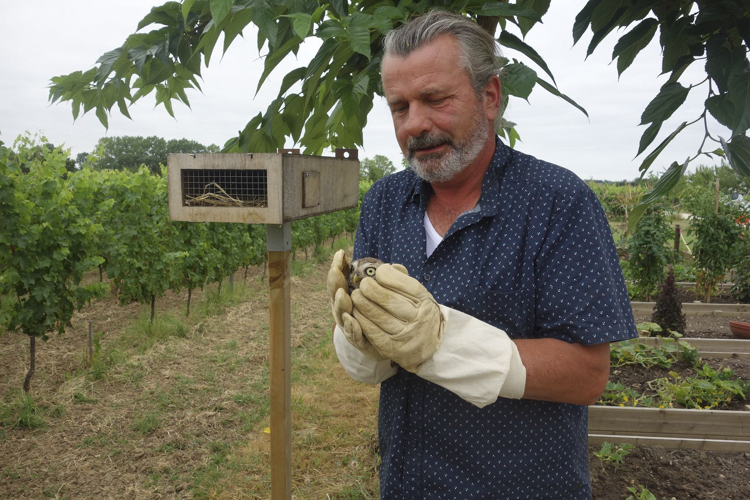 And finally we have placed 170 wooden birds nests inside the vineyard." When asked what is the point of all this he replies immediately that, "I have a common thread that determines everything I do; to encourage a renaissance of life. And I am talking about general 'floraison', flowering, rather than the grape to make wine. Everything begins with insects and then birds, beginning from January to March when the shrubbery and hedges are in flower. Once these blooms die the insects need something else for nutrition and move on to the fruit trees which are in flower from mid March to mid June. So there is a migration from the hedge to the tree and that is when the birds arrive. They nest in the tree boxes we have placed, start their families and nourish them with insects. Then, when the fruit season is over it is the cereals planted imbetween the vines that continues this cycle of 'floraison'. And of course it also attracts bees to pollinate, owls and bats, both useful predators. So finally we achieve a year-long 'équilibre', a natural balance, which ends with the maturation of the grape on the vine and then the harvest. What does this équilibre bring to me, the winemaker? The answer comes from our customers who tell us that our wines give a certain joy that they cannot find elsewhere. That is enough for me."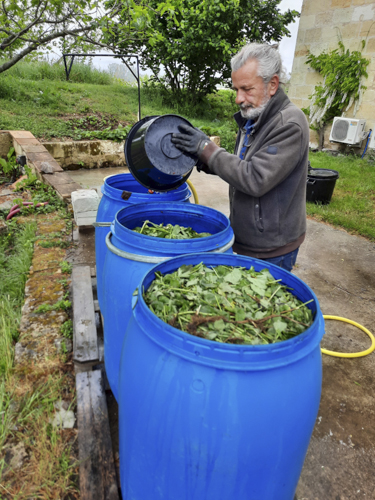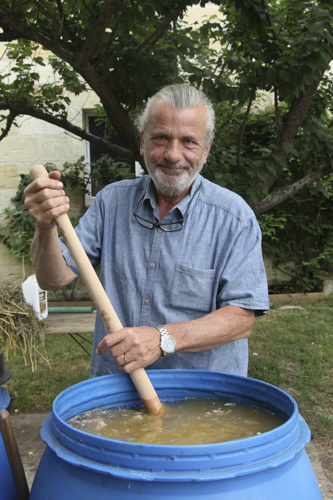 And his work does not stop here, as Thomas and his team are forever picking up dead leaves and plants to make alchemy-like infusions to fortify the vine every two weeks.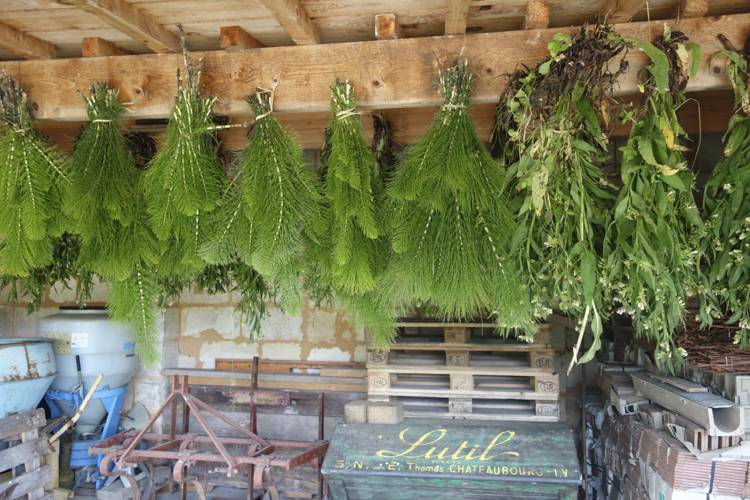 In fact, the back of the garden resembles a sorcerer's laboratory, with bunches of leaves drying beneath the eaves and huge blue plastic vats filled with the leaves soaking in water, slowly brewing like tea.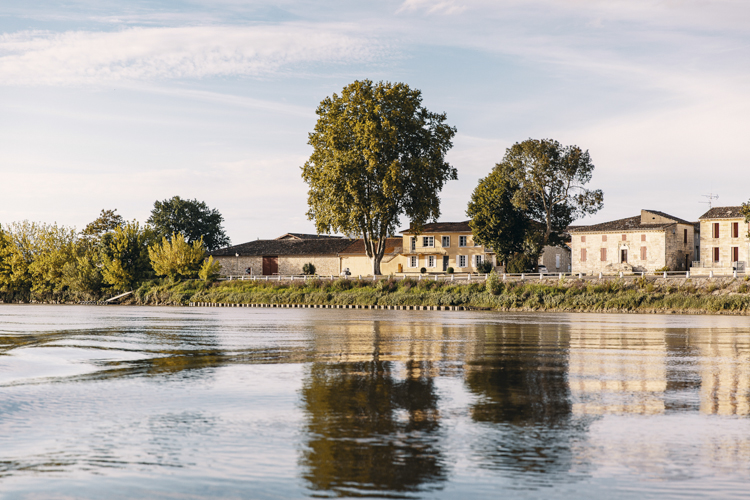 Arriving at the cellars of Vignobles Bardet is quite breathtaking as it sits on an ancient quayside overlooking a dramatic bend in the fast-flowing waters of the Dordogne river. As he sits on the waters edge looking across at a shifting sand island, Philippe Bardet nostalgically explains his family's long attachment both to the water and the vine. "You have to imagine that up to the 19th century there was a bustling port right here, specialised in the water transportation of wine as far as England. My family were vignerons, wine merchants and 'gabares', running sailing boats along the river and out to sea. But it was a world that was turned upside down by the arrival of train transport, and since then we concentrate solely on producing wine on our 50 hectare Saint-Émilion estates."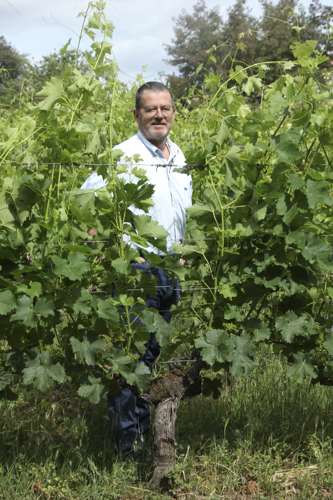 Rather than going the route of certified organic cultivation, Philippe engages in what he calls agro-ecology, and is the founder of Bordeaux's SME, a collective of over 1,000 likeminded vignerons. "In 1998 I started planting hedgerows to bring back biodiversity. For sure, for the first few years the vineyard looks terrible, yields diminish, but you just need patience. I don't use compost, peat or chemical fertiliser, creating a healthy vineyard where soil is alive, regenerating itself, while the vines are even more resistant to the effects of global warming. And for the last 2 years I have stopped ploughing the soil to protect the biodiversity, though I have not followed the agroforestry trend of planting fruit trees. But this year is the first ever that we will be digging up certain parcels of vines, and instead of replanting the same monoculture we will replace the vine with bushes and trees."
Sitting in the heart of the prestigious Lalande-de-Pomerol Appellation, Château des Annereaux is pioneer of sustainable, responsible winemaking.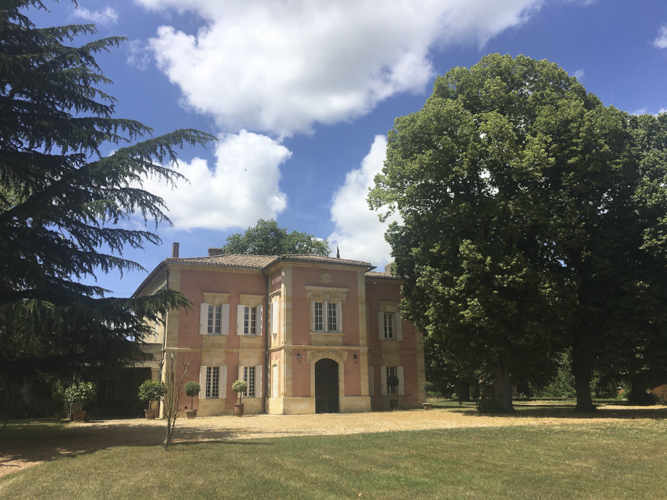 A single vineyard covering 23 hectares, this château has been owned by the same extended family for some 600 years. Benjamin Hessel represents the present generation, a dynamic, pensive young winemaker who took over from his father, Dominique, who converted the estate to organic cultivation back in 2007. Benjamin though intends going further, insisting that "organic agriculture is just a first step because a vineyard monoculture is not enough on its own. For a genuine balance the vineyard must be surrounded by a genuine biodiversity, and I would call my philosophy agro-ecology."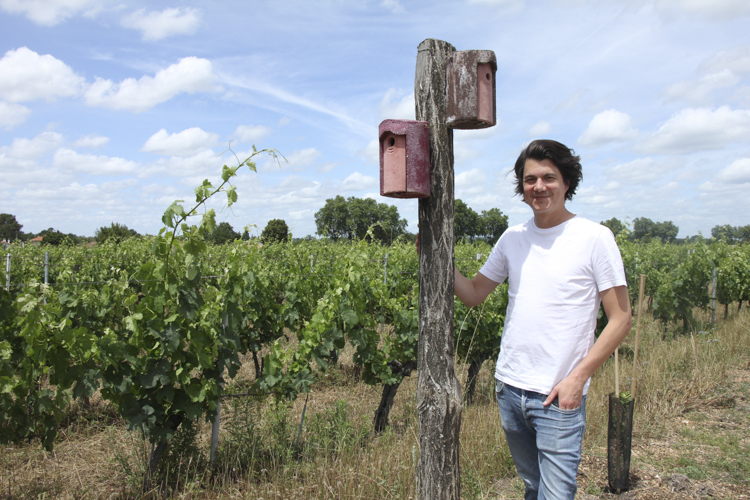 Benjamin is planting over 1.5 kilometres of new hedgerows, putting up wooden boxes imbetween the vines to provide a habitat for birds and bats, while cereals and vegetables are planted between each line of vines, "because there is no use bringing back birds if they have nothing to eat. We don't harvest these plants as they are just there to regenerate the ecosystem. And our beehives are not here primarily to make honey, but to bring these crucial insects back into nature's cycle to pollinate.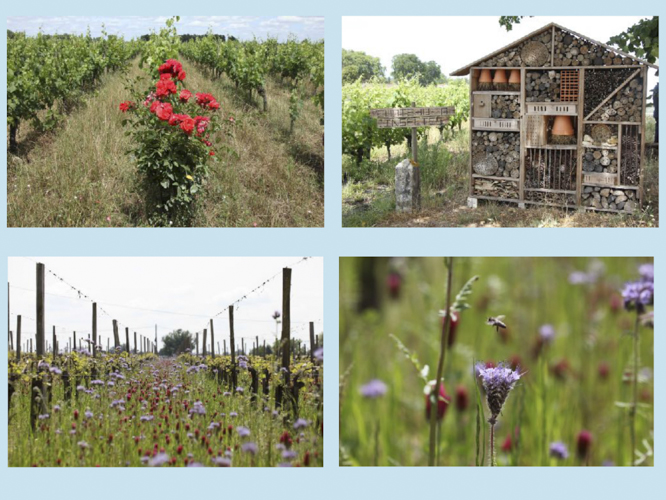 This year we have planted 5 parasol pines and another 100 fruit trees, whose cherries and apples will either be eaten by the birds or fall to the ground and feed the earth. In the vine I have stopped ploughing the soil to respect it more, with no more weeding, though not many people who drink wine know that all this comes at a price, as a domaine's production drops by around 20% with organic cultivation."
This intriguing Médoc wine estate is run by two single-minded brothers, Guillaume and Thibaud Secret, a new generation of Bordeaux vignerons. They come from a family of crop farmers in northern France, who actually planted cereals here when they purchased the estate in the 1970's. Although they quickly and successfully turned to planting vines, today the Secret brothers are actually looking to return to polyculture, buying new land but to plant sunflowers for their honey production.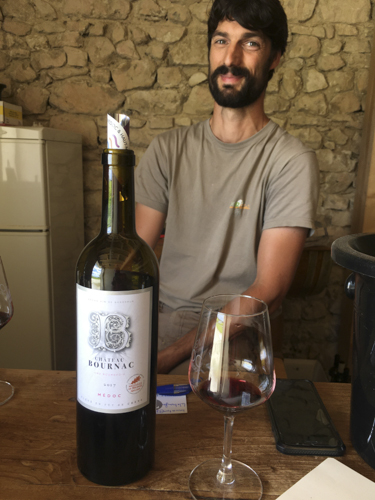 Guillaume philosophically explains that, "if you cultivate something like vines and grapes then you must not deviate from that to be successful. So that is what we do for our wine. But recently it is what goes on around the vine that interests me; a landscape that must move on from monoculture. We already have a lot of forest and fruit orchards around the vineyard, but I now have a project to plant 800 metres of hedges which we hope will protect the vine from frost. This single hedgerow will divide 30 hectares of vines into two, so that fauna returns here for the biodiversity but nests in the hedge and not the vines." But walking through a parcel of vines he cautions against thinking that agroforestry is the answer to all their problems, explaining that, "just look at these trees I planted right alongside a line of vines. I need to be careful that they do not become so tall they take away sunlight and use water that the vine needs."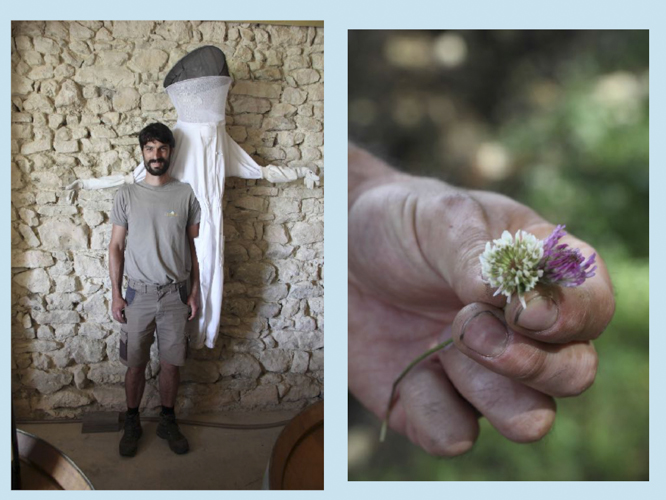 And although he is passionate about apiculture, he insists that the first priority behind encouraging wild flowers to grow without pesticides "is essentially to safeguard an environment that attracts all pollinators – bees, bumblebees, butterflies, certain birds and bats. Then, when the flowers come back, the bees can do their work, and I can make my honey."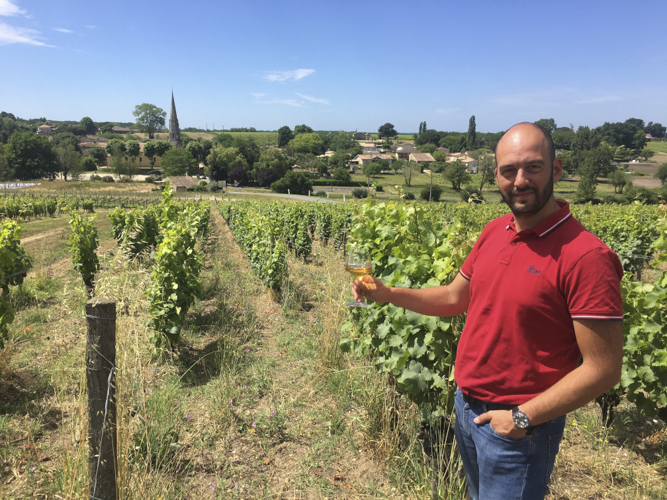 Arche is one of the Cru Classé 1855, with a history of wine production going back to the 16th century. This large domaine encircles the picturesque village of Sauternes whose church steeple rises out of the vineyards. Oenologist and technical director of the estate, Mathieu Arroyo, is a local boy whose grandfather still has a plot of vines in the village. He presides over a state-of-the-art eco wine cellar, complete with vegetal roof, while Arche's grand manor house is being converted into a luxury wine resort that will respect and blend into the surrounding environment. Mathieu came here from France's wine research institution, INRAE, and is already converting the large 75 hectare estate to certified organic, alongside a host of agro-ecology ideas for the future. "We have planted 2 kilometres of hedgerows this year, a four-sided 'clos végétal' of shrubs and trees around our vineyard. Between vine lines I am creating a permaculture by planting the likes of potatoes and sunflower, and I actually intend to harvest and use what grows.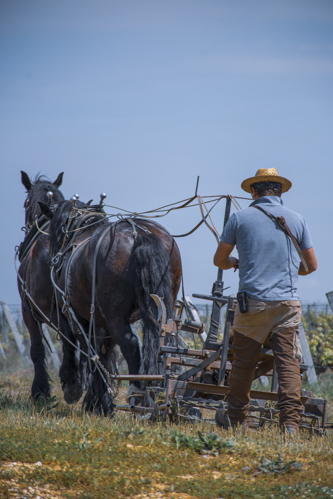 In winter, a shepherd brings his herd of 80 sheep into the vineyards, and we have 4 work horses who plough 10 hectares of the vineyard – a genuine project and not for promotional snaps. And my most important initiative will be planting a one hectare plot of new-generation resistant grapes that need no treatments at all. I worked on these experimental grapes at INRAE but even today, no one dares to plant them. Well I will. The parcel will become a haven of peace, encircled by aromatic shrubs of thyme, lavender, even juniper"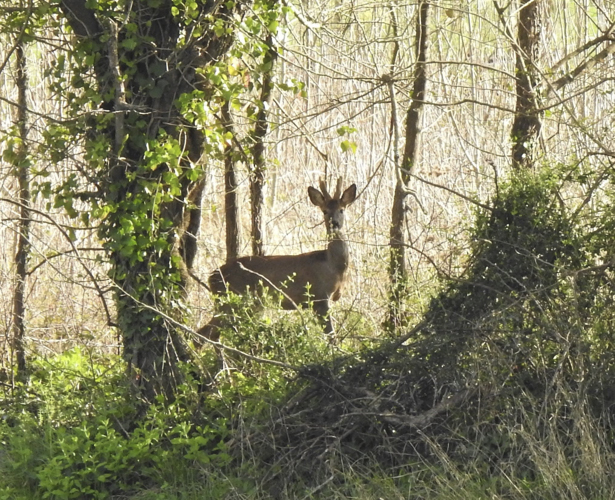 Passe Craby means Passage of the Deer in the local Fronsac patois, and Jérôme Boyé relates how nothing has really changed here since the family arrived in the 18th century, as just a couple of days previously he saw a deer running right outside the château. Jérôme is the 7th generation vigneron, still aided by his supposedly retired parents.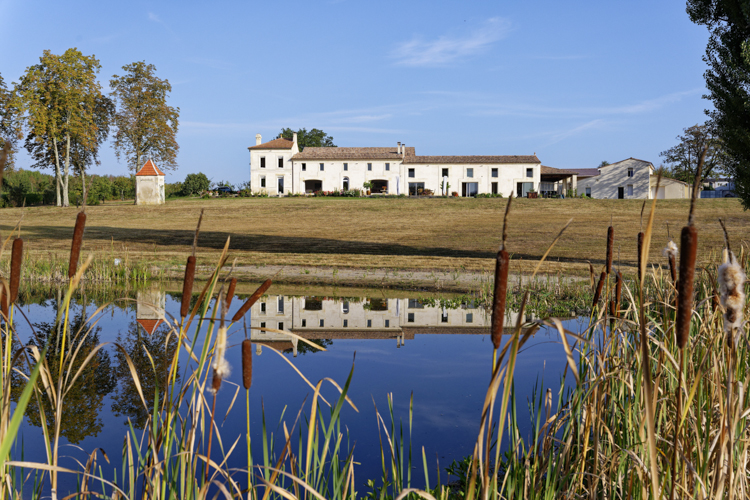 Their 30 hectares of vines are bordered by 5 hectares of forest and small lakes, and his father was an early advocate of agroforestry beginning to take action ten years ago, increasing the size of the forest, planting hedges and fruit trees; cherry, apple, apricot, pear, peach. "We keep our 3 kilometres of hedgerows at the same height as the vine," explains Jérôme, "so there is no competition between them. Today, almost all our parcels of vines are surrounded by hedges, and we let everything grow wild between the vines. You see more game – deer and boars – but also far more species of birds, and I can feel that a different biodiversity has established itself. People ask me if this affects the quality of the wine. Well, I honestly don't know, but I think that what is important is that we are making an effort to respect the environment. We also have preserved the ponds and wetlands because of the kaleidoscope of biodiversity that gather there – a nightly concert of frogs croaking, insects, butterflies.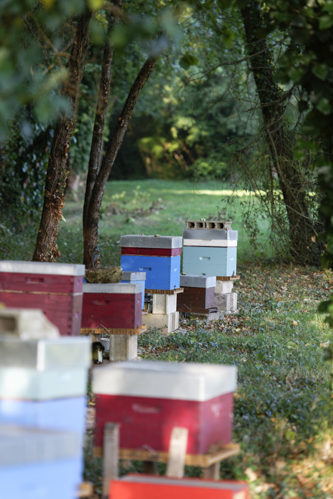 And we are also planting flowers to attract bees with 13 hives on the estate. The next step is to find a shepherd to work with, so that in winter his herd of sheep can keep the vineyard clean, but only until the first grapes appear, otherwise the sheep will just eat everything."
Driving up to the rambling farm buildings of Château de Piote you quickly realise this a unique winery. Sheep graze imbetween the vines, chickens, ducks, geese and peacocks wander around the grounds.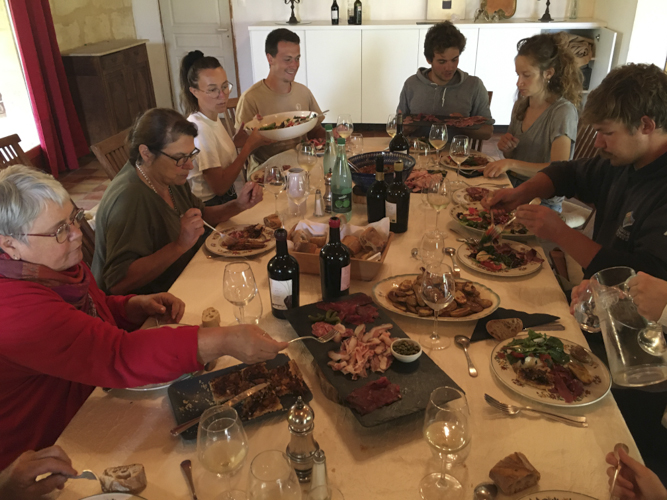 At midday a loud bell is rung announcing the communal lunch, where vineyard and farm workers sit around a long table alongside owner Virginie Aubrion and her son Corentin, who works full time on the estate.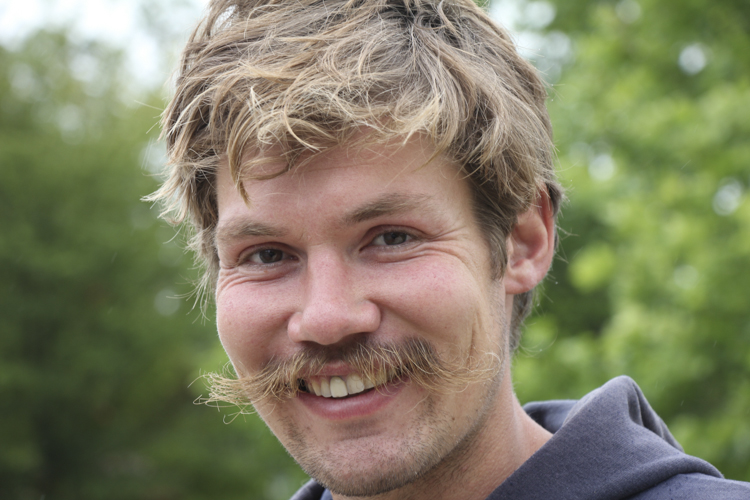 Corentin is a distinctive figure and describes how, "today we are looking at increasing the diversity of Piote by breeding cows and pigs, planting a vegetable garden, using a herd of 12 sheep for crop cover control in winter, and we also intend to start planting fruit trees, both in an orchard and inside the vineyard. So we have already achieved a degree of self-sufficiency, like ancestral farming. Since 2012 we have had a programme to plant hedgerows, not just to increase biodiversity but to use the hedges and shrubs to protect the vines against frost and mildew. We are interested right now in purchasing the adjoining property, 15 hectares of woods and meadows. That land could then be planted with appellation grapes, but we would never do that, preferring natural diversity to vine monoculture. I was 5 when my parents brought the family here and I have grown up on the farm and in the vineyard. I genuinely believe we are constructing something responsible and respectful of nature."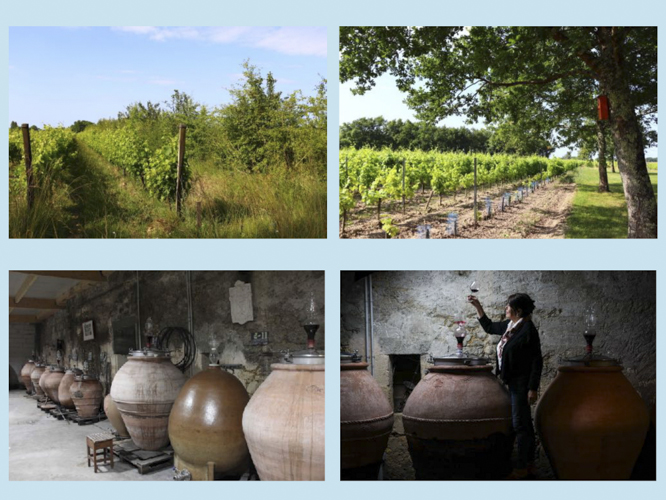 Virginie oversees their rock&roll garage wine cellar, a mix of old barrels, cement and steel vats, and a potpourri of different shaped terracotta amphorae that she often buys second-hand and then repairs. The wines are as unique as the domaine, certified organic and biodynamic, proudly proclaimed as 'natural' with barely any sulphites added.
Imbetween the bucolic villages of Cadillac and Rions, Château Carsin has had a rollercoaster history since it was was purchased in 1990 by Finnish wine businessman Juha Berglund.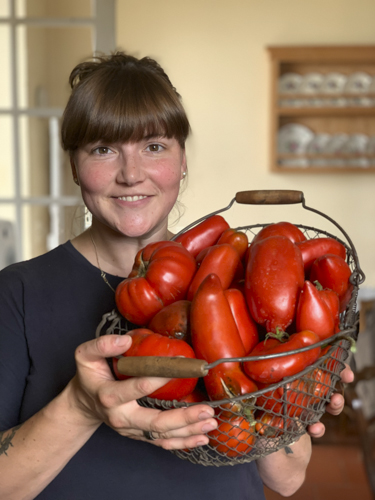 Running the estate today, his feisty daughter Nea was born the year he bought Carsin and she grew up spending summer holidays, then grape harvesting and now has settled here calling it her home, " where I am accepted as a local, part of the family that is this wonderful winemaking community." She recalls how, "the property was unliveable at first, with leaks everywhere, and wine had not been produced for over 15 years. So my father restored the buildings and created a modern cellar equipped with state-of-the-art tanks and machinery from Australia. The vineyard rapidly grew from 14 to 60 hectares and we were producing half a million bottles a year. Well the world has changed a lot since then. Today we are back to a 18 hectare vineyard – as well as 6 hectares of fallow fields and woods."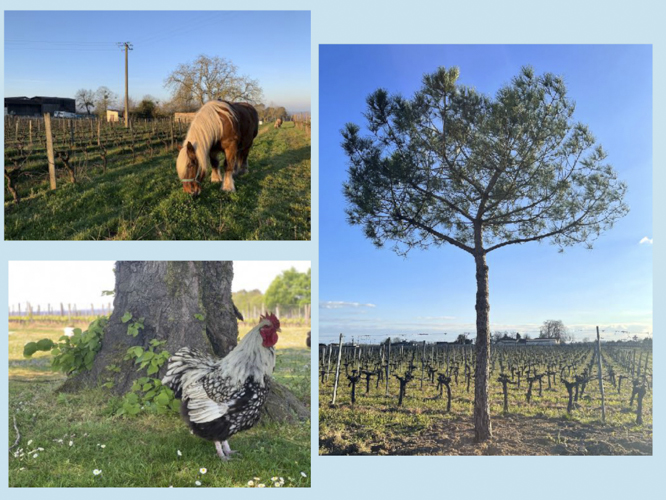 Inspired by an agroforestry course, Nea is now busily planting trees and bushes with the clear aim of "enriching our biodiversity but also diversifying our production rather than just making wine. Changing a monoculture is not just about the landscape but your economic model too. So I want to make and commercialise jams, conserves, honey and pickles, bubbly organic fruit juices, balsamic vinegar, maybe a range of fruit beers. And with the extra production I want to be selling fruits and vegetables within the local community to restaurants and at markets." Nea's bubbly enthusiasm for biodiversity is infectious. She insists she has fun making her offbeat wines, declaring that, "I am genuinely enthusiastic about nature, and in some ways, vineyards are actually unnatural, fashioned and formed by man. So it is important that the the vigneron pays more attention to what surrounds the vineyard, the landscape, flora, fauna and insects."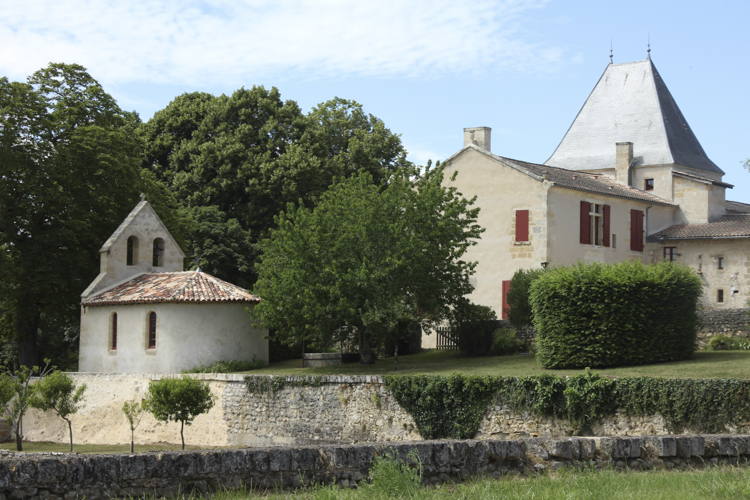 You do not discover Château La Peyruche by chance, as it is hidden away high above the bustling winemaker village of Langroin, at the end of a dusty dirt road that weaves through thick woodland before finally coming out in a panorama of vineyards, fruit trees and a grand 17th century castle and chapel. Bertrand Weisgerber and his son Charles bought the property in 2017, and are implementing an adventurous agroforestry programme. La Peyruche has never been just about wine making as this was a genuine working farm growing cereals, breeding dairy cows, with extensive orchards whose fruits were sold directly in Bordeaux's famous Capucine food market. Today the estate stretches over 50 hectares, whose 21 hectare vineyard is surrounded by a vast natural biodiversity of woods, meadows, a pond and fruit trees. Charles recounts how he and his father looked at vineyards in several different regions of France before settling on Chateau La Peyruche where "it was clear that the soil had suffered from decades of chemical treatments.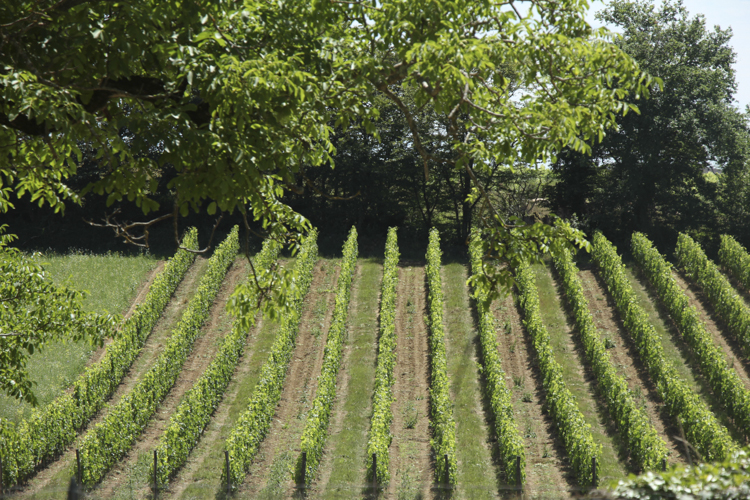 So initially, rather than increasing the vineyard, we planted 300 trees, shrubs and hedgerows, immediately converting to organic cultivation." They have attracted bees back to the land both to pollinate and produce honey, and have surprising plans for the local bat population!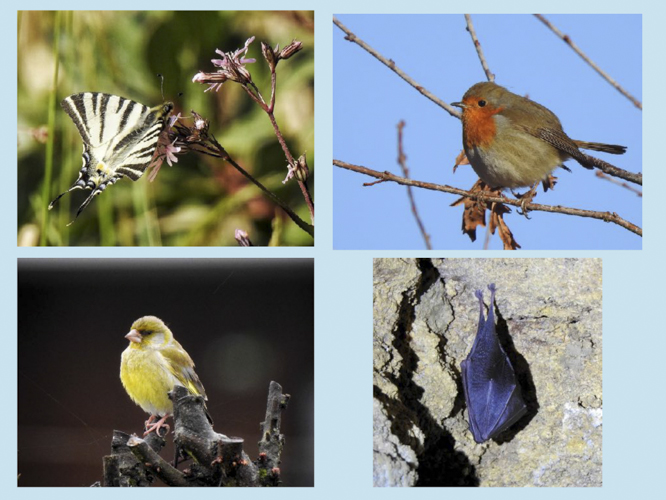 "We discovered that there is are underground galleries of an ancient quarry beneath the château which is home to a large colony of bats. Our ambition to get the bats to come into the vineyard where they are the ultimate predator for insects. With their limited vision, bats need trees planted at a distance between 50-100 metres to be able to move around. So our plan is to plant a Bat Highway along hedgerows and trees leading from their nests in the cave to our vines, an ecological corridor. And don't forget, every night a bat eats something like 3,000 insects."