INTRODUCTION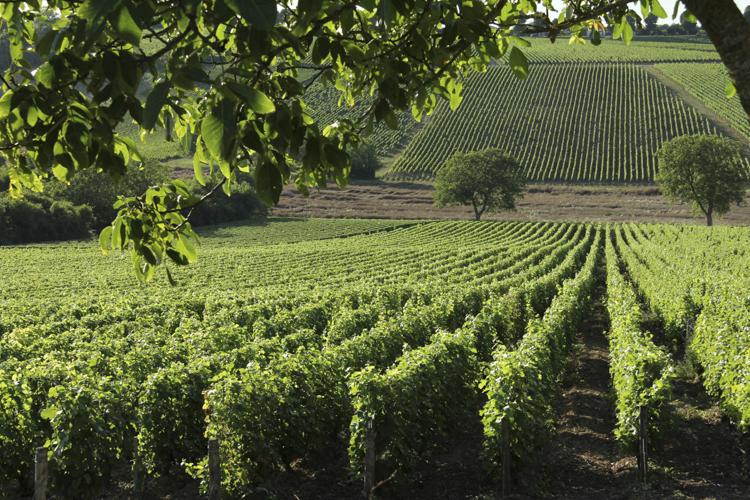 Drive out of Paris and just two hours later you find yourself at the edge of the scenic Centre-Loire region, ready to begin a wine adventure that opens the door to friendly vignerons, eager for you to taste the latest wines, rustic bistrots serving hearty traditional cuisine, and quaint bed and breakfasts. And apart from beguiling vineyard landscapes, you will drive through ancient medieval villages, past romantic castles and historic abbeys, thickly-wooded forests and idyllic lakes.
Two grapes and two wines immediately come to mind when people talk about the Centre-Loire: Sauvignon Blanc and Pinot Noir, Sancerre and Pouilly-Fumé. Both are renowned and loved across the world, but explore this beautiful region a little deeper and you discover little-known Appellations like Châteaumeillant and Reuilly, heritage grapes such as Chasselas and Pinot Beurrot, and charismatic artisan vignerons, always looking to improve the quality of their wines, through organic and biodynamic cultivation, testing the latest innovations in the cellar. Visiting a winemaker could not be easier as most are open to the public and free of charge, though it is always best to give a call first.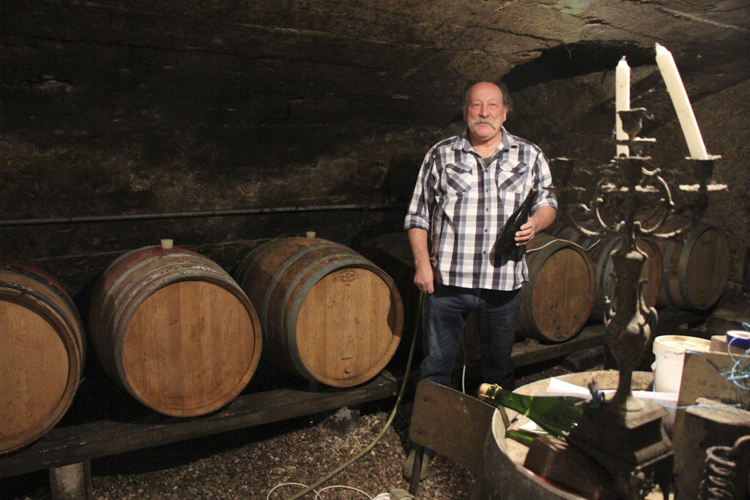 TOP TEN WINEMAKERS TO DISCOVER
Domaines Mardon et Tabordet
A visit to Hélène Mardon's Quincy winery offers the chance to taste the wines of two Appellations together, as the vignerons of Quincy and adjoining Reuilly often collaborate closely. Accompanying Hélène down the steep steps of her ancient cellar, is Luc Tabordet, her cellar master since 2004 and today also running his own estate in Reuilly. Luc continues to oversee production of Hélène's wines, and both are vinified here, so visitors get to taste her excellent Quincy, an Appellation that only permits whites, complemented by Luc's organic Reuilly wines.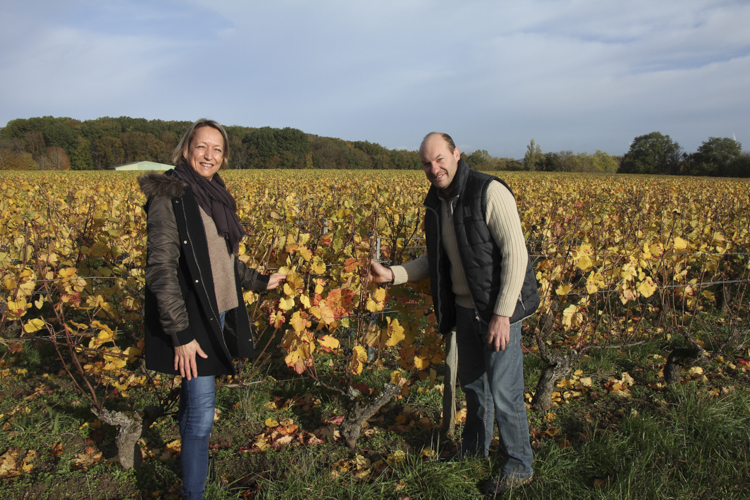 Hélène's range runs from a crisp, traditional Sauvignon to a Vieilles Vignes cuvée, whose vines are over 70 years old, while hidden away in the corner of the cellar is what she calls her 'jar', a clay amphora, producing 630 bottles that resemble the current new trend of zero-sulphite natural wines. The sandy, alluvial soil alongside the Cher river, allows Luc to produce both a fruity, structured Pinot Noir and the distinctive Reuilly Rosé, made with the Pinot Gris grape, – as the French would say a 'gastronomic' Rosé rather than an easy-drinking summer quaff.
Vincent Nivet resembles a roguish gentleman farmer-vigneron, and quickly becomes passionate when talking about his wines; organic cultivation, experimenting in the cellar, macerating his grape skins during fermentation to produce a tannic Rosé that resembles the latest mode for Orange wines. Winemaking is only one part of Vincent's story, though, as when you go to taste the Domaine's Reuilly and Quincy vintages, the venue is actually an imposing manor house farm, complete with ruined medieval castle. Their land stretches over 400 hectares, growing cereal seeds. So alongside five different wines, there are also packets of pink and green lentils, sweet corn and white beans.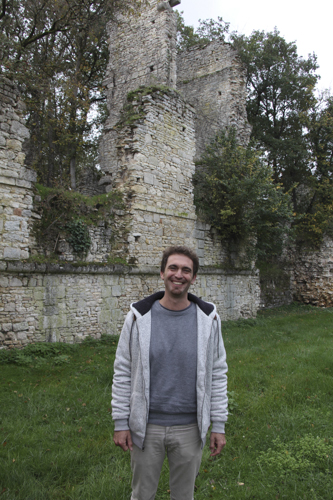 While Vincent is a Reuilly newcomer, it is important to also visit a more historical winemaker in Reuilly village itself. Denis Jamain's family have made wine around Reuilly village since 1935, and the certified organic and biodynamic estate extends over 22 hectares. His reds are a revelation, not just Les Chênes Rouges, his potent barrique cuvée but even Les Pierres Plates, aged in steel vats, a delightful old-time style Pinot Noir.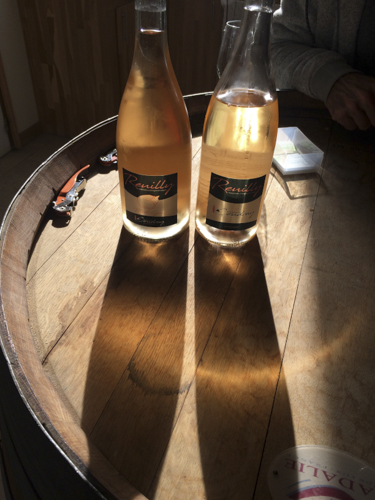 Crézancy is one of the less well-known Sancerre villages, a sleepy maze of hamlets linked by narrow lanes. Greeted by Gilles Guillerault in his cosy wood-beamed tasting room, he proudly explains that, "here you are in Reigny, Sancerre's oldest vigneron hamlet, dating from the ancient 1523 Cistercian priory that gives its name to our domaine."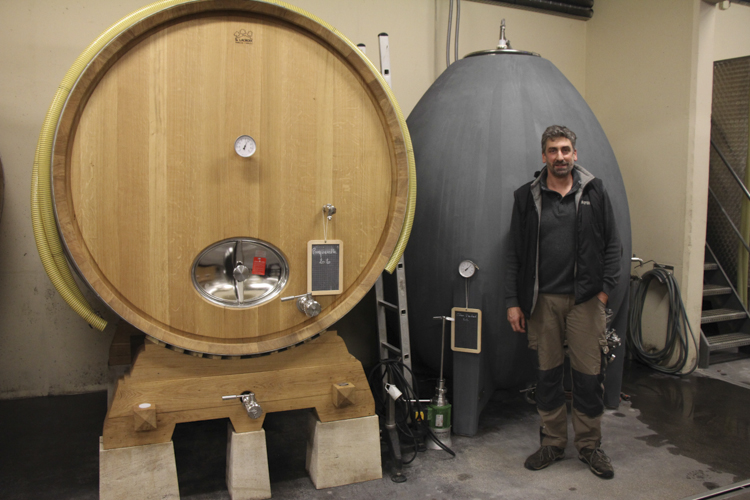 His great passion is the new developments for vinification in the cellar, answering everyone's questions; from stainless steel to wood barrel ageing, classic large cement tanks or smaller egg-shaped vats, traditional terracotta or modern resin amphorae. "I have always been attracted by concrete," he explains, "because it is not neutral, and like wood, allows the wine to breath, evolve and change. The big attraction of these ovid cement vats is their unique perfect shape means that during fermentation, the wine is always in movement, like in a vortex. So there is no need for batonnage stirring the settled lees, which you have to do when you use amphorae." And when tasting his different Sauvignon and Pinot Noir cuvées, you quickly notice the different techniques used.
Domaine Stéphanie et Jean-Philippe Agisson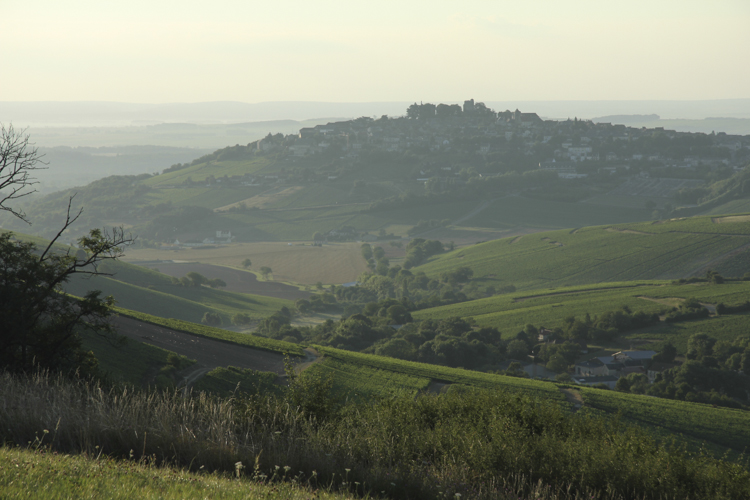 Sancerre's vine-clad hills are populated by a tightly-knit community of generations of the same families. So it is rare when an outsider arrives, and rarer when his wines are respected by fellow vignerons. But that is exactly what you discover when you visit the garage-style stone winery of Jean-Philippe Agisson. Cultivating a single hectare, he produces just 3,000 bottles, and visits are by appointment only as both Jean-Philippe and his wife Stéphanie, have full-time jobs till they can add to the small parcels she inherited, and concentrate solely on a financially- sustainable domaine. Self-trained and not even from a wine region, he worked for 14 years, first as cellar master at Sancerre's historic Domaine Alphonse Mellot, and now over in Pouilly for pioneering Domaine Didier Dagueneau.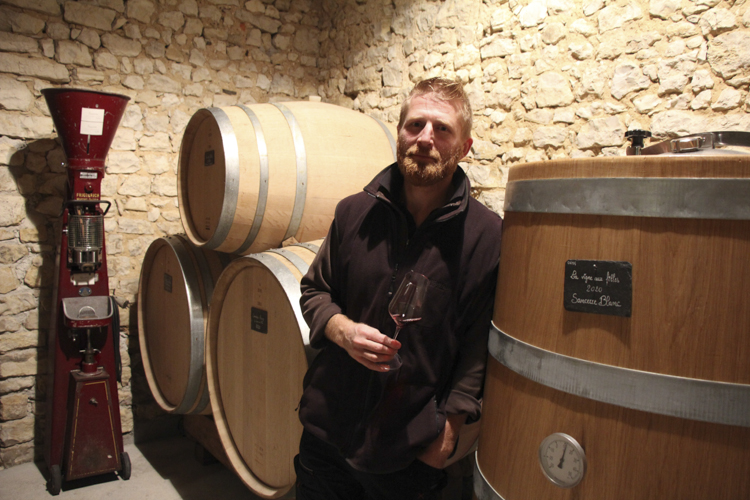 Jean-Philippe has firm views about his wines, which recall Sancerre's classic characteristics. "I am fed up with this insistence on organic," he declares. "I do my own organic and don't need a meaningless logo on my label. And I am not looking to make Burgundy style wines, as my aim is simply a traditional, typical Sancerre Pinot Noir and Sauvignon Blanc."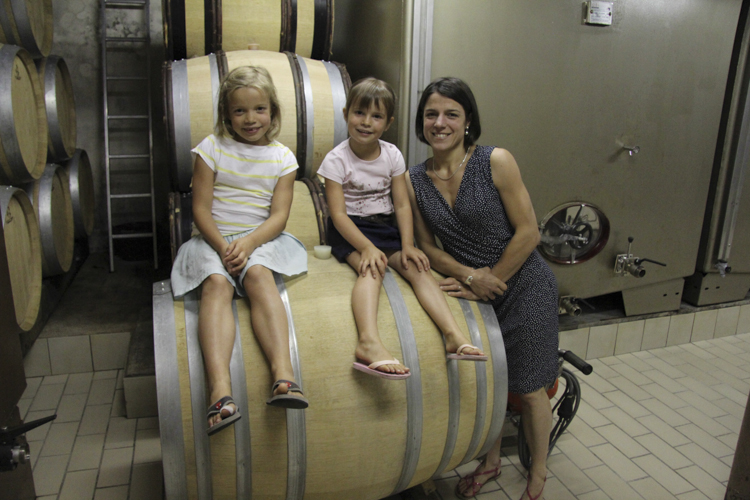 If one family-run vineyard typifies the exceptional welcome wine lovers receive when they make the effort to travel to the Centre-Loire, then Domaine Teiller is the perfect example. The Domaine is located in the heart of bustling Menetou-Salon, the village that gives its name to a 600 hectare Appellation that has only recently turned from being neighbouring Sancerre's poor cousin into the dynamic younger sibling. Patricia and her husband Olivier run the estate that her grandfather founded in the early 1950's, and visitors feel like part of the family as they are taken through an excellent explanation of organic and increasingly biodynamic wine-making techniques, and a short vineyard tour can also be arranged. Their vineyard spreads over numerous parcels, some of which are blended, others made into a special cuvée that refers to one of Menetou's 10 communes, a little like a Burgundy clos.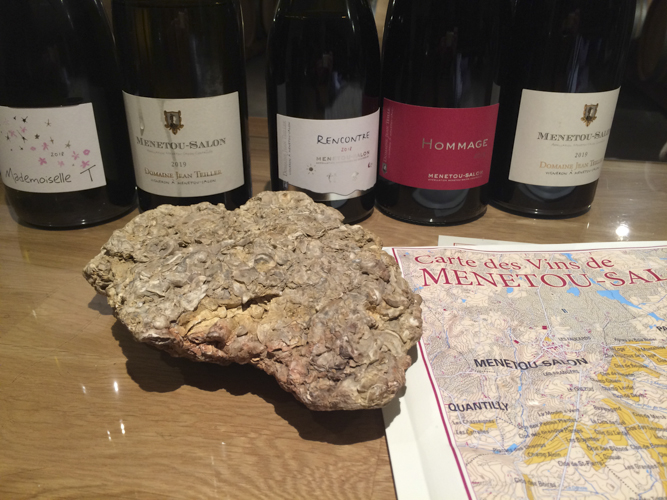 The whites tend to be aromatic and floral, not classic Sauvignon, while the Pinot Noir are finely crafted, elegant wines. Don't be surprised if Patricia asks to taste the reds first, as she feels their Sauvignons are too aromatic to taste before the more subtle reds.
Discovering Châteaumeillant's little-known wines is an adventure, as the town and its surrounding vineyards are a good drive from any of the other Centre-Loire vineyards. Until recently, family vignerons concentrated on producing grapes, with the local cooperative making the wine. That has changed since official Appellation recognition in 2010, with young winemakers with dynamic ideas arriving to run their own domaines, often with no vineyard background. That is why the route to taste the wines of Albin Roux leads to the grand city of Bourges, where he has created a unique tasting room to showcase his Châteaumeillant and Quincy vintages. His home sits alongside the famous Bourges marshes, actually floating vegetables gardens, a labyrinth of tiny canals and allotments.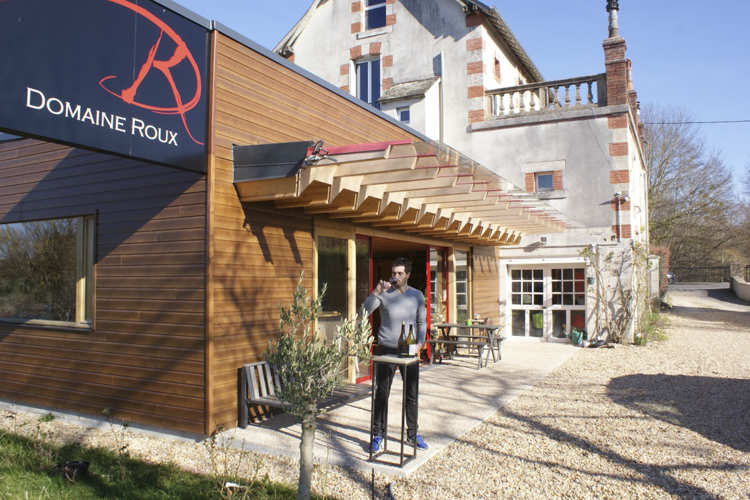 So sitting in his cosy tasting room, the view overlooks the gardens, and in summer guests sit outside, sometimes pairing wines with subtle Asian dishes prepared by Albin's Vietnamese wife. He is still making his first vintages, but the barrique blend of Gamay and Pinot Noir is ageing well, and although Châteaumeillant does not includes whites, the P'Tit Gris Rosé is a refreshing summer wine.
Talking and tasting with affable Philippe Poupat is like stepping back in time. He is an old-style artisan vigneron, as happy and proud to talk about the attractions of his beloved region as explaining the excellent wines his family have been making since 1650. And they are a perfect introduction to the unfamiliar Coteaux du Giennois Appellation, where some 40 wineries cover 200 hectares, between the attractive towns of Briare and Gien. Philippe vividly evokes the days of the Middle Ages when monks cultivated an incredible 1500 hectares of vines around here, and his immense cellar resembles a concrete bunker filled with a jumble of stainless steel and fibre vats, new and old barrels, steel and cement cisterns. It was part of a Victorian industrial complex for button-making, whose paternal benevolence included producing wine for the work force as well housing and schools. Philippe produces both young wines aged in steel vats with more complex barrel-aged vintages, and while his crisp whites are honest classic Sauvignon, the reds are diverse blends of Gamay and Pinot Noir. Something for everyone's taste.
The ebullient Pierre Hervé is an 'I had a dream' vigneron. Originally from Brittany, he was determined to plant his own vineyard, and the paradise he found is here in the little-known Coteaux de Tannay, far from the more famous wine-producing regions of the Centre-Loire.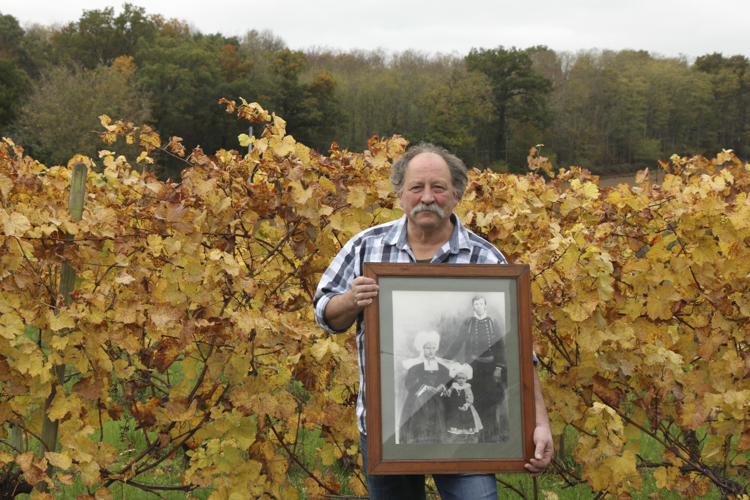 It is only after a long drive through rolling hills, thick wooded forest, fields of farmland and grazing Charolais cattle, that you come up the small parcels of vines cultivated by the 6 vignerons that make up Tannay's 40 hectares. Pierre bought an old farm in 1989, planting on abandoned grazing land that was probably a vineyard a century ago before phylloxera. "It was already organic you could say," he recounts, "as chemicals had never been used on the land and I certainly was not about to start. I only planted Chardonnay and Pinot Noir, but harvesting from different parcels, this gives me 4 different whites and 3 reds." Pierre sells directly to the public, with wine enthusiasts visiting his idyllic farm for a jovial tasting held in the family kitchen. Be sure to ask him to take you down to his beautiful 18th century cellar, where the wine is aged.
It is an impressive sight crossing the mighty Loire river with its sloping hillsides covered with neat crisscross vineyards, arriving at Domaine du Bouchot, just outside Pouilly. The owner, Antoine Gouffier is a bundle of energy and enthusiasm, hardly surprising as he only bought this 10 hectare winery in 2019.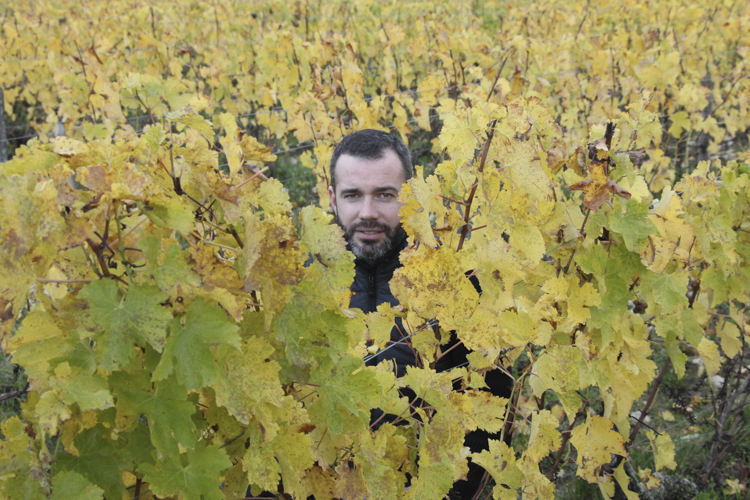 Antoine is already moving this pioneer organic vineyard to certified biodynamic, experiments with both cement ovids and clay amphora, even producing an excellent Orange wine, almost heresy in conservative Pouilly. "Anything you try to do differently here," he laments, "the authorities will say it is not allowed. But that is not going to stop me!."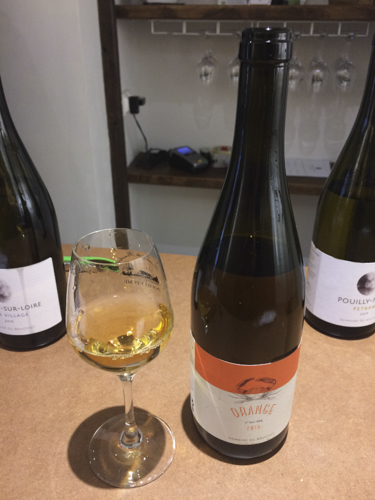 Pouilly-Fumé is one of the world's most well-known wines, a distinctive, fragrant Sauvignon, whose 'fume' name derives from local soils producing a mineral, flinty aroma. Yet only 3 out of the 140 vignerons cultivating this massive 1300 hectare vignoble are officially organic. Today, though, 'converting to organic' is the new mantra for young and old winemakers. Be sure to ask Antoine to open a bottle of his 'Mon Village', a rare chance to taste Pouilly's heritage Chasselas grape, rarely cultivated today, perfect for a hot summer day.
Domaine des Puits de Compostelle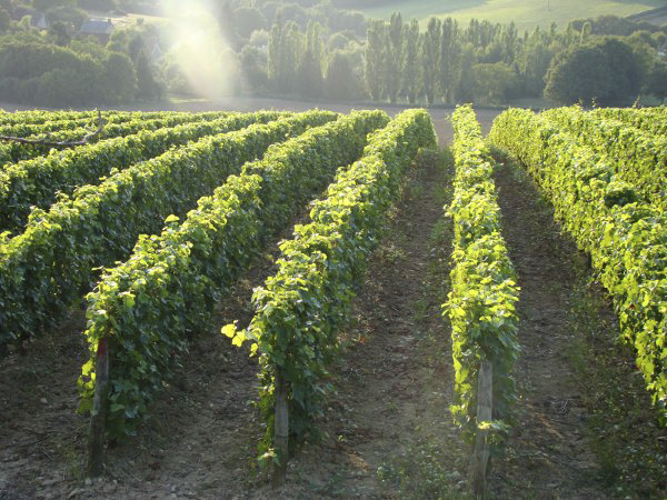 Although wine has been been produced on the gentle slopes surrounding La Charité-sur-Loire for a millenium, this remains an under-the-radar vineyard. Only15 viticulteurs work a total of 50 hectares, a mix of local families, young vignerons buying their first affordable land, and in the last 20 years, a number of high-profile Sancerre and Pouilly producers. Emmanuel Roquette abandoned a career as a consultant oenologist, working in locations as diverse as Minervois, Morocco and Saint-Emilion, to purchase his first parcels of vines in 1999.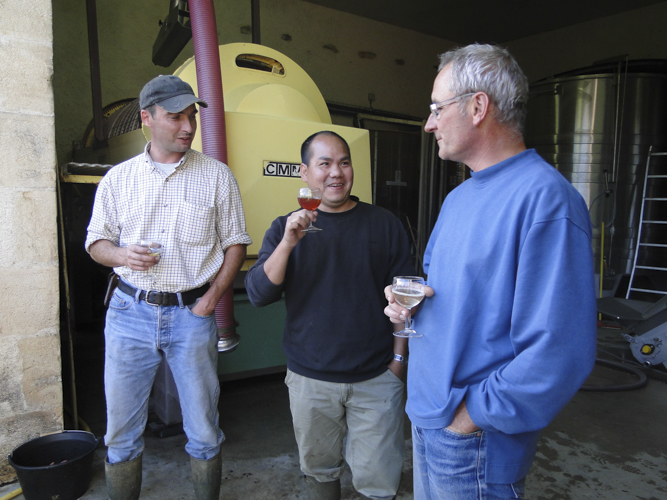 He now has 2 hectares, producing Chardonnay, Pinot Noir and the little known Pinot Beurot, actually a Burgundian term for Pinot Gris. His cellar adjoins the family home in the wooded hamlet of Mauvrain, and Emmanuel explains how, " currently I am hoping to increase quality by introducing cement vats rather than stainless steel or fibre. But overall, my philosophy is always to limit interventions as much as possible." The Domaine's evocative name was inspired when he discovered that the Compostelle pilgrim's route between the great abbeys of Vezelay and La Charité passed right through the vineyard." And it was this long religious history and unfulfilled potential that initially attracted Sancerre's Alphonse Mellot to invest and plant here. Today, their highly-regarded Les Pénitents range represent a third of the Côteaux's production.
where to stay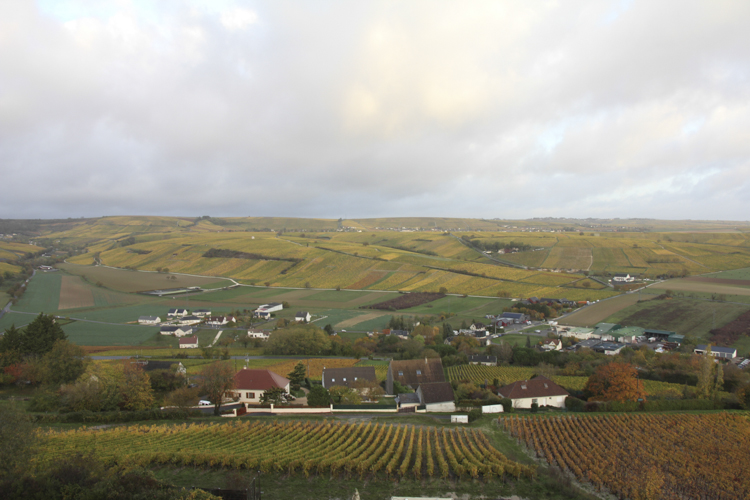 The Panoramic offers matchless vineyard views and tempting pool, ideal visiting Sancerre and nearby Menetou, Pouilly, La Charité and Gien,
Perfect for visiting Reuilly and Quincy, comfy b&b rooms plus fun Glamping alternative – sleeping outdoors in a giant wine barrel.
where to eat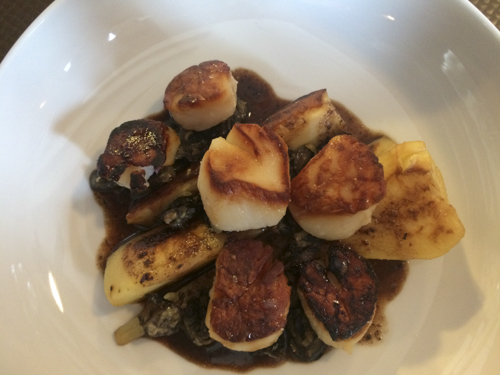 Snug roadside bistrot where chef Laurent Chareau creates dishes like succulent scallops, chorizo and parsnip puree, worthy of a Parisian Michelin-starred restaurant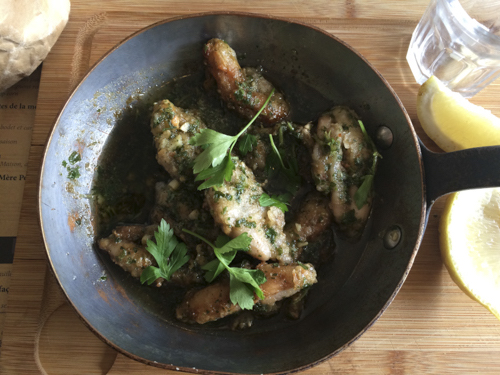 Funky 1970's decor are complemented by hearty terroir dishes like traditional frogs legs in buttered parsley
Newly-opened La Banque offers something very different in Sancerre, a hip movida-style enoteca in an ex-bank. Stunning 300 label wine list, experimental cocktails and artisan ales.
what to do
Relatively crowd-free compared to famed châteaux further up the Loire, the romantic Verrerie is a hidden lakeside jewel of the Renaissance.
La Loire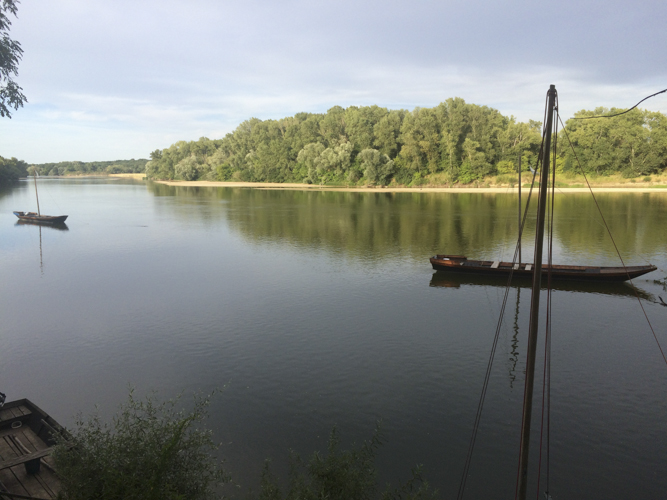 Experience the mighty river at quaint Saint-Satur; families paddle at the Loire's edge, then feast off delicious comfort food at al fresco Le Ligerien's; deep-fried Loire whitebait and omelettes oozing melted goats cheese.
La Bête Noire Sancerroise
Crottin de Chavignol goats cheese is the perfect accompaniment to a chilled glass of Sancerre, but better than trying in a bistrot, visit this genuine goats farm of 200 goats.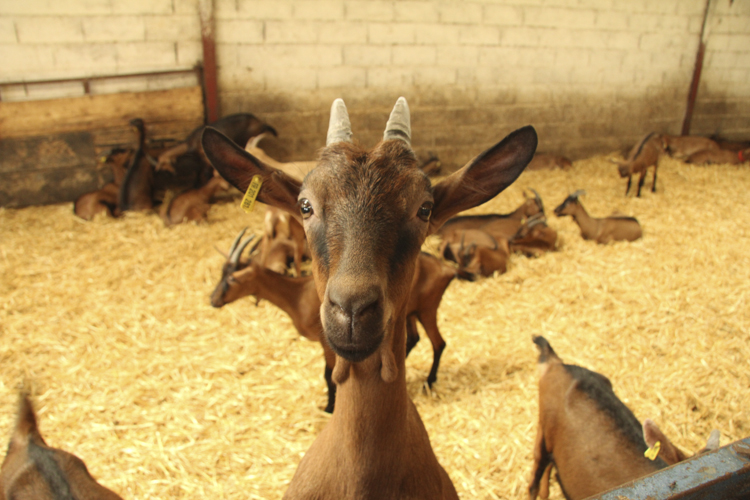 Ends