INTRODUCTION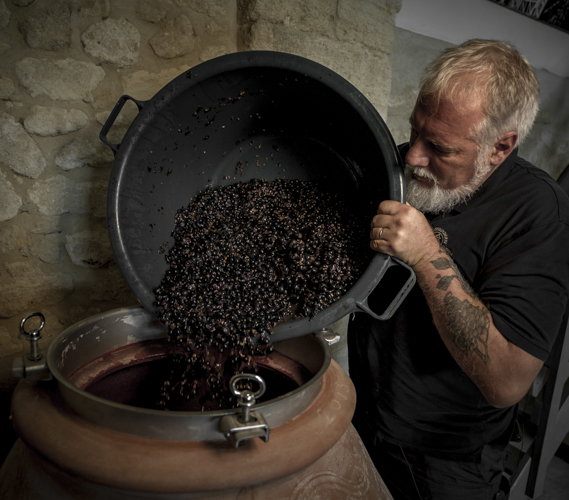 There is an exciting discovery trip to be made right now into the surprising world of a band of innovative Bordeaux winemakers who are crossing once sacred boundaries to produce a whole new age of modern red wines. They are scattered all over the region, from the grand chateaux of the Médoc and Saint-Emilion to Blaye and Bourg, to little-known vineyards in far flung corners of the Bordelais. Many have already moved beyond organic cultivation to embrace biodynamic methods and the unpredictable zero sulphates world of natural wines.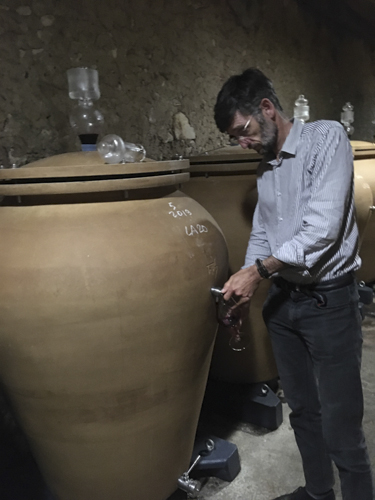 In the cellar, it is no longer rare to see terracotta amphorae and ceramic jars alongside oak casks, while raw cement cisterns and ovoids are suddenly finding favour again compared the uniformity of stainless steel vats. These new vintages no longer need to be put away in the cellar to slowly age to perfection, whose fruit bursts our as soon as you open the bottle, perfect to be drunk immediately. Few parts of the world have such an firmly established image of their famous red wines than the châteaux of Bordeaux. And today is the perfect moment to build on this unique reputation and offer the modern wine lover not just a traditional Bordeaux blend, but something new and different. Below are top selection of wineries to track down.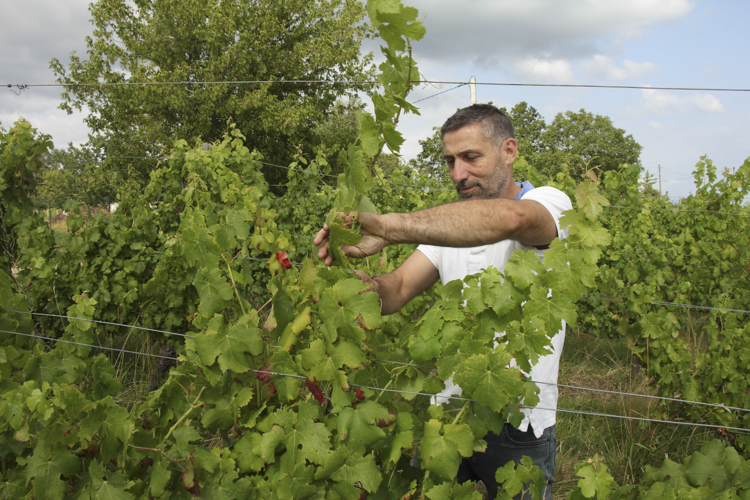 Henri Duporge makes red wines like none other in Bordeaux. His vineyard surrounds the rambling 19th century Château Le Geai, where Henri's garage wine cellar occupies the ground floor. Finding the Château can be an adventure till it suddenly pops up on the horizon, hidden at the end of a rough road lined by thick woods.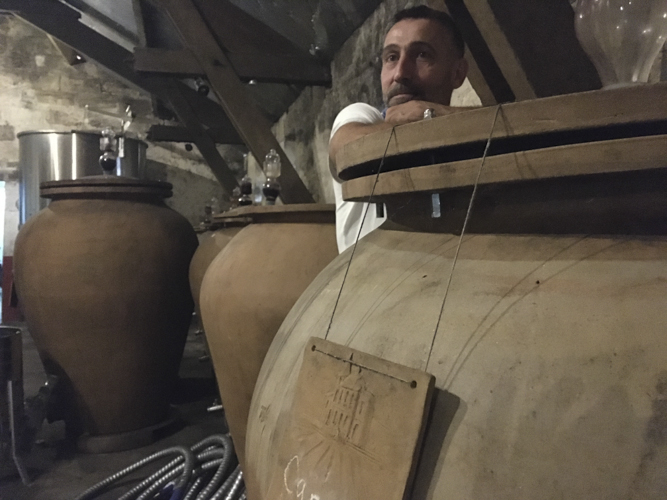 This fervent vigneron resembles a medieval alchemist, roaming around a cellar teeming with steel vats, oak barrels and numerous amphorae. And while understanding Henri's winemaking is not always easy, all is quickly forgotten when you start tasting his marvellously expressive wines. He grows exclusively red grapes, not just the classic Merlot, Cabernet Sauvignon and Cabernet Franc, but Côt and the rare Carménère Noir, all certified organic and biodynamic, with no added sulphites. While Bordeaux wines are historically about blends, Henri takes the opposite stance, saying, 'I like working with a single grape because you are dealing directly with the terroir. Take Carménère, which is capricious and produces tiny volumes. But when I planted these vines 20 years ago there was only 10 hectares left in all the Bordelais. It makes a wine you either love or hate – loud and noisy, difficult to taste when young, leaving a texture in your mouth that is green, vegetal, peppery. But it can age forever, so after 10 years you might just start to like it.'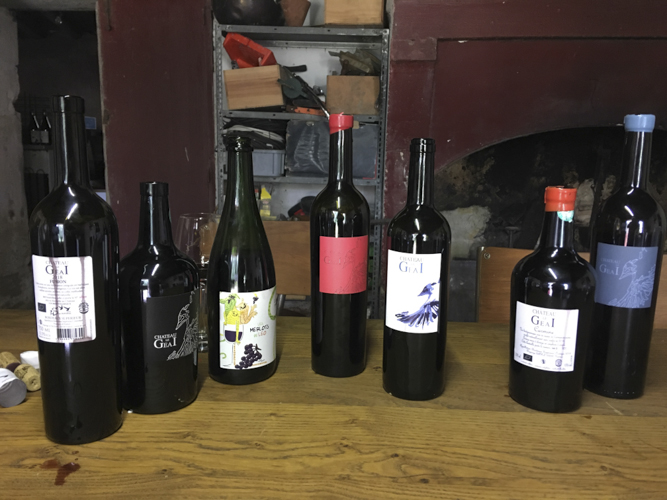 In the cellar, Henri challenges normal techniques, 'I ferment for long periods, sometimes over a year in amphorae, then age even longer. And I control the fermentation's evolution by listening to what I call 'glougloutage' – immersing and macerating the grape pulp in the amphorae along with the wine, and then keeping track of its glougloutage bubbling.' If his wines are not surprising enough, then taste the home-brewed craft beer and a delicious hydromel, meade made from fermented honey.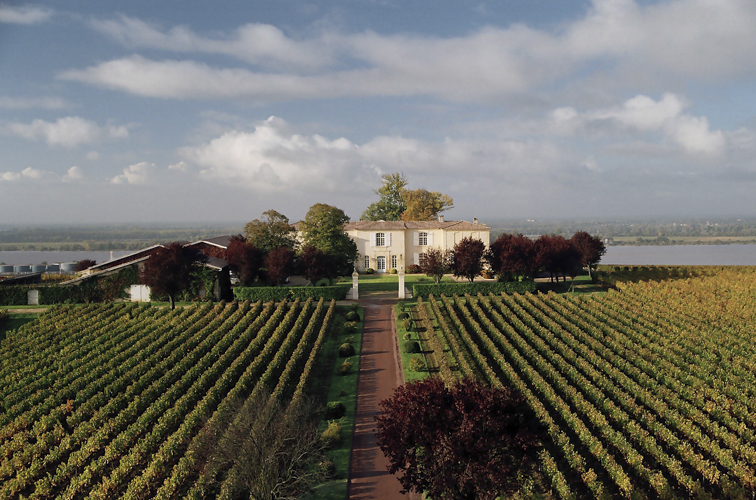 With its idyllic vineyard terraces running down to the bank of the Gironde river, visitors for tasting and wine pairing classes at the imposing Château Eyquem can arrive by boat, car and bike. This is the jewel in the crown of Vignobles Bayle-Carreau whose 130 hectare estate stretches across 6 châteaux in the Côtes-de-Bourg and Blaye Côtes de Bordeaux appellations. Each château retains its independence and personality with its own cellar master and the winery is renowned for its red wines, which account 95% of production. Up until the end of the 1990's, 100% of their production was sold in Normandy, an audacious strategy by the estate's then patriarch, Claude Carrou, who devoted himself to a neglected part of France to promote his wines. But Claude passed away this year aged 92, and today a new generation has decided to make its mark.


His grandchildren, the cousins Charlotte and Cyril, decided, 'it was the moment to offer something new. As our vineyards are known for red wines it was natural any new development should come there. Le Petit Claude is 95% Merlot made to be drunk young, an affordable, uncomplicated, fun wine. Then there is Château Sainte-Clotilde sans soufre #01, a fruity, zero sulphite blend of Malbec, Cabernet Franc and Merlot, where we have also modernised the bottle shape and the label. The concept here is to create a new cuvee each year, depending on the harvest, so that may well be using a single grape variety.' And their latest project is conversion to certified organic, beginning with their vineyard at Château Sainte-Clotilde.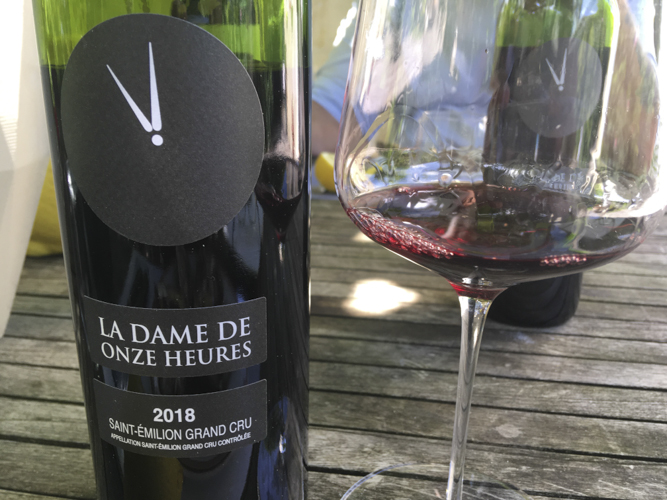 Vincent Rapin is a very singular winemaker, cultivating a single hectare of vines, which produces a single red wine. And his Saint-Emilion Grand Cru is unlike any other that you will taste. Predominantly Merlot, from 60 year-old vines, this explosive fruit-laden cuvée gets better each year it is aged, a wine you need to be patient with. This former rock musician bassist has no consultant winemaker and keeps intervention in the cellar down to a minimum, explaining that, 'after beginning very classically by ageing in small oak barrels, I was less and less happy, so slowly moved to large casks, then terracotta amphorae and now oval ceramic jars made in Limoges. We only make 5,000 bottles, all is sold each year, and I am much happier with my wine!'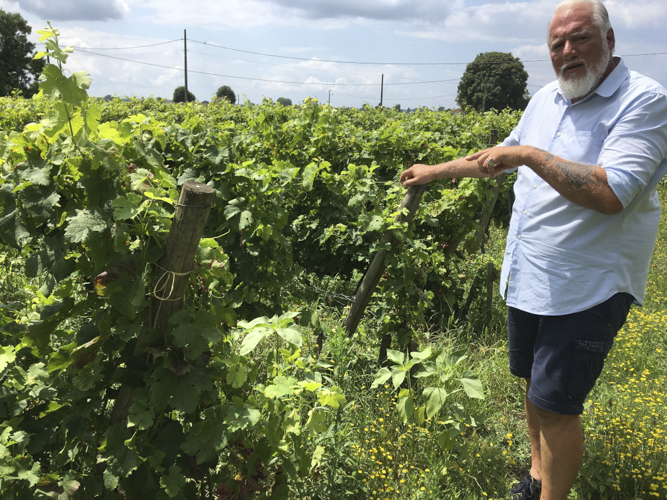 Vincent comes alive with bubbly, smiling enthusiasm when talking about his wine, his cellar, but above all, his vineyard, a rare example in Bordeaux that is certified both organic and biodynamic. Proudly gesticulating in the midst of jungle-like vines, he recalls how, ''I decided a long time ago that 80% of the work vignerons do in the vineyard is a load of rubbish, and moreover does not even treat the vine kindly. Here, we let this wonderful plant live as it should naturally. Most importantly that means absolutely no ploughing which literally kills the soil, leaving the weeds, letting the local wildlife reclaim their garden, and no cutting back of the leaves but rather leaving a natural canopy, like putting on a hat during a heatwave. Look around, my vineyard is a total mess, but it is a beautiful mess that I am proud of, and you taste the result in the wine from the incredible grapes we harvest.'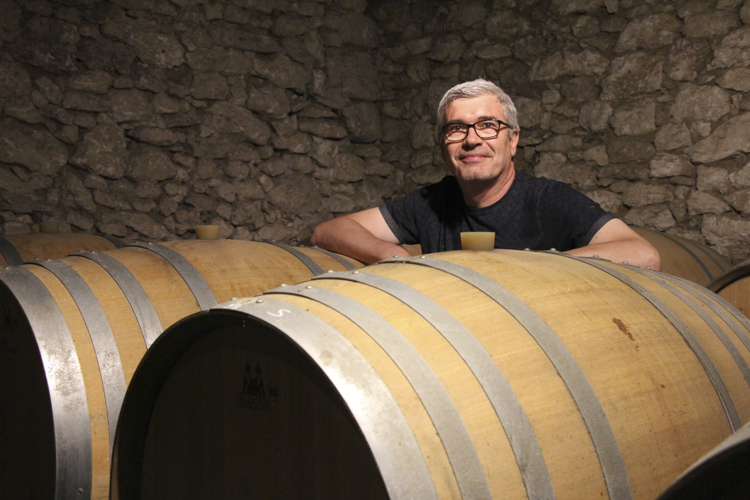 Like many new generation vignerons that make a career change to winemaking, Michel Baucé knows exactly what kind of wines he wants to make. He bought this 14 hectare domaine in 2003 and has totally revolutionised it, converting to certified organic and biodynamic. He dug up the vineyard's white grapes, replacing them by red, essentially Merlot and Cabernet Franc, producing just 4 cuvées, all natural wines with no sulphite added. His reasoning was obvious, 'because in 2003 it was difficult to sell white wines here so I decided to concentrate 100% on red by creating wines that stand out from the rest. From 2014 I was one of the first in Bordeaux to buy an amphora and have worked with them ever since.'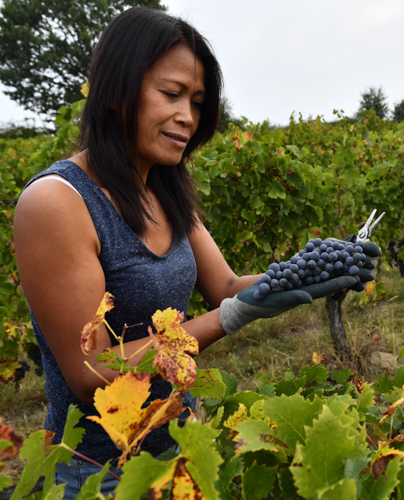 He admits, though, that they almost fell into organic farming by accident. 'I remember the salesman coming to take our order of chemical treatments and with 2 young kids and the a vineyard encircling our house, well I just said no, we will try another way. Our neighbours thought we were mad because 20 years ago few people in the Gironde was thinking like us, with the proportion of organic vineyards in Bordeaux at something ridiculous like 0.3%. Well today it is over 18% and rising steadily' His vineyard lies in the Sainte-Foy appellation, at the edge of the Bordelais, with Bergerac just 5 kilometres away. So for Michel it was crucial to create a clear identity for his Château, staying within the Bordeaux appellation but creating modern reds for modern consumers, especially overseas. And he has succeeded, as today 80% goes for export ' because these markets are more open and enthusiastic for organic and natural wines that are pure, intense and all about the fruit'.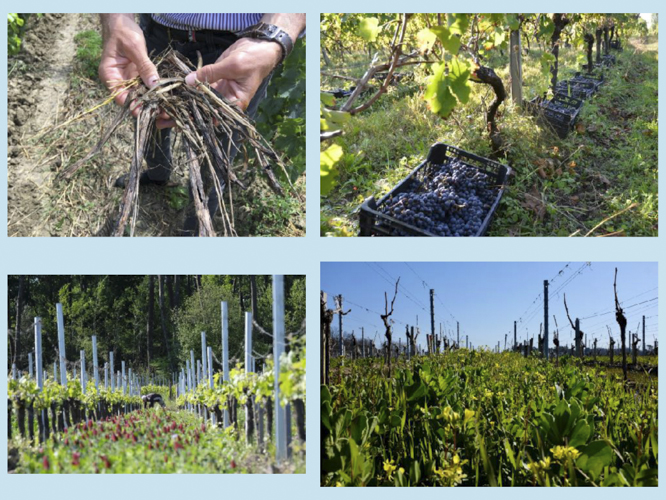 Vignobles Jean Médeville & Fils

The château that the Médeville family call home, is just at the gates of the medieval town of Cadillac, surrounded by vineyards. But Château Fayau is just one of their 11 estates, that traverse the left and right banks of the Garonne river, covering a extensive 200 hectares of vines.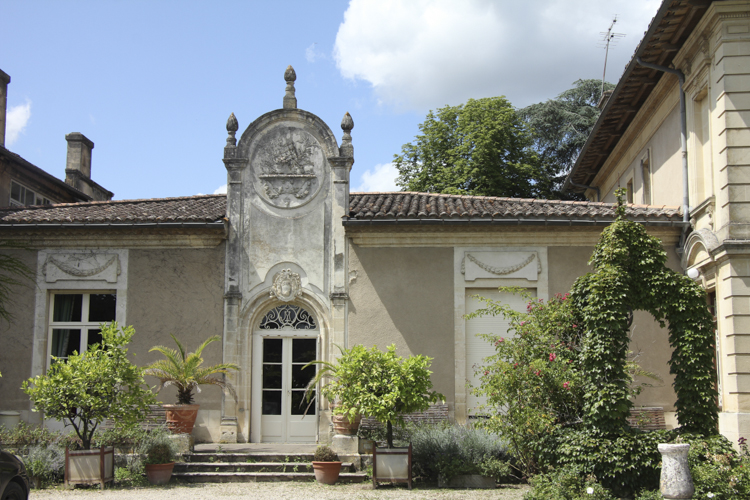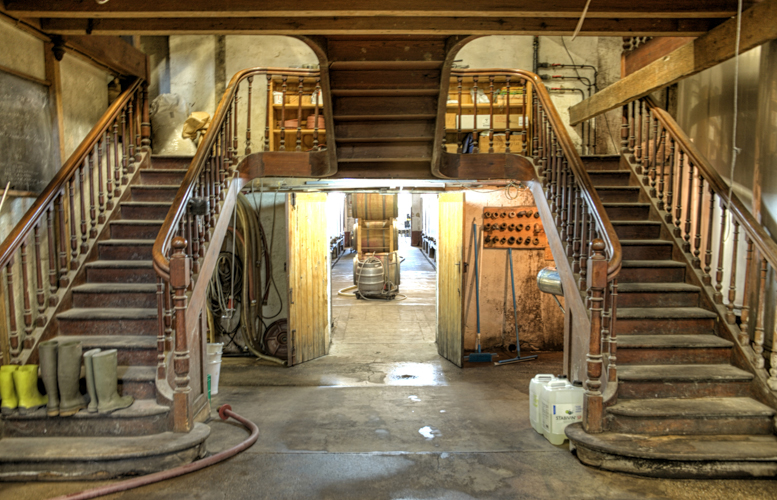 All the winemaking and ageing is done here in Fayau's rambling cellars, which despite the giant industrial cisterns outside, retains a quaint, quirky ambiance. Things have certainly changed since the winery's foundation in 1826, when there was only 12 hectares, and today, the 7th generation brothers, Jean and Marc, produce a million bottles a year. With such large production, change inevitable comes slowly. But the brothers are converting one château vineyard to organic, using a herd of 400 grazing sheep to replace chemical pesticides, and in 2019, they launched a very different red wine, Elementary.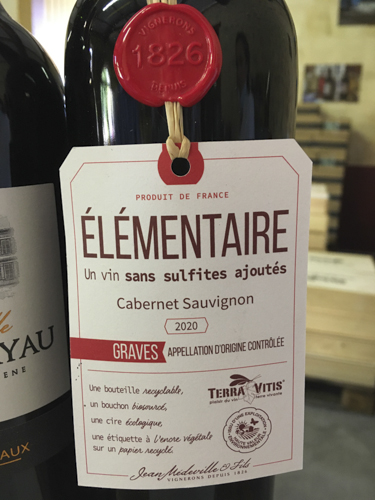 This surprising Graves is pure Cabernet Sauvignon, with no sulphites and 100% ecological packaging. 'It is a fruity, drinkable wine for the future,' insists Jean Medeville, the estate's oenologue. 'In our first year we have produced 10,000 bottles of Elementary and will double production next year. This is the vision we have for the wine of tomorrow, and if we had our way, we would be doing a whole range of accessible, easy drinking wines like this, as we possess both the terroir and cellar technique. Just look around the world and you can see people wanting wines that can be drunk young, fresh, on the fruit. But are they consumers of traditional Bordeaux château blends, who are used to complex, austere wines made to age?  And though it may surprise, for Elementary we were actually inspired by the origins of the Claret so beloved by the British in the 19th century, a light drinkable bistrot wine with no pretentions.'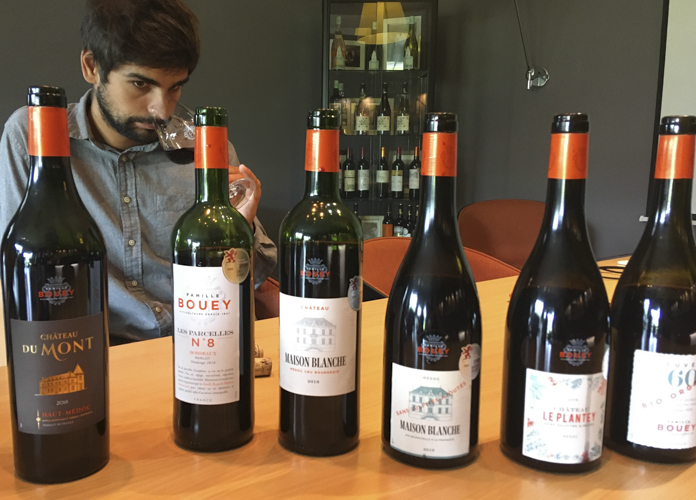 Winemakers in the Médoc since 1832, Famille Bouey, currently run by twin brothers Patrick and Jacques, is also an influential negociant, a global wine merchant selling some 10 million bottles a year. But the brothers remain committed to producing their own vintages from 6 Médoc châteaux, guided by one of France's most renowned consulting oenologues, Stéphane Derenoncourt. Patrick Bouey's son, Yann, who recently joined the Maison, explains how they have recently released a revolutionary new line of red wines. 'We had been thinking about taking new directions for a long time, but everything crystallised during the Covid lockdowns, which we managed to transform into an opportunity. So we have created some 30 new wines, ranging from a single grape Malbec to a rosé inspired by the colours of Pantone paints. But above all, we are going to be known for our zero sulphite range. There are already five new wines and the underlying philosophy is to make a quality 'sans sulphite' that is reliable, stable and can be aged. To do this, we analyse every cuvee of each of our chateaux to decide which can be selected without adding sulphites. For the moment that is 5-10% of the production.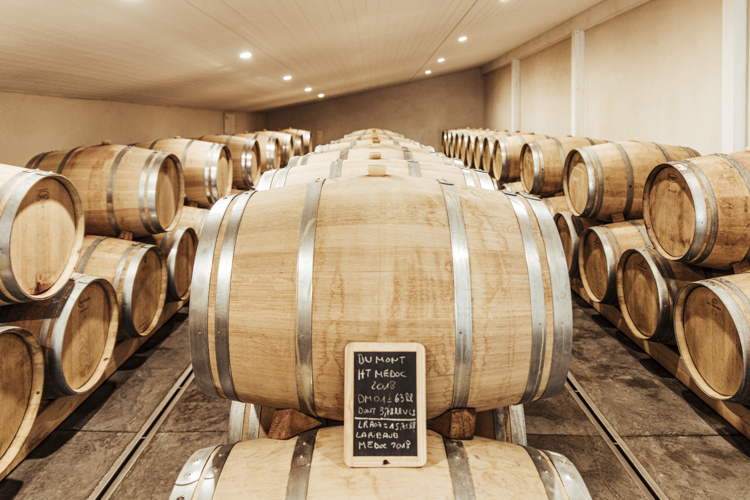 And the proof is in the tasting as all these new cuvees answer our questions.' Stéphane Derencourt is a new generation oenologue committed to terroir, to each specific vineyard plot, perfect to launch a series of premium parcel wines. 'With his unique geosensory approach,' enthuses Patrick Bouey, 'he brings out the best in each terroir, creating wines that are insistently modern, moving on from the classic Bordeaux vintages everyone has been drinking for the last 30 years.'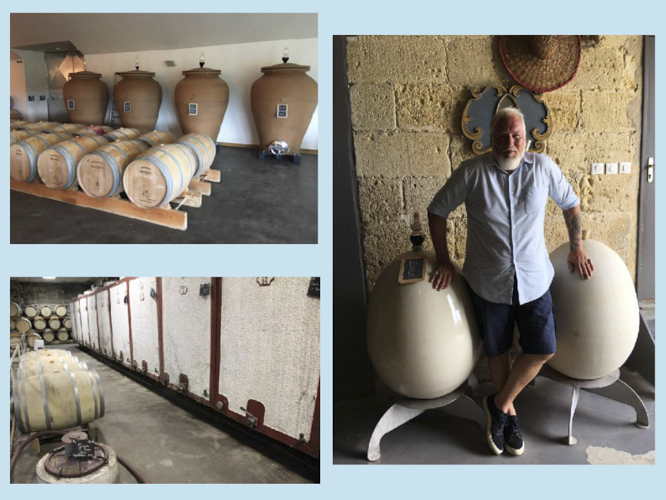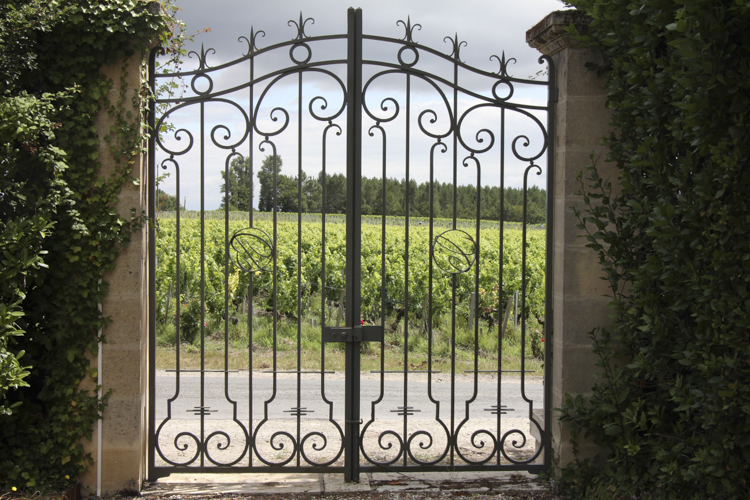 This discrete, historic château, in the heart of Moulis-en-Médoc, is steeped in tradition, until recently producing just two high quality reds, appreciated by a faithful clientele, set in their ways and expecting a certain kind of wine. But since 2017 a wind of change has blown through this exceptional estate, made of a single 45 hectare vineyard encircling the chateau, since the appointment of Lucille Dijkstra, a recently qualified oenologist fiercely committed to ecology.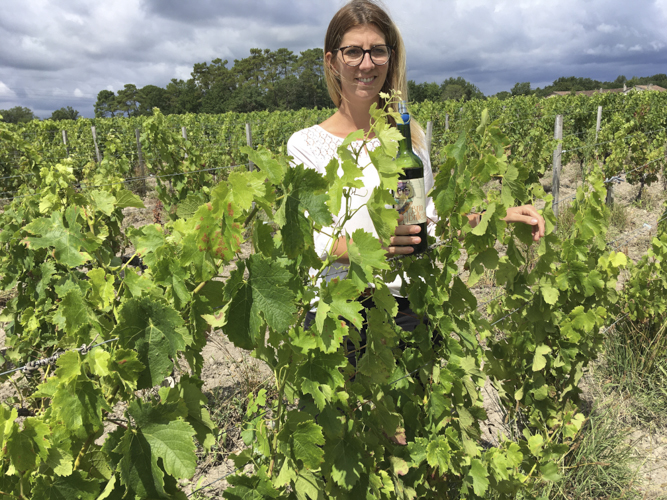 She comes from the South West of France and in her distinctive sing-song accent recounts how, 'I was immediately interested in reducing our carbon footprint, and during my first year I lowered the weight of our bottles, changed the glue, the paper for labels, shortened corks. For biodiversity we planted 1500 trees, studied bats, birds and nurtured bees for honey. And I stopped the use of all pesticides.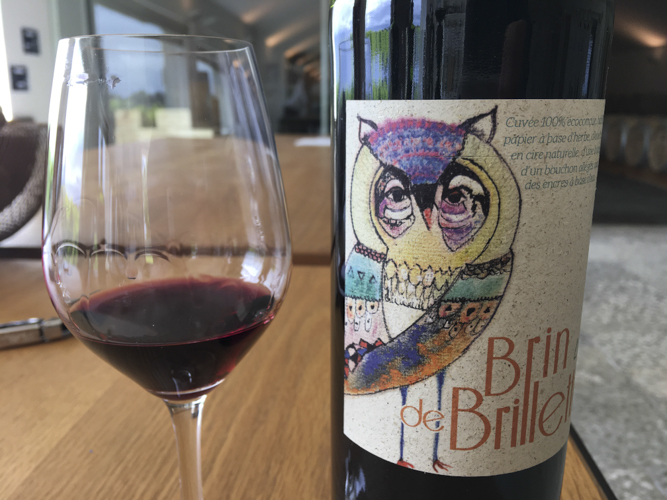 Then in 2018 it was time to make a new wine, Brin de Brillette. This is fruity, easy to drink, aged in oak and steel vats. The label is made from hay, no back label to lessen paper, a shorter cork with no artificial colouring, and no metal capsule but natural wax made from the resin of pine trees from the nearby forests of the Landes. And we are certified Vegan too!' While the signature Château Brillette remains unchanged, very traditional, oak aged, Lucille is looking at making Haut Brillette, the entry level wine, more accessible by concentrating on fruity suppleness rather than a complex structure. Coming straight to the point she declares that 'I don't want this wine hidden away in the cellar for years on end. We want to address a younger, wine lover consumer, who really is not yet aware of our wines, a product that will attract cavistes, wine bars, open-minded sommeliers, bistronomique chefs.'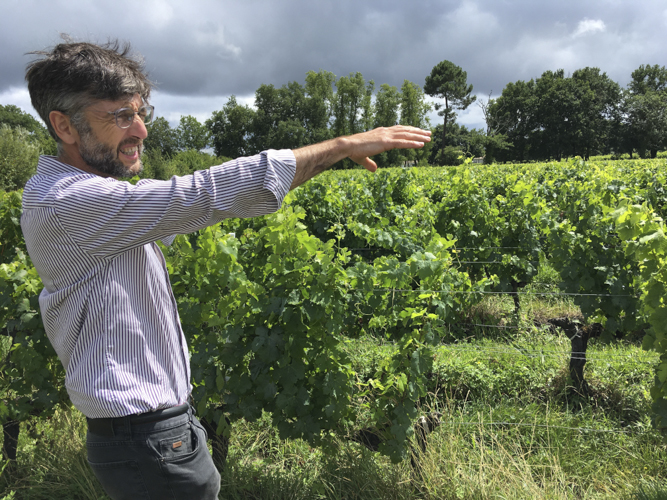 Compared to many of the Médoc's classical, perfectly-manicured vineyards, a quick tour around the vines surrounding Château Anthonic, in the heart of the Moulis appellation, unveils a very different landscape of small plots almost anarchically broken up by hedges, ditches, woods and fruit trees. This is the reality of the very personal philosophy of agroforestry followed by impassioned vigneron, Jean-Baptiste Cordonnier. He created one of Bordeaux's pioneering organic wineries here back in 1999, but insists that,' organic is just the entrance door for a whole world of other things I am doing.' Jean-Baptiste has led a 20 year crusade to revive biodiversity, growing crops between the vines to regenerate the soil, giving life back to attract the essential insects, funghi and bacteria.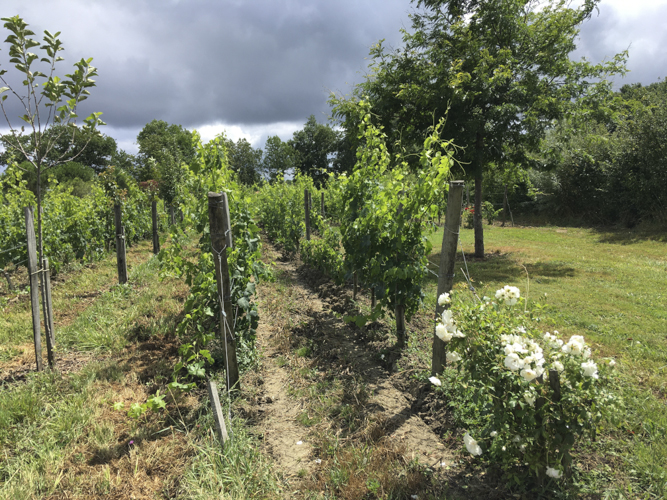 'The result,' he claims, 'is a soil that is more naturally fertile, more resistant, while the healthier vine grows grapes that make a better wine; more fruity, vibrant, a higher acidity and yes even with global warming, lower alcohol levels. A different equilibrium.' He also believes in deciding his blends when tasting the grapes, just before the harvest, deciding already which parcel is right for which cuvee, rather than wait till after fermentation. He only makes two reds, 'but I think they are already very modern. The entry range Les Aigles is vinified and aged in raw concrete vats, letting the wine breathe, and then bottled very early to preserve fruitiness and allow it to be enjoyed straight away. While the signature Chateau Anthonic may seem like a more traditional Moulis, and can definitely be left to age for a few years, but we are making it more supple and drinkable by slowly replacing the amount of classic barrel ageing with terracotta amphorae.'
Where to eat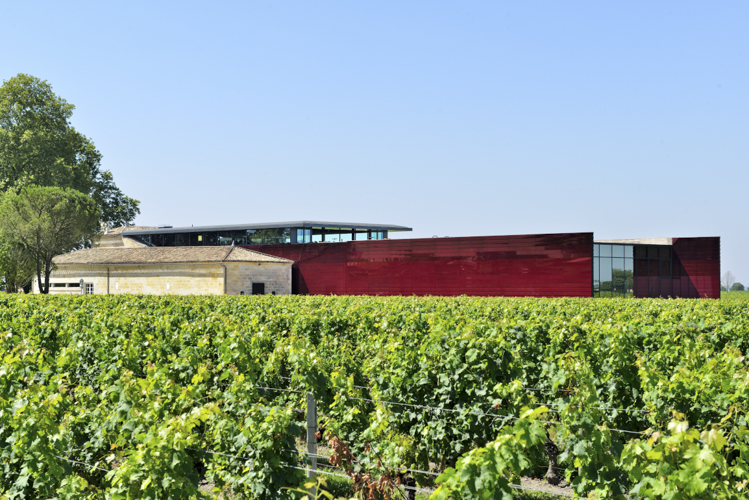 A short drive from Saint-Emilion, fun modern cuisine like tuna tataki or carpaccio of heritage tomatoes, served in a stunning contemporary space. Rooftop dining above the Château La Dominique's wine cellar, looking out over a stunning panorama of vineyards.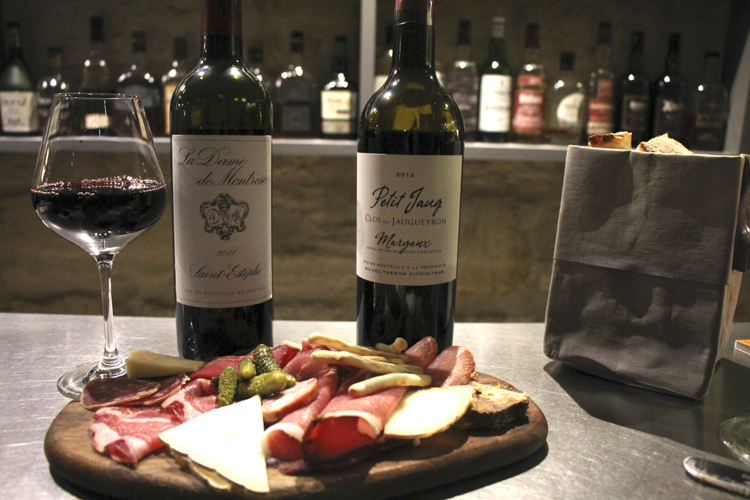 Cosy Bordeaux Cave à Vin that complements an innovative selection from Bordeaux with little-known organic, biodynamic and natural wines from the rest of France. Don't miss the signature white truffle croque-monsieur.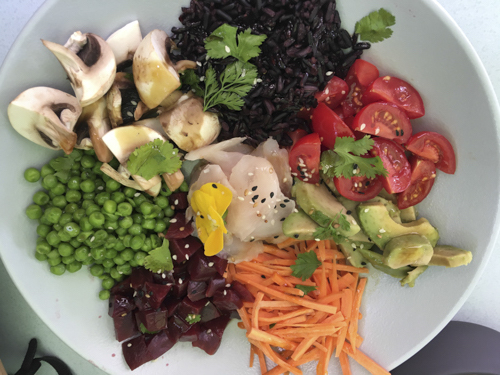 Idyllic terrace with a view over the Dordogne river, the creative cuisine of chef Laure da Gama is the perfect pairing to accompany local Côtes-de-Bourg wines. The owners also run a B&B in the village.
Where to stay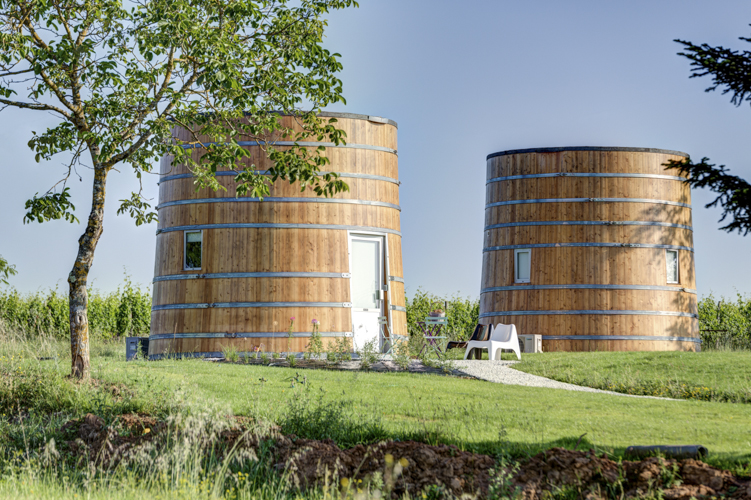 The family asked their barrel-maker to create two exceptional giant casks large enough to comfortably sleep in, including shower and all mod-cons. A unique glamping experience right in the middle of the vines.
What to do
Let the train take the strain by picking up the picturesque local line from Bordeaux Saint-Jean station to Pointe de Graves, that chugs through the mythical Médoc vineyards, stopping off at winemaking villages like Pauillac, Moulis and Margaux, where you can taste wine and not worry about drinking and driving.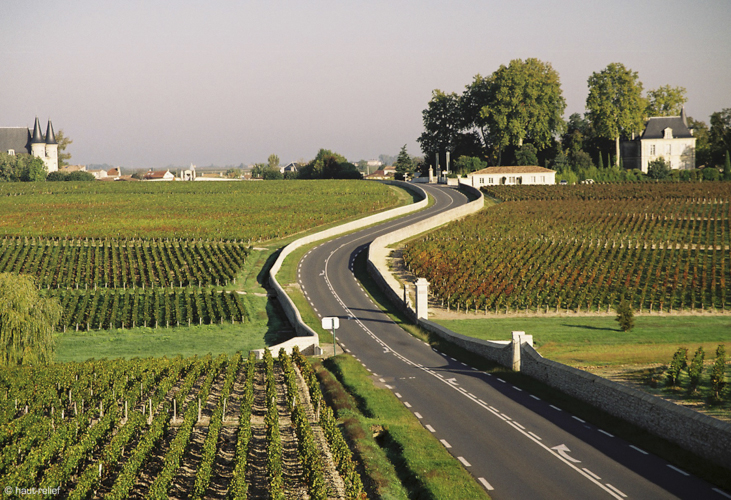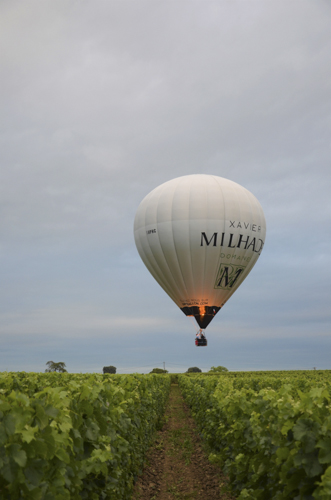 The medieval village of Saint-Emilion is one of the most picturesque spots in the Bordelais, surrounded by rolling hills covered by vineyards. Viewing this from the heights of a hot-air balloon is an unforgettable experience.