INTRODUCTION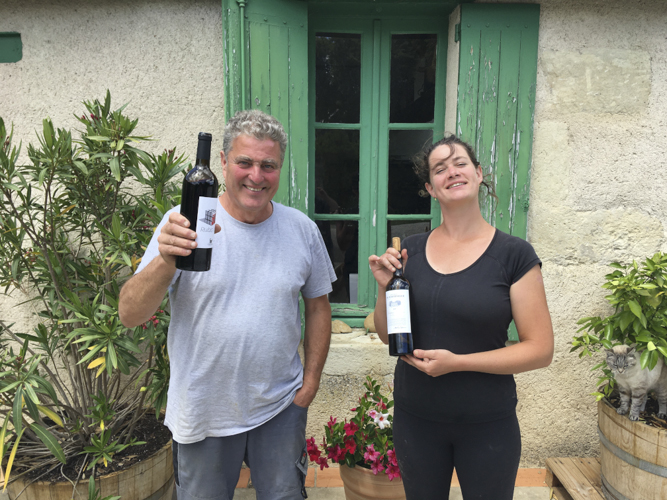 For a region that is personified the world over for its famous red wines, it can come as a surprise to discover that just over a century ago, up to 80% of the wine made in Bordeaux was actually white. While today that proportion may have dramatically fallen to 9%, travelling across the Bordelais, you discover almost everywhere a dynamic enthusiasm among vignerons to produce a new generation of quality dry white wines.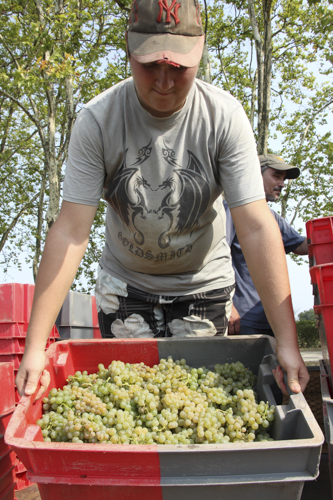 While the historic appellations of Graves and Pessac-Léognan may still lead the way, the domaines in Entre-deux-Mers are now producing some sensational vintages, while all over, from the grand châteaux of the Médoc to under-the-radar regions like Francs Côtes de Bordeaux and Cadillac, improved vineyard and cellar techniques are producing both outstanding blends of Sémillon and Sauvignon Blanc, and innovative single grape, even single vineyard cuvées. Here are ten wineries to discover the latest trends in Bordeaux Blanc Sec.
When it comes to white wines it is tempting to look no further than Ludovic Greffier, a passionate fifth generation winemaker of an historic 200 year-old vineyard that produces exclusively white wines. Not what you would expect in Bordeaux.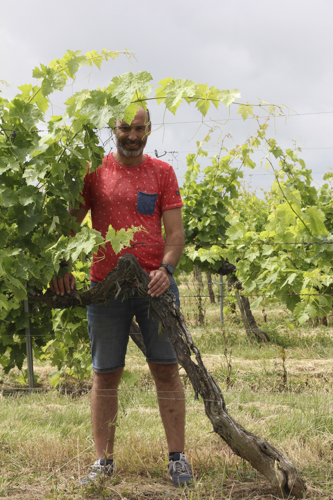 'It all began with my grandfather Claude,' he relates. 'In the 1920's, Bordeaux vignerons were abandoning their staple white wines, pulling up vines to replant everything with red grapes. Well Claude refused to sacrifice a single vine and my father continued the tradition.' He is convinced 'there is a renaissance right now in the demand for Bordeaux whites – a growing market among women and younger consumers, with increased potential for food pairing, such as white wines with cheese.' The heart of his 56 hectare vineyard is within the boundaries of Entre-deux-Mers, and Ludovic's signature wines take the appellation's insistence on blending grapes to the extreme.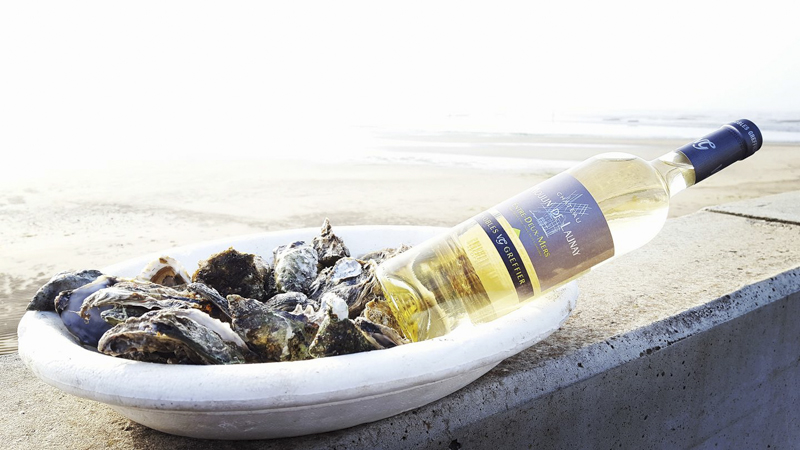 'Many producers here limit themselves to blending Sémillon and Sauvignon, while I prefer to use all the five varieties that are available. Then I have a premium range of Entre-deux-Mers, called Le Cinq, and rather than ageing in wooden barrels, I use the system of hanging wooden staves in our stainless steel vats that gives a slightly silky, oak touch to the wine. Because I want my wine to be a pleasure to drink, something to be shared and that has quality but is reasonably priced to make wine lovers open another bottle.' And while this is not an organic winery, its wines are certified Vegan.'Why?' asks Ludo with a smile, 'because I did not need to do anything special, and it opens up a new market for my wines, changing the image of the domaine as being more eco-aware.'
The bustling village of La-Sauve-Majeure is marked by the dramatic, towering ruins of its medieval abbey, and centuries ago, the abbey's monks used to live and make wine for Mass on the site of Château Sainte-Marie. Today it is a modern, dynamic Entre-deux-Mers winery.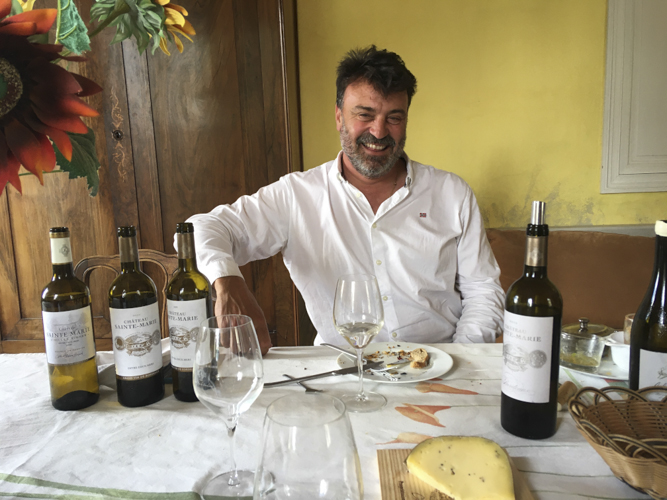 The current vigneron, Stephane Dupuch, is another of Bordeaux's larger-than-life characters, a bon-vivant, bear of a man, who immediately puts visitors at ease, urging them to 'forget about our name, this is more of a farmhouse than a château, and this refined tasting room is actually where the cows used to be milked.' Stéphane's family have an historic commitment to producing high quality Bordeaux Blanc Sec, with half of their 66 hectare estate planted with white grapes, some upto 100 years old. While remembering the words of his father, that 'a great Entre-deux-Mers is perfect to leave in the cellar for ageing', Stéphane is far more pragmatic in his approach. 'Drinkability is the key word today, keeping alcohol down to 12-12.5 to ensure freshness and acidity, the perfect expression of our wines oceanic, slightly saline personality.' Although he admits that his agricultural background was old-fashioned interventionist, 'today, kick-starting eco-responsibility is vital and we are currently converting to Certified Organic, while trying to keep the estate polyculture by growing cereals, maybe breeding cattle again, to move away from years of damaging monoculture.' So instead of planting more vines here, Stéphane's passion for white wines will continue over in the Médoc, where he has purchased Château Peyrodon in the the smallest Cru Bourgeois, 'perfect terroir for producing 'un grand vin blanc', blending Sauvignon, Sauvignon Gris and Sémillon.'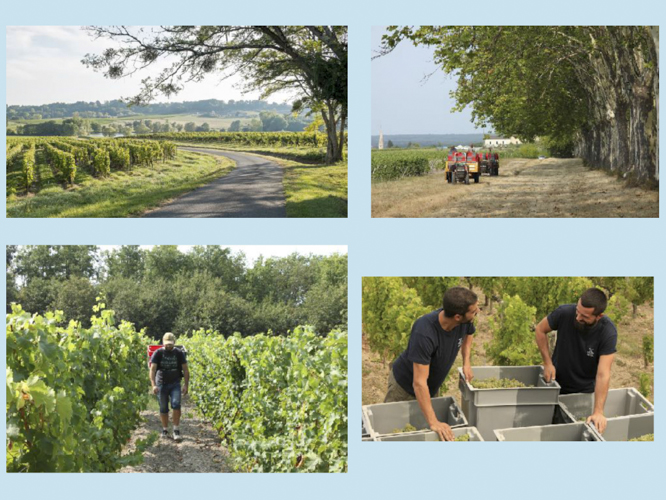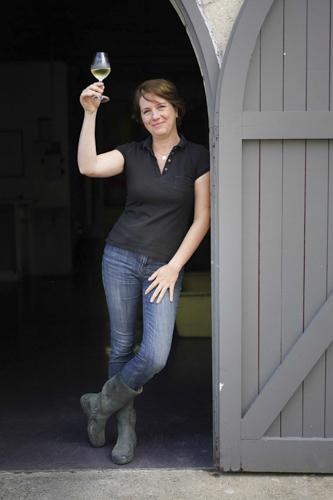 Located in the picturesque village of Saint-Germain-du-Puch, the winemaking heart of Entre-deux-Mers, Château Lestrille has been in Estelle Roumage's family for 120 years. She is a fifth generation vigneronne, who has seen many recent changes in how the estate functions. First her father, after he took over 40 years ago, stopped selling their production in bulk to Bordeaux merchants, and concentrated on bottling himself under their own Chateau Lestrille label, selling the wine principally in France. Since she joined him in 2001, Estelle initially concentrated on developing the export market, which today amounts over 50% of sales. Then in addition to their classic Entre-deux-Mers and a Bordeaux blanc sec, she oversaw the launch of a second line, La Petite Lestrille, created specifically for overseas restaurants and bars, sold in screw top, bag-in-box and even KeyKeg to sell wine on tap. Not what you would normally expect for a Bordeaux wine, but a great success nevertheless.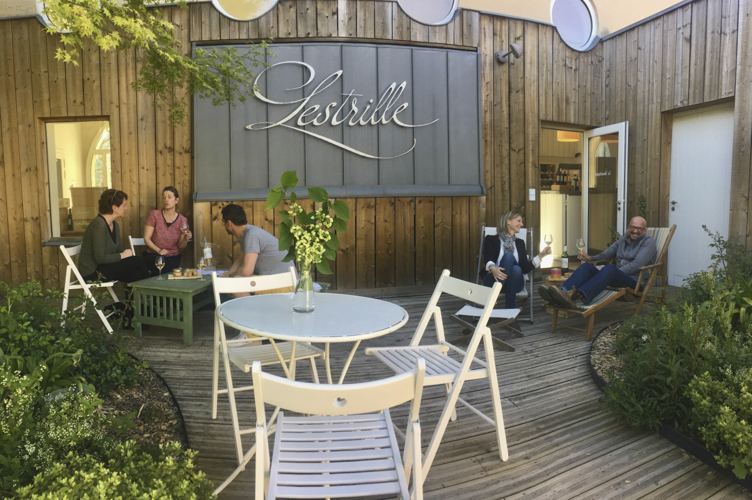 While her colourful village tasting room and boutique, right opposite the Château, is always filled for blending ateliers and food and wine pairings, she has launched Les Aperos du Chateau, early evening festivities that include not just Arcachon oysters accomanied by a chilled glass of Entre-deux-Mers, but live music, and food trucks.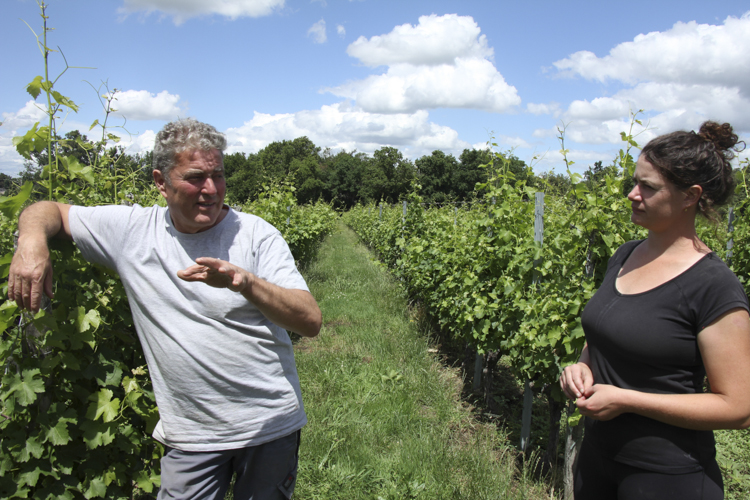 'On aime bien s'amuser ici – we like having fun here' says ruddy-faced vigneron, Stéphane Defraine with a big grin, as he begins pulling the corks of half a dozen wines lined up in the cosy tasting room of his rustic château. His classic high quality whites, the lively, intense Entre-deux-Mers and Bordeaux Blanc Sec, are consistently highly-rated by international guides, regularly winning awards. But alongside this, be prepared to try his alternative, funky La Coucoute range; Je Suis Gris, an Entre-deux-Mers made solely with Sauvignon Gris, Contre-Pied, a zero sulphite natural fermentation bubbly, and the mysterious Rubis Cub, quite simply a ruby-coloured wine that somehow tastes like a white, using Merlot grapes picked well before maturity, then vinify as if making a dry white.' If we want to talk to today's modern consumer' says Stephane as if it is the most obvious thing in the world, 'then we have to go outside the outdated structures of the appellation and offer new surprises.' And his own history is certainly not that of the typical Bordeaux vigneron he seems today. Stéphane describes himself proudly as a self-made man, ' I left my native Brussels when I was 18 and arrived in Saint-Emilion where I initially worked on a farm – driving tractors! I worked for different vineyards, studying part time, and eventually founded a vineyard management company.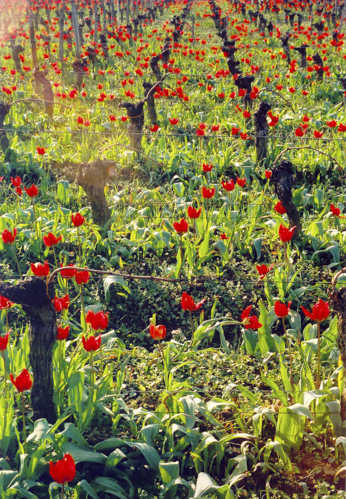 Then in 1989 I had the chance to buy this estate. I could not resist. We have traced back the history of Château Fontenille to the 12th century, and have increased the vineyard from 15 to 56 hectares, at the same time, converting to organic.' And today, he is helped by his daughter, Macha, who returned to the winery last year, ensuring a continuity for the Château.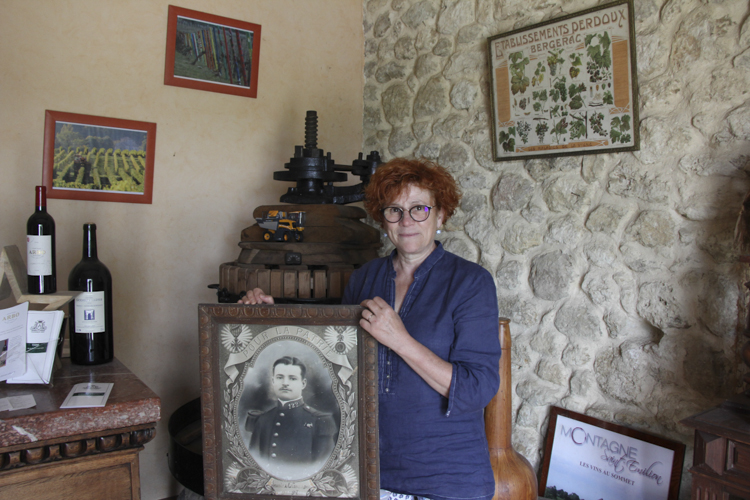 Located in the under-the-radar Francs Côtes de Bordeaux appellation, to the east of Saint-Emilion, Jo and Bernadette Arbo's Château Puyanché is actually a cosy vigneron's cottage where the wine cellar was once the cow stall. And welcoming couple are equally down to earth, with tastings taking place around an ancient bar decorated with a black and white portrait of a French soldier, the great grandfather of Bernadette who founded the family vineyard before perishing in the First World War. She and her husband took over in 1988, cultivating 12 hectares whose grapes went straight to the local Cave Cooperative. Today, their different parcels stretch over 51 hectares, under Château Puyanché, renowned for its Bordeaux blanc sec, and Château Godard-Bellevue, producing high quality reds. And while 50% of red is still sold in bulk, Jo and Bernadette proudly stating that 'all of our white wines are sold under the Château's label. Francs is the smallest appellation in Bordeaux with just 45 producers in three neighbouring communes, so our wines have a strong single identity.' Jo's cellar is a traditional mix of barrels and stainless steel vats, and his only nod to experimentation are a series of plastic ovoids where he tries out new techniques. He is not above using wooden staves for oakiness for the Chinese market, or ovoids for a special cuvée for the Japanese, explaining that, 'you always have to sell your wine as you can. There have been big changes for Bordeaux Blanc recently. Today everyone wants 'fraîcheur', freshness achieved by harvesting early for less mature grapes. We stand more against the tide, proud of our traditional personality, creating a gastronomic wine that has volume, is bold and generous.'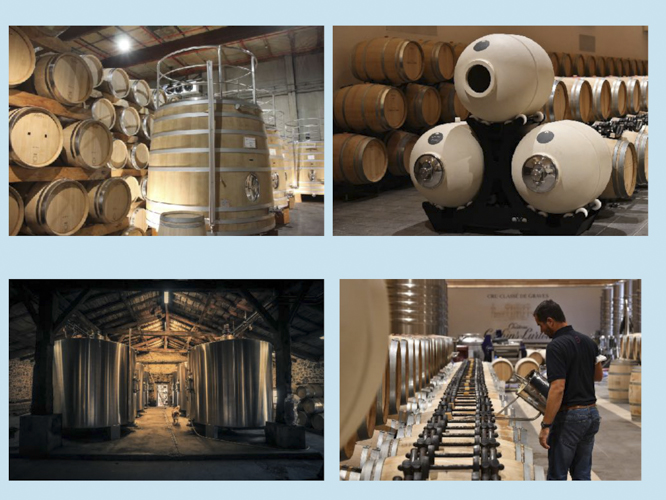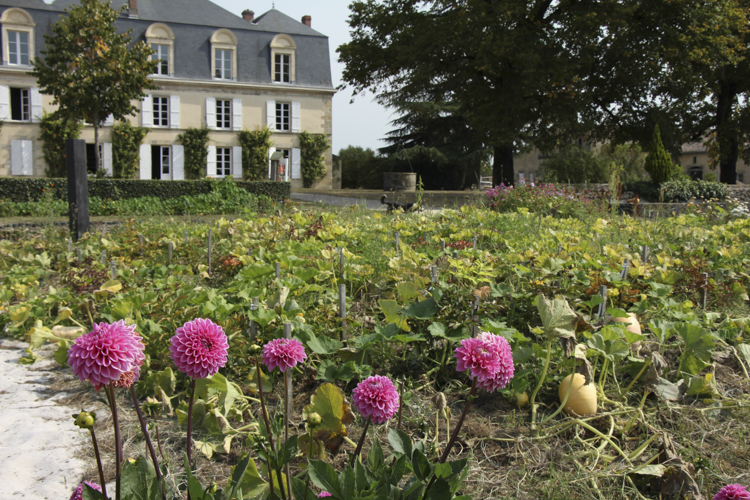 The stately Château Guiraud is one of the elite Premier Grand Cru Classé 1855, a stunning estate renowned for its luscious Sauternes. Down in the vaulted cellar of this grandiose 18th century château, Luc Planty proudly cradles a bottle of the original 1855 vintage taken from a stunning collection of precious dusty bottles. But today, Guiraud is about a lot more than Sauternes.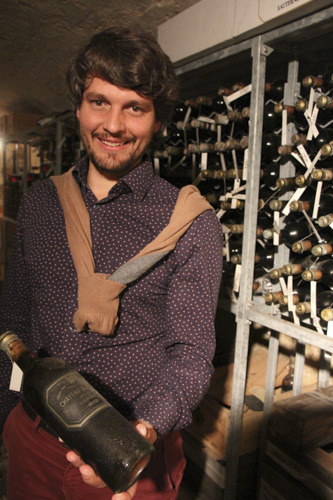 Only in his early thirties, Luc and his wife Clémentine, have built on the foundation of his pioneering father Xavier, to make this a model modern winery adapting to today's consumer. A chapel has been converted into a gourmet restaurant, there is a unique conservatory of vine varieties and a stunning permaculture 'garden of biodiversity', planted with vegetables and flowers including 500 varieties of heritage tomatoes. And plans for the future include either B&B accommodation, or a boutique hotel. 'Wine tourism is our shop window and we must take the chance to share our wine, our philosophy, our history, with as many visitors as possible,' says Luc.' But the Château is also pioneering when it comes to its wines. This was the first Grand Cru Classé to convert to organic, way back in 2001, and since the 1970's it has been producing a high quality Blanc Sec. Luc points to an elegant bottle of their signature G cuveé, explaining that, 'we have always produced just one single Blanc Sec, a premium quality barrel-aged blend of Sauvignon and Sémillon. We are even considering a one-off special vintage highlighting the 'Grand Terroir de Sauternes' by using only grapes that would normally be reserved for the Grand Cru Classé. I honestly believe there is the potential here to produce a great white wine that can rival even those of Burgundy.'
The Dourthe family created their venerable 'Maison' in 1840, when the first Monsieur Dourthe began to distribute Bordeaux wines to his hotels and restaurants, the origins of the present-day negociant wine merchant. Today, present owners, Patrick Jestin and his son Valentin, have established one of the region's most respected names as both merchants and wine makers. The vineyard part of their business covers 500 hectares from 8 châteaux, and they are respected as one of the pioneer developers of Bordeaux Blanc Sec since the launch of their flagship Dourthe N°1 Blanc over twenty years ago. 'My father, Patrick, and the oenologue, Denis Dubourdieu, whom you can describe as Bordeaux's Pope of white wine,' recounts Valentin, 'began a professional and personal friendship in the 1980's that was devoted to producing the perfect Sauvignon Blanc.'
For Dourthe N°1, the Maison does not vinify, but buys wine in bulk from 10 different vignerons, mainly from Entre-deux-Mers, Côtes de Bourg and Blaye, who have never changed from the day the project began in 1988. That first vintage produced 200,000 bottles of 100% Sauvignon, the first time a negociant launched his own wine.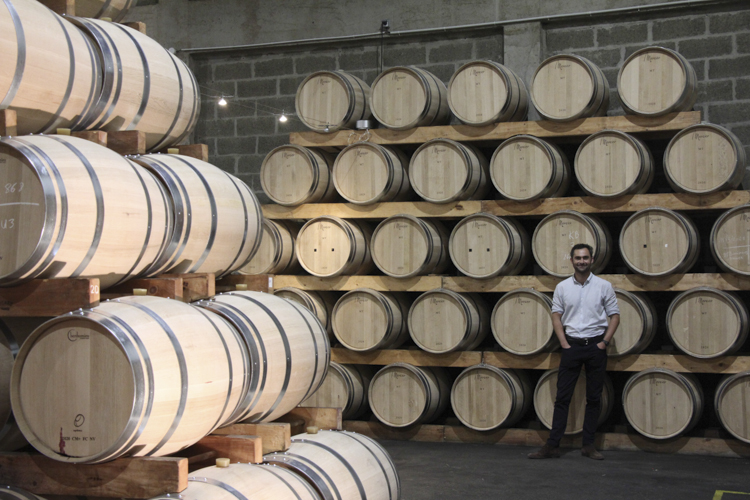 Today we produce 500,000 bottles, all aged here in our cellars.' Following this success, Dourthe entered the premium white wine market, with a Graves from Château Rahoul and Château La Garde's Pessac-Léognan. 'Both châteaux produce very different wines,' stresses Valentin. 'La Garde is predominantly Sauvignon from chalky limestone, while Rahoul blends in over 50% of Sémillon grapes planted on sandier soil. With this perfect terroir and impeccable grapes, these are the wines we hope will provide a clear identity for consumers all over the world for Bordeaux blanc sec, just like the whites of Burgundy and New Zealand.'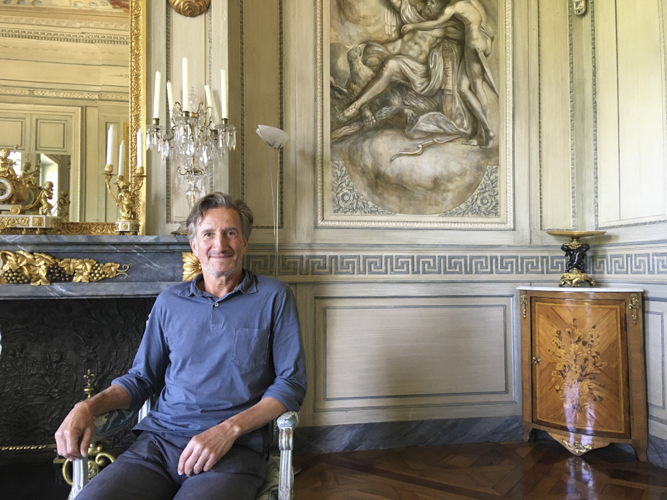 Jacques Lurton says with a wry smile that, "you can say that white wine is in our family DNA. Beginning when my father, André Lurton, inherited Château Bonnet in the 1950's and committed himself to building up the Entre-deux-Mers appellation, then establishing Pessac-Léognan's own Appellation in 1987, through to present times when I returned to manage our estates in 2019 after returning from advising New World wineries as a flying winemaker, bringing back with me the latest techniques and philosophies for making modern white wine.'
Jacques is holding court in the magnificent 18th century Château La Louvière, its majestic image reflected in a lake, lavish salons restored to perfection, and a modern tasting room where visitors can try wines from the family's immense 600 hectares of vineyards divided among 7 different châteaux. He is clearly a winemaker committed to create innovative white wines. In the cellar he experiments with amphorae and glass vats, making a biodynamic Sauvignon from his small vineyard at Château Couhins-Lurton. In 2019 he launched the Diane range of single vineyard, single grape variety whites. Then there is a sulphite-free Cabernet Sauvignon and an Orange wine waiting to be bottled. 'I want to prove to people that Bordeaux can surprise, can propose new wines,' he declares, 'rather than the classic image of dusty châteaux and old-fashioned style.' He also has strong opinions about organic cultivation, explaining that, 'we are not certified because I want to go beyond organic. A bottle displaying the famous organic sticker does not mean you have done everything, and does not mean automatically it is a good wine. So we have our created own Eco-Project, which includes using recycled paper for labels, adding to biodiversity by planting orchards and beehives, reducing the weight of wine bottles which has saved 450 tonnes of carbon footprint a year.'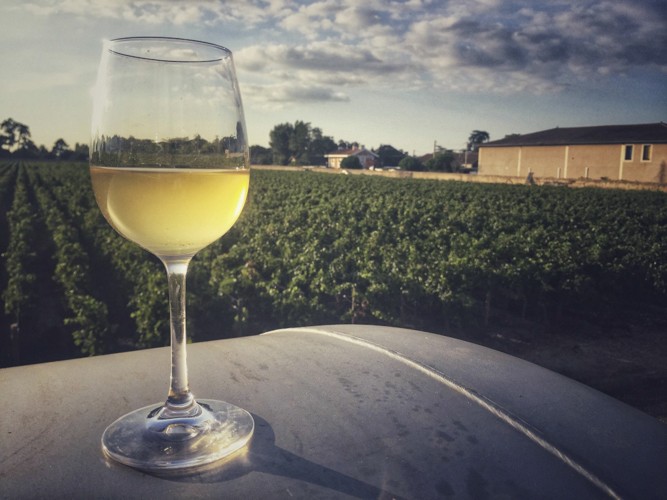 In the distinguished Graves appellation, the heart of Bordeaux white wine, the rural village of Portets is dominated by the magnificent 18th century Vieux Château Gaubert. But it was not always like that. When Dominique Haverlan realised his childhood dream of buying the property in 1987, the château had been abandoned for decades and was literally collapsing. He has spent the last 30 years restoring it to its former glory, recognised as part of France's official Patrimoine National, and building up an ambitious wine business producing one million bottles a year. And at the same time as rebuilding the château he has single-handedly replanted the 25 hectare vineyard surrounding the property, fashioning a range of wines that reflect his own personality. So you may be seduced by his less oaky, fresh and aromatic Blanc Sec or prefer a longer barrel ageing, that produces a more elegant and powerful wine.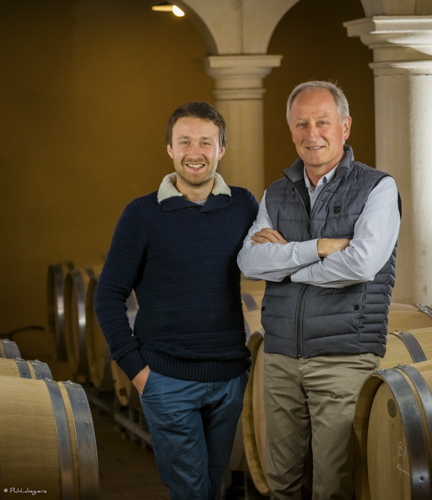 Dominique was recently joined in the business by his son Romain, a qualified agricultural engineer and oenologue, who admits he 'gained a lot of winemaking experience just growing up alongside my father here in the Chateau. Although 90% of our production may be red, I personally love to vinify whites, especially the subtle blend of grapes we use here; Sauvignon, Sauvignon Gris, Sémillon and Muscadelle. The only problem is finding the right market to sell them to. I think it will make a big difference when we can finally open up Vieux Château Gaubert to the public, to begin looking at the potential of wine tourism to increase awareness of our Blanc Sec.'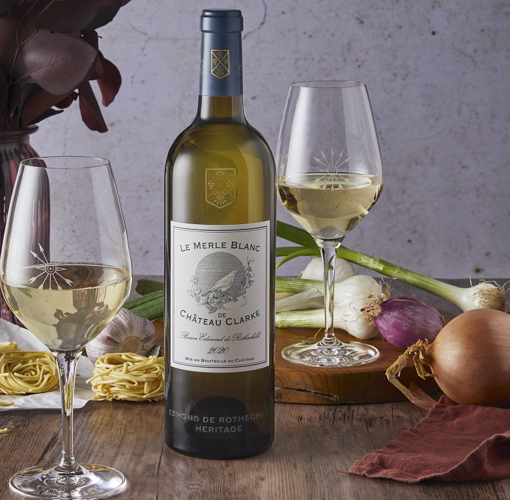 The vines around Château Clarke have been continuously cultivated by monks since the Middle Ages until purchased by Irishman Toby Clarke in 1771. It returned to French hands in 1892 when the Château produced the Médoc's first ever white wine, Le Merle Blanc, whose name and label has never changed. Today, this mythical Rive Gauche property is part of the Edmond de Rothschild Heritage portfolio, alongside premium vineyards in Chile, South Africa, Spain and New Zealand. The owners remain very attached to Château Clarke, visiting frequently, and resident oenologue, Fabrice Darmaillacq, emphases their commitment to Merle Blanc.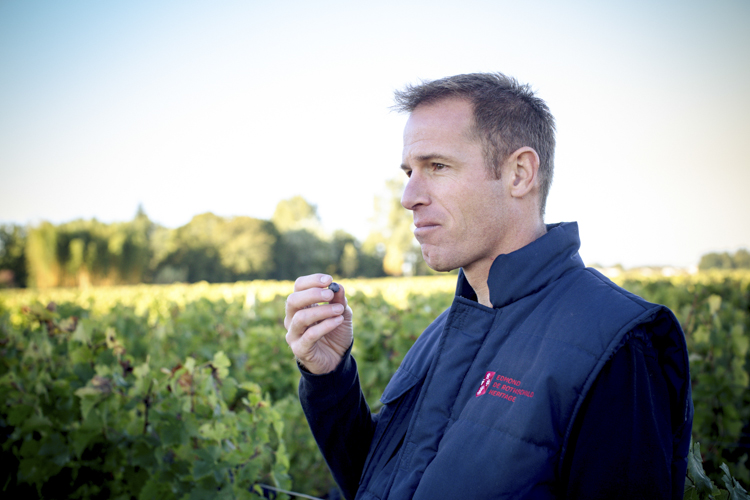 'Look around at building works going on all over the château, where a new chai will be dedicated solely to Merle Blanc. We believe totally in the future of Bordeaux Blanc Sec here in the Medoc, where there is the potential to rival the renowned châteaux of the Graves region. More and more Medoc chateau owners are moving towards a small but quality production of dry white, and our Merle Blanc is the precursor. There may be only 100 hectares of white wine under production in the Médoc today but what is important is the increasing quality. Our aim is to produce a wine that can be drunk young, but is also wonderful when it is allowed to age. The best of both worlds if you like. It can be an aperitif for modern consumers, while retaining its historic clientele of wine lovers willing to put their bottle away to quietly age. It is accessible from the day you buy it, but has the potential to age and increase in quality.
where to eat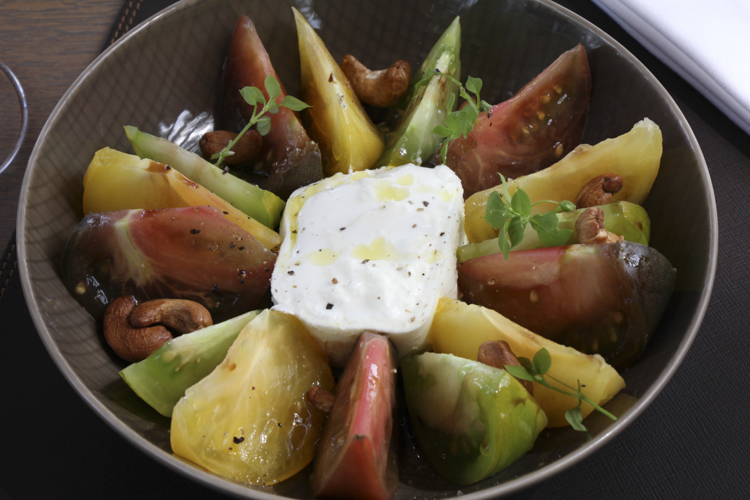 This picturesque restaurant in the gardens of Château Léognan serves generous cuisine created by chef, Geoffrey Debrach complemented by their excellent range of wines.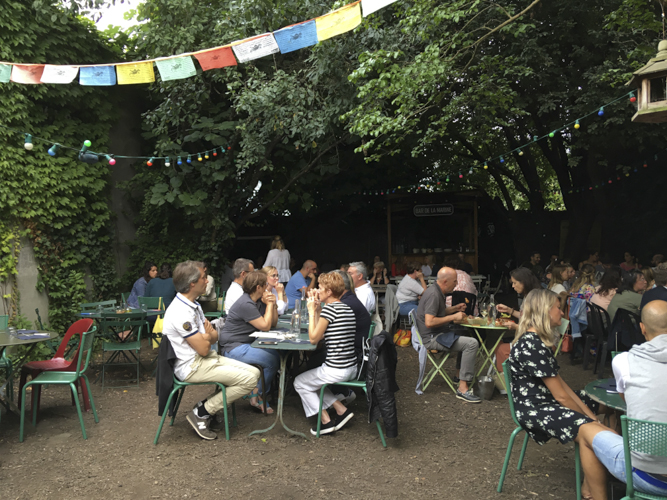 Bordeaux's foodie superstar, chef Frédéric Coiffé, has brilliantly transformed this classic bistrot by opening up the lush back garden into an old-fashioned 'guinguette', serving huge sharing plates of cheeses and charcuterie, sizzling squid, steaks and veggies cooked a la plancha.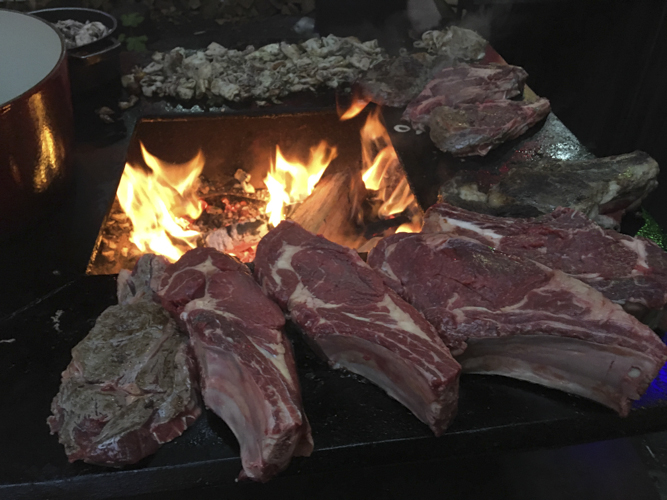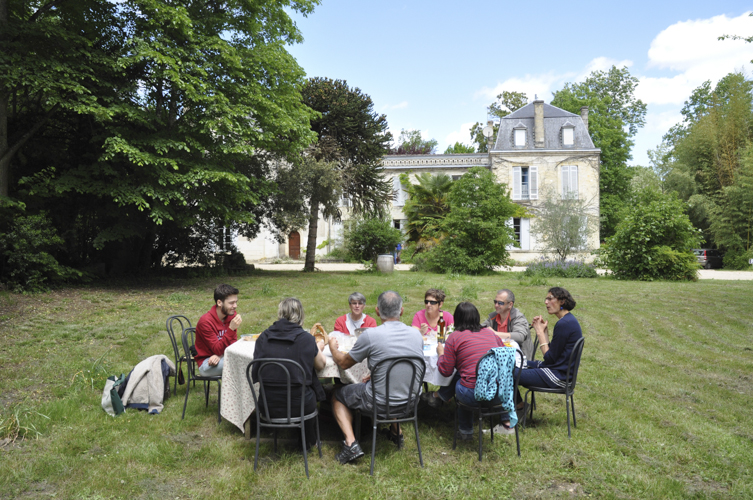 Spend the morning exploring the vineyards of the surrounding Pessac-Léognan appellation, then lay out a welcoming picnic provided by the the winemakers in the shady park of Château Bardins, accompanied naturally by a selection of their wines.
what to do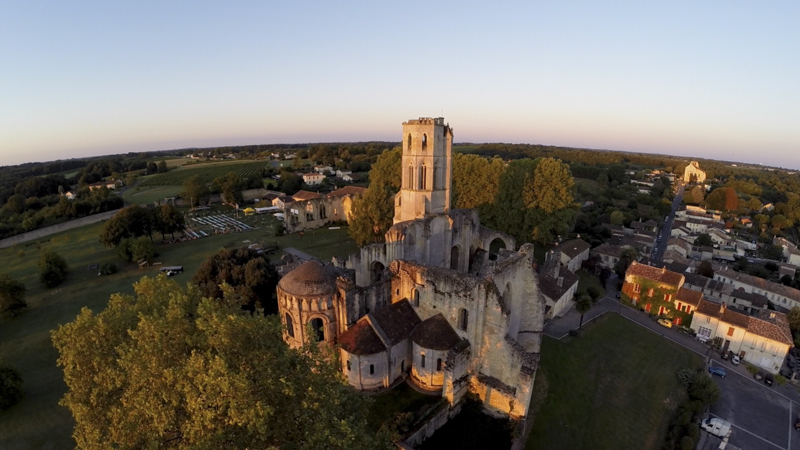 In the heart of the Entre-deux-Mers region, this ruined 11th century abbey is a masterpiece of Romanesque art, recognised as a Unesco World Heritage site on the pilgrim's route to Saint James of Compostela.
Bordeaux is brilliant for spending the day cycling through the vineyards, with numerous dedicated bike tracks. But how to decide where to go? Gironde Tourisme offers a series of dedicated cyclo-itineraries with detailed routes, from the Médoc to Saint-Emilion to Sauternes.
where to stay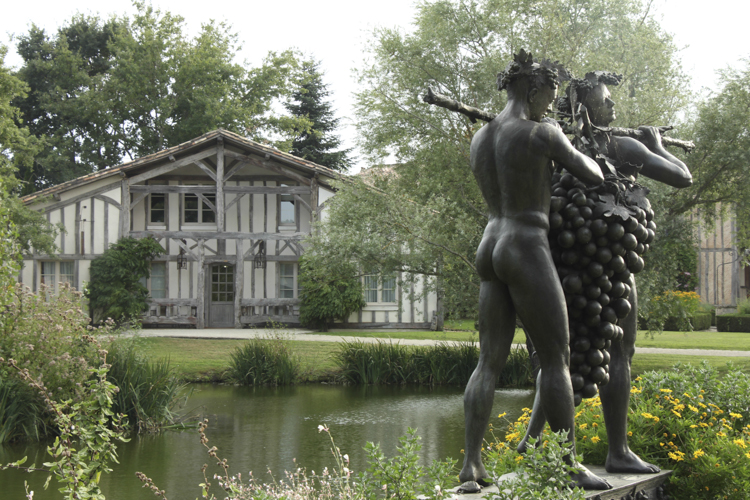 To totally spoil yourself, book a pampering stay adjoining the historic Château Haut Lafitte at their luxury vinotherapy spa, showcasing the renowned wellness treatments of Caudalie, with a 2 Michelin-starred gourmet restaurant.