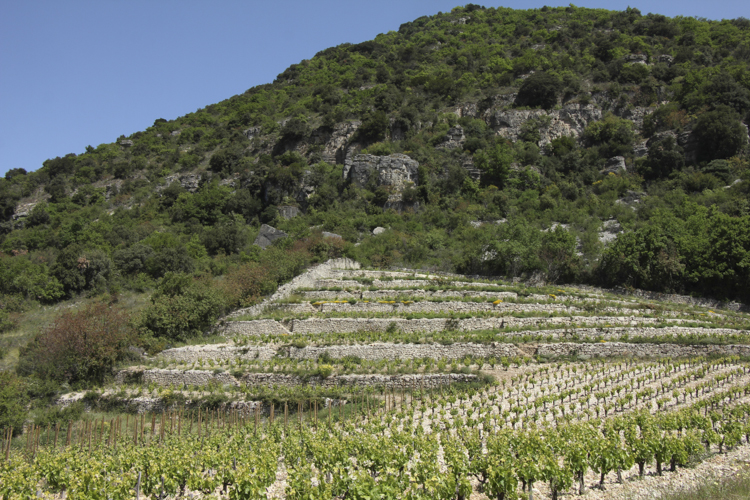 Introduction
Each French wine region reserves its surprises but few compare to discovering Terrasses du Larzac, its spectacular landscapes and the remarkable quality of a signature red wine that is about to celebrate the 10th anniversary of officially obtaining appellation status. To really understand this unique corner of the Languedoc, you need to make the trip here, barely an hours drive from Montpellier, with other-worldly scenery of rolling red hills that resemble the desert of Colorado, ancient stone terraces lined with magnificent bush vines of Carignan and Syrah, Cinsault and Mourvèdre, first planted by the Romans, that rise as high as the Larzac's mythical lunar plateau.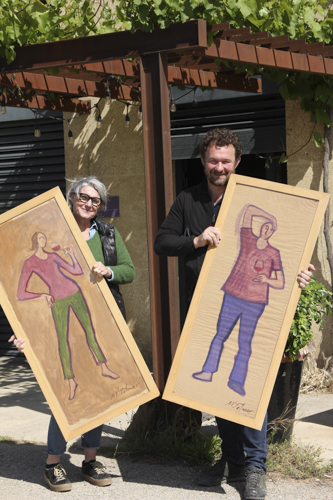 You will meet vignerons whose families have been here for centuries, and others who have arrived from afar to set down roots, changing careers to start a new life as independent winemakers. There is exciting innovation in the cellar, making wine using raw cement tanks, terracotta amphorae, ceramic jars and cone-shaped tronconic barrels. Alongside is a profound commitment to certified organic winemaking, enthusiasm for following biodynamic principles, while many are making natural wines without added sulphites. And the natural biodiversity here is simply exceptional with vineyards surrounded by wild, dense woods and forests, complemented by a unique geological patchwork of diverse terroirs. Rules are strict to qualify as an AOC Terrasses du Larzac wine, blending at least 3 different grapes from a choice of nine, but which actually allows a lot of freedom of expression for the winemaker. You can hear many of their tales, as well as ideas for eating and drinking, sightseeing and accommodation, on the Terrasses du Larzac link and the recently launched Web-App, Itinerances. Below are 10 wineries to plan a trip as well as a selection of local bistrots to discover the appellation's hearty regional cuisine.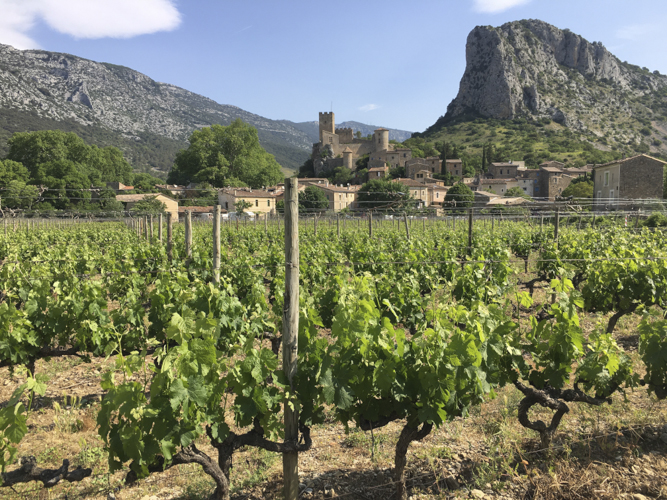 Domaine Coulet
This sprawling vineyard begins in picturesque fashion, with a tiny parcel of vines at the foot of the ancient village of St Jean de Buège that majestically rises up to a fortified castle. Run by the dynamic partnership of Benjamin Coulet and his cousin Valentin Goeminne, the young Domaine has totally transformed this sleepy commune. "We grew up here," recounts Benjamin, "both our parents were smallholders selling grapes to the village coopérative, and today we are fulfilling our childhood dream of being independent winemakers. And the crucial stimulus for that ambition was when the region received official Terrasses du Larzac appellation status ten years ago." Starting with just 4 inherited hectares, Benjamin and Valentin slowly purchased the land of viticulteurs looking to retire who used to sell grapes to Coopératives, growing to a significant 33 hectares.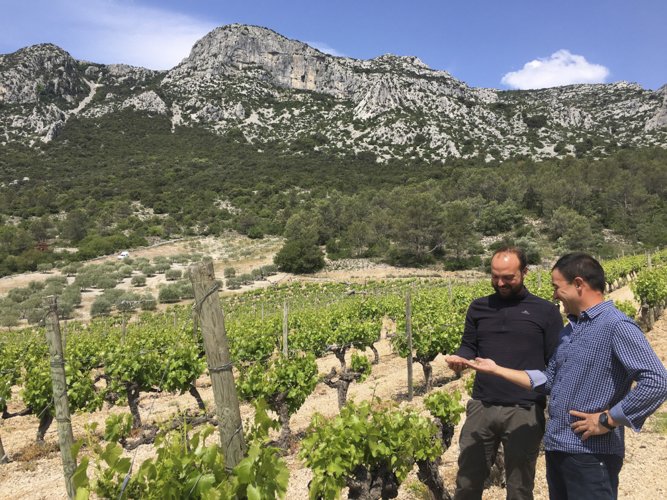 The property is split into over 100 tiny parcels that are almost all natural terraces typical of the Larzac, benefitting from 200 to 300 metres altitude and fertile limestone soil. Walking through a line of immaculate ancient bush vines, Valentin remarks, " just listen to the Tramontane wind whistling. The wind is not always easy to live with but is a blessing, preventing mildew so we can keep vineyard treatments down to a minimum. The natural biodiversity here is exceptional, with woods everywhere, and with mountains surrounding the terraced vineyards, we are in a protected cocoon. And we have always been committed to organic winemaking, as we lost a grandfather to cancer at just 67 years of age due to exposure to pesticides."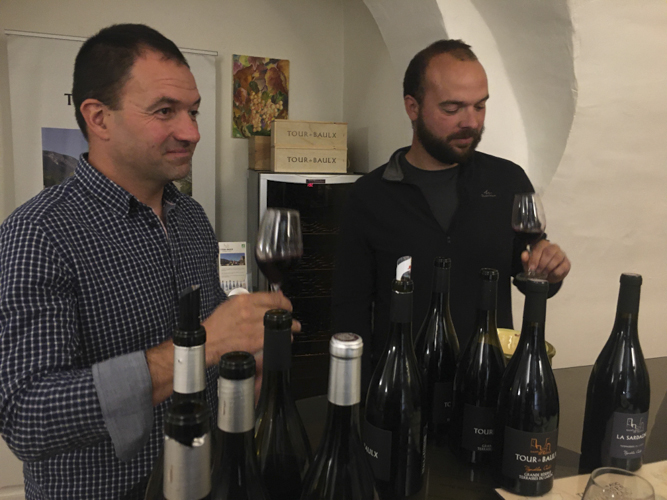 Their final step was purchasing the village's long closed-down Cave Coopérative, creating a modern cellar of gleaming steel vats and oak barrels, where they vinify by parcel before blending, to produce three distinctive Terrasses du Larzac cuvées.
Domaine d'Anglas
This is another of the Terraces du Larzac's remarkable domaines, a friendly family-run vineyard camping site, created by Roger Gaussorgue, a farsighted vigneron convinced that oenotourism is the best way to sell his wines.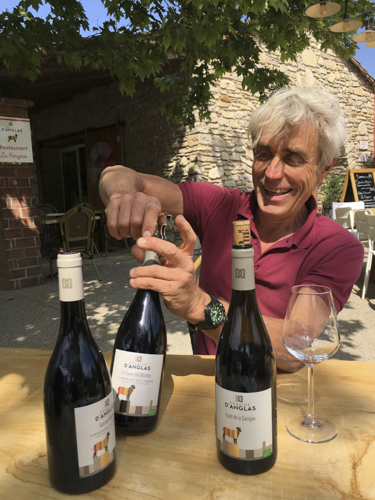 "Our region has some amazing sights, from caves and perched villages to canoeing in the Herault gorges. Visitors are always interested to learn about our work, so we organise food and wine pairings, a tour of the domaine by tractor, the chance to join the grape harvest and above all, a 6 kilometre trail around the vineyards for hiking or biking with educational signs explaining the biodiversity and history of the region. The result is we sell 40% of our wines here". While the domaine spreads over 115 hectares, it is mainly woods and grazing land that are used by a cattle farmer and a shepherd who raises 400 sheep.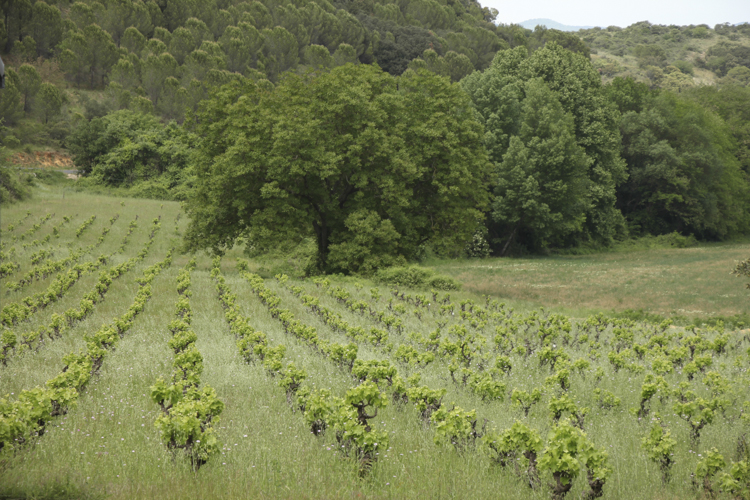 Roger has 12 hectares of vines in two main parcels around the camp site. He uses the sheep for weeding the vineyard in the winter months and is utterly committed to organic cultivation, "as I did not like telling campers to keep away from the vines when I was spraying chemicals." The big surprise when you start tasting his Terrasses du Larzac wines is that they are distinctively different; more fruity, lighter and easy to drink when young. The reason is that Roger is a pioneer natural winemaker, who eliminated the use of added sulphites from 2005. "I did not understand the advice from my oenologue that I had to add sulphites to increase the quality of my wines.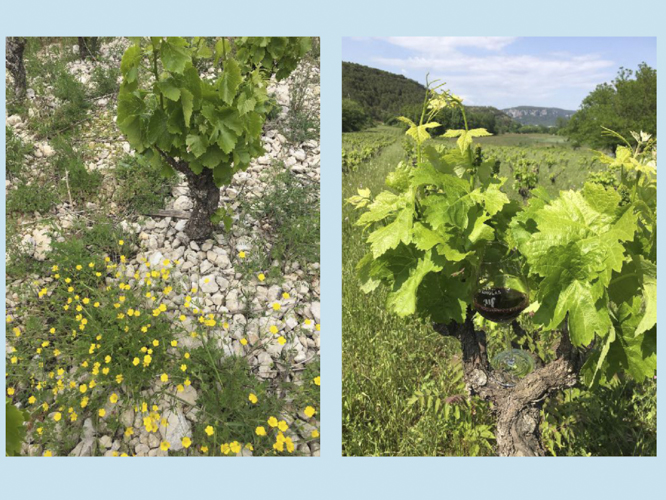 For me, the grape was perfect, so why add anything. I am a Huguenot by upbringing, so prefer to follow my instinct. The next year I stopped adding sulphites, the wine was as I wanted, and I never looked back."
Mas de Clanny
Jérome and Olivia Vaillé launched Mas de Clanny in the garage of their modern house on the outskirts of the bustling village of Saint-Félix de Lodez. After an initial first vintage of just 2,300 bottles in 2016, they now produce 12,000 bottles from 6 hectares of vines. Jérome explains that "like many of my contemporaries in the Terrasses du Larzac appellation, we are still in a period of transition between independent winemaking and selling grapes.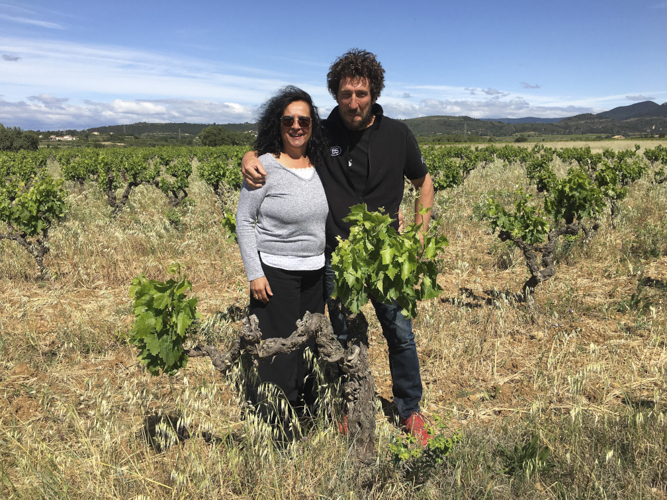 Our estate actually covers 20 hectares, but for the moment, to survive financially, the bulk of production is sold to wine merchants." He is the 4th generation working in the vineyard, and describes his father, who still helps out at the age of 80, as "a viticulteur rather than vigneron, cultivating and selling his grapes to the local Cave Coopérative." Jérome prefers to call himself a Paysan Vigneron, "because we do everything ourselves here, from working the soil, making our own compost, the cellar, bottling and delivering.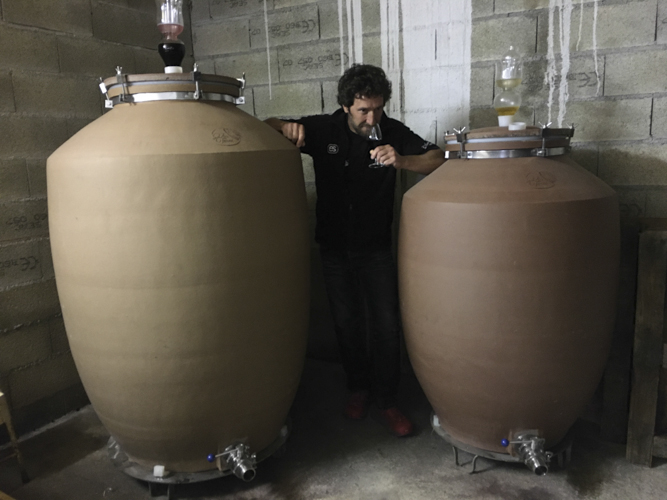 For me, the vineyard is the crucial part of my work and we have been certified organic since the first day, but I love experimenting in the cellar too, especially with my terracotta jars." Currently ageing an orange wine, he says with a smile that "each year I say I will make a red blend with no added sulphites but never find the time. Maybe next year," The vineyard is split into two; white grapes growing in clay, reds planted in the red "ruffes" soil that characterises the Terrasses du Larzac's distinctive Terres Rouges. He admits that, "I may be born around here, but am still stunned every time I go out into the parcels of vines in the Terres Rouges – a unique landscape of ever-changing colours during the day and during the different seasons."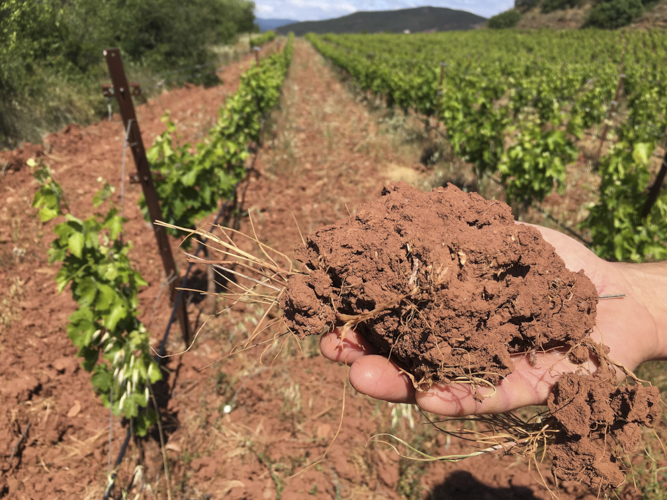 Mas des Chimères
A visit to Guilhem Dardé's cellar is always a memorable experience. He loves opening bottles, discussing his wines and unique soils, selling a staggering 35% of the Mas des Chimère's production directly to winelovers who make a pilgrimage here.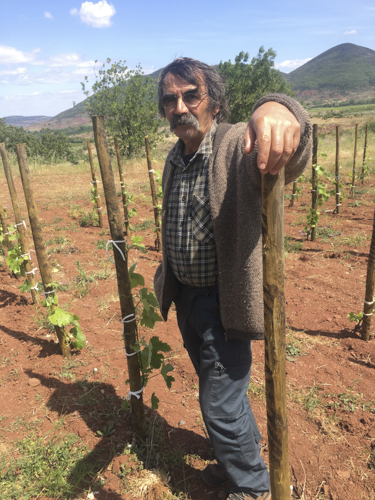 He is what the French call a 'personnage', a colourful personality with bushy moustache, pertinent opinions on everything, dramatically insisting that "all that matters now is climate change." All very typical of the nonconformist, activist reputation of this unconventional appellation. He recounts how, "I started in the vineyard at 18, working with my father and uncle, but we were viticulteurs rather than vignerons, selling the grapes to the village Coopérative. The domaine back then was polyculture, with olives, sheep's milk to make cheese at Roquefort, table grapes, chickens and raising lamb for Easter. Today I still grow wheat to make bread, lentils and barley. I don't raise animals anymore but have 5 children instead." Today Guilhem works his 22 hectare estate with his wife Palma and daughter Maguelone.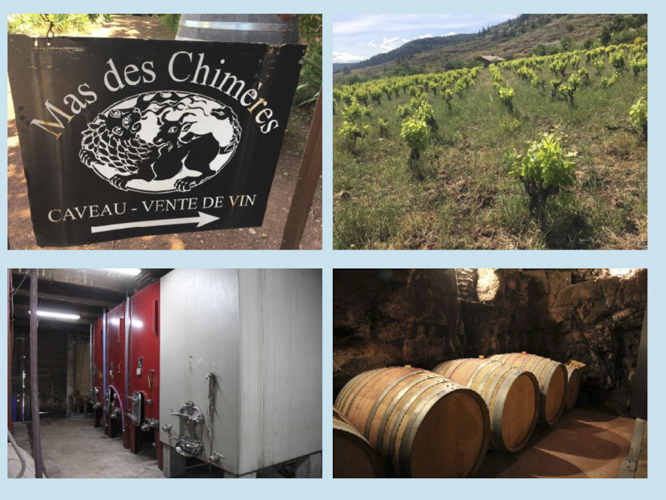 He was a pioneer bottling his first wines back in 1993, and today his cellar is dominated by raw cement tanks. His Nuit Grave cuvée is a potent blend of Syrah, Grenache and Mourvèdre, perfect for ageing, though he says with a smile, "it really is not complicated to make wine you know. Just don't expect to see a terracotta amphora hidden in the corner, because that is just for journalists to write about. Fashions and trends like this just bore me totally." However he does get very passionate walking to his vineyard through the otherworldly desert landscape of the Terres Rouges hills, explaining the difference between his two unique soils; iron-rich oxidised red ruffe, dating back 250 million years, and blocks of lava-based black basalt, driven to the surface by volcanic eruptions.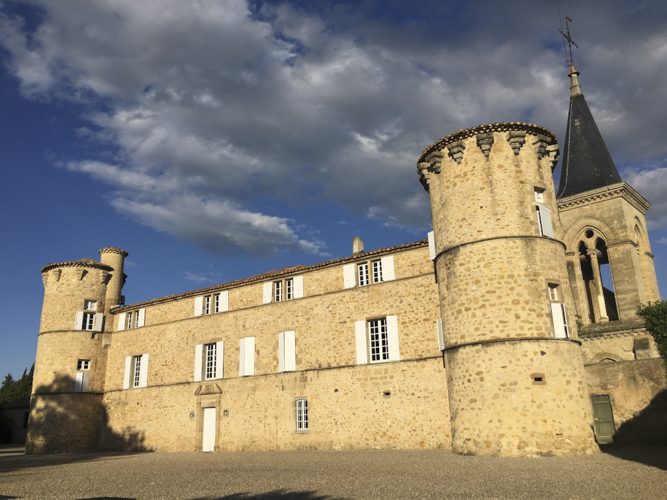 Château de Jonquières
The tiny medieval village of Jonquières boasts an impressive château; a luxurious retreat for winelover holidays and a small 10 hectare vineyard.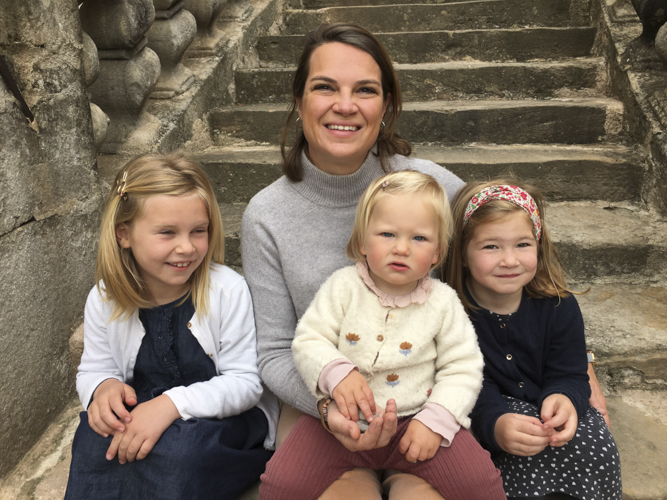 Charlotte de Béarn, a cheerful mum of three boisterous blonde daughters, is actually the 35th generation of a family that owned Jonquières since it was founded in the 12th century. She and her husband Clément were just 24 when they decided to take over the vineyard, while her parents remain today in the castle, overseeing an elegant 5 room bed&breakfast. The young couple spent two years in transition, learning the basics of winemaking, and the first wines they proudly say can be described as their own date back to the 2015 vintage. Clément stresses that, "at first we did not want to change the personality and image of the château's wines, which Charlotte's father had created as an independent winemaker after leaving the Cave Coopérative.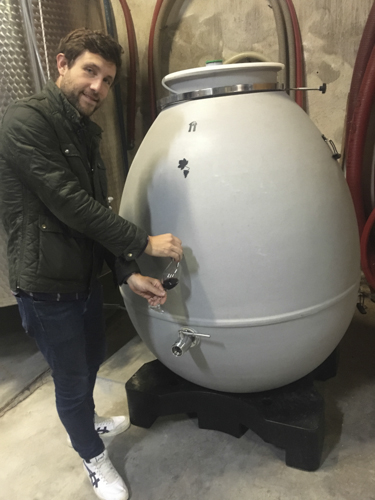 But today I think we have our own identity, using native yeasts and a fibre ovoid vat in the cellar as part of the vinification of the Terrasses du Larzac reds. We are working with a new consultant oenologue who is open to different ideas – single grape vintages, maybe an orange wine – and in the vineyard I am especially interested in the effects of agroforestry; pulling up some vines to plant trees to increase biodiversity, planting new hedgerows around parcels of vines to protect against winter frost and extreme summer heat. And although I am not looking for biodynamic certification, I certainly follow much of this philosophy.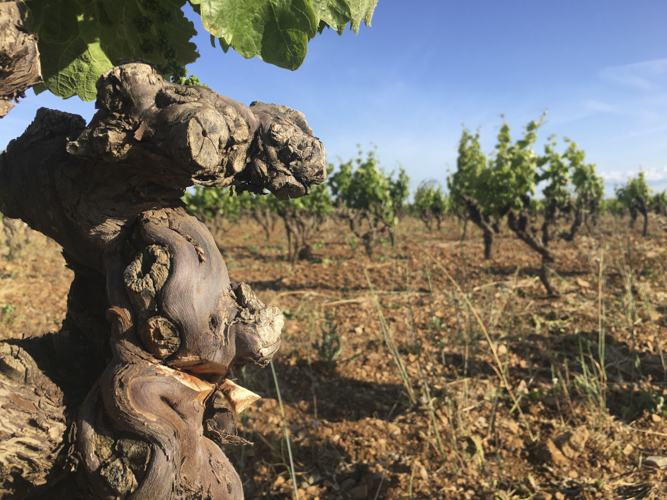 We are also interested in wine tourism, always ready to arrange special tastings for guests staying at the château. But at the moment we have to choose our priorities, and that has to be the quality and innovation of our wines."
Domaine du Pas de l'Escalette
Driving up to Domaine du Pas de l'Escalette, the road passes through the Tunnel de la Vierge, the landscape becomes dramatically mountainous, and vigneronne Delphine Zernott declares that "we are now entering a very different part of the appellation from the rolling red ruffe hills"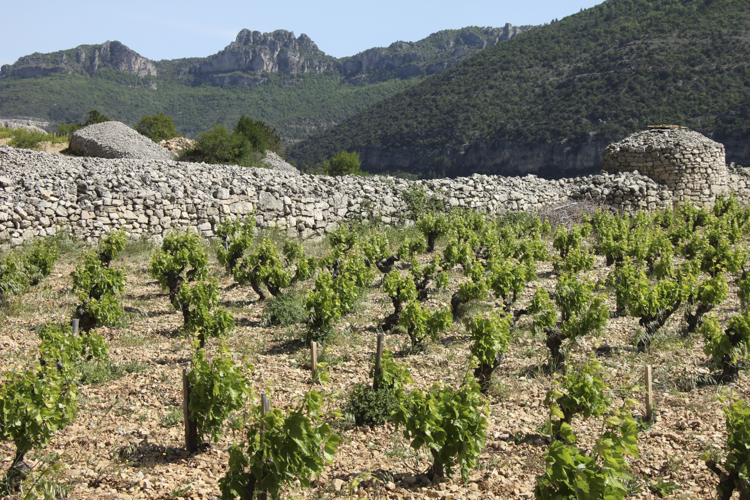 She and her partner, Julien, first came here 20 years ago, "we were looking for limestone soil, freshness, water, altitude, old vines and a reasonable land price we could afford. With its unparalleled biodiversity, Terrasses du Larzac ticked all the boxes, and after visiting many properties, when we reached an ancient terraced parcel of Carignan vines I said to Julien, stop, this is it." Delphine recalls how "when we arrived in this beautiful, remote corner, we felt like pioneers and our only neighbours were sheep and goat breeders. The Terrasses du Larzac appellation did not exist, and we were around just 20 producers, while today that number has risen to over 100."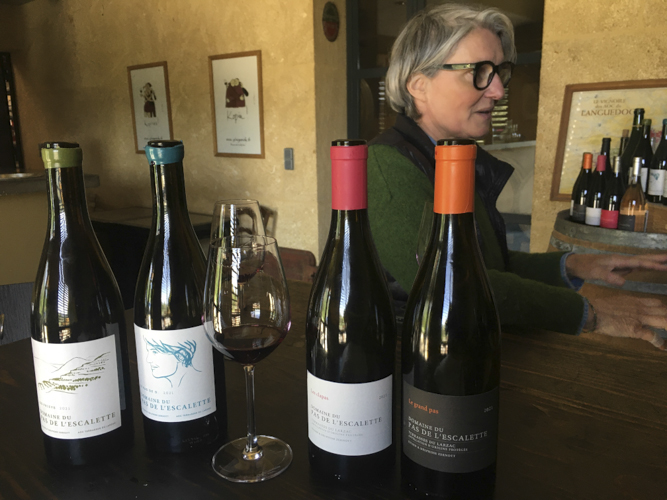 The couple have firm convictions on how to work both in the vineyard and cellar, reflected in the clear identity and high quality of their wines. Organic cultivation began from the first day and since 2015 the estate is also certified as biodynamic. The vineyard is rich in old bush vines, growing in ancient stone terraces, and divided neatly into two, with parcels on both sides of the valley, offering two different exposures to the sun throughout the day.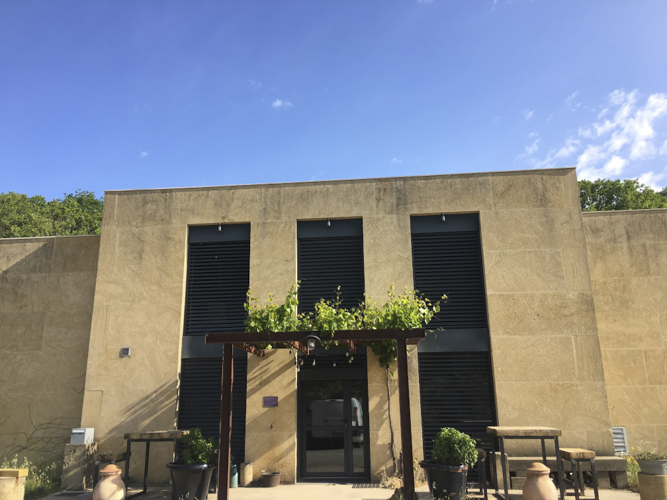 Tasting recent vintages in their modern minimalist cellar, Julien explains how he uses a mix of steel vats and raw cement tanks, "as well as large tronconic barrels which give all the benefits of wood ageing without the taste of wood. I call it 'bois sans bois'."
Domaine de Ferrussac
This is a region full of surprises, but nothing quite prepares for a whirlwind tour of Renaud Rossignol's unique Domaine de Ferrussac.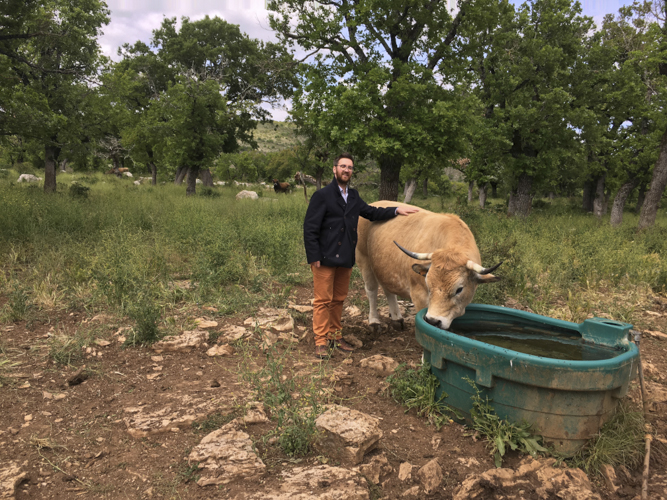 Just the location is extraordinary, beginning with 6 hectares of idyllic vineyard parcels dotted high up in the ancient stone terraces of the Larzac, then climbing further to the legendary Larzac plateau, an immense lunar plain at almost 700 metres altitude.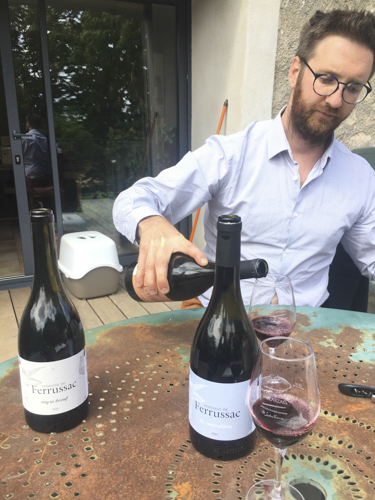 This is where tastings take place, in the ancient cellar below Renaud's rambling 16th century farmhouse, surrounded by a seemingly endless 700 hectares of wild forest and pastures where his 100 head herd of Aubrac cattle graze in almost total liberty. Because this is 'Vin et Bovin', his audacious gamble to combine organic wine making with raising cows to sell as beef. The vines and pastures were inherited from his grandparents, but Renaud insists that he wanted to be a vigneron from the age of 7 and after studying agronomy and oenology, launched his project aged just 24. Seven years later, he may be a dapper dresser, but is just at home wielding a chainsaw to clear trees and rebuilding an old terraced vineyard to deftly dodging cow pats while visiting the troop of his vast horned beasts.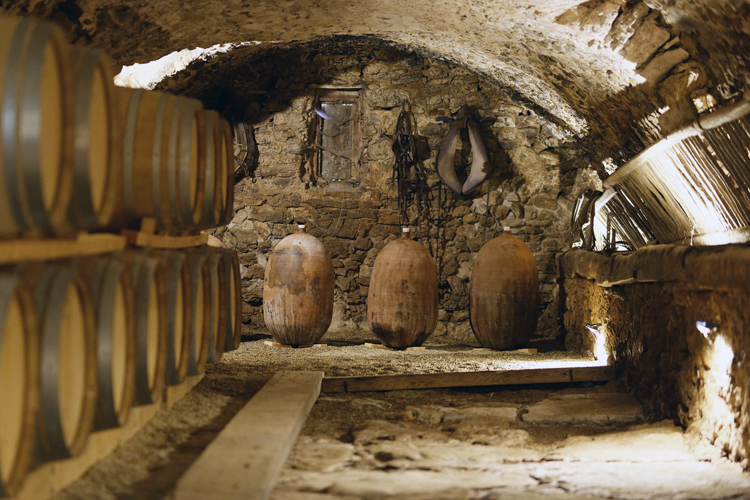 Proudly explaining his trials in the cellar – ageing for a minimum of two years with oak barrels, tiny amphorae and soon, raw concrete tanks – he admits that, "both for winemaking and breeding I am always learning and basically self-taught. The nearest people living near me on the plateau are 5 kilometres away, while down in the vineyards I feel far away from everything, my only neighbours the woods, the garrigue, the wind and the mountains.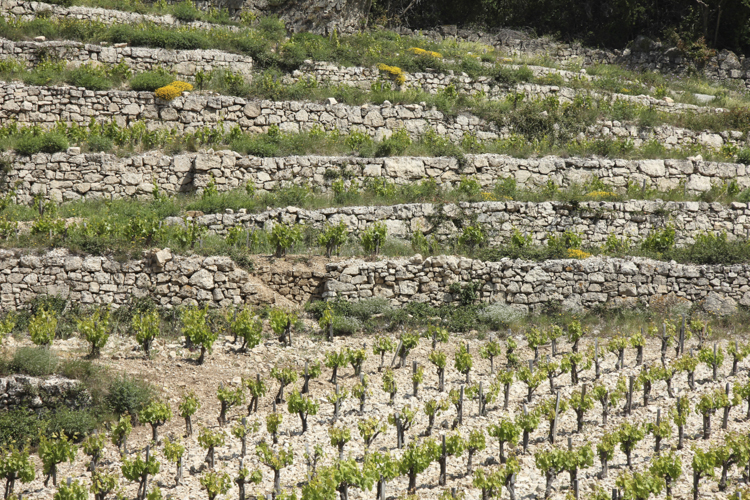 And I feel with the way I care for my terraces that I am preserving our patrimony."
Le Clos du Serres
Sébastien and Béatrice Fillon's domaine is one of the few in the appellation that does not use any wooden barrels when making their red wines.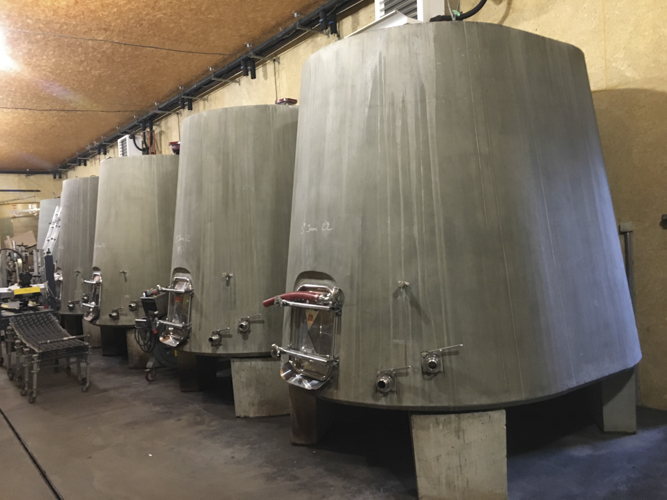 Arriving in the region in 2006 to begin a new life, they began by renting a cellar, then built a house, and today cultivate a 15 hectare organic vineyard. They started their winemaking in classic fashion, ageing in wood with small barrique barrels, then trying larger foudres, before testing out cement. From 2015 they changed direction and decided on a path using raw cement tronconic tanks. Cement gives you the signature of our terroir and it has become the signature of our wines," explains Béatrice. "It both enhances the aromatic elements of our soil and expresses its ultimate verity. Our wines are first of all authentic, bursting with fruitiness and minerality, nervous rather than rounded or velvety when barrel-aged." Another innovation at Clos du Serres that defines their wines is the decision to vinify separately each of their 18 parcels of vines and each grape variety before starting to blend.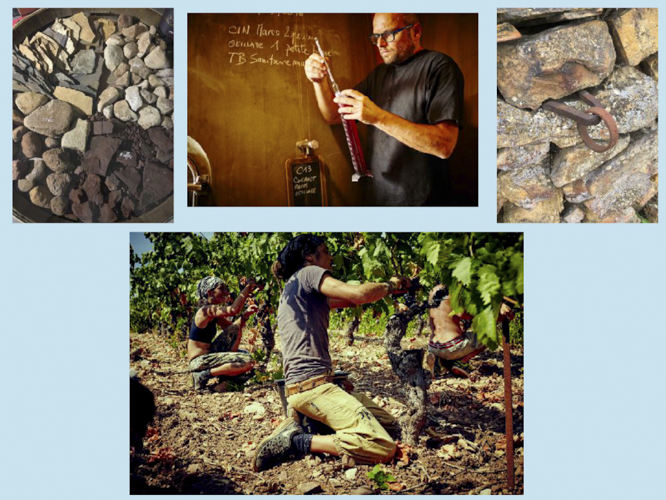 So sitting in their cellar there are a wide selection of different vintages to taste because their different parcels are also spread out over all the diverse geological soils of the region; ruffe, grès, galets, schist.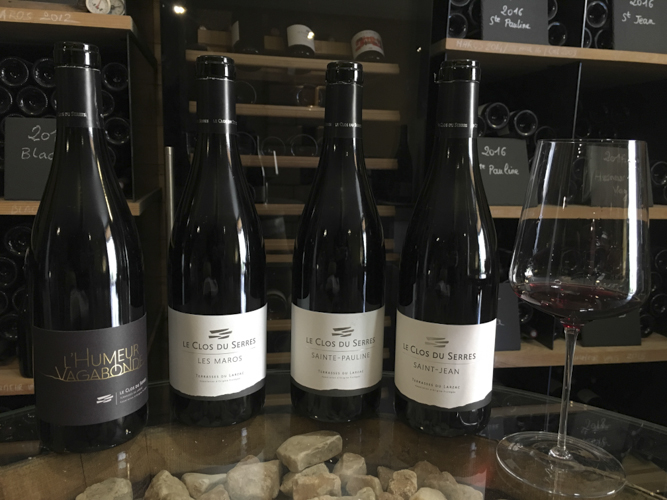 For the signature Saint-Jean, all the soils are represented and the grape blend includes Syrah, Grenache, Cinsault, Mourvèdre and Carignan. Then separate 'lieu-dit' cuvées are made from a particular geographical area where there is a single soil type; Pauline, where the vines grow on quartz rolled pebbles, galets roulés, compared to the schist terroir of Les Maros. And finally there is the very different, Syrah-dominated L'Humeur Vagabonde, a new departure because it is both vinified and aged in a terracotta amphora.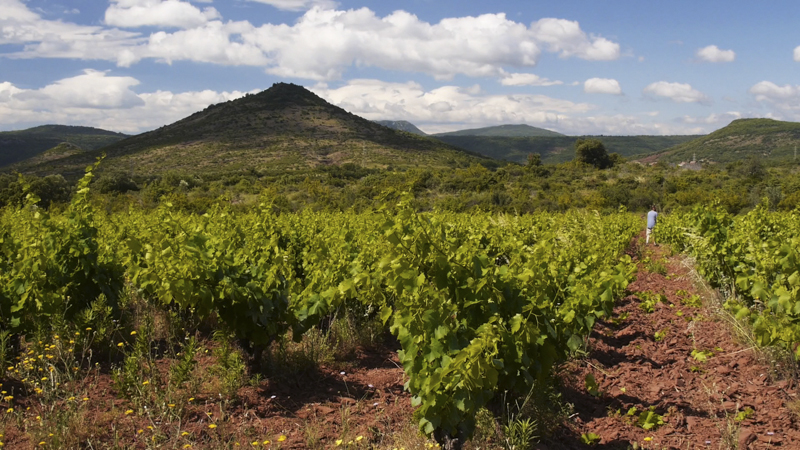 Le Clos Rouge
Just outside Saint-Jean-de-la-Blaquière, the entrance to the modern wine cellar of Le Clos Rouge sits right on the route of Saint James of Compostela, with a steady stream of pilgrims passing by. "Many mistake the path to our winery as part of the pilgrimage, and somehow they are always thirsty when they stop at the cellar door," says vigneronne Krystel Peyre. She and her partner Joël are typical of a new generation of winemakers changing career and lifestyle to follow a dream of making their own wine. And they have an infectious enthusiasm for their new home and Terrasses du Larzac wines. She recalls how "we wanted to continue to base our family in Montpellier because of the children, so looked at possible vineyards all over the Languedoc. But the wines from the Terraces of the Larzac appellation were already our favourite, and when I first saw a tiny parcel of Carignan vines growing in the intense red ruffe soil on a snowy day with brilliant blue skies, I knew this was where we would come.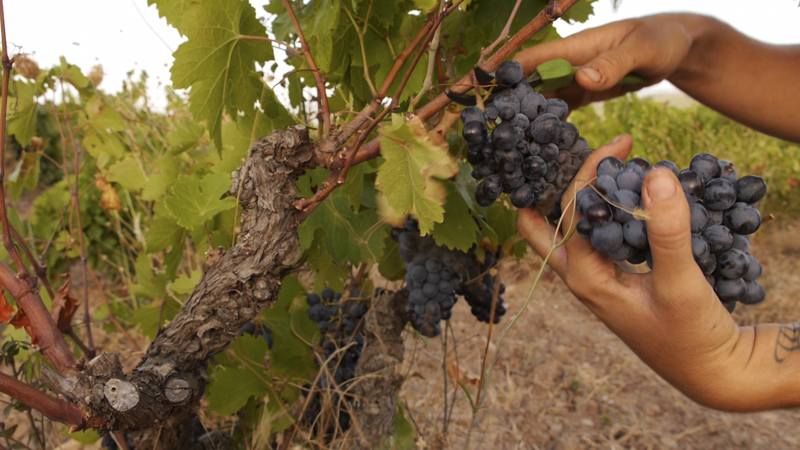 We bought the vineyard and now have 25 parcels spread over two very distinct soils, ruffe and schist where we produce two very different red blends; Alerte Rouge is my spicy Vin du Terroir, while the elegant Babel, planted on schist, is more a wine to age" The couple bought their first tiny plot in 2013, growing slowly to today's 13 hectares, each time converting to organic cultivation. "It has not always been easy finding the right land to buy, and let's face it, we were outsiders. Today we have the vineyard size we want and in 2020 we completed this wooden chalet hidden away in the middle of an oak forest, a cellar-home where we both live and make our wine."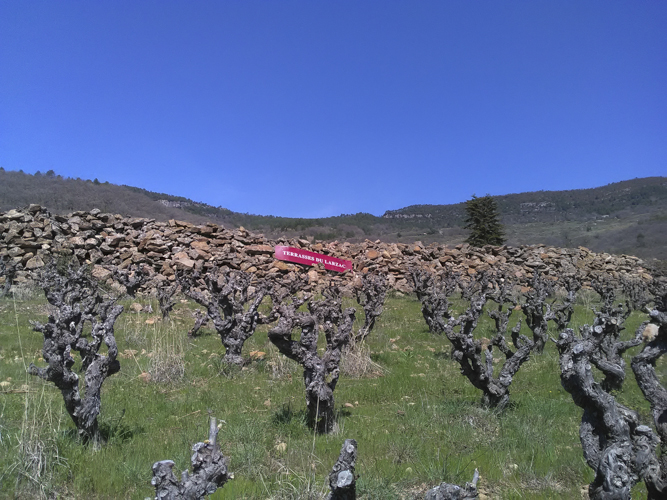 Mas Lasta
Mas Lasta means 'the last one' in Esperanto, a name chosen by activist vigneronne Anne-Laure Sicard for her isolated domaine that sits at the border of the Terrasses du Larzac appellation.. As the road from the picture-postcard village of Saint-Privat winds and climbs higher, the landscapes become wilder, with no one on the road, no houses in sight. Until you suddenly hear the honking of her pet geese, noisy guardians of the vineyard and a source of fresh eggs!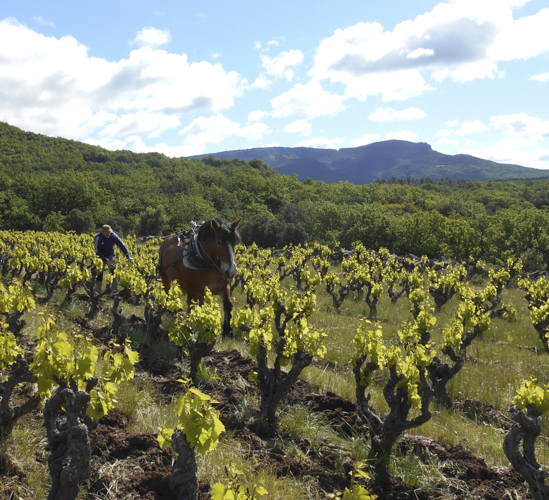 Working the soil here with mechanical tools is virtually impossible, so Anne-Laure collaborates with horse and ploughman, uses sheep to weed the vineyard, and just does a lot of work manually. Originally from the north of France, she studied oenology in Montpellier and decided early that, "I wanted to settle here in the Terraces du Larzac appellation. It is quite simply magnificent with its wild unspoilt landscapes, dynamic winemakers working organically – somewhere you want to live till you die." After working in vineyards across the globe as a Flying Winemaker, she finally had the chance to buy land here in 2015.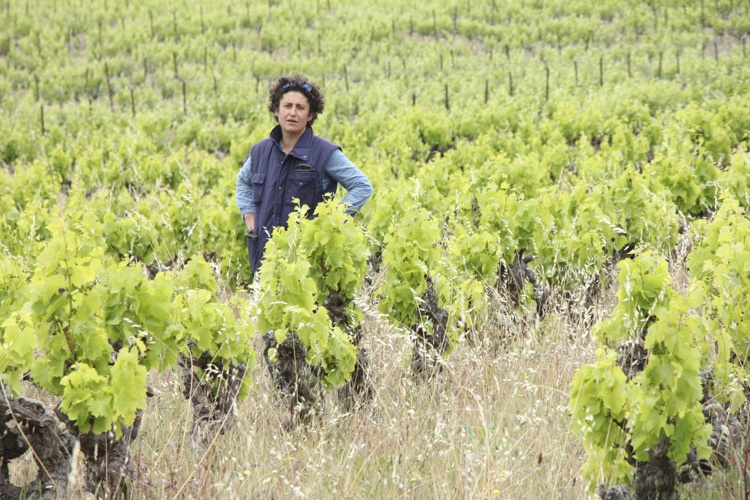 Bubbling with enthusiasm, she describes her small 8 hectare domaine as "a double edged sword – wonderful 135 years old Carignan bush vines, 100 year-old Syrah and Grenache, cool, windy altitude, just all very difficult to work without tractors." So she restricts ploughing, keeps treatments to a minimum, prepares her own tisanes instead of using copper, and sows legumes and barley between the vines. Committed to natural wines, tasting recent vintages in her tiny cellar there is an immediate freshness and bursting fruitiness that also reflect an open mind in the cellar, using a mix of classic steel vats and oak barrels with terracotta jars. Meanwhile she awaits the results of her latest innovation, a Georgian amphora, buried in the ground behind the geese shed!
Where to eat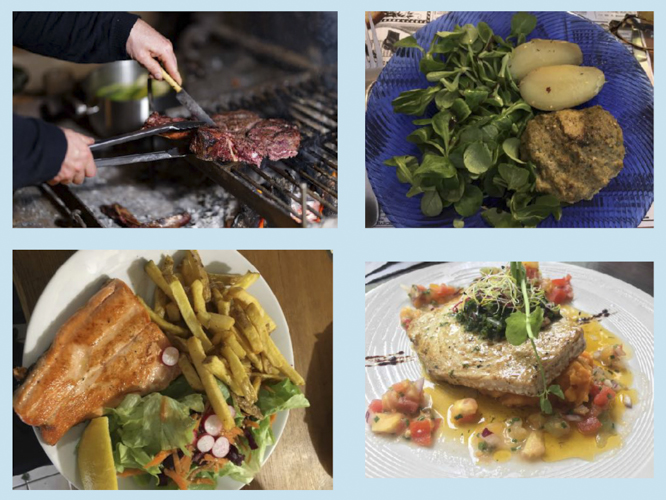 Le Bistrot du Larzac
High up in the Larzac terraces this rustic wooden cabin conceals a cosy diner where owner-chef Cyril Lalloum prepares a feast of local produce that he grills in front of everyone at an open hearth.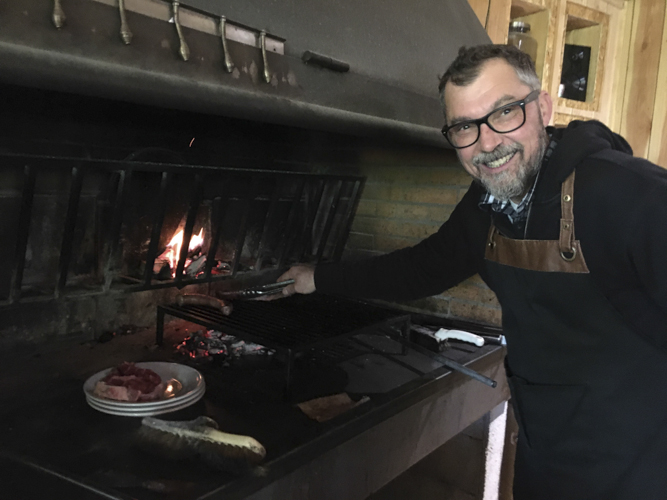 Aubrac beef raised in the surrounding countryside, juicy lamb chops, savoury sausages as well as artisan charcuterie, accompanied by craft ales and organic wines.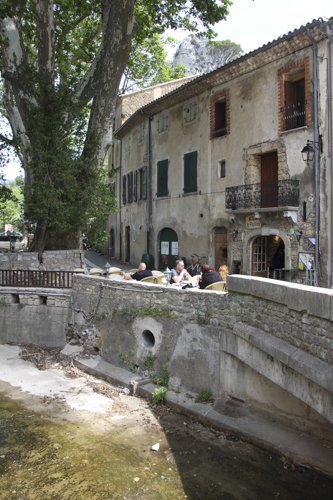 Sitting next to a bubbling stream in the heart of idyllic Saint-Jean-de-Buèges, all the village meets up in this friendly bar where the dish-of-the-day cuisine is simple, proposing tasty dishes like classic steak frites or locally-caught trout, as well as charcuterie and cheese sharing plates.
La Petite Fringale
Classic bistrot in a picturesque winemaker's village, the Fringale has a beautiful shaded terrace and chef Thibaut who recently took over, proposes hearty home cooked meals with a modern twist like slow-cooked barbecue pork ribs or grilled tuna with a creamy carrot purée. Big choice of local Terrasses du Larzac wines
What to do
Saint-Guilhem-le-Désert
This spectacular medieval village and monumental abbey is situated on the steep bank of the Hérault river valley, and is a historic stopping-off point for pilgrims following the route of Saint James of Compostela.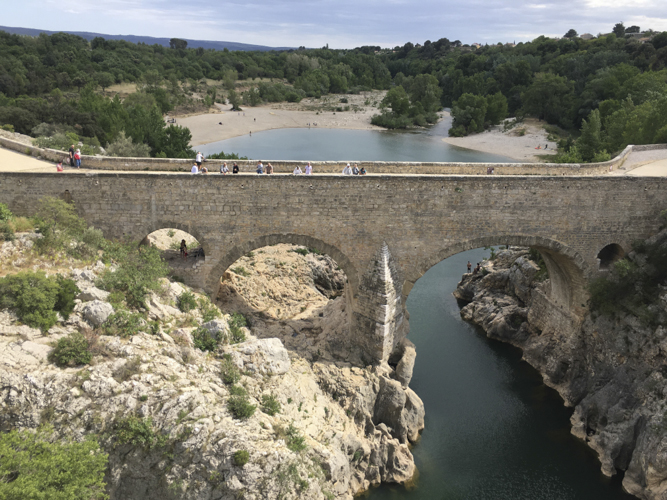 Discover the narrow gorge of the Hérault by kayak or canoe as it runs beneath the UNESCO World Heritage Pont du Diable.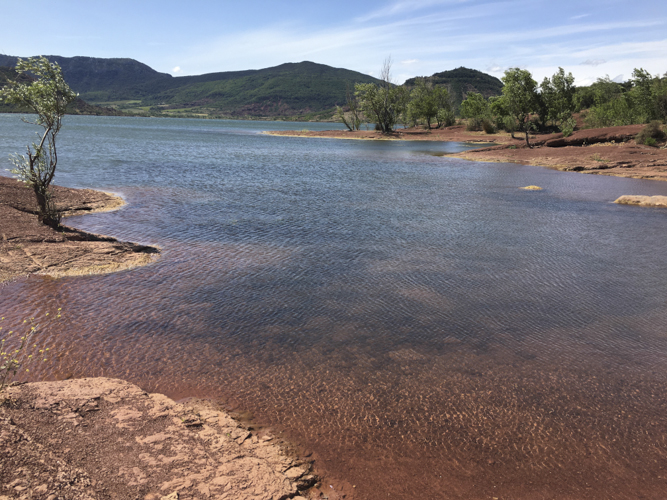 A natural site that takes the breath away of every first-time visitor, this immense artificial lake resembles Life on Mars, with the region's characteristic red ruffe soil contrasting with the shimmering vivid turquoise water. There are several camping sites dotted around the edge of the lake, and apart from heading off on a wine tasting trip, you can hike and bike through the rolling red hills along the shore line or try out water sports like sailing, pedals or canoe.