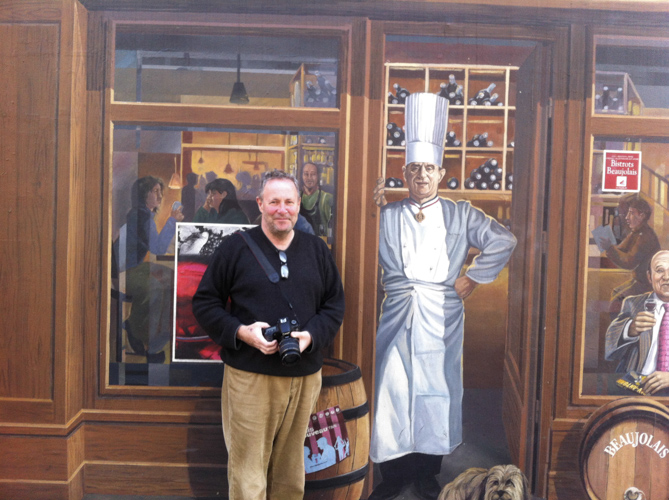 Desperately Seeking Paul Bocuse
a gastronomic tour of Lyon
The grand old man of French cuisine, already feted as Chef of the Century – the 20th Century that is – is still going strong at the age of 88, so I thought this was a good time to make a gourmet pilgrimmage to see Paul Bocuse in Lyon and check out what is new in the city that the French proudly call their Capital of Gastronomy.
One thing is certain, you cannot escape Paul Bocuse, or Monsieur Paul as everyone reverentially refers to him, when you visit Lyon. I was there during the judging of the French awards of the  prestigious Bocuse d'Or, the competition he set up to recognise young culinary talents that has grown into a worldwide event. Then I discover that his renowned culinary school, L'Institut Paul Bocuse, has just opened a smart new restaurant in the centre of town where the cuisine and service is carried out by aspiring students under the watchful eye of their teachers. Fabulous dishes, with surprises like lamb sweetbreads paired with cuttlefish and baby artichokes.
Bocuse has just opened his fourth Lyon brasserie, Le Sud, where a hearty three-course lunch menu is priced at 23 euros, and no trip to Lyon is complete without  a visit to the ultimate foodie market, Les Halles de….you guessed, Paul Bocuse. This big, modern covered market certainly has every epicurian temptation you can imagine, from foie gras to oysters, truffles, a panoply of cheeses, including the local favourite Saint-Marcellin, charcuterie, like the tasty Saucisse de Lyon, and quenelles de brochet, the pike-dumplings so loved by the Lyonnais. But prices are not cheap and I found the place lacking a bit of atmosphere, apart from the numerous bars and restaurants – the one not to miss is l'AOC, whose owners, Christophe and Dominique have a great selection of Beaujolais and Rhone wines, including some interesting no-sulphite Vins Naturels.
But no sign anywhere of Monsieur Paul himself. I took the classic foodie Selfie, snapping myself alongside a mural painting of the great chef, but was beginning to get a bit desperate, so decided to take a twenty minute cab out to his legendary gastronomic restaurant, L'Auberge du Pont de Collonges, where he has held the Holy Grail Michelin Three Stars since 1965.
I was met by Madame Bocuse, who still patrols the elegant dining room every day, and had a long chat with Chef Christophe Muller, who has been with Bocuse for over 20 years, and is the man who runs the kitchens on a daily basis.
Although Monsieur Paul had popped in for his regular morning meeting, he was resting that day at home, so I was obviously fated not to meet him this trip. But Chef Muller wouldn't let me leave without trying two of Bocuse's signature dishes – Quenelle de Brochet aux Ecrevisses, sauce Nantua, and Soupe aux Truffes Noires VGE, famously created for French President Valery Giscard d'Estaing in 1975 when Bocuse was awarded the Legion d'Honneur.
They were not simply good, they were unforgettable. Eating at L'Auberge really is something special, transporting you back into time when Michelin chefs held sway in their sumptuous Temples of Gastronomy. There is no point coming here expecting surprises or innovations, but rather a perfect execution of the basics of classic French cuisine. So forget about calories, let the staff pamper you, and you will be stunned at just how delicious the cuisine is – the fluffy, souffle-like Quenelle was utterly memorable –  even if many of the dishes have been on the menu for 30 years.
Lyon itself certainly lives up to its billing at the Food Capital of France – where else do you see pretty much every restaurant fully-booked on a sleepy Monday evening. As a local told me, 'some people go out in the evening to a concert or to see a movie, here in Lyon, we go out to a restaurant.' The old centre is filled with traditional 'bouchon' restaurants, serving traditional Lyonnais cuisine, lots of nose-to-tail dishes, where the set menu is so lengthy that each evening there is only one 'service' as it takes a few hours to finish all the food. Unfortunately for tourists, many 'Bouchons' are not at all authentic, serving average food at over average prices, so it is best to check the list of 22 official 'bouchons'. For a contrast in styles, I would recommend the Bouchon des Filles, where young chef Agathe is creatively reinterpreting old-fashioned recipes, and Bouchon le Jura, where the wonderful Brigitte has been meticulously preparing the same regional dishes for over 30 years.
There are some hip new 'bistronomie' spots too, with Le Palegrie definitely worth a look. In his open kitchen, Guillaume Monjure, conjures up light, exciting dishes like asparagus with haddock and safron, while the sommelier has some terrific natural wines, like the intense Cotes du Rhone,  Sierra du Sud by Domaine Gramenon.
Don't restrict yourself to Lyon's picturesque city centre, and take the Metro up to the gritty Sainte-Croix neighbourhood, once the centre of the famous silk industry, now the hippest part of town. The enormous morning food market is spectacular, much more fun that the formal Halles, and come back in the evening to discover O Vins d'Anges, a 'Cave a Manger' where food and wine buffs gather to feast off tapas and choose a bottle from the hundreds of different wines on display.
Later on, check out the retro Bistro Fait sa Broc, and end the night at the tiny but wild bar that has to have the best name in town – Cassoulet, Whiskey, Ping Pong – not the kind of place you're likely to bump into Paul Bocuse.