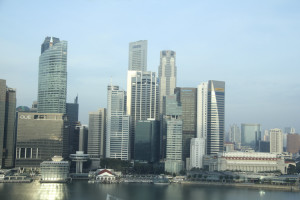 The first of my occasional blogs for Thewinetattoo comes from  exotic  Singapore, where the organisers of San Pellegrino World's 50 Best Restaurants put on a gala show to announce the winners  of their latest innovation, the 2014 edition of Asia's 50 Best Restaurants.
For a very long weekend, Singapore was invaded by  a horde of gourmet chefs from Korea, China, India, Japan, Bali, Hong Kong and Thailand, as well as  Joan Roca, chef of El Celler de Can Roca, who has succeeded the likes of Ferran Adria and Rene Redzepi's from Noma in Copenhagen to hold  the ultimate accolade of San Pellegrino World's Best Restaurant.
Chefs certainly know how to party when they are not cooking in the kitchen, and Singapore's gourmet restaurants – Restaurant Andre, Candlenut, Les Amis to name a few – hosted dinners every night that continued on till the early hours when chefs hit the latenight food courts to check out the the street food scene.
When it came to the Gala evening and the awards there were a host of surprises, with a mini tidal wave of Thai restaurants moving up the Top50, that was fiercely applauded by everyone as a show of solidarity in this period of uncertain political unrest in the Thai capital.
But the shock announcement came right at the end of the evening, that Narisawa, where the zen Japanese chef, Yoshiro Narisawa prepares delicate nature-focused dishes, had been dethroned as Asia's Best Restaurant, though he was still rated Number 2. The Asia Best Restaurant moved from Tokyo to Bangkok, giving the crown to Australian-born, David Thompson's Nahm, who cooks surrounded by a brigade of Thai chefs, lauded for both innovative cuisine and a deep research into traditional Thai products and recipes – the dish not to miss according to the chef is their Jungle Curry.
Thompson used to have a Michelin-starred restaurant in London before basing himself in Bangkok, and the big news in Singapore is that he will soon open a new restaurant here, in Marina Bay Sands, taking over the venue where Guy Savoy was recreating his famed Parisian haute-gastronomie.
Marina Bay Sands is a strange location to say the least – three 57-story towers linked by a stunning 100 metre rooftop swimmimg pool – and already has dining outlets by the likes of Daniel Boulud, Wolfgang Puck and Hide Yamamoto. Lets see what Singaporeans make of the creative Thai cuisine of David Thompson.
A final word of Asia's Best 50 Restaurants – where was any representative from Malaysia? The question needs to be asked how the taste-meisters of World's Best Rastaurants could just ignore  country that has not just some of the best street food in this region, but also a young up-and-coming generation of exciting chefs. Did they even go and check out the cuisine of Chris Bauer at the cutting-edge Cantaloupe, right opposite Kuala Lumpur's Twin Towers?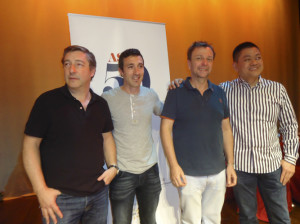 All smiles before the Awards – Joan Roca, World's Best Chef, Eneko Axta, Spain's youngest 3 Star Michelin, David Thompson, Yoshiko Narisawa
Lots of fun new developments to report in the Singapore dining scene – where restaurants seem to open and close nonstop. Everyone is talking about Burnt Ends, where Australian chef Dave Pynt has built his own oven to create a very original style of cooking, while Ryan Clift has moved the brilliant Tippling Club into a new Chinatown venue – be sure to hang out at the buzzing bar where the Tippling's cool mixologist, Zachary,  creates lethal cocktails like Transatlanticism – Amaro Montenegro, American whiskey, angostura, orange, lime.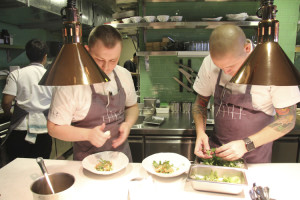 Tippling Club chef Ryan Clift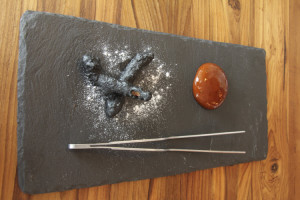 Tippling Club charred red pepper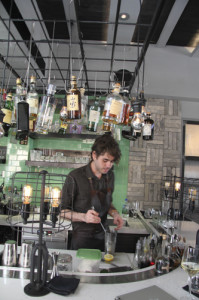 Tippling Club barman Zachary
The island's top restaurateur, the wonderfully-named Ignatius Chan – known to everyone as Iggy – has opened the exquisite Kaiseki Yoshiyuki, a Kyoto-style 'kaiseki-ryori, where I found the cuisine, products and presentation every bit as good as anything I have experienced in Japan. For street food, check out the funky new Tang's Food Court or  for those like me who  like something a bit more sleazy, there are several Sechuan stalls in Chinatown's Pearl Centre (1 Cantonment Road), where pig's ears, trotters, snout and intestines are cooked in one of the spiciest sauces I have tasted.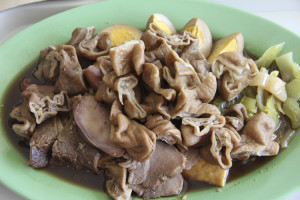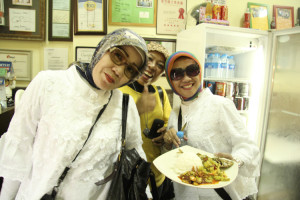 Nasi Padang from Indonesia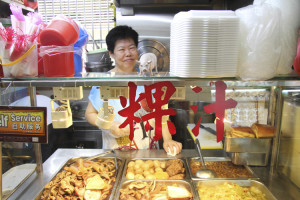 Street food
The Peking Duck was memorable at Jade, the signature Cantonese restaurant of the historic Fullerton Hotel, which was once Singapore's Post Office, and their Post Bar boasts a dozen different variations of the iconic Singapore Sling – think Lychee Sling or Almond Sling – which may finally take some business away from Raffles where the cocktail was originally invented in the early years of the twentieth century  by their Chinese barman, Ngian Tong Boon.
I also found time to do the research for an article on Singapore's 50 Best Meals……..all will be revealed in a future blog.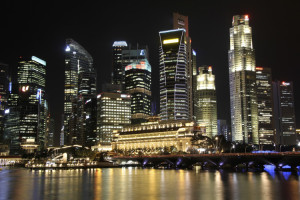 Singapore by Night