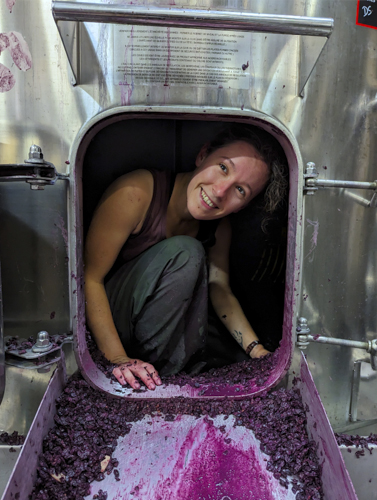 INTRO
Travelling across the diverse Bordeaux appellations to meet women wine makers for this Trail has been a revelation. It is crystal clear that the outdated image of the world of wine being dominated by a male mentality is far removed from today's reality, where women are a forceful and successful presence.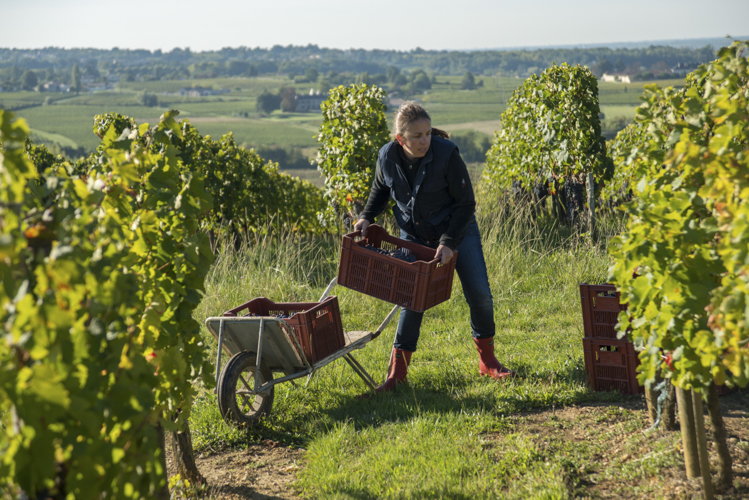 Not just those who took the responsibility to run family estates or changed career to start their own winery, but throughout the business; from cellar masters, vineyard workers and highly-skilled tractor drivers to creative marketing and commercial input, expert buyers for Bordeaux's famed wine merchants, respected oenologues and highly skilled laboratory technicians to environmental experts on organic cultivation, biodiversity and agro-ecology. But this is not something that has happened overnight and each of the vigneronnes who tell their story below offer a fascinating insight into the long, often complex journey they have taken to achieve the same recognition and acceptance that used to be automatically bestowed on their male counterparts. Now it is an equal world for everyone working in the Bordeaux châteaux and vineyards.
Marie-Hélène Levêque, Château de Chantegrive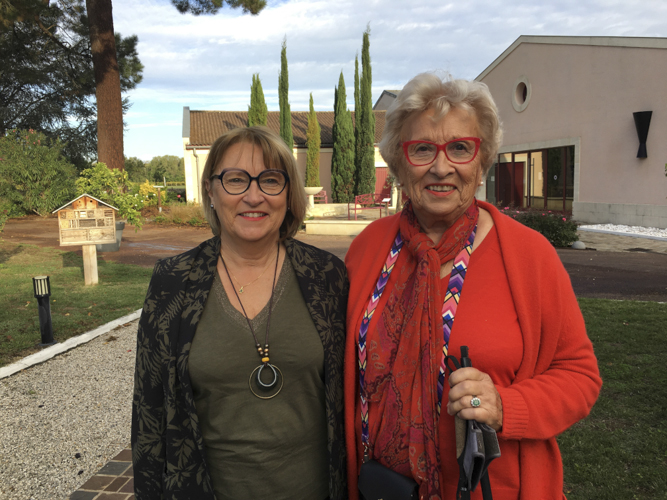 As Hélène and Françoise Levêque stroll through the Italianate gardens outside their cellar it is like watching a defilé of historic women in Bordeaux winemaking. Back in 1967, Françoise and her husband sold the family stamp collection to purchase a tiny 2 hectare vineyard on the border of the Graves and Pessac-Léognan appellations. She became France's first woman president of a Syndicat du Vin, while the estate has expanded to 100 hectares. Hélène recalls how "my mother shook up all the old-fashioned vignerons by turning the Syndicat into an efficient marketing organisation to promote the region's wines. At 86 she is still living here, helping me with tastings and administration." Hélène had a career as a hospital nurse before coming back to the family domaine where "I am fortunate to be advised by a wonderful oenologue, Hubert de Boüard. He is open and listens to me, respecting my ideas, which is not what I have always encountered in the very male world of the wine cellar where vigneronnes are rarely listened to. I think men do not really like being employed by women, being told what to do by women. It was the same when I was a nurse working alongside male doctors, though I should stress that male winemakers have always been very welcoming."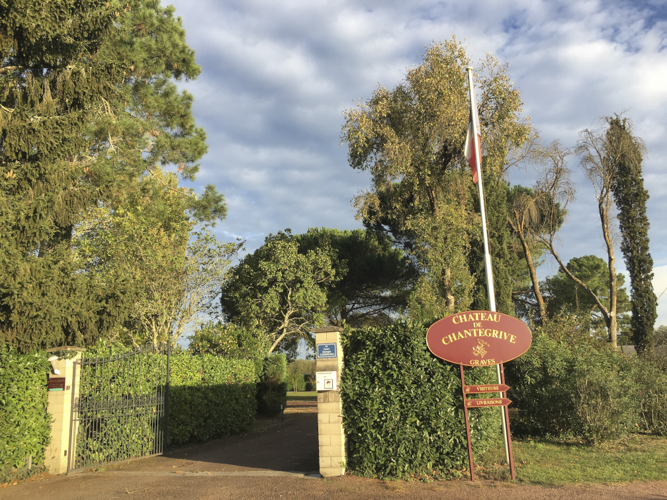 She has recently bought an adjoining château with 15 hectares of vines and a cellar filled with cement tanks and enthuses that "it seems the perfect opportunity to try a different winemaking style.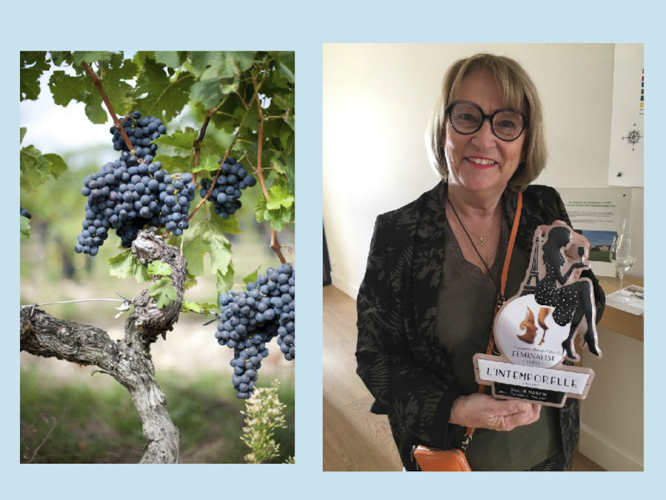 I always try to be open to change. Here in the Graves we have many women successfully running wineries, and although I am happy when my wines win awards at new vigneronne competitions like Concours Mondial des Féminalise, I just don't have the time to join official organisations promoting women winemakers. All my efforts have to be concentrated here at Chantegrive."
Bérangère Quellien, Château Lusseau
Driving through the vineyards of the Graves appellation, just after Ayguemorte, a small side road plunges into thick forest, eventually coming to an end right in front of the gates of Château Lusseau. The present building dates back to around 1800, surrounded by a single 7 hectare vineyard that has been certified organic since 2010. The estate was bought by Bérangère Quellien's great grandfather in 1870 and she is the third generation winemaker.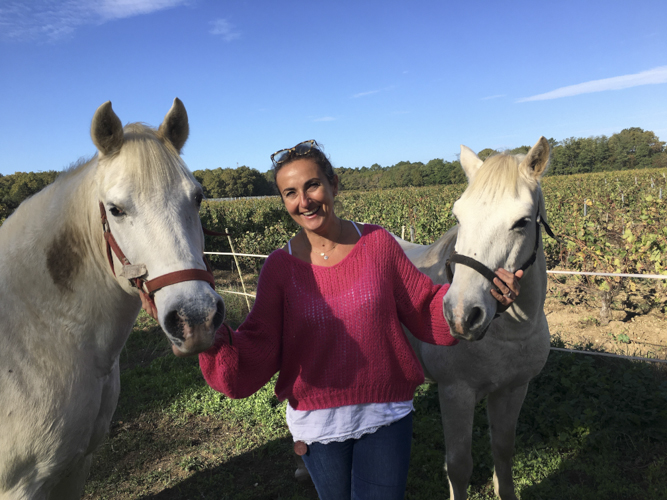 "Here we are women working together with other women," she says with a mischievous smile. "Myself, Delphine in the vineyard and cellar, our oenologue is a women, even our mascot Great Dane, Prada, is female. Marie-Neige, my mother is 82 now, living here in the château, and we call her La Dame de Lusseau, still charming visitors when she conducts wine tastings."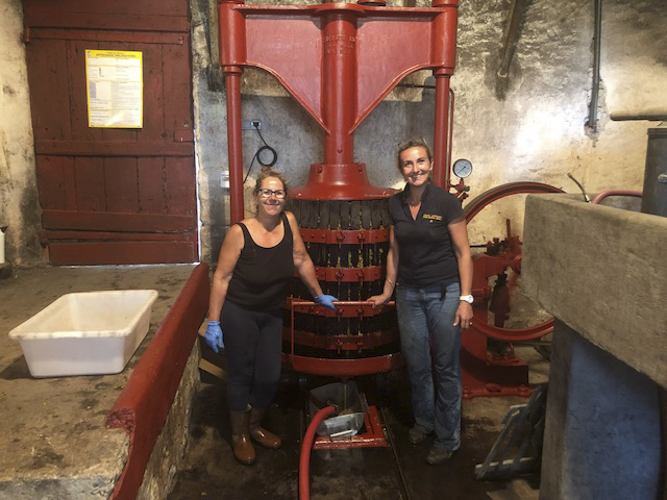 Bérangère rules over a wonderfully chaotic garage cellar where she produces a mix of classic blended Graves wines contrasting with La Bérue Déglinguée a funky 100% Merlot, picked extra ripe, macerated, not aged in wood and sporting arty labels and an unconventional Burgundy-style bottle. The chai is filled with old barrels, stainless steel vats and cement tanks, a functioning 1926 hydraulic grape press, while dozens of paintings by her father and grandfather decorate the walls. She recalls how, "I grew up with parents who were both doctors and vignerons, working 7 days a week all their life. When I decided to come home and run the vineyard, I wanted to valorise my parents efforts, to stop selling our wonderful wine in bulk, to become certified organic as soon as possible. And more recently, I am working to protect biodiversity using agroforestry by planting trees and hedges.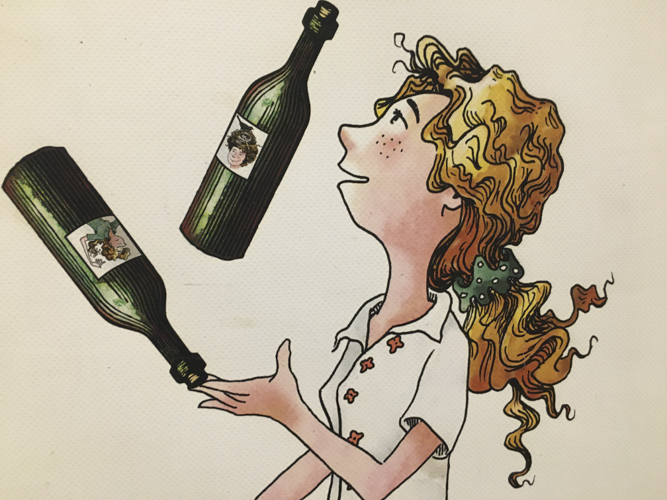 I am determined to break Bordeaux codes of winemaking, to show everyone that we can do someone different here, something innovative. So maybe you can say that rather than a feminist I am rebel."
Angélique Armand, Château La Rame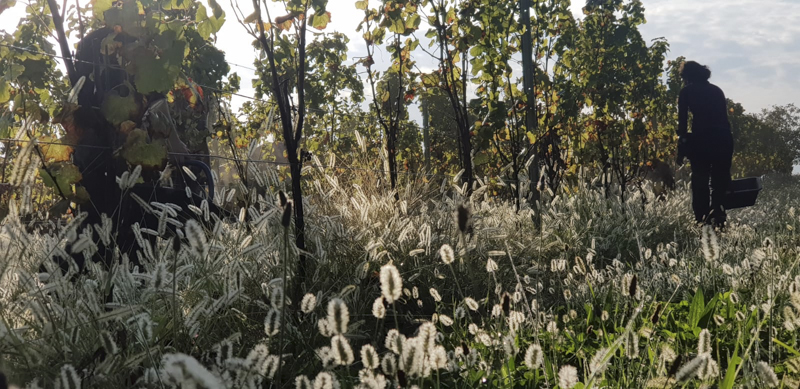 The tiny hamlet of Rame sits high above the Garonne river looking down on the vineyards of the small appellation of Sainte-Croix-du-Mont, while across the river sits Sauternes and Barsac. They are all part of Bordeaux's "Liquoreux Land", appellations prized for their intense and rich sweet wines.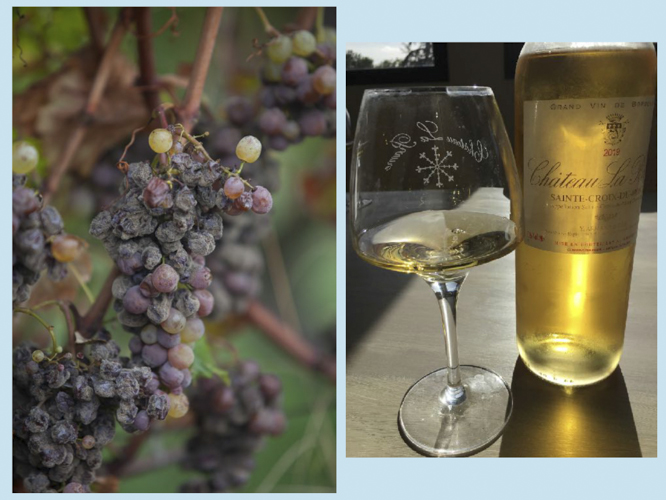 The very determined owner and winemaker, Angélique Armand, spent 15 years working with her father before taking over, and admits they see wine differently. "He still advises during barrel tastings and for blending, but when we disagree I use a food/wine analogy; his is a generation that loves to eat daube de boeuf, blanquette, cassoulet, whereas today we want ceviche, sushi, veggies. And it is the same with sweet wines – he wants something heavy, explosive where one glass is enough, where I am looking for finesse, elegance, even acidity. And my wine, well, after one glass you end up drinking the whole bottle. That way liquoreux wines can survive in the future." And her philosophy has been vital for the survival of this 50 hectare estate. "My first move was to stop selling in bulk to merchants and take control ourselves of sales and distribution, especially targeting overseas markets. Here in Sainte-Croix-du-Mont we have a unique terroir where vines grow on ancient oyster fossils, but we don't have the historic renown of a Sauternes château. So I follow the strategy of exporting to countries like the UK where consumers judge you on the quality of your wine and not your famous name."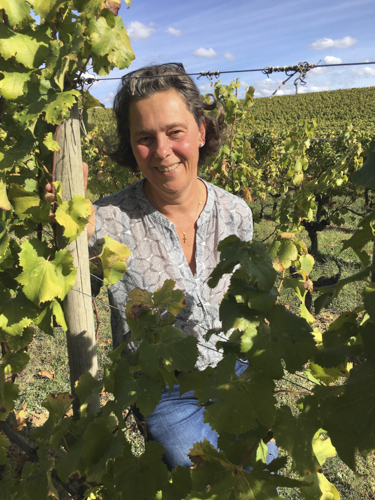 Though self-trained, she oversees the vine, cellar and blending, convinced that, "women are maybe better at making a great sweet white wine because we understand the subtlety and complexity that is necessary, because women are more determined, more demanding, ready to take time to be a total perfectionist. Although my father always used to say I was too slow in the cellar!."
Sandrine Piva, Château des Seigneurs de Pommyers
Driving through the bucolic country lanes of Entre-deux-Mers it is easy to miss this magical medieval château tucked well back off the road between fields and vineyards.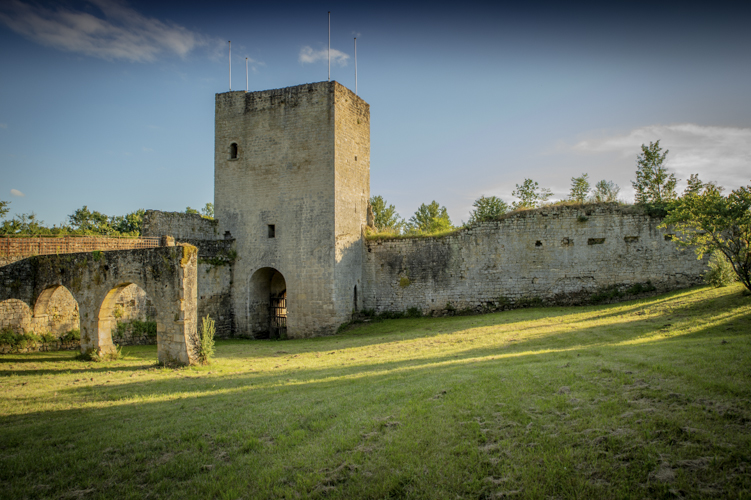 It is actually a sprawling fortified village surrounded by ramparts and military towers, with a chapel, dovecote and mill, built by English King Edward I. But when Jean-Luc Piva bought it in 1989 the buildings were all but abandoned. Today the estate is run by his daughter Sandrine, with a 23 hectare certified organic vineyard and a brand new state-of-the-art cellar. She is quite a feisty lady, who started here as a salaried employee after training as an accountant.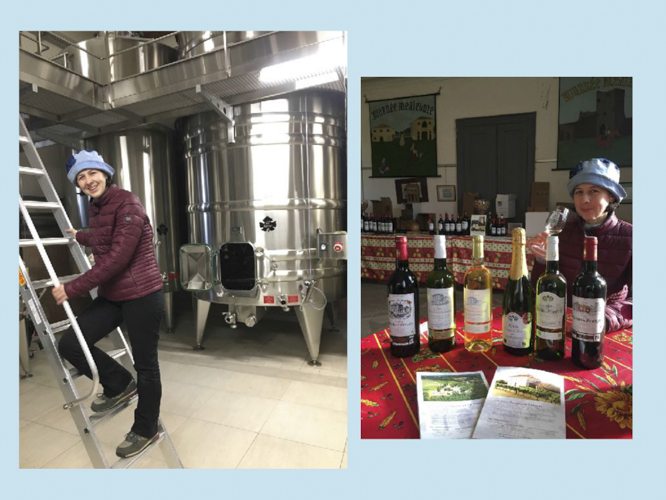 "I have no diploma in agriculture or oenology, so it took time working on the estate before I was ready to take over, after many years being helped and guided by my father. But I actually think it was an advantage not to have studied winemaking, being told exactly what you must do all the time. I am someone very open to people's opinions, very curious." Her father recently passed away and after realising his dream of the new cellar, she is now determined in the future to capitalise on the enormous potential of the château for festivals and seminars, marriages and chambre d'hotes.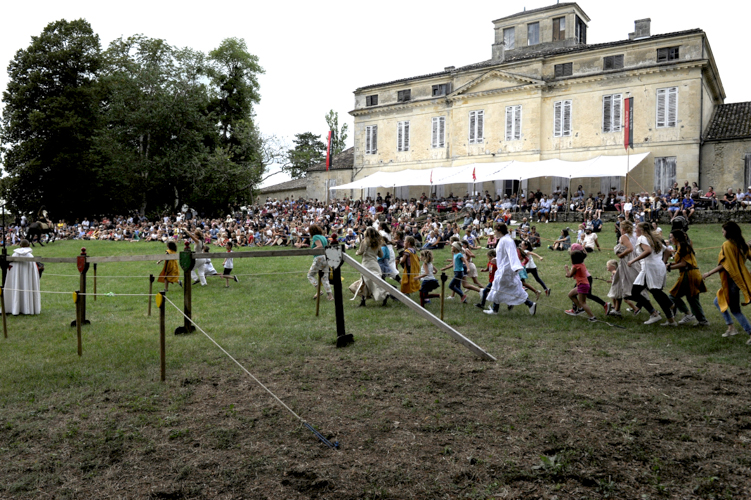 Enthusiastically opening bottles of their large range of organic wines, she recalls how, "as a vigneronne, my relations with male vineyard workers were not easy at first. But over the years, not only have I won their respect, but many of the older generation have retired and the new younger generation are much more open to working for a woman. It is just a question of time, being patient and proving yourself as a capable winemaker. You have to be transparent, to prove that you are hands-on running the winery, not hidden away in the office."
Claire Buffeteau, Vignobles Buffeteau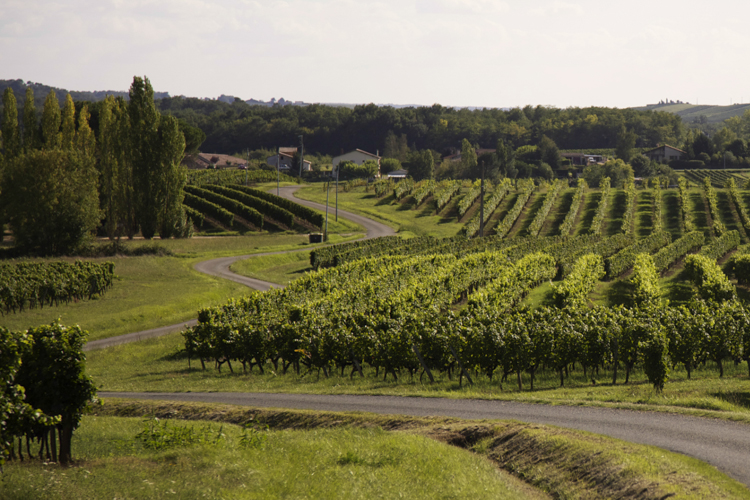 Spanning two château properties in the heart of Entre-deux-Mers, Claire Buffeteau proudly states that their 30 hectare vineyard "is a history of women, beginning with my great grandmother who first made the wine here in the 1920's." Claire's father was an oenologist and wine buyer until deciding in 1998 to devote himself totally to the estate while she grew up in Bordeaux, studying medicine." Just before graduating I decided I was not really cut out to be doctor. My father had just expanded the estate, needed someone at his side, so 8 years ago I joined the winery and we are now finally entering the period of a handover. I have just made my first cuvée, ready for the challenge to take over. And I know already what changes I want to look at: reorganise our work methods to have more advanced planning, I don't want to increase the vineyard, but rather look at the idea of reducing the number of vines, and then to see what a biodynamic approach can offer, as well as the potential of no sulphite wines."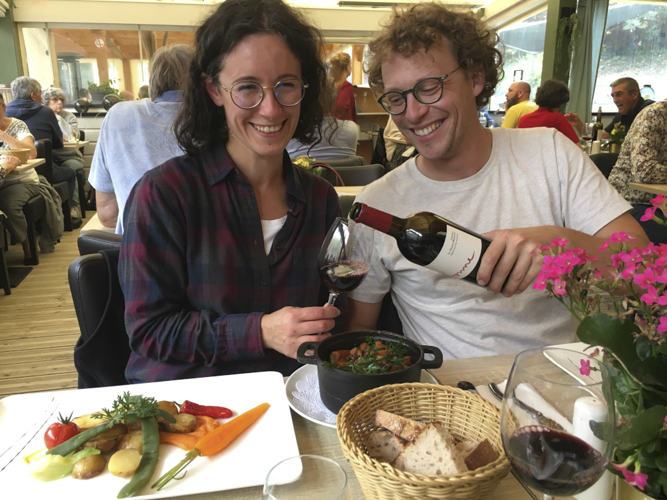 Claire admits that she has been confronted with some difficult situations as a woman, "for example, when another vigneron comes here and calls me 'the secretary', or 'daddy's little girl', which certainly does not please me. Then I pestered my father to teach me everything about driving tractors, but for 6 months nothing ever happened. Then my boyfriend joined our team, and surprise surprise, he was taught in one week! Well I can assure you that a woman can drive a tractor just as well as a man." Claire also echoes the thought of several other women winemakers, that, "maybe we do things slower, but only because we are more careful, more perfectionist than men."
Bérangère Tesseron, Chateau Larrivaux
Just across the boundary from the Saint-Estèphe appellation, Château Larrivaux is an enchanting property, where the same family has been making wine since 1581, always overseen by women.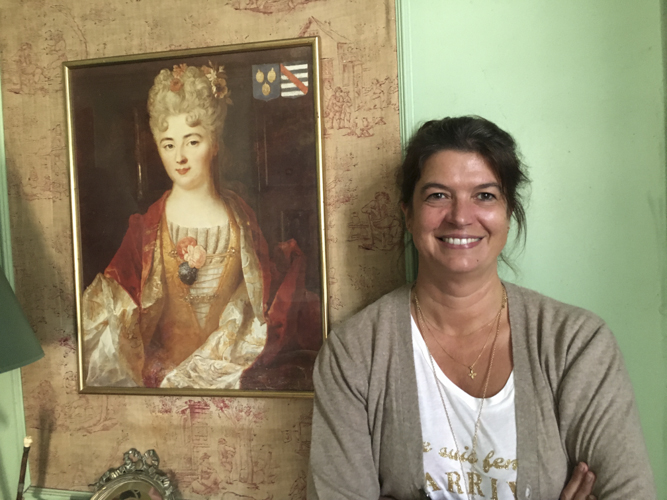 Since 2005 that woman has been Bérangère Tesseron who trained as a lawyer specialising in the wine business before succeeding her mother and aunt at the château.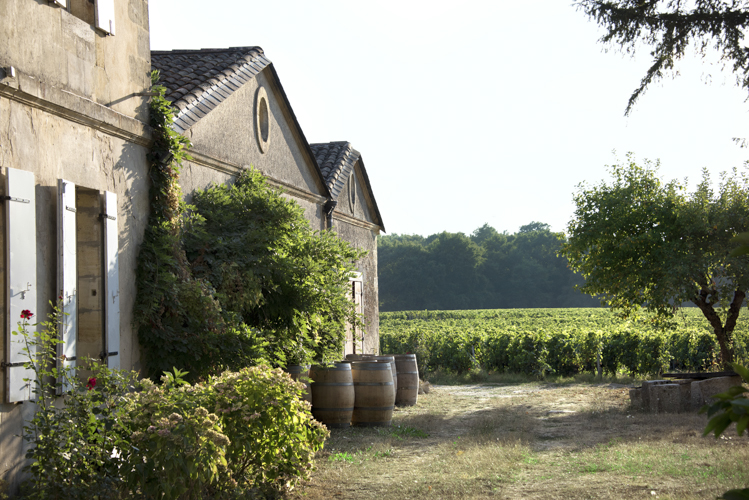 She oversees a rambling 80 hectares estate bursting with a natural biodiversity that extends across parkland, woods, fields, quarries and 15 hectare vineyard producing 90,000 bottles of elegant Haut-Médoc a year. "I did not go to a winemaking school," she admits, "so the technical parts of the work are something that I literally had to learn every day. Fortunately I am not a conflictual person who has to have the last word, so I can ignore people who treat me as an idiot, and prefer to bide my time. You can't arrive in the cellar aged 24 and start making decisions if you don't have winery experience. Today, though, I am happy both driving the tractor or pruning in winter, and tasting and blending in the cellar. In fact, I see myself more as a gardener and the château's vineyard is my vegetable garden, where I personally take care of each vine." When Berangere's mother and aunt ran the estate all the wine was sold directly to merchants while the technical director, Christophe Barbeyron, was basically left to run things as he wanted. "it took a while to forge a relationship with Christophe, but we got through the early problems and he is still here today 17 years later.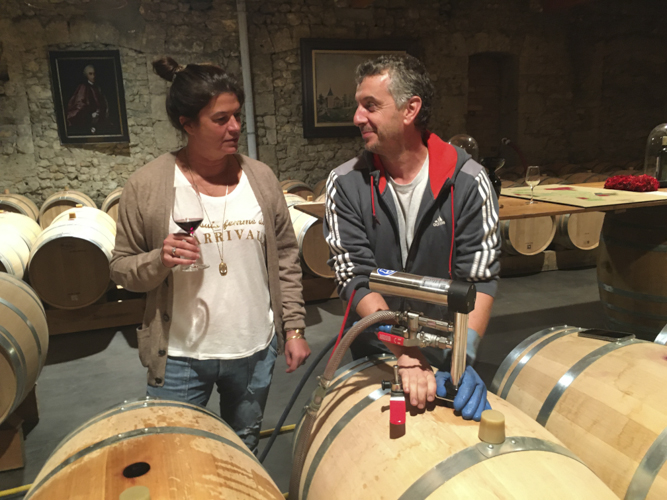 We make a great duo, and he says the château is like his own vineyard. Of course I have my little tactics, like during tastings, saying 'well I know nothing of course', which annoys my husband. But it is just part of my daily diplomacy."
Corinne Chevrier, Château Bel-Air La Royère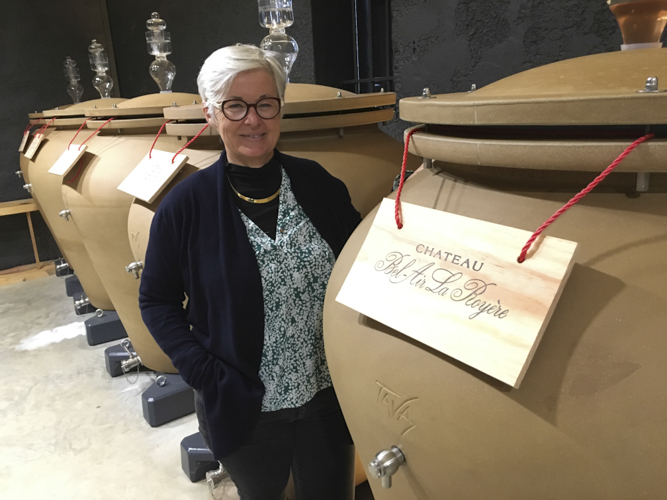 The daughter of a Cognac vigneron and distiller, Corinne Chevrier left her native region for the rural Blaye appellation where she runs a highly innovative 14 hectare organic vineyard. Opening bottles in her tasting room, she is an infectious bundle of energy and enthusiasm, recounting how, "when I started to run the château on my own in 2012, well I didn't even know how to drive a tractor. Up till then, I was seen as just "the wife". Fortunately people around here knew and accepted me, and today there are more and more women working in the wine business, from female tractor drivers, to oenologists to vineyard workers.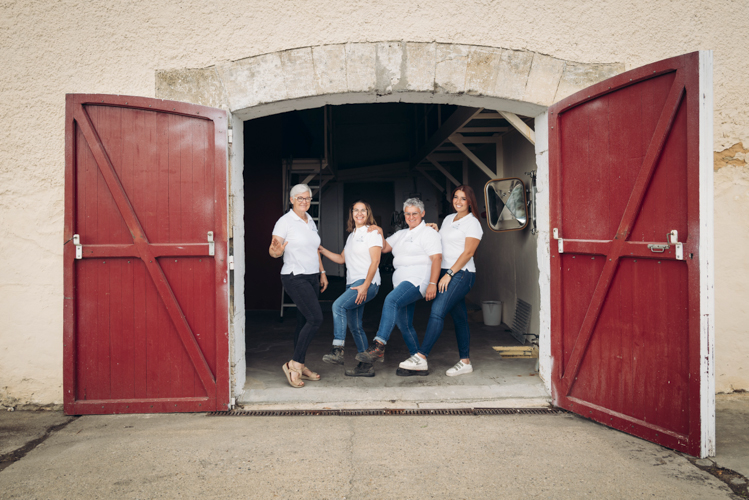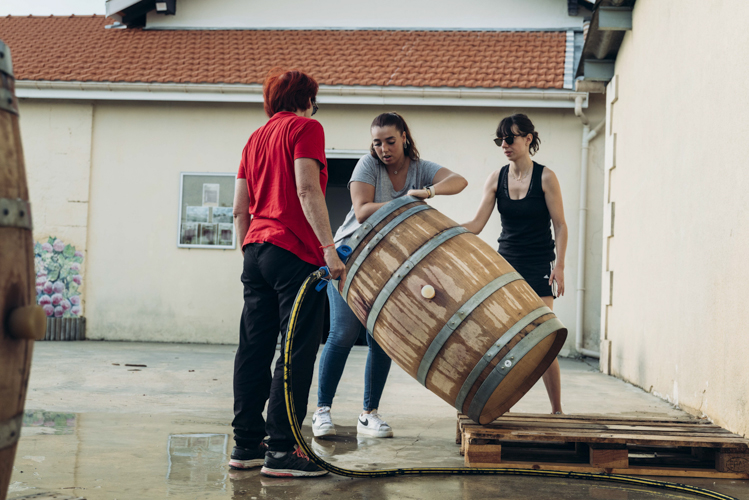 Here the team is 90% female, though it is because of practical considerations not because I think of myself as a feminist." But she is definitely someone in love with the world of wine, "because I am always innovative, always questioning, not afraid to follow the latest fashion, nor to create my own fashion that others will then fashion." Apart from her classic Blaye Côtes de Bordeaux range, Corinne has experimented with a Sauvignon orange wine, invested in terracotta amphorae, planted a parcel of the ancient Bordeaux grape Castets, and even created a special Rosé cuvée in honour of the Ukraine refugee family she hosted for 6 months. "I love being a vigneronne because each year is like starting afresh – one year it is wood-aged style, today cement and amphorae, now light wine with less alcohol. And then there is my favourite Malbec grape, which I champion above all else. It has now been upgraded from an 'accessory' to a principal grape in the blending for Blaye wines, and for me this is like the illegitimate child having his aristocratic title restored. So I decided the grape merited cuvées that are 100% Malbec, provocatively bottled Burgundy-style to stand out."
Isabelle Chéty, Château Mercier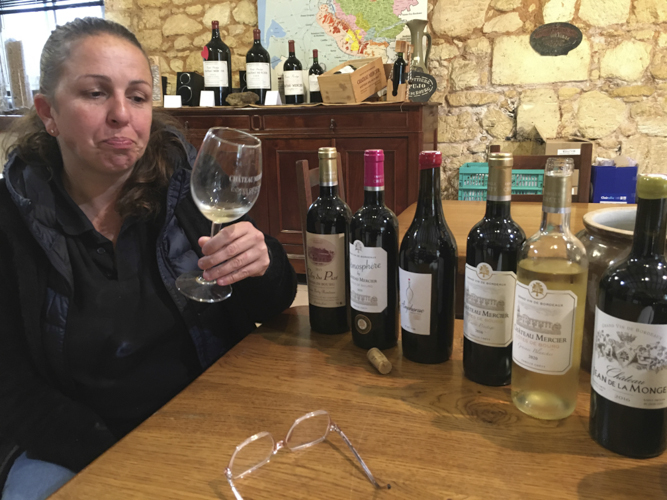 Sitting at the long wooden table of Château Mercier's homely tasting room, Isabelle Chety enthusiastically recounts how her parents were pioneers of wine tourism in the Côtes de Bourg and Blaye region. She and her brother, who together run the substantial 50 hectare estate today, are the 13th generation, and she proudly holds an ancient portrait of a long gone ancestor, Alida, whom she just named her recently-born daughter after.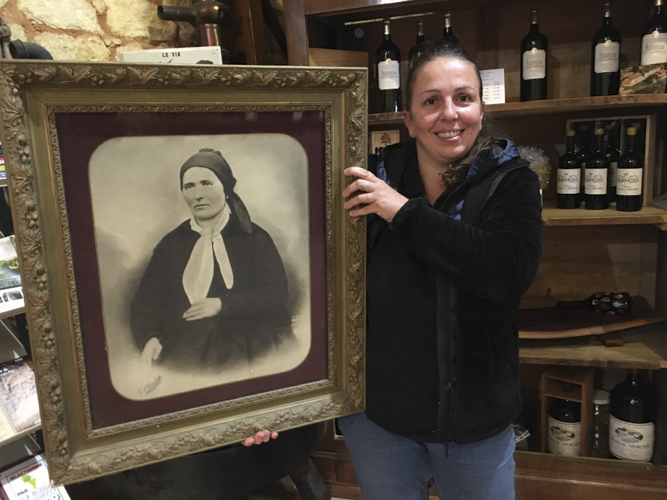 But Isabelle has made a very strong personal mark on the wines being made here today. "I only came back to join my brother when I was 35, and straightaway I asked my father to leave running the estate to us. I always follow my passion as I am someone who accepts confrontation. When I was young, I grew up being " la fille de' my father, viewed like that by uncles, cousins, my grandparents. That was why I left, and today that is why I create my own style of wine."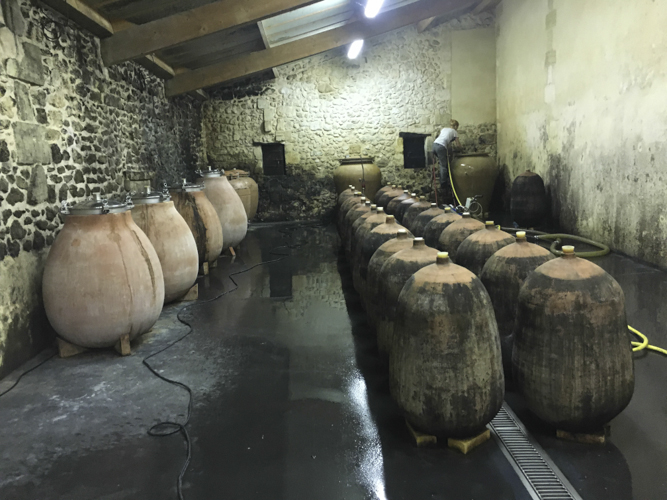 Her innovative cuvées certainly stand out, from her beloved collection of 33 amphorae ageing a Merlot from a vineyard with ruins of a Gallo-Roman villa, to Atmosphère, a Bordeaux blend without sulphites, or a rare Côtes de Bourg white. Isabelle experienced a whole different life before coming back home, travelling across the globe in the challenging world of luxury hotels and restaurants. She eloquently recounts how, "when you are born into a winemaking family you are both privileged and spoilt. Living in a natural environment, raised by happy parents who follow their passion, eat and drink well, enjoy relative financial security. But this was all too easy for me, so I headed off at 19 to travel the world." Today though, sitting round the family dining table, enthusiastically talking recipes with her mother, new wine ideas with her brother, she has clearly found her place back in the family winery.
Florence Prudhomme, Château Saincrit
When you first meet Florence Prudhomme it can come as a surprise that in a former life she was a high-powered female executive in charge of a Bordeaux factory that produced 7 million bottles a year of anisette.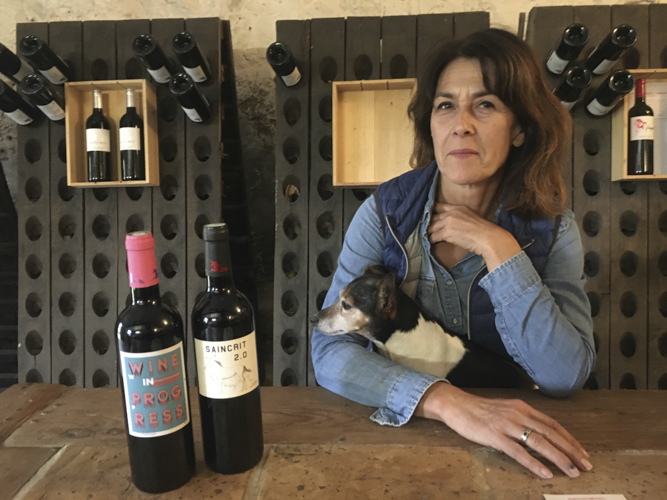 Today she is casually dressed in jeans and waistcoat, coming out of her wine cellar followed closely by her faithful dog, Estey. Château Saincrit is a rustic domaine just by the banks of the Dordogne river, producing both classic Bordeaux Supérieur wines and surprising new cuvées, one without sulphites, another aged only in stainless steel.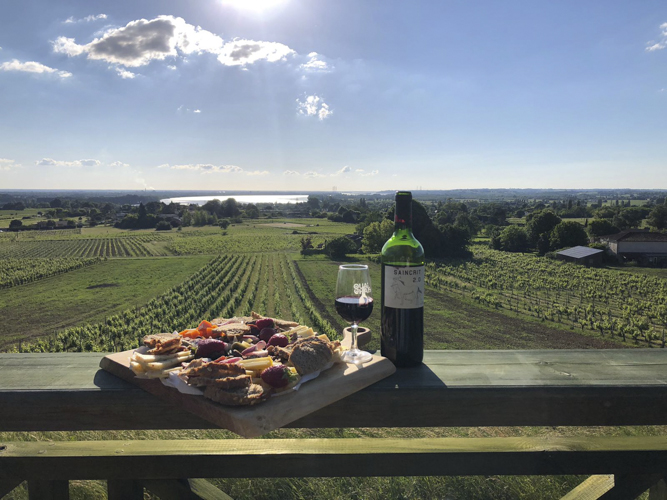 The manor house is a comfy family home surrounded by vineyards with an idyllic wooden terrace on the highest point where Florence brings wine tourism guests for tastings and food pairings. She recounts how, 'I bought the château 20 years ago because I wanted to change my life, to reconnect with nature after living for years in big city Bordeaux. I started small, but took advantage of the friendly winemaking community here by learning to taste alongside my fellow vignerons who are always getting together to discuss their wines. I discovered a real sense of community, which increased when a group of friends founded a woman's wine association, Les Bordeaux Amazone, to make a statement that women can join forces to sell each others wine without any competition between us. And I am not sure it is like that for men."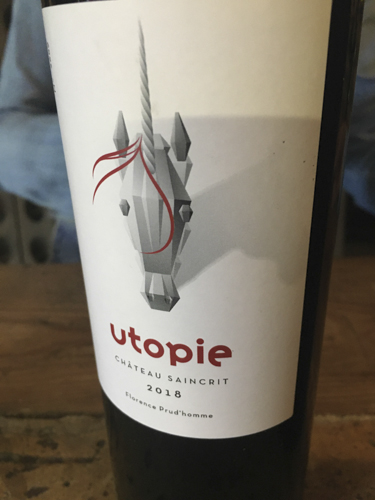 Today, she is intent on becoming more autonomous rather than relying on hired workers who do not always want to let her impose her own ideas. "Having worked with a large male factory workforce I have no complexes of being a female winemaker, but as I was not born into this life, did not study oenology, I can still have problems getting what I want from my workforce. However, let us be clear, that is because I come from a different world and not because I am a woman."
WHERE TO EAT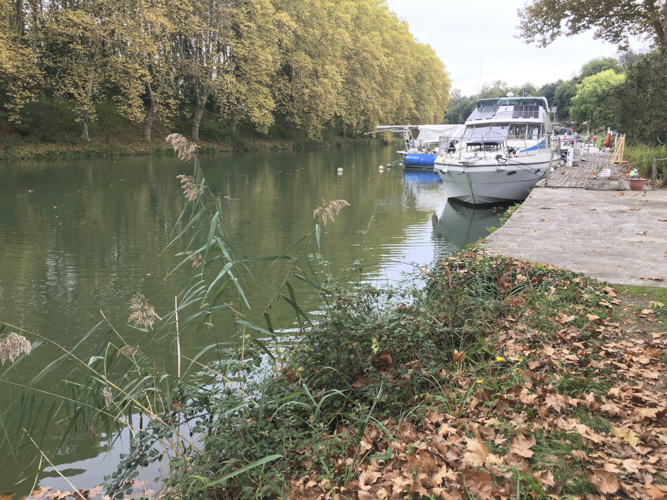 Driving through the Sauternes and Graves vineyards to where the sleepy Garonne canal flows into the grand river to discover this bustling bistrot along a tree-lined bank moored with barges and pleasure boats.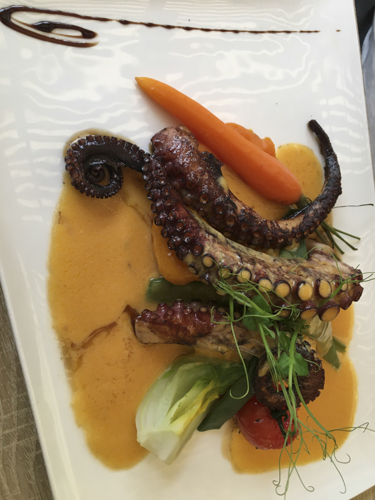 Chef Dara creates tasty dishes that interpret traditional recipes with a fun creative twist like grilled octopus with a tangy chorizo sauce or foie gras served with poached pear and onion jam.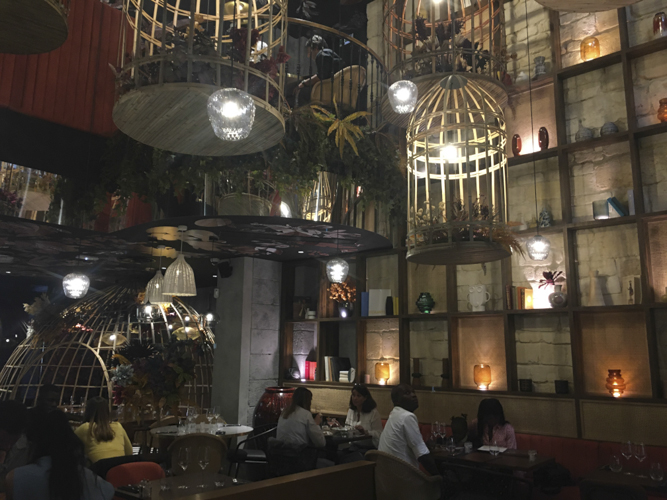 The latest Bordeaux foodie hotspot, hip Ganache offers a seductive mix of classic and creative cuisine, inventive cocktails and their very own artisan 'chocolatier', producing chocolate truffles and pralines, cakes and tempting desserts for the restaurant menu.
WHERE TO STAY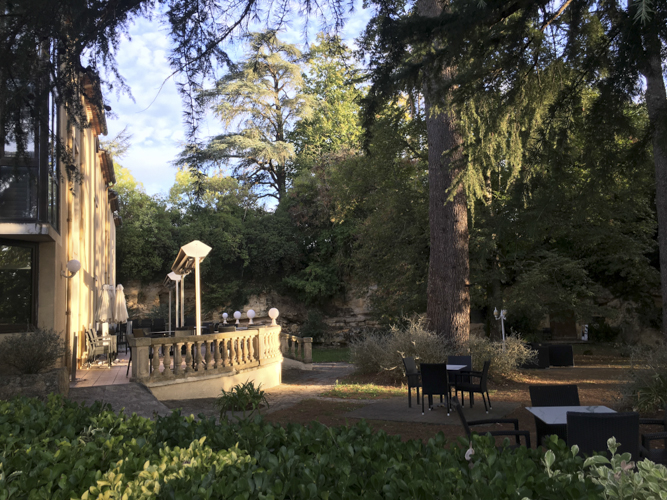 Just outside the medieval town of Cadillac, this friendly family-run hotel is a great base for days out wine tasting and sightseeing.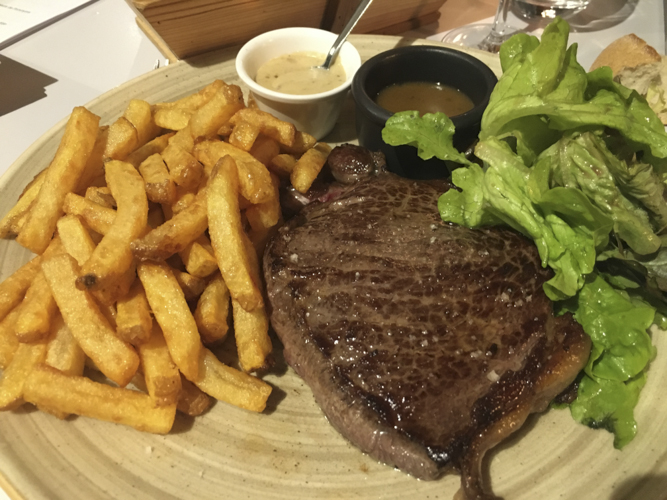 Lovely park and swimming pool, with a dynamic Vietnamese woman chef who offers both subtle fusion inspired dishes and Bordeaux classics like oysters from Arcachon and a juicy entrecôte steak.