INTRODUCTION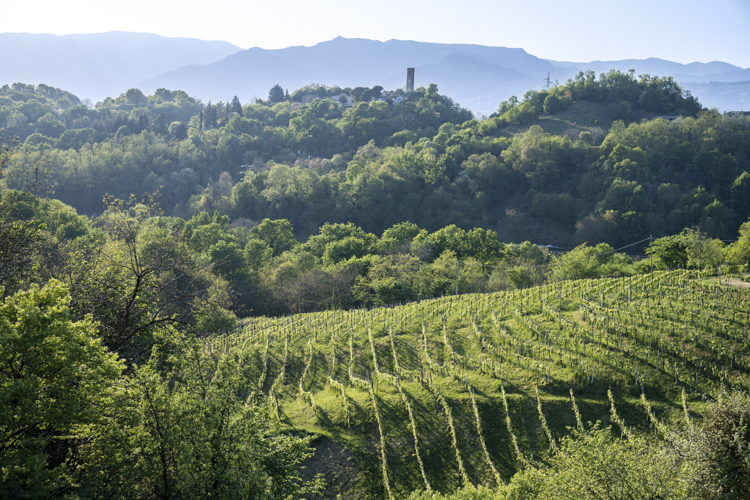 Hidden away in the Veneto region, just an hours drive from the city of Venice, lie the Asolo hills, one of Italy's best kept secrets. Romantic Asolo itself stands perched on high, known as the City of a Hundred Horizons, looking out over an idyllic panorama that stretches from the towering outline of Monte Grappa to the Montello hills and the fertile plains of Italy's sacred river, the Piave. This bucolic countryside remains refreshingly unspoilt, while from its necklace of undulating, vine-clad hills grow grapes that have produced quality wines for centuries. But today the magic word here for wine is quite simply Prosecco, the world's favourite bubbly. Asolo's privileged vineyards are precious pearls in the vast panorama of Prosecco production, a unique 'terroir' that produces a 'gastronomic' wine perfect for an aperitivo and throughout a meal. And while Asolo Prosecco is mostly made as an elegant spumante using the Metodo Charmat technique, where bubbles are created during the wine's second fermentation in steel tanks, there is also a firm tradition of Col Fondo, the historic artisan process of a natural second fermentation in the bottle, with no sugar added, resulting in a cloudy but definitely original frizzante wine.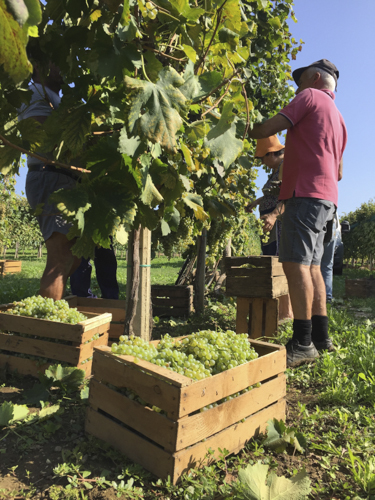 When you stop off for a cellar tasting hosted by a welcoming winemaker, you will find that apart from bubbly Prosecco, there are other wines to try too; fresh, crisp whites, an unexpectedly intense red Recantina, and elegant Bordeaux-style blends of Cabernet and Merlot. Many vignaioli here also offer comfy agriturismo accommodation for a longer stay, while for wine and food pairings over a meal, the choice ranges from a plate of salami and cheese in a rustic osteria to hearty home cooked pastas in a family-run trattoria, or sophisticated restaurants creatively interpreting ancient recipes like 'sopa coada', an intense consommé with succulent pigeon, and irresistible tiramisù, invented in nearby Treviso. For a first taste of Asolo Prosecco, below are 10 cantine to visit dotted around the hills of Asolo and the Montello.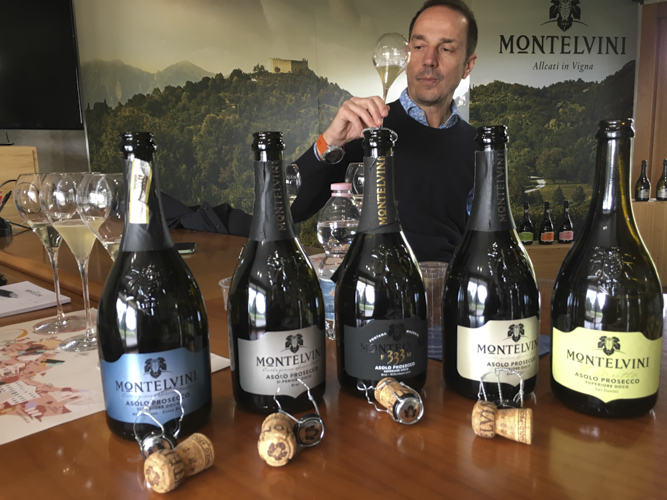 The sign outside the entrance of this family winery proudly states 1881, and Alberto Serena, who runs the company today with his sister Sarah, are the fifth generation. The business is still based here in Venegazzu, right by the house where the family originally lived. Explaining the history of the region, Alberto recounts how, 'this zone around the Montello was historically known for its red wines – Cabernet Sauvignon, Merlot, Carmenere and Cabernet, while the vineyards surrounding Asolo were recognised as making high quality white wines back in the 17th century. The white grapes planted then were autochthonous Bianchetta Trevigiana, Perera and of course Malvasia which was brought from Cyprus by Queen Caterina Corner when she was exiled in Asolo during the 15th century. Glera began to be planted only in the 1960's when Prosecco started to become popular, but at that time, most people would not even have known that Asolo produced a bubbly. Then in 2009, the region was transformed into Asolo DOCG, and production soared from barely a million bottles to today's 20 million. The potential of Asolo Prosecco is that we can make a more dry bubbly, hence our signature Extra Brut, more structured, soft on the palate and with marked minerality and salinity, what we like to call 'sapidità', the distinctive flavour of our soil, a word you will hear every Asolo winemaker using when describing his Prosecco.' Though one of the larger wineries, Montelvini is certainly innovative. Alberto is especially proud of his traditional Col Fondo, despite the misgivings of the rest of his family, 'because making a bottle-fermentated, light frizzante on the lees with no sugar, hardly any sulphite, is a complex process.' Their FM333 cuvée is a rare single vineyard cru from the Montello hills, while in Asolo itself, this autumn will see the first harvest from an ancient reclaimed vineyard right in the historic centre of town.
In the heart of the Asolo hills, a winding road climbs high above the town of Maser. Eventually it comes out at a modern farmhouse which houses the cellar, tasting room and soon a panoramic vineyard terrace to promote the surprising wines of this young estate.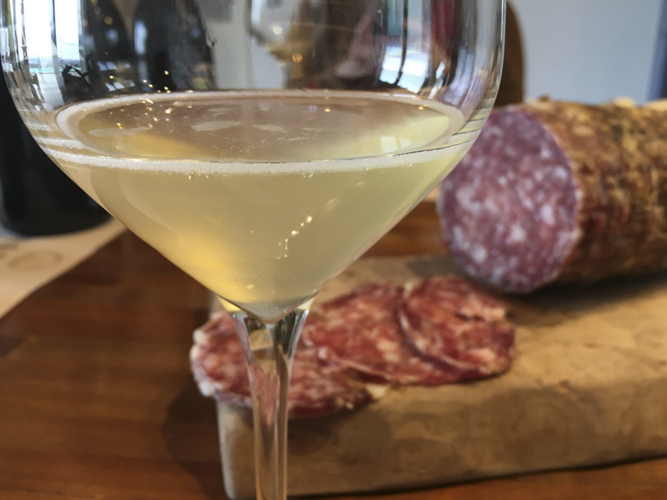 This is the story of three brothers, Enrico, Matteo and Davide, who entered the cantina when they were just teenagers convinced they would start making wine here. Enrico insists that, 'the three of us have always been in total agreement. We always wanted to work together in the vineyard and cellar, having a fun experience while producing a quality product. From the first day, we immediately wanted to be certified organic, because we work all day in the vines so could not imagine using chemicals there, and what heritage for our children would we be leaving in the soil. And we are convinced that if we harvest a healthy organic grape, then it will naturally produce a better quality wine.'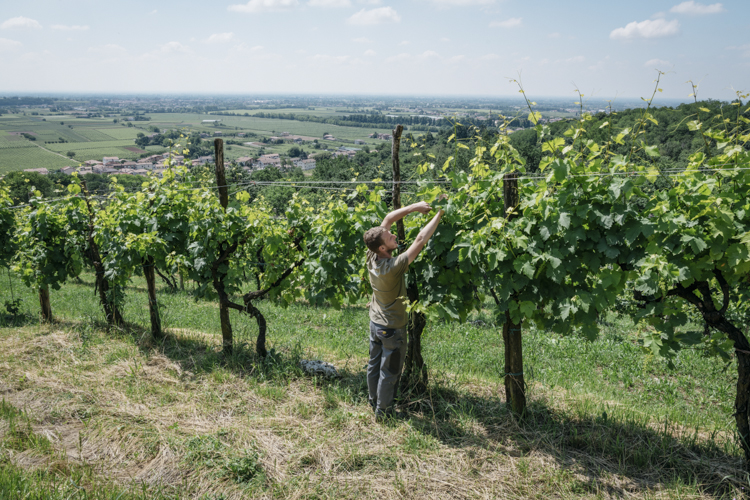 While their classic range of Brut, Extra Brut and Extra Dry Prosecco provide the backbone of sales, they are also interested in tempting their customers with experimental cuvées, testing a terracotta amphora, while leaving their Col Fondo to age for a year once bottled. The brothers are part of a small group of 16 local winemakers, Col Fondo Agricolo, who insist on using the traditional metal cap instead of a cork. ' And we faithfully continue the tradition whereby customers can come to the cantina and fill their demijohns to make their own Col Fondo. We add a little yeast to the fermented Prosecco, fill the demijohn which they take home, bottle themselves and wait for the second fermentation in the bottle. Two months later they can open a bottle of their very own Frizzante Col Fondo.'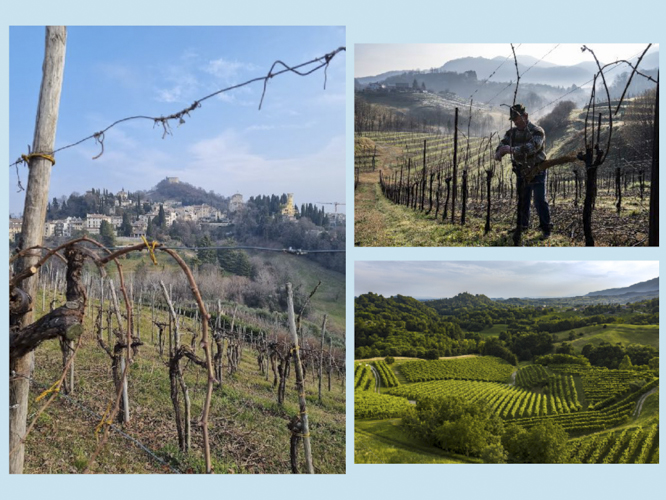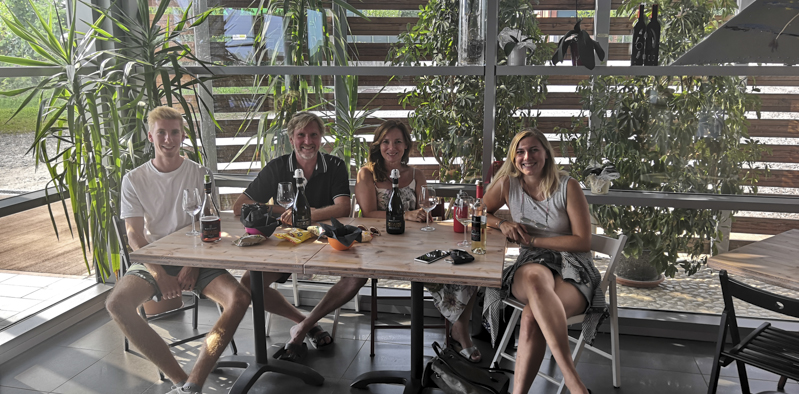 Simone Morlin is visibly proud as he declares that, 'we use the term Vignaiolo – artisan winemaker – as this means I can still make wines that please me, because as a Vignaiolo I am only selling around 50,000 bottles and not 1,000,000 like some industrial wineries.' Located in the village of Maser, this family-run Azienda Agricola bears the name of Simone's father-in-law, who transformed a farm of dairy cows, cereals and grapes that were sold direct to the local cooperative, into a serious vineyard. Guests are welcomed to stay in their family-friendly agriturismo, a rambling manor house which contrasts with the modern, minimalist winery at the back, where some 70% of the production from their 8 hectare vineyard is sold during tastings with wine loving tourists.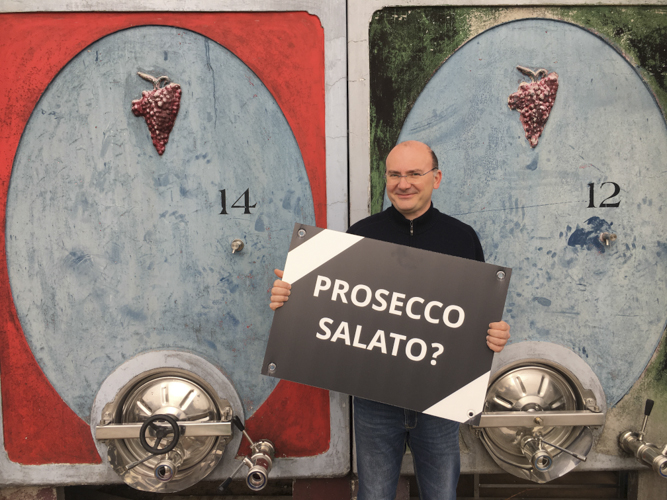 This vignaiolo is not shy to speak his mind, especially when describing the unique character of his Prosecco. 'The authentic DNA of Asolo Prosecco is its saltiness and we should not be shy or afraid to say this. It may sound like a provocation to say we make a salty Prosecco here, but is is our difference. It is not a defect, it is what makes my Prosecco distinct and different from others. And I love it.' While 50% of his vines grow Glera grapes for Prosecco, the 10 wines he produces include Merlot and Pinot Bianco, a sparkling Rosé, and closest to his heart, Col Fondo Agricola, old-fashioned and cloudy, a bottle-fermented Prosecco, topped in the traditional way with a metal cap rather than a cork, so classified as a Frizzante. 'Col Fondo is utterly territorial, a reflection of the region and soils where the grapes grow. You can say that a bubbly glass is a photograph of our vineyards. There is no sugar, zero dosage, so it is just the grape, aided by a brief ageing in small cement vats, which was once considered outdated, but today is becoming increasingly popular again.'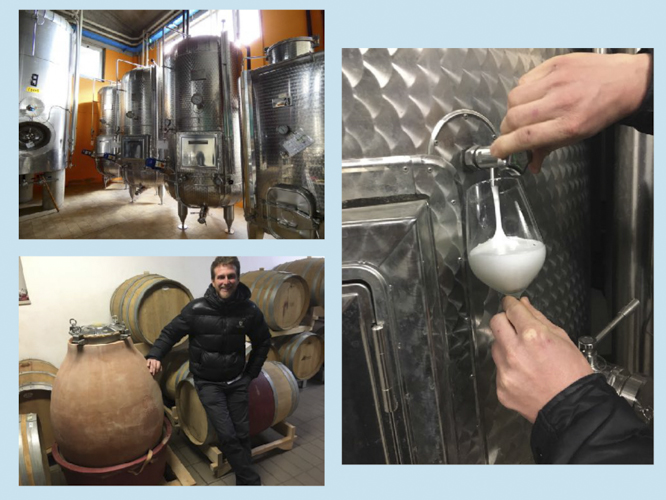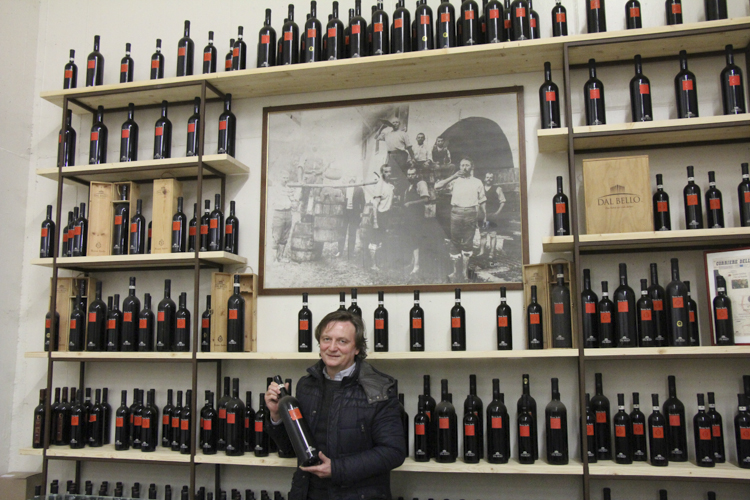 Whether it is tasting his wines, taking a tour of the cellar or heading to the vineyards in his four-wheel jeep, a meeting with Antonio Dal Bello inevitably turns into a whirlwind adventure. He is Mr Asolo incarnate, the region's pioneer winemaker and cheerleader, who quite simply wins over everyone with his sheer enthusiasm and pride for Asolo wines, be they Prosecco, red, white, rosé or his excellent Bordelese blend, which Antonio insists on calling Rosso Asolo. His reasoning is crystal clear; 'my faith comes from the certainty that the soil here, nostra terra, gives a great result whatever is planted – cherries, apples, olives and of course grapes. For hundreds of years, our grapes have produced great wines. Long before Asolo Prosecco Superiore DOCG was created in 2009, and lets proudly use the correct name, we were barely a handful of viticoltori who were committed to these vineyards. But I insisted that the very first bottle I produced, back in 1993, placed the name Asolo in big on the label. And I am proud of that. We made a 1,000 bottles, and we were selling the territory. My father said I was mad, but today every Dal Bello bottle – and we produce 1 million a year – still has the name of our territory on it.' While Dal Bello has made huge investments in a modern cantina to create the first industrial winery in Asolo, they also purchase grapes from smallholders from 5 neighbouring hamlets, whom Antonio describes as 'part of our family of sustainable farmers'.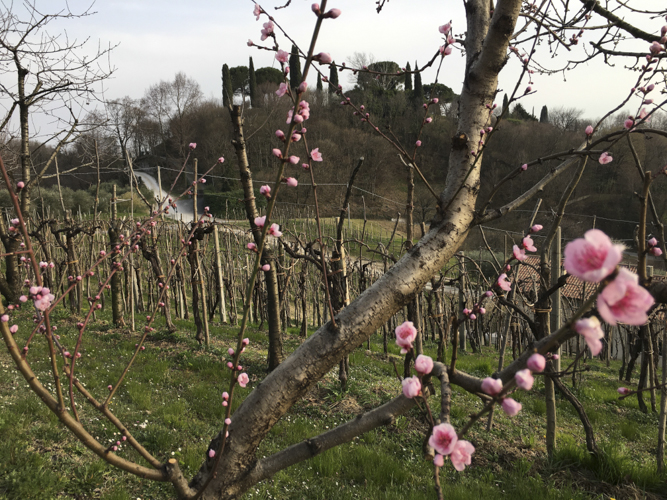 And family is at the heart of his latest ambitious project, the purchase of the farmhouse where his grandfather was born, together with a stunning vineyard right below the town of Asolo itself. 'My grandfather never owned anything, he was a mezzadro, a landless sharecropper farmer, but this now will become the ultimate showroom for Dal Bello wines.'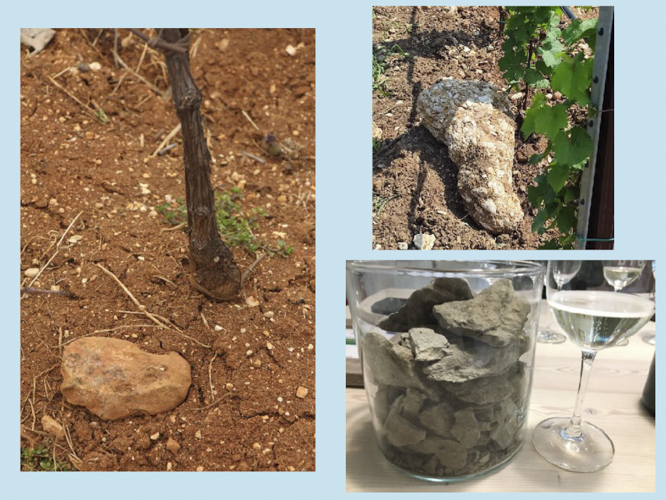 Monfumo is one of the most unspoilt and biodiverse corners of the Asolo Hills, perfectly illustrated by the view from the wine tasting terrace of Tenuta Rech's dazzling new state-of-the-art cellar. Sipping a glass of their signature Prosecco Extra Brut, sharply mineral but with a marked sapidity, Asolo's hallmark saltiness, you look out over a natural amphitheatre of neatly planted vines covering undulating hills, then thick woods, olive groves and fruit trees with the brooding profile of Monte Grappa in the background. Although the estate dates back to 1850, it has been completely revolutionised by the present fifth generation brother and sister, Simone and Silvia Rech.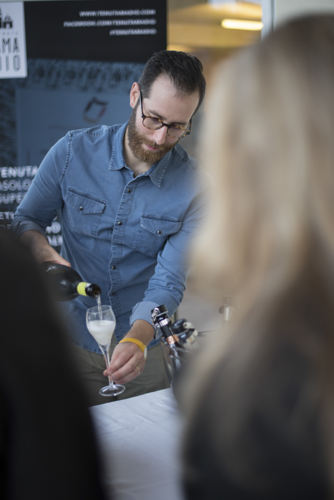 Simone explains that when, 'we took over the Tenuta in 2012 when the vineyard was all but abandoned, so most had to be replanted. Then in 2015, we took the big investment to build this new cantina where we can create our own range of Prosecco by the classic spumante system of Metodo Martinotti-Charmat using autoclave tanks.' Simone certainly has firm ideas on the wines he wants to make, especially proud of a surprising Col Fondo which uses the local native grape, Bianchetta, instead of Prosecco's Glera. His fresh way of thinking also extends to their 20 hectare vineyard, which is not certified organic, but run along ambient sustainability principles, 'because these hillsides bordering the Padana plains are simply not ideal for bureaucratic organic cultivation. It is just too damp with consistent rainfall plus humidity at night. So rather than the innumerable tractor treatments demanded by certified organic regulations I am more the next generation winemaker who believes in modern technology to precisely monitor the weather and diseases. And I promise you, that goes further than organic. With advance warning we do not need to treat the our whole 20 hectares each time, just the part where it is necessary.'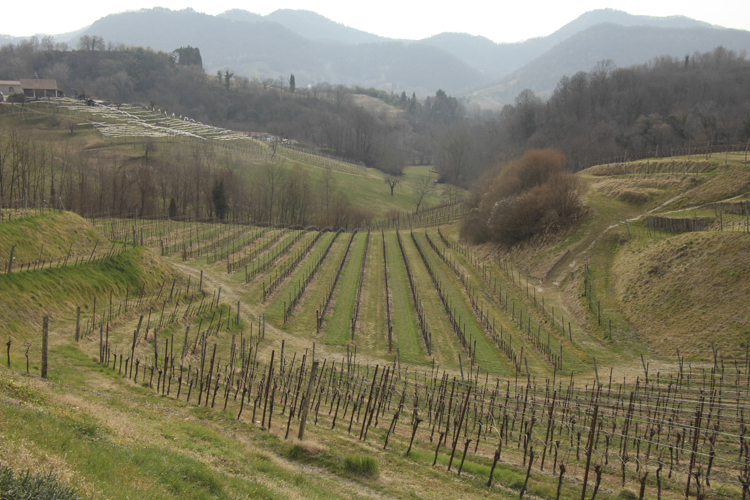 The best place to taste Ghisolana's wines is by booking a meal or stay at the Dall'Est family's rustic Agriturismo al Capitello, just down the road from Tenuta Armadio.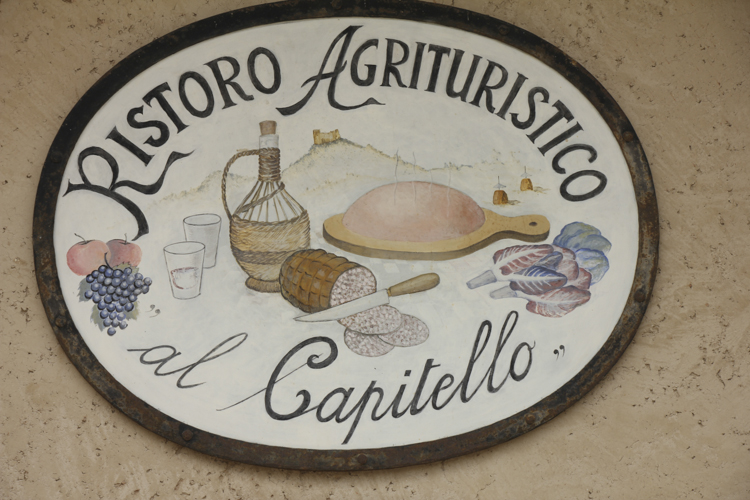 This is where you will meet a genuine 'contadino', rural family, who run the guesthouse, cook the meals and make the wines. There is the rough and ready patriarch, Ernesto, out in the vines all day and grilling steaks for the restaurant at the weekend, the young son Enrico, who has studied to be a chef and creates surprising dishes in the kitchen, Mamma Antonella who runs the b&b along with her vibrant daughter, Lisa, the public face of Ghisolana, conducting tastings with tourists. And who can disagree when she says, 'we chose the name, Ghisolana for the cantina because Gabriele d'Annunzio used this name for his muse Eleonora Duse. It means simple and authentic, and that is what we are.' Their 5 hectare estate is planted almost entirely with Glera grapes, 'so are basically 100% Asolo Prosecco – Brut, Extra Dry, Col Fondo – because the grape and soil are perfect for a bubbly, and that is why people come here.' That is clear once you take in the stunning view from the Agriturismo, a dramatic panorama of their principal vineyard and Monte Grappa.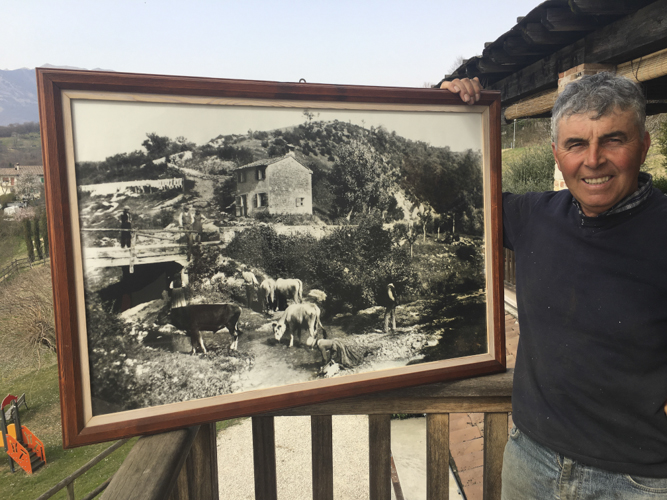 A black&white photo on the wall depicts the same scene back in the 1950's, a retro snapshot of idyllic rural life, and Ernesto declares, 'that is the ambiance I want to create here, so tourists can understand what life used to be like and still is for us living here. We have been certified organic vignaioli since the beginning and for me this is a return to the world of our ancestors before chemical treatments. This is what I remember from my youth, a genuine kilometre-zero where everything we ate and drank came form the farm.'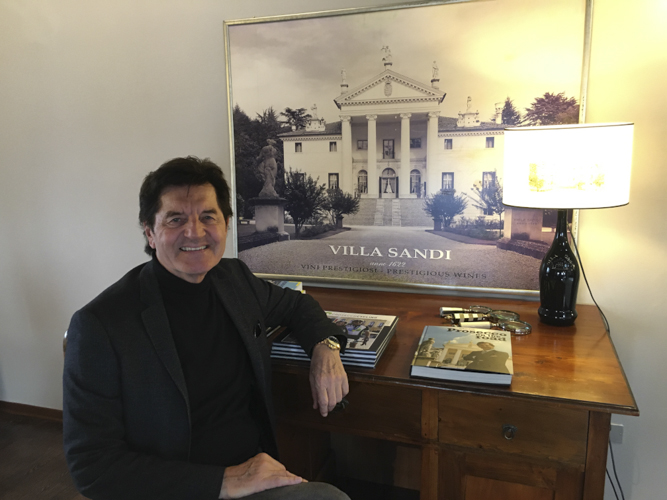 Behind a large wooden desk in a spacious though subdued office, the 'Presidente' as everyone refers to Giancarlo Moretti Polegato, sits at the heart of the Villa Sandi empire he has created over the last thirty years; one of the ten largest family wineries in Italy that spans the whole Prosecco universe, exporting to some 126 countries across the globe. Their headquarters and iconic Villa Veneta are right here in Tenuta Crocetta del Montello in the heart of the Asolo Prosecco region, and the Presidente becomes passionate when talking about their production. 'People describe Asolo as a jewel in Prosecco's crown, but today it produces some 20 million bottles, more than the whole of Franciacorta. We believe it has great potential for many reasons. Asolo is a name known around the world that can give brand recognition. We may not be certified organic, but we are the first winemaker to sign up for Biodiversity Friend, originally created for the fruit growing industry whereby cultivation is sustainable using as much renewable energy as possible. And all smallholders who sell grapes to us must follow the same principles while their work in the vineyard is closely overseen by our own agronomists.'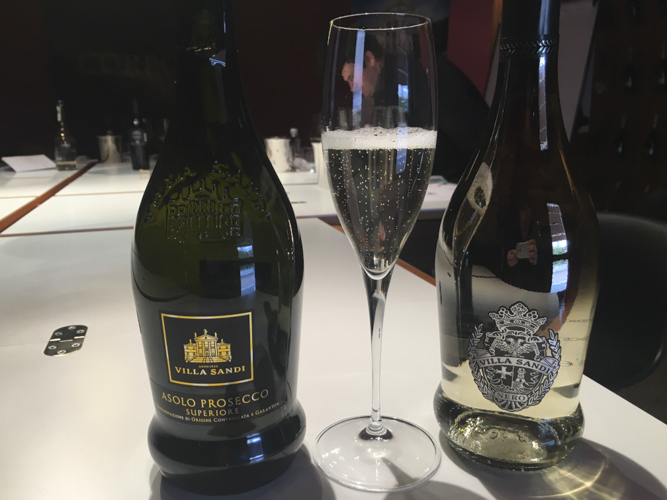 Villa Sandi's winemaker, Stefano Gava, stresses that freshness is what makes their Asolo Prosecco stand out, with more body than the bubbly from nearby Valdobiaddene because of the red clay soil, rich in iron, here in Montello. While Stefano can't wait to begin making an Asolo Rosé Prosecco if it is approved – a sure fire success in his mind – he will not be producing a Villa Sandi Col Fondo, claiming that the 'ancestral' method of bottle  fermentation, 'creates an imperfect product that I am not interested in making. I may enjoy drinking it with friends, but it is not  reliable. And remember; all wine ends up as vinegar if it were not for the intervention of the winemaker in the cellar.'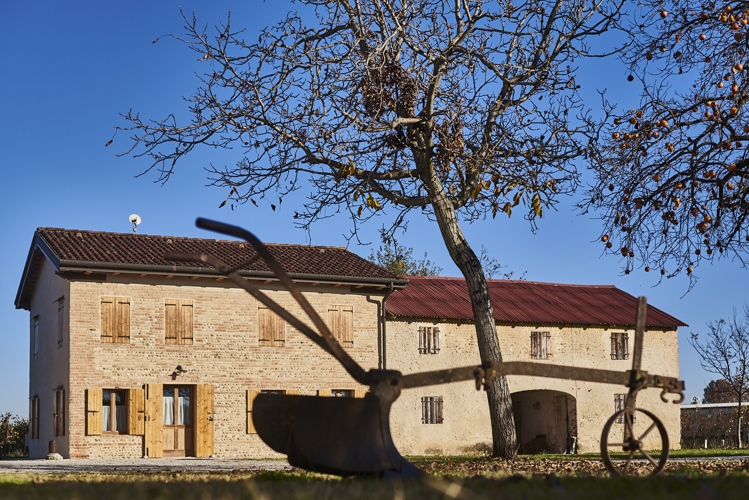 The sturdy, rustic 300 year-old farmhouse and cantina of the Pozzobon family is a different world from many of Asolo's modern wineries. And it is not for nothing that they call themselves Vignaioli di Natur, as they were the first pioneering cantina to be certified organic in the Asolo wine region. The quality of their wines certainly stands out, with three brothers successfully complementing each other in the winery; Adelino in the cellar, Diego outside in the vineyards, and Mirko, a respected oenologue. Describing their decision to turn organic, Adelino says, 'it was not with the idea of producing a better wine, but because we thought using chemicals was dangerous and we were determined to avoid illnesses for our workers in the vines. It was certainly not for commercial reasons, to get the stickers to sell more bottles, but rather the best way to cultivate our vines. Bio does not mean higher quality but I think we have shown you can do bio and make quality wines. And this has I stimulated us to always try to be ahead of every one. So logically we are now considering biodynamic winemaking.'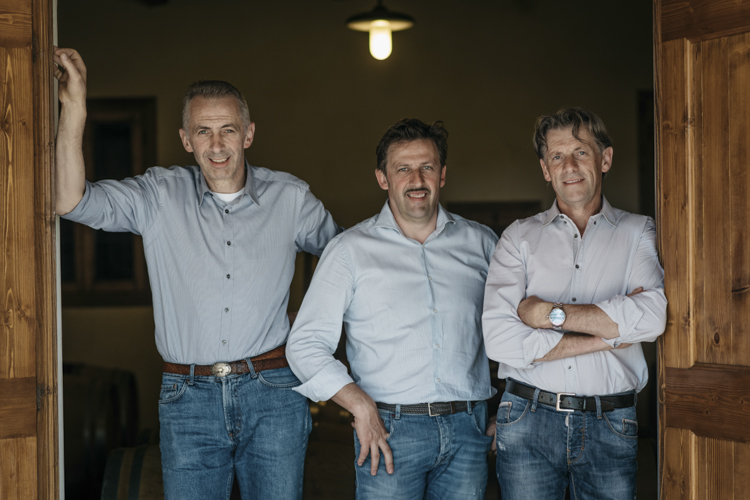 Adelino also speaks eloquently on how consumers always want to drink Prosecco young, in its first year, rather than reaching its full potential by ageing. 'This is especially so for our Col Fondo, where we use our oldest vines because you need the highest quality wine for bottle fermentation. Although Prosecco as we now know it, was born as a spumante using the technical Charmat method, frizzante wine existed long, long before with a natural second fermentation in the bottle. And we are determined to make our local tradition known not just in Italy but all around the world. We recommend agitating the wine by turning the bottle upside down to ensure a uniformity in each glass with no residue at the bottom of the bottle. But this means drinking a cloudy wine, and accepting that will take time.'
The sleepy village of Covolo di Pedrobba sits on fertile sandy plains at the foot of Monte Tomba and the snow-capped peaks of the pre-Alps. The river Piave runs alongside this family cantina, where an enthusiastic passion for wine is personified by the 30 year-old owner, Federica Andrighetto. During a tasting, she loves to recount how, 'I studied art at university but already at the age of 22 I was spending all my time in the cantina, embarking on this crazy adventure of running of our winery, with no formal oenology training.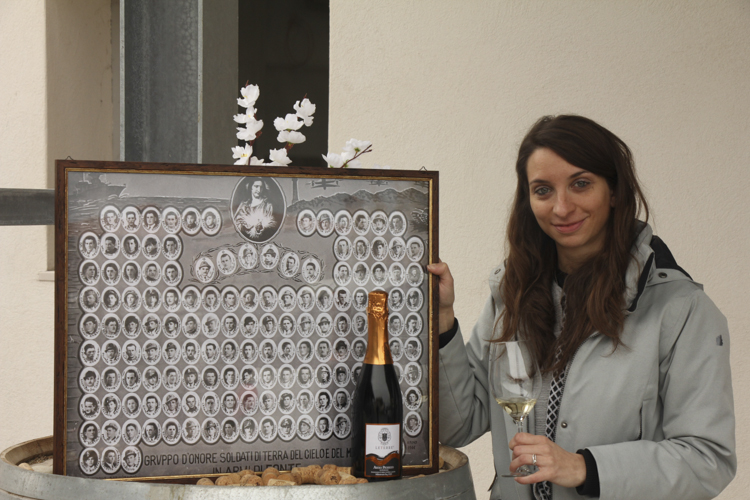 We inherited these vineyards from my grandfather, Luigi. You can see his picture up on the cantina wall from his regiment in World War One when this region was the site of terrible battles. My father, Antonio, planted our proper vineyard, and started making wine. Today we bottle ourselves, and if you ask my ambition it is not to become a big commercial winery, to buy more hectares and produce more, but just to progress to the point where I can bottle all my wine myself, to stop selling in bulk to other cantine, and stay a small boutique winery.' Federica makes 10 different wines – red, rosé, white and bubbly – from a 5 hectare estate made up of numerous small plots dotted around the cantina.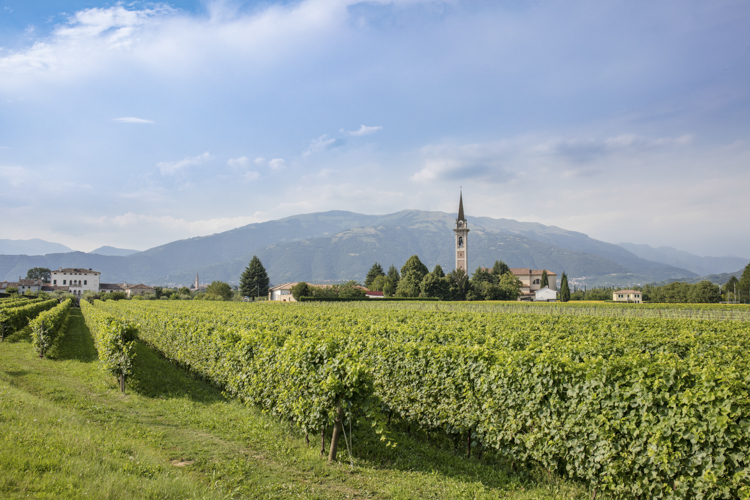 Pride of place is the vineyard producing her Dry Asolo Prosecco, perfectly manicured like a garden, the edges bordered with olive and cherry trees. 'I chose to make a sweeter Prosecco, the Dry, as it is perfect for celebrations throughout the year, at Xmas, for weddings, christenings and birthdays.' She loves to host wine lovers at the cantina, and the family also own the grand Villa Bellati, whose friendly trattoria is the prefect place to try Veneto specialities paired with Leterre wines.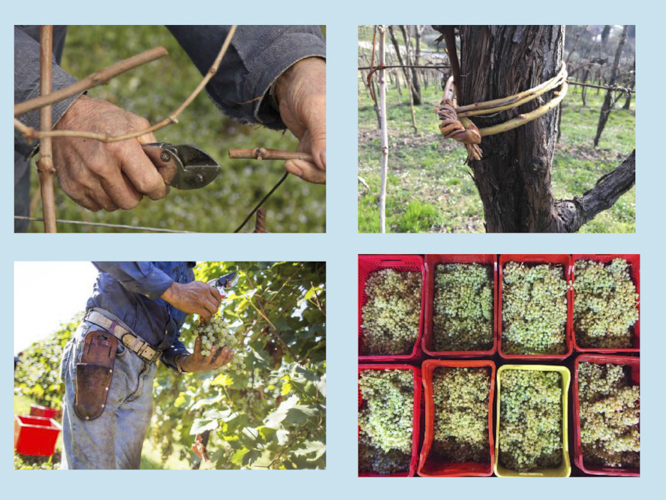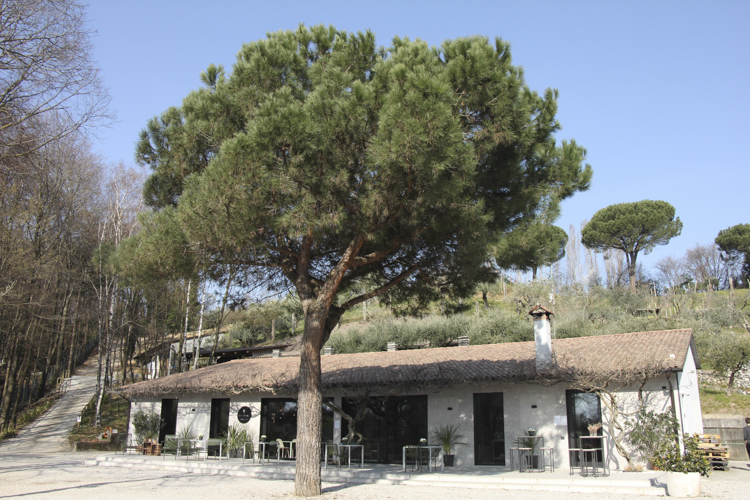 This idyllic winery of ten enclosed hectares dates back to 1700 when this was the estate of Venetian nobility whose palatial summer villa was surrounded by vineyards and olive groves. Today it has become Tenuta Baron, bearing the name of local furniture manufacturer, Nico Baron, who bought the property in 1981, renovated the villa into a potential luxury wine resort, and built a modern cellar. Since 2013 he has handed over the daily running to two dynamic young friends, his son Giacomo and Andrea Sbrissa, who are creating a very modern, inventive approach to marketing their wines. The Tenuta runs the popular Bonsai Japanese restaurant in Asolo, perfect for pairing raw fish with Prosecco, plus a new project to revive the ancient Osteria alla Baracca in Monfumo. But the biggest change has come at the winery itself, creating a modern designer tasting room. On Friday and Saturday, around 150 people arrive for a fun aperitvo tasting that runs through till just before midnight, where wines are paired with local specialities like sopressa salami and bastardo cheese.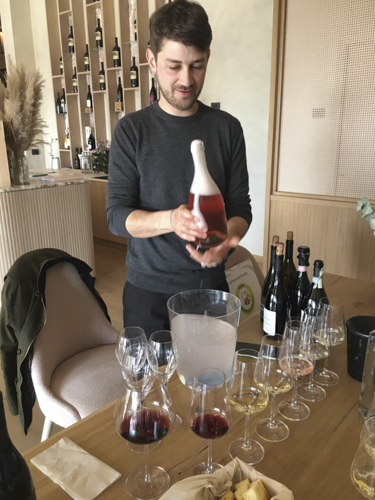 Andrea outlines a philosophy that has evolved because, 'our vineyard is split up into 12 very different plots, with varying soils, altitude and exposure, so we like to think of them as individual crus that we vinify separately and then decide which are best suited for which wine.' With no Extra Brut or Col Fondo, the Tenuta promotes its Extra Dry, 'which is more aromatic because we blend local grapes – Bianchetta, Verdiso and Perera – for the 15% that does not have to be Glera.' Outside of Asolo Prosecco, it is worth trying their bubbly Rosé delle Stelle, made with Raboso, Verduzzo Trevigiano and Merlot, along with a crisp white Incrocio Manzoni and more complex wood-aged Chardonnay.
Where to stay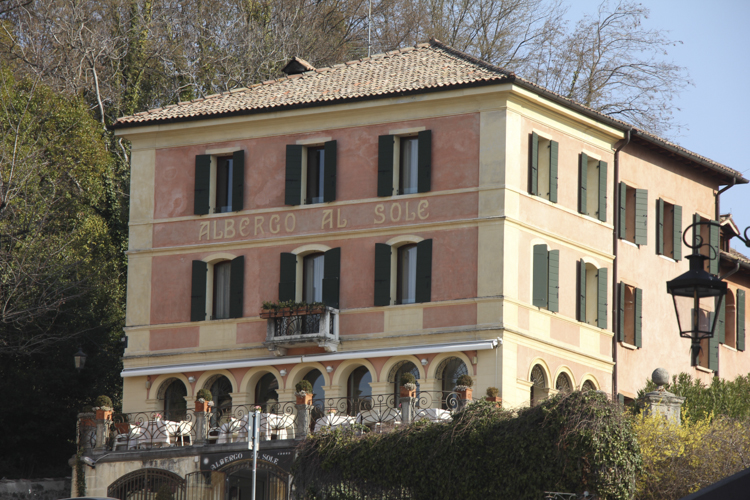 With to-die-for views overlooking Asolo, this plush family-run boutique hotel has been luxuriously renovated and is a perfect base both to plan wine tasting trips and to explore one of Italy's most romantic towns.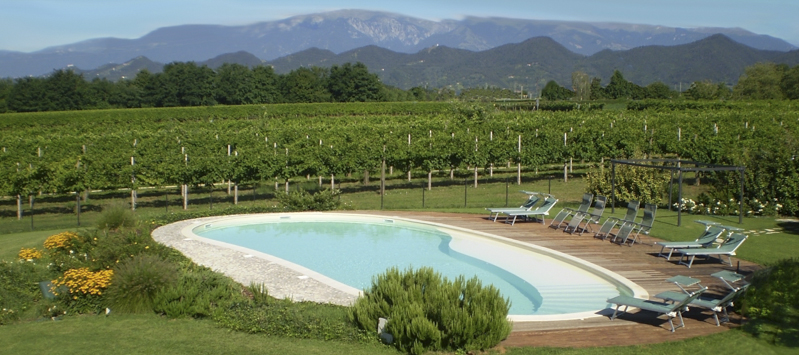 Surrounded by rolling hills and vineyards, with a relaxing pool, 'Frog Hill' is one of the many winemaker agriturismi in the region offering affordable, comfortable accommodation with the chance to taste the estate's organic wine and olive oil.
Where to eat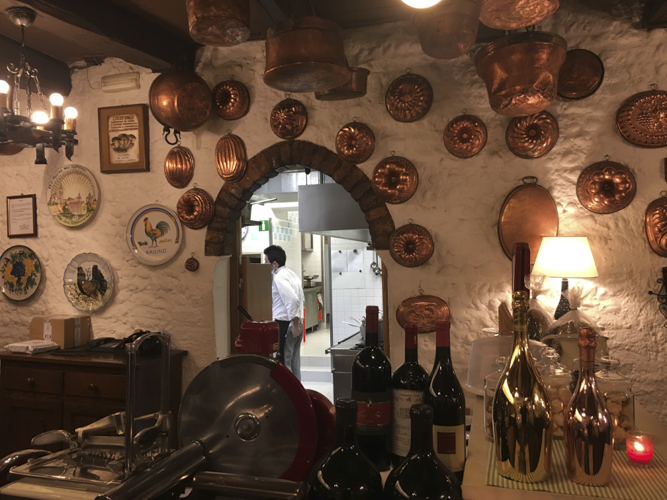 Overseen for 50 years by legendary restaurateur, Celeste Tonon, this temple of Veneto gastronomy is a favourite with winemakers. The cuisine follows the local seasons, so depending when you visit, try the asparagus risotto, grilled late-harvest radicchio, juicy roast capretto, guinea-fowl topped with a savoury peverada sauce.
Housed in an 18th century villa, two brothers and their sister have brought back to life this historic restaurant. Renowned for tasty, open-fire grilled meats – succulent TBone, lamb chops and veal steaks – and in autumn a paradise for mushroom-lovers, from porcini and chanterelle to strange-looking but delicious 'barboni'.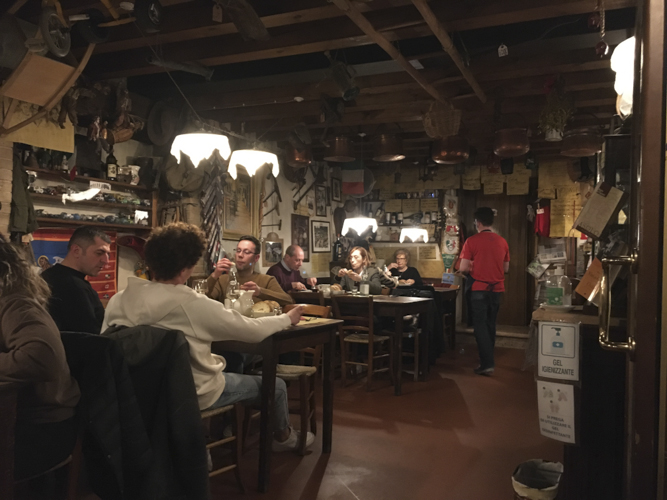 Tucked beneath a narrow medieval arcade the heart of Asolo, this cosy wood beamed 130 year-old osteria is perfect either for a glass of Prosecco and cichetti or a hearty meal of local specialities like pasta e fagioli or trippa alla Veneta.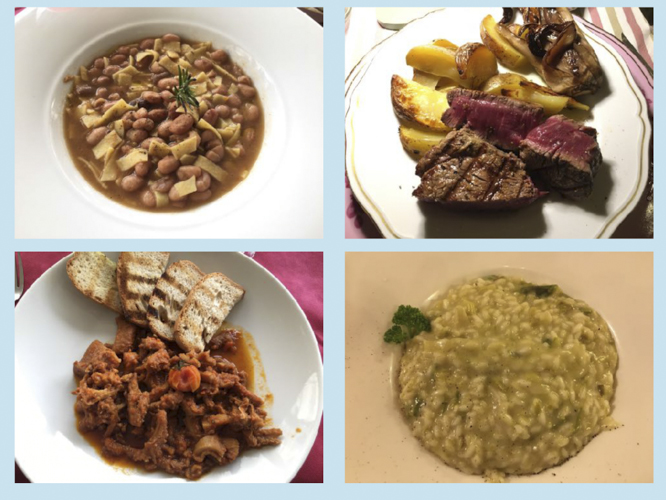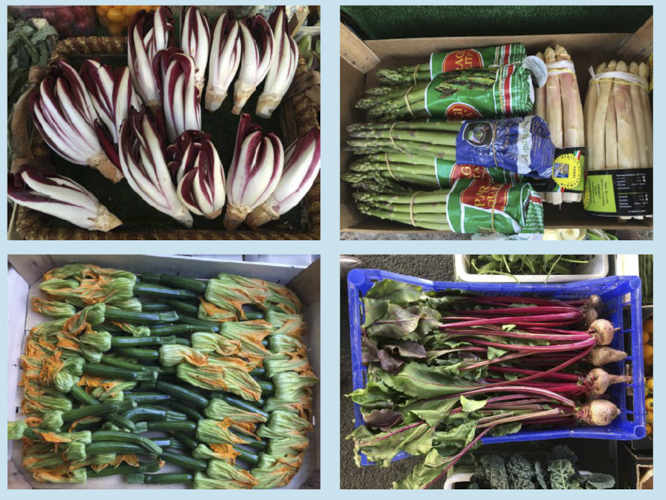 What to do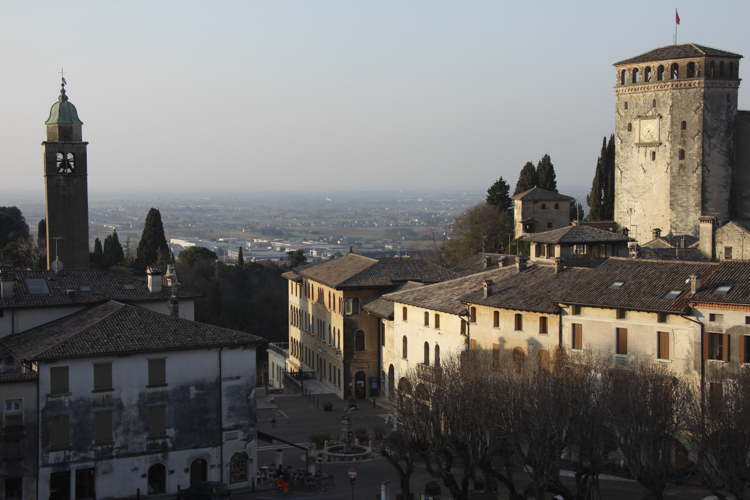 Every second Sunday of the month the ancient streets and squares of Asolo are transformed into a giant Mercatino, an irresistible antiques market with scores of stalls displaying jewellery, silverware, painting, furniture and porcelain.
Museo Gypsotheca Antonio Canova
Birthplace of the world's most renowned Neoclassical sculptor, Possagno is home to the fascinating Gypsotecha, displaying Antonio Canova's original 18th century plaster cast models including his masterpiece, The Three Graces.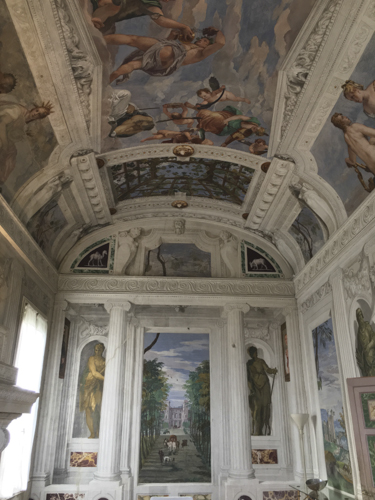 This spectacular Unesco World Heritage Site was flawlessly designed in 1560 by Renaissance architect, Andrea Palladio, and decorated with breathtaking trompe-l'oeil frescoes by Paolo Veronese. Surrounded by vineyards, there are tastings of the villa's wine in the splendid Bacchus Room.