INTRODUCTION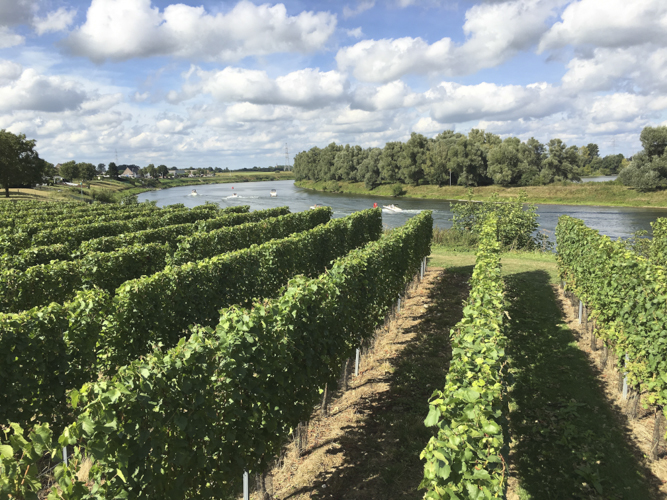 The world of wine is dramatically changing today, with Europe's cool climate countries establishing themselves as a new generation of serious wine tourism destinations. And Flanders is firmly in the vanguard of this movement, offering travellers, along with enthusiastic locals, the chance to visit dynamic wineries and their cellars, to sit out at picturesque vineyards, tasting surprising, high quality wines and at the same time sampling delicious local cuisine made from seasonal and often organic ingredients.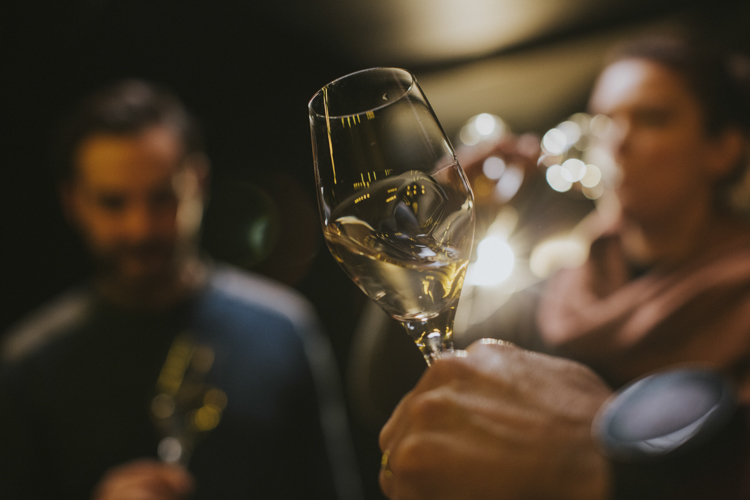 Belgium remains one of the world's smallest wine producing nations, and around half the vineyards are scattered across Flanders. It can be a surprise to learn that wine has been made here since medieval times, disappearing for centuries due to colder climes and the arrival of beer brewing.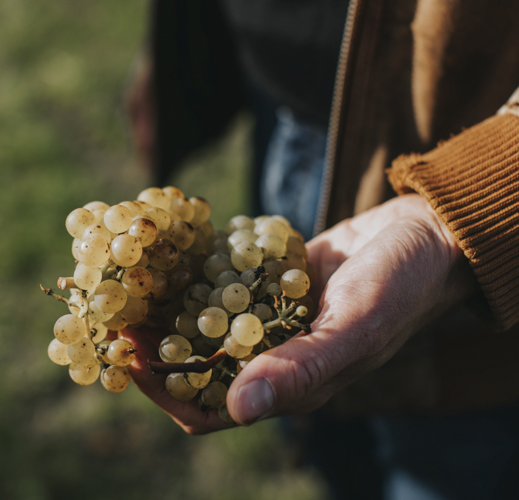 But the new generation of wineries today are succeeding in making impressive vintages due to global warming, technical advances in the cellar, and an open attitude to not just grow well-known grapes like Chardonnay and Pinot Noir, but to experiment with disease-resistant hybrid clones with unusual names like Solaris and Rondo. Two parts of Flanders are perfect for following a wine trail, and here is a top selection to visit from the rural countryside of Heuvelland in West Flanders across to the lush, fertile fields of Limburg, along the border with the Netherlands.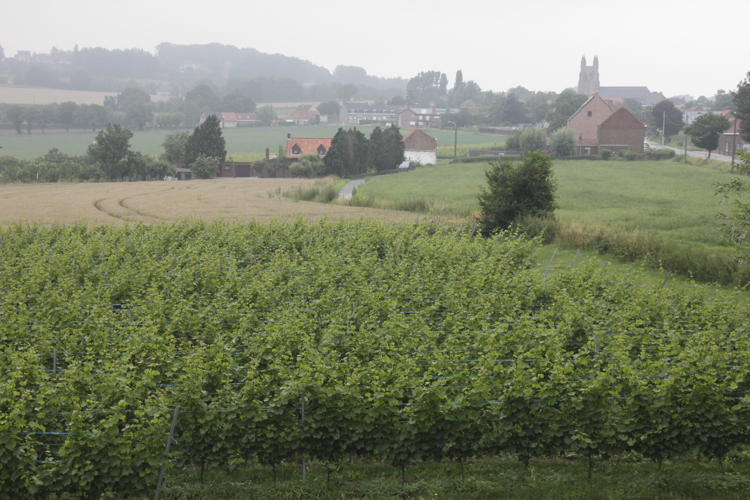 In the midst of Heuvelland's rolling hills, this innovative winery is divided into two very different locations. The tiny 'Devil's Chapel' that gives the estate its name, is on the grounds of a sprawling 19th century redbrick farm, a wine tourism B&B resort, with an idyllic natural pond for swimming and sunbathing at the back, adjoining the first vineyard plot that owners Michel and Carine planted in 2009. After running their own garage and petrol station, they came here to start a new life as winemakers but with absolutely no experience. Yet today, they are inaugurating a dazzling new cellar just down the road from the farm, with a designer rooftop bar whose terrace looks out over the family vineyards. Despite never using a wine consultant, Michel has always known what kind of wines he wanted to make.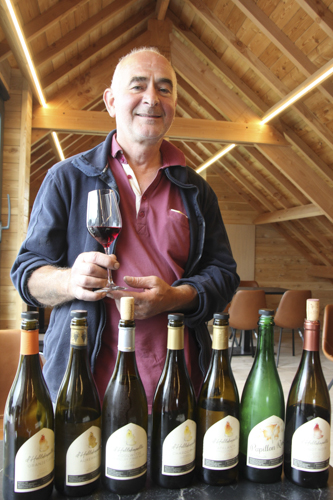 'Sometimes I wonder if I was a vigneron in an earlier life,' he muses. 'Even working in the garage, I always loved the grapes and wines of Burgundy, so it was natural for me to plant them here even though it was a bit of an experiment. But as Chardonnay and Pinot Noir are also the key grapes to make Champagne, I know each year that I can always make a sparkling cuvée too.' With 2 hectares planted and production at 10,000 bottles year, Michel manages to produce almost a dozen different vintages, from Chardonnay, Pinot Gris and Auxerrois to his beloved Pinot Noir, plus a bubbly and rosé. So there are lots of tasting possibilities for winelovers that discover their new rooftop bar, which Michel admits, 'is just a dream come true for us.'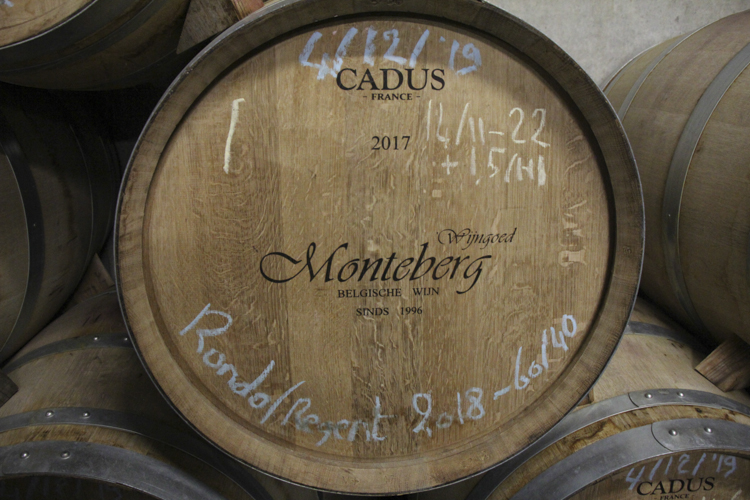 Before visiting the historic Monteberg vineyard, take a ride up the thickly forested route to the summit of Kemmelberg, marked by a poignant monument to French soldiers who fell here during the 1918 Battle of Ypres. The views are magnificent, but locals prefer to head to Monteberg's wine bar terrace, where the landscape changes to the bucolic graphic lines of vines, and a tasting of the latest vintage is paired with local cheeses and hams. The 'Mountain Winery' may sound rather grand when the beloved hills of Heuvelland only rise up 150 metres, but this was the first major vineyard in the region and remains the largest and a reference point for many young Flemish winemakers. Founded in 1996 by Jean-Pierre Six, the estate is now run by his two children, Ward and Katherine.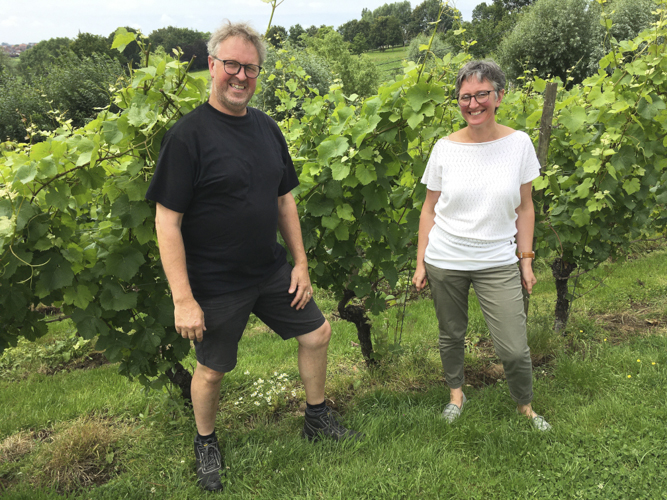 They recall how, 'this adventure began as our father's hobby, and locals said he was crazy to plant vines here in Heuvelland.' Although the initial ambition was not a serious commercial concern, he was greatly encouraged by other Flemish winemakers at a time when wine in Belgium was not seriously recognised. 'The first vineyard of 500 plants was literally planted in our front garden, and then everything has grown up around that. Today we have 10 hectares, producing 45-50,000 bottles, with zero export, everything sold in Belgium.' Renowned for its sparkling wines, made from classic Chardonnay and Pinot Noir, Monteberg have also planted new generation hybrid grapes like Solaris, Siegerebbe and Rondo Regent, which are increasingly popular today among Belgian winelovers.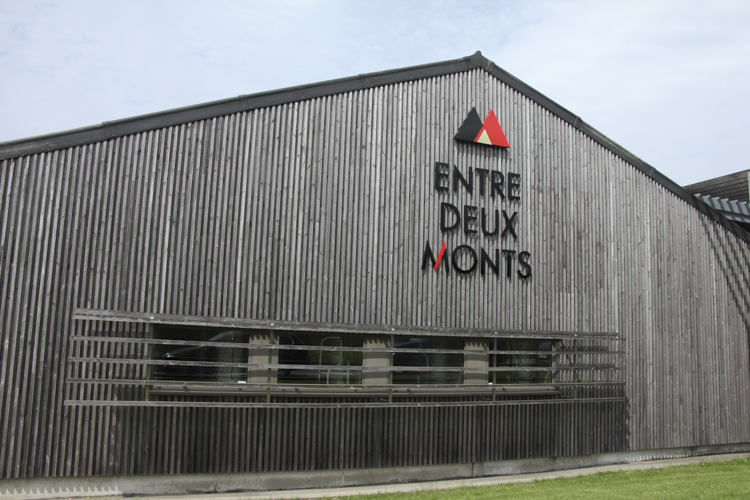 There is always a steady stream of cars arriving at the modern cellars of Entre Deux Monts to taste the exciting vintages created by one of the most dynamic young vignerons in Flanders. Above an impressive barrel-ageing room downstairs, there is a serious wine tourism centre, with films, tastings, blending ateliers and a panoramic terrace overlooking the vines, while in summer, a pop-up tent restaurant in the garden serves wines, local craft beers and artisan foods. Martin Pacquert inherited farming land of cereals, tobacco and corn, and started to transform it into a wine estate in 2005 after studying oenology in Montpellier and Bordeaux. 'I finished my wine studies working in France's Entre-Deux-Mers vineyards, and thought it a fitting tribute to call my Flemish estate Entry Deux Monts as we are located on the Red and Black 'mountains' of Heuvelland.'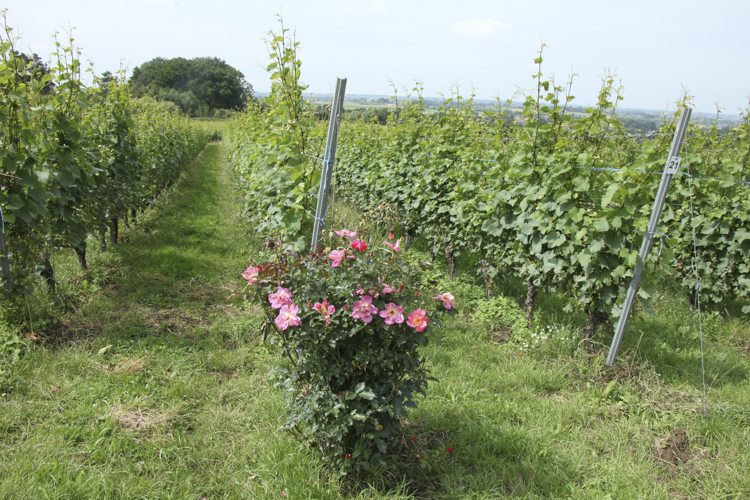 Martin started out planting a 3 hectare vineyard that today has grown to an impressive 20 hectares, producing some 120,000 bottles. He is very skilled with his sparkling wines, making a name for signature Brut vintages of bubbly, blending Chardonnay, Pinot Noir and Kerner grapes. The process follows the classic Méthode Traditionelle made famous by Champagne; double fermentation, including ageing on the lees, turning, sediment disgorging, and adding very little if any sugar. Over 60% of his production is sparkling and Martin insists they are, 'marked by freshness, purity and tension, a reflection of our cool Belgian climate. These are really juicy fruits with not too much acidity, so all you want is to drink another glass straightaway.'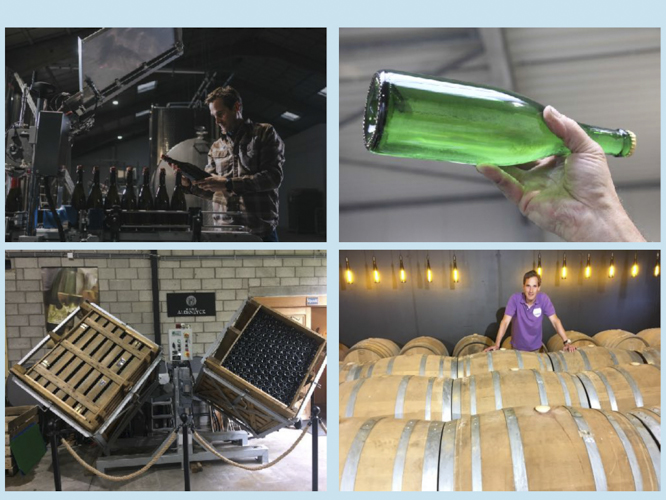 The bustling town of Borgloon is in the heart of Limburg's famed fruit orchards, but passionate Maxime Guenis is determined that it will also be famous for its wines.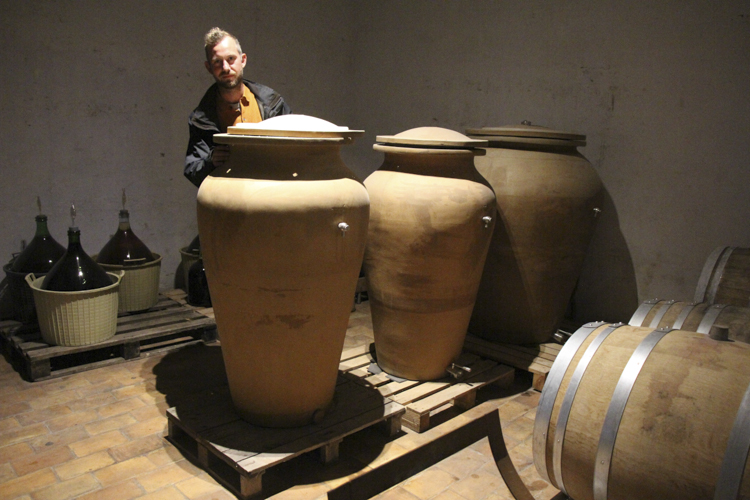 He is the perfect symbol for a new generation of Flemish vignerons; making pioneer natural wines by not adding sulphites, experimenting in the cellar with terracotta amphorae, oak casks and glass demijohns, while respecting biodiversity and ecology in the vineyard. His father Guido, a local police detective, began making garage wine back in 1991, the vineyard planted in the front garden, wine fermenting downstairs in the cellar. Maxime recounts how, 'when my father started you could count the number of Belgian winemakers on one hand. Now there are hundreds. For me, many are far too conventional, just wanting to copy the famed Burgundy style. It is a missed opportunity as we have so few rules in Belgium that everyone should be having fun and trying new things.' Optimbulles' vineyard is now on the outskirts of town, stretching to 3 hectares, and Maxime has installed his cellar in an old farmhouse where he produces a wonderfully varied mix of 7 sparkling wines, as well small quality batches of Chardonnay, Sauvignon and Pinot Noir. The total comes to 10,000 bottles, enough to encourage him to recently give up his job as an educator to concentrate 100% on winemaking.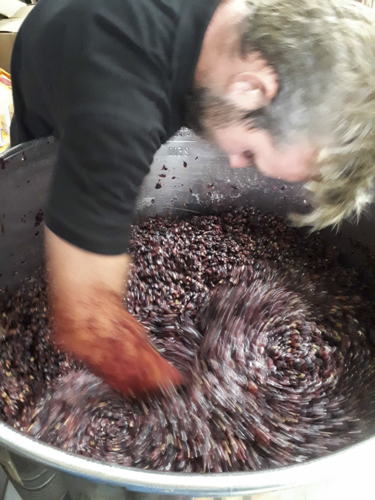 A brave decision that Maxime justifies because 'more and more people in Belgium are getting interested in natural wines, and we can sell out 100% of our production to this home market, which is good news for our carbon footprint. In other countries, many natural wine producers sell all over the world but I feel that defeats our eco philosophy, so if one day I get a call from someone in Japan, China or Russia offering to buy half our production, then I will just say no.'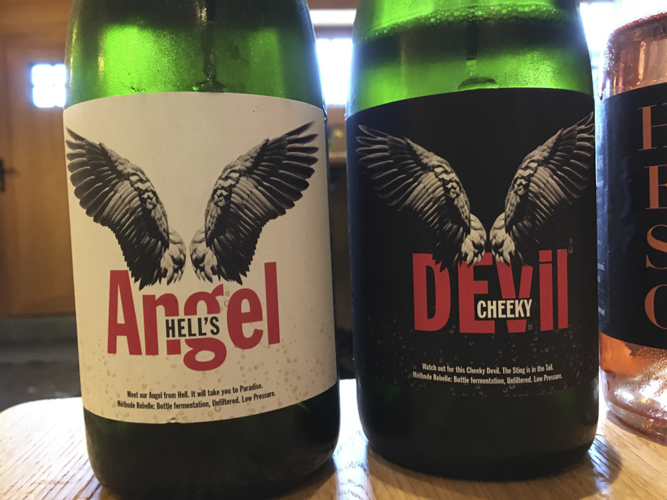 Another Limburg village where vineyards are beginning to rival to orchards is the picturesque hamlet of Helshoven, which gives its name to a wonderfully inventive winery. Walk through the discrete entrance and you find yourself in a rustic squared courtyard whose 18th century farmhouse and surrounding land have been turned into a paradise for wine tourism. There is a bicycle café for cyclists exploring the peaceful countryside. Another restaurant offers wine-pairing gourmet dining, while along the edge of a vineyard at the back, a half-a-dozen giant wooden barrels offer a unique lodging experience. All that before you embark on a marathon tasting of Helshoven's astonishing range of vintages, the Brave New World of Flemish winemaking. Twenty years ago, economics professor and wine enthusiast Geert Houben planted some 20 different grape varieties here just to see what might work, from classic Chardonnay to the extreme of Merlot, to a host of then little-known hybrids.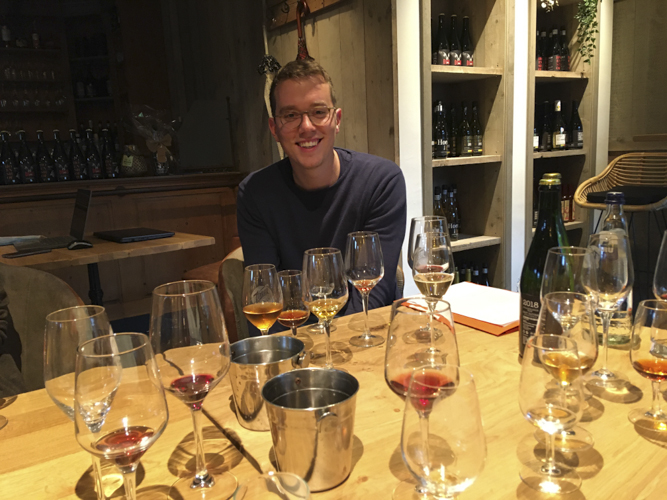 His son Jeroen has taken up the challenge today, so this is the perfect place to discover just what kind of wines are made from little-known hybrid grapes like Souvignier Gris, Johanniter, Muscaris, Cabernet Cantor. What is more, the winery make not just a daring Orange wine, from skin-macerated grapes, but what can only be called Beer Wines, a bridge between beer and wine cultures, where hops are added to the final fermentation of a Chardonnay, or where the wine is partly aged in lambic beer barrels. The result needs to be tasted to be understood, but they certainly make fascinating food pairings. The wine labels are amusing and provocative, with names like Cheeky Devil, Hell's Angel, The Godlike Monster, but Jeroen also remains true to the heritage of of local fruit farming, producing lambic ciders, sparkling apple, pear ice wine, and even their own gin!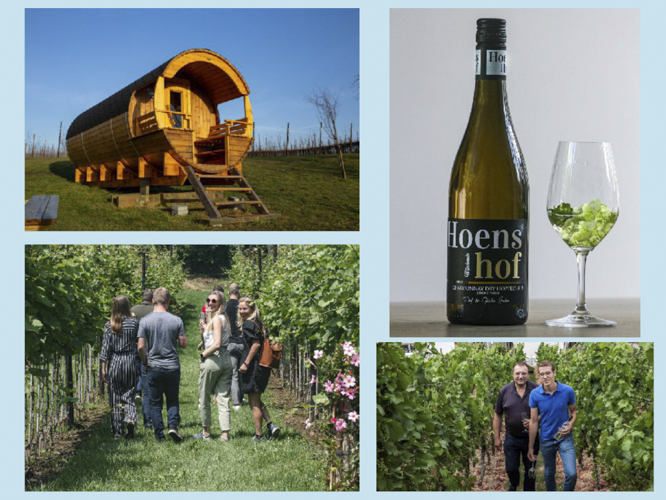 Wijnkasteel Genoelselderen
It is difficult to imagine a more idyllic place to discover Flemish wines than this magnificent 18th century 'wine château', set in a romantic landscaped park of rose gardens, ornamental lakes and vineyards, with tastings, wine ateliers, cellar tours and a homely bistrot for lunch and tea.
Close your eyes and you could be in Bordeaux's Médoc, while the wines themselves, essentially made for ageing rather than to be drunk young, also mirror a traditional approach compared to more contemporary Flemish wineries. Although records show that there was vineyard here in the Middle Ages, that had long disappeared when retired businessman Jaap Van Rennes bought the property in 1991 and decided to indulge his passion for wine. Thirty years later, three generations of his family still live in the castle, all involved in running a major 22 hectare vineyard of principally Chardonnay and Pinot Noir.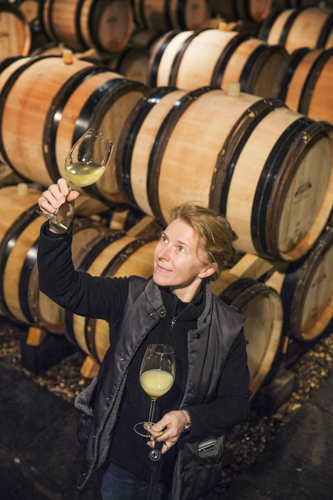 His daughter Joyce, who oversees both the vineyard and cellar, qualified as a winemaker in France, and she recalls how, 'when we started, Belgian wines were a curiosity that everyone thought were bound to fail. But 30 years has seen the market place change, the winelover changing too, and now there is definitely a place for Belgium at the world wine table. Joyce refuses to follow the current Belgian trend to plant new generation resistant hybrid grapes, arguing that, 'I feel they are not yet producing the quality needed to make a good glass of wine. As simple as that. I prefer to be patient for developments that will allow traditional grapes to become naturally more resistant.'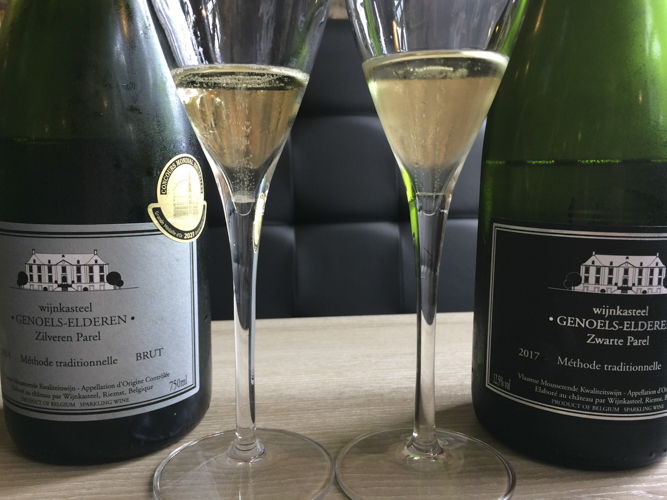 Karel Henckens is clearly an impassioned winemaker, who has transformed his family's grand country mansion into a cutting edge winery with a chic tasting room and lush shady gardens for wine tourists. The vineyards cover a spectacular landscape that runs down to the Meuse river, with Holland on the other side. It is part of a unique appellation, Meuse Valley Limburg, created in 2017 as the world's first official wine region covering two countries, Belgium and the Netherlands. Coming from a family of traditional Limburg fruit farmers, Karel reconverted to wine, and from 1998 he spent 6-7 years slowly planting vines, slowly building up from 1 hectare to the present 11 hectares that produces a serious 75,000 bottles a year. It is difficult to find another Flemish vineyard that can rival the elegance, complexity and finesse of Aldeneyck's wines, which really live up to Karel's philosophy of 'cultivating dreams, harvesting passion.'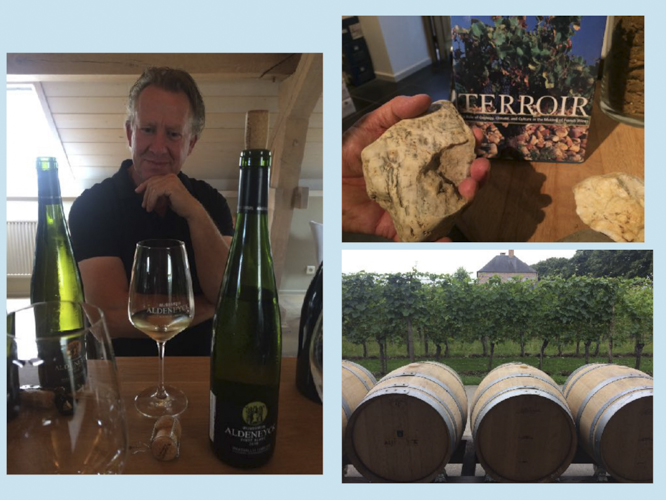 He is another great fan of France's famed Burgundy and Alsace grapes, insisting, as he animatedly points out the stony ground surrounding each vine, 'that the grapes of Chardonnay, Pinot Gris, Pinot Blanc and of course Pinot Noir make wines that are the perfect reflection of our unique terroir; a mineral rich, pebbly gravel from the Meuse river. And look, we are 300 metres from the river bank with Holland on the other side. With an elevation of 30 metres, it is just enough to give us a microclimate, the river protecting us from frost.' Don't be surprised to see Alderneyck's vintages on the wine list of Belgium's flagship two and three star Michelin restaurants, 'as these chefs and sommeliers have become our ambassadors, and that is far more important for me that winning medals in wine competitions to stick on your label.'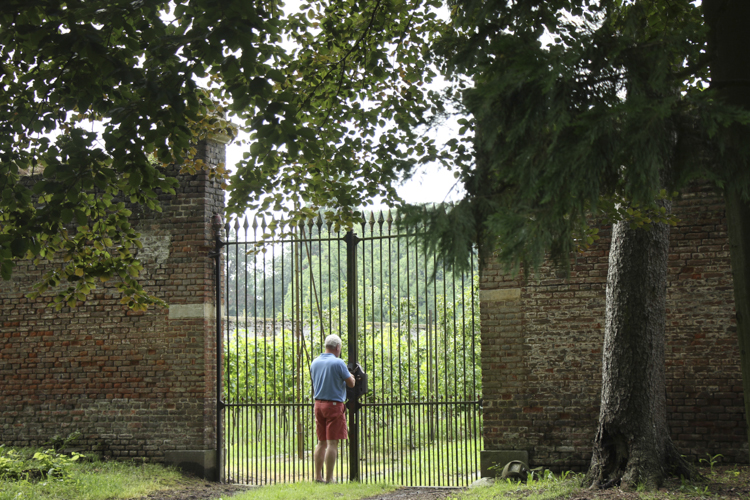 Pieter Nijskens' modern new wine cellar is located in the middle of an orchard, giving a clue to his origins. 'I feel I am just a baby in the wine business', he recounts. But for someone who comes from generations of fruit farmers, he has quickly adapted to the life of a vigneron.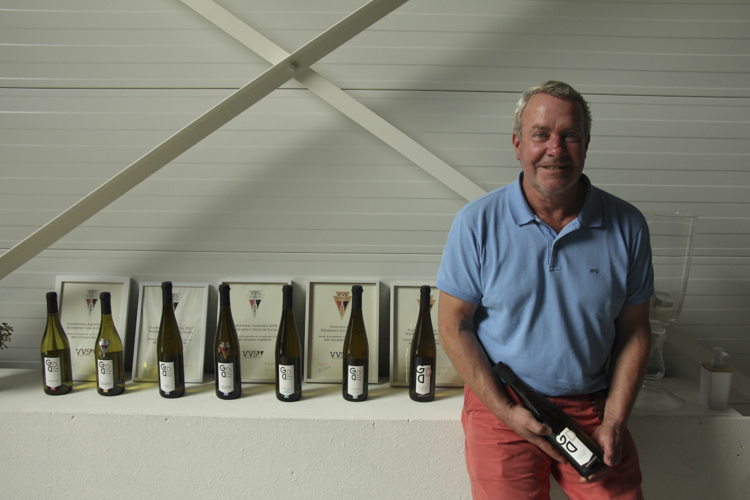 Sipping his latest Riesling he proudly shows off the framed certificates of numerous awards his wines have swiftly gathered, explaining how he is slowly abandoning fruit farming for a new adventure making wine. 'I began in 2015 with an hectare of vines, and immediately hired an oenologist to advise me. Even after the first harvest he said – don't go the normal safe route and produce a sparkling from your blend of grapes, but try still white wines instead. I had planted Chardonnay, Pinot Gris, Auxerrois and Riesling. And the big surprise was the first vintage winning a silver medal in the Flemish wine competiton. Since then, well the medals have just kept coming each year, and I have kept planting, so now we cultivate 7 hectares, producing 30-35,000 bottles compared to 1500 in the first year. The estate stretches over 10 plots of vines, all surrounding the town of Sint-Truiden, and pride of place – the inspiration for the winery's name, Gloire de Duras – is planted in his own village of Duras. It is a rare vineyard, hidden away in the gardens of the Château Duras, a genuine walled Clos that could be in Burgundy, whose microclimate produces a wonderfully aromatic, elegant Riesling. 'I know this is the best Riesling Clos in Belgium as it is the only one,' declares Pieter.
Where to eat
Cheerful family bistrot serving hearty traditional dishes like marinated Ardennes pork paired with a wine list that features numerous local wineries from the surrounding Heuvelland appellation.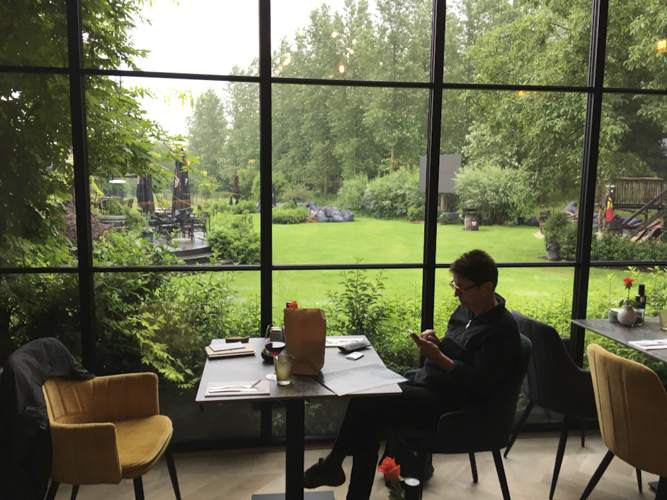 The House With No Name sits alongside the picturesque redbrick chapel of Helshoven, a romantic venue where an elegant dining room opens out onto beautiful gardens. Extensive wine list, creative cuisine mixing Italian influences with Belgian favourites like creamy vol-au-vent
Where to stay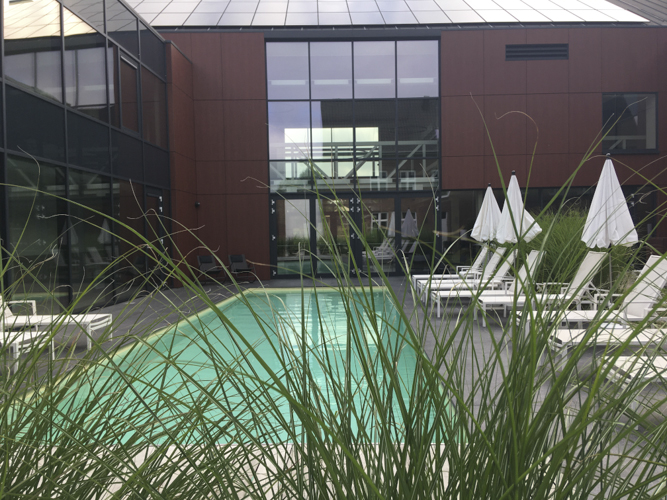 Just at the entrance to Sint-Truiden, right by the local football stadium,
this old farmhouse has recently been transformed into a futuristic luxury hotel, with pool, gardens and fun lobby bar with table football, ping pong and pool.