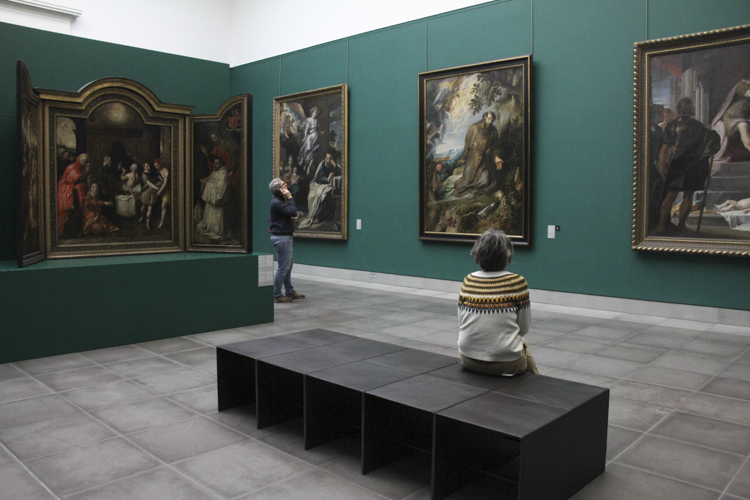 INTRODUCTION
First impressions on arriving in beautifully-preserved medieval Ghent is that this promises everything you would expect in a classic Flemish Art City.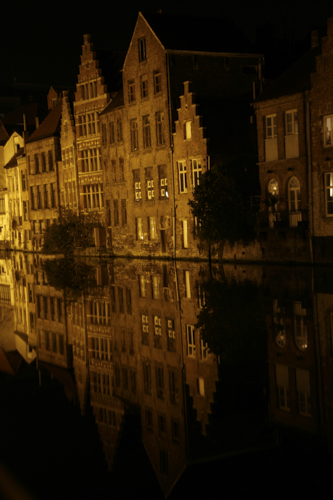 A romantic waterside walk past the sumptuous guild houses and merchant's mansions that line the Graslei and Korenlei quays along the Lys river take you back to the days of the Middle Ages when this was one of Europe's wealthiest and most cultured cities. Ghent's ancient skyline is marked by two towering landmark buildings that sit opposite each other; the Unesco World Heritage town Belfry and majestic tower of St Bavo's cathedral, whose treasures within include breathtaking masterpieces painted by the Van Eyck brothers nearly 600 years ago. But eccentric, irreverent Ghent is also an Art City that loves to surprise visitors that take the time to really get a feel for this under-the-radar destination. Track down cutting edge modern art and design museums, contemporary private galleries and vivid street art. Head out beyond the historic centre to discover hip locales opening up in the renewed urban landscape of the old industrial docklands. The city is always at the forefront of new dining trends, ecology and ethics initiatives. Ghent is always ready to surprise.
Must See
Adoration of the Mystic Lamb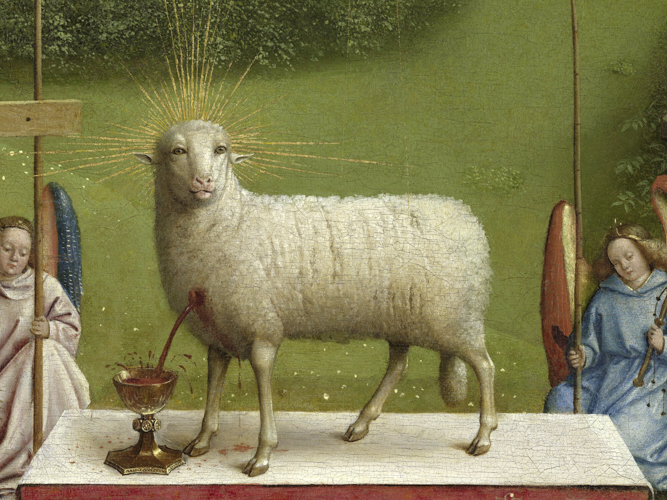 When people talk about Ghent's reputation as one of Europe's renowned art cities there is one masterpiece that immediately comes to people's mind; The Adoration of the Mystic Lamb. One of the world's most influential artworks, painted in 1432 by the brothers Hubert and Jan van Eyck,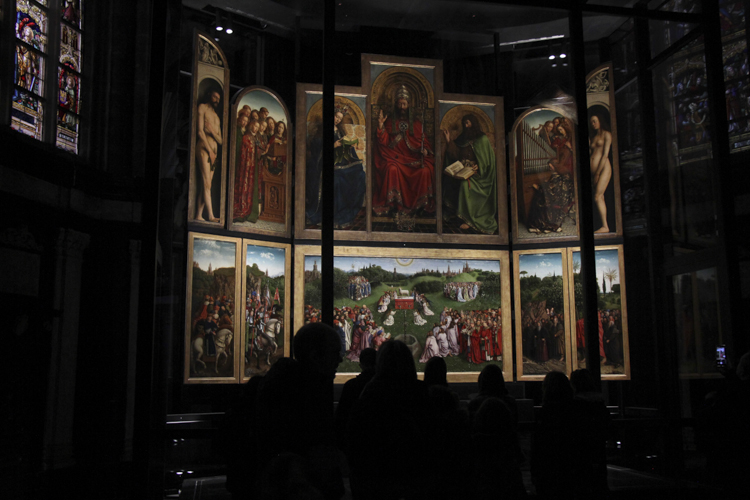 The Adoration stretches over 18 oak panels, forming a monumental altarpiece at the heart of the towering thousand year-old Gothic Saint Bavo cathedral. Standing in awe in front of these evocative biblical scenes has always been emotional. But today, culture lovers can use the modern technology of Augmented Reality to experience a futuristic hour-long multimedia journey. This begins down in the crypt where visitors don futuristic head masks and travel back through time aided by holograms and avatars. Finally, the virtual journey ends in the present as masks are removed and everyone stands silently in front of the unique artwork itself. Over the centuries, The Adoration has been stolen 7 times, transported to Paris, taken by the Nazis on the orders of General Goering during World War Two. But today, you just need to make a booking well in advance to make sure you see the world's most coveted painting during your stay in Ghent.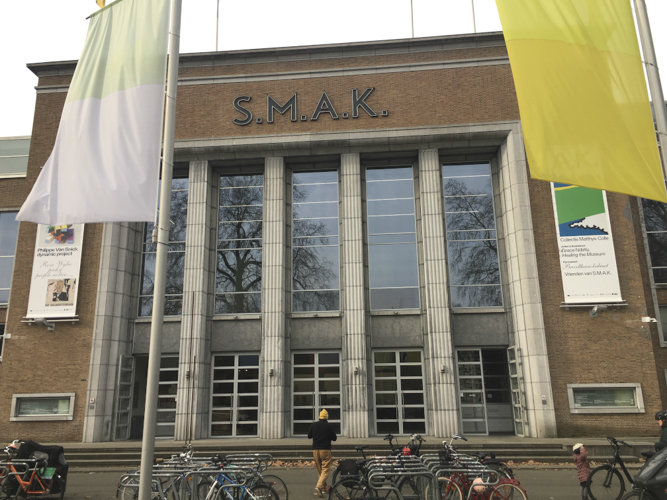 Art in Ghent is not just about Old Masters, Flemish Primitives and precious religious paintings in churches. The city has a cutting edge Design Museum, closed for renovations right now, avant-garde private galleries and S.M.A.K., the expressive initials of the Municipal Museum of Contemporary Art, housed in what was once the local casino. It is well worth the short bus or tram ride out of the centre to discover a museum that proposes a daring, rebellious agenda to showcase regularly changing, provocative temporary exhibitions.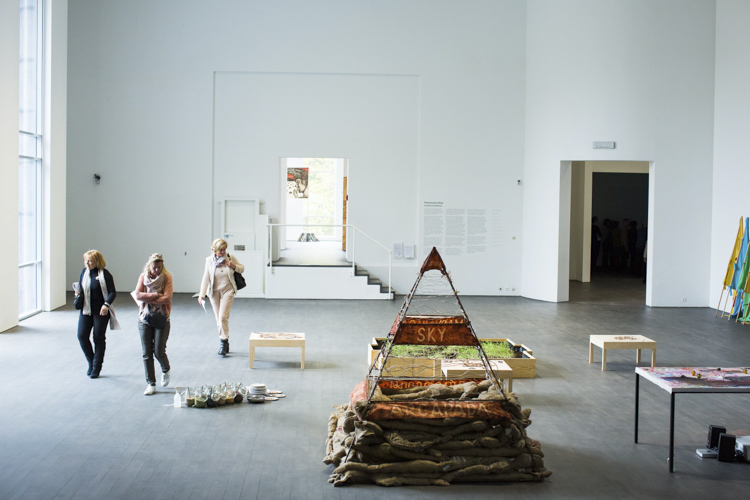 SMAK also possesses one of Belgium's most important contemporary art collections, with exceptional pieces by artists from movements like Cobra and Arte Povera, and they are awaiting a decision to build a new annexe to exhibit this as well. The SMAK started out life as the contemporary wing of the nearby Royal Museum of Fine Arts, and art lovers must continue on to Belgium's oldest museum. It is a unique opportunity to view masterpieces spanning 600 years, from the likes of Bosch, Breughel and Rubens to Magritte and Ensor, Delvaux and Rik Wouters.
Hidden Gems
Huis van Alijn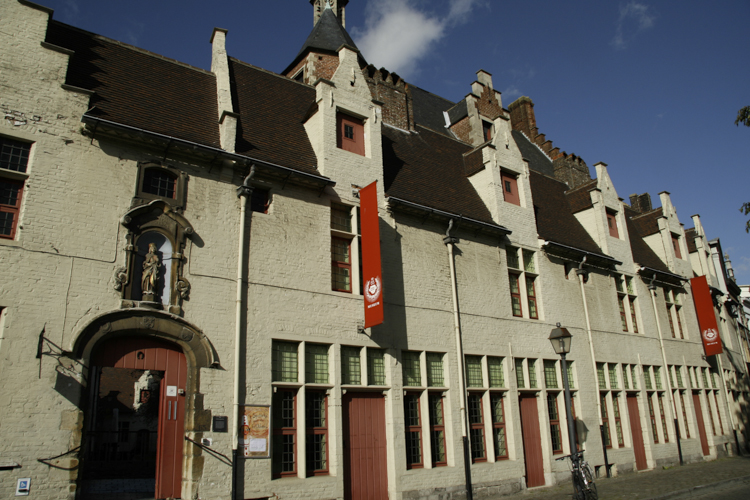 Most of the grand medieval merchants houses that line Ghent's picturesque Kraanlei waterfront house trendy restaurants, bars and boutiques, but walk through the discrete wooden door of the Huis van Alijn and you head back into a journey into the rich history of the city.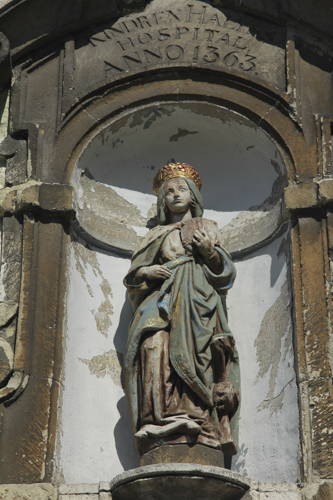 Right above the entrance arch sits an ornate religious carving dating back to 1363 that announces that this was originally an almshouse, where the city's sick and elderly were cared for.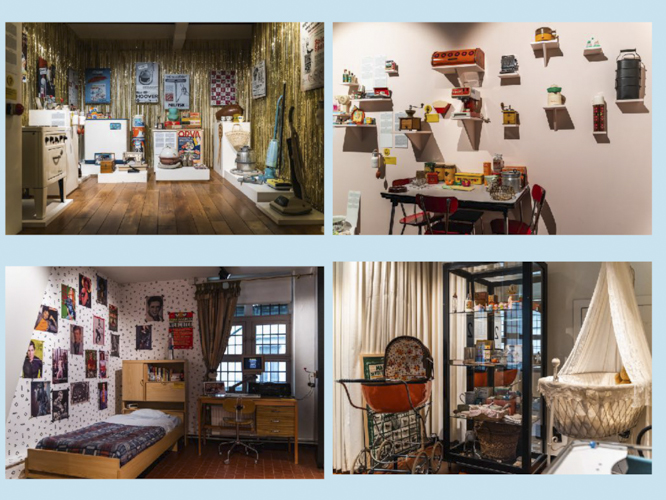 Today the whitewashed buildings surrounding a sunny courtyard have been converted into wonderfully nostalgic, kitsch recreation of 20th century life, irresistible for kids, great fun for adults. And this being Ghent, the museum includes an authentic 'estaminet' pub where you can try local brews and foodie specialities like Ghent's famous Tierenteyn mustard with cheese and cured sausages.
Graffiti Alley
It is no surprise to learn that Ghent proudly declares itself a graffiti-friendly city, where street artists are welcomed to make their creative mark in selected areas of the urban landscape.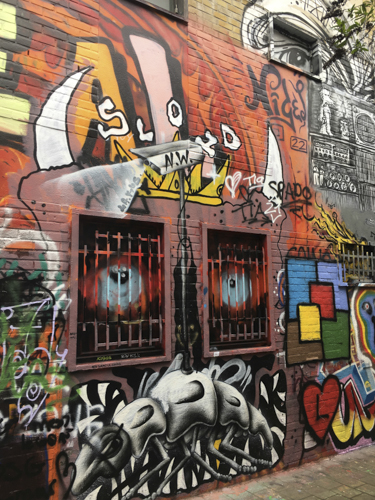 While there are over 500 graffiti creations dotted all around the city, the unofficial open-air gallery right in the heart of the historic centre that runs along the walls of Werregarenstraat is known to all as Graffiti Alley. It has been opened to street artists since 1995, the murals continually reinvented by essentially local Ghentois spray-can artists.
Every few years, the walls are painted white, giving a new generation of graffitists a blank canvas for new designs. There is an official street art tour, Sorry Not Sorry, that visitors can follow, but it is more fun just wandering the streets and finding your own discoveries like The Lion's Den in Prisenhof street or A Squid Called Sebastian on Sleepstraat.
019
Ghent's newest hot neighbourhood is undoubtedly the funky mix of industrial and contemporary buildings around the old docks, a very different world from the historic city centre. Vast industrial factories and warehouses have been converted into microbreweries, theatres, a shopping centre, alongside modern, cutting edge social housing, schools and communities centres. Old cranes surround the port and canal, today the verdant Captain Zeppo park.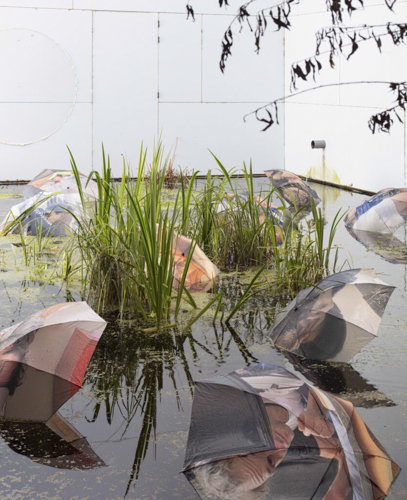 And right on the water's edge, a discrete red brick building, once an old welding factory, houses the innovative 019 project, an experimental centre for a local artists cooperative that combines architecture, graphic design and visual art.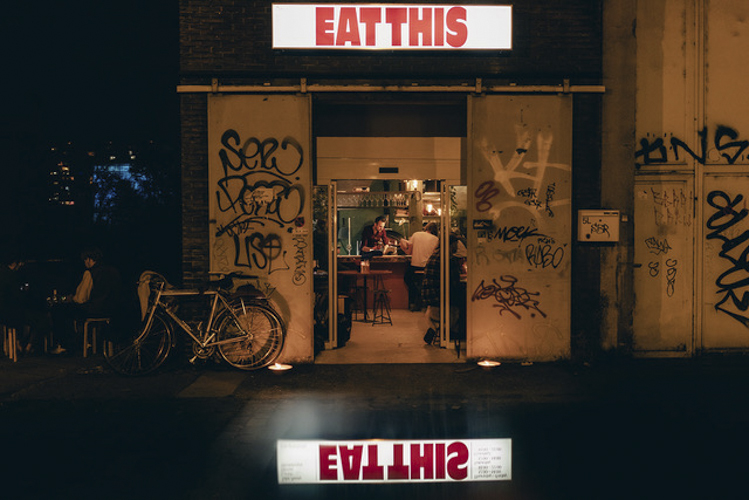 There is also a fun pop-up diner, Eat This, run by artist Stephanie Van der Velds, who describes the space and her kitchen as a continual installation of her work.
Local Foodies
Ginderella
Gin is synonymous with Flanders, where the humble juniper berry was first distilled into one of the world's most distinctive alcohols some 800 years ago.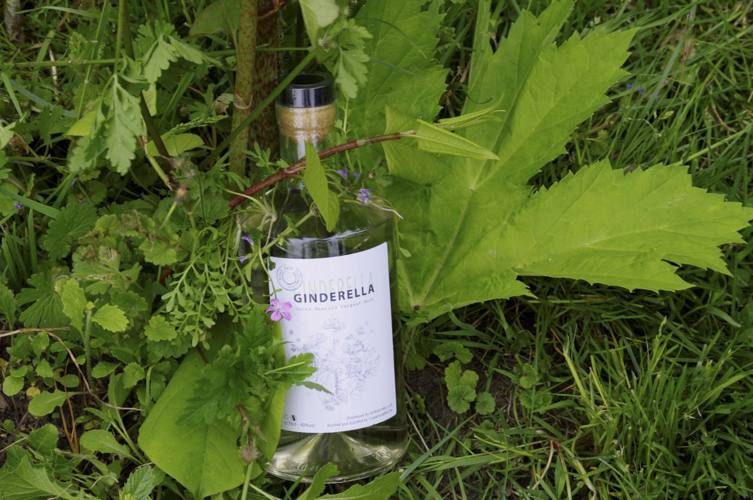 But the present fashion for creative handcrafted distillers is much more recent and the city's iconically named Ginderella was recently launched by the two wonderfully eccentric Heyneman brothers. This really is a gin like no other, created by the impassioned ecologists Jan and Geert Heyneman who are on a mission to transform Ghent's wild urban nature into a unique gin. What this means is foraging all over the city streets and surrounding countryside for invasive but edible weeds like Japanese knotweed, herb Robert, lesser swine-cress and giant hogweed, then distilling them with a secret recipe classical juniper, botanicals, spices and herbs.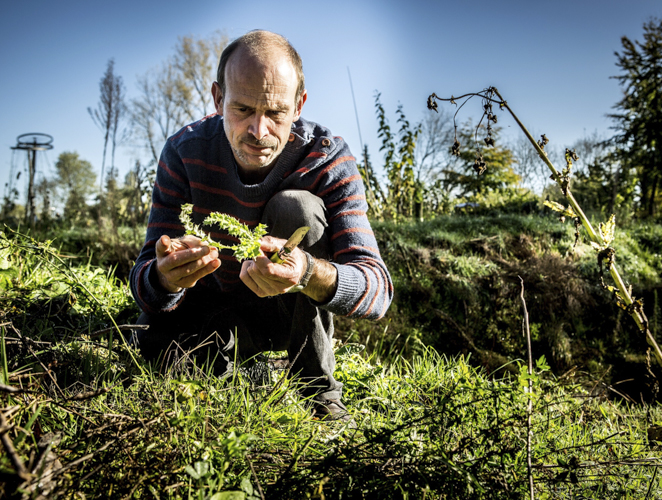 Geert is also Ghent's City Ecologists, and curious gin-lovers can join him on a unique foraging expedition in the dense undergrowth and vegetable gardens of the nearby Bourgoyen nature reserve. And the surprising tasting at the end includes not just Ginderella but their surprising artisan vermouths.
Ghent foodies take their sustainability seriously with numerous organic supermarkets, a fun "Thursday Veggie Day" devoted to promoting vegetarian food, and an innovative city Food Council promoting innovative ideas like reuse and redistribution of restaurant leftovers. But the real pioneers can be found at the edge of a sleepy canal in an old textile factory.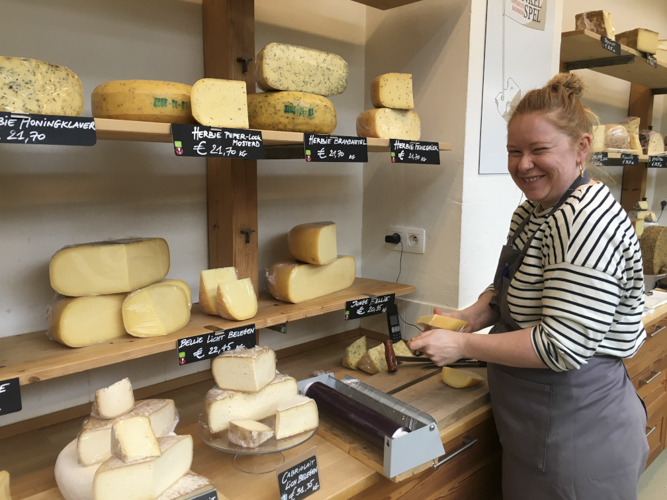 This is where Ghent's very own dairy, Het Hinkelspel, first began making their delicious selection of raw milk cow and goats cheeses in 1984, an organic cooperative still supplied by the same two dairy farmers. Today the premises are known as the Lousberg market, and the cheese makers have been joined by local farmers coming in to sell their kilometre-zero fruit and vegetables, an artisan baker and butcher, and friendly canteen serving daily home-cooked dishes, soups and cakes using market produce.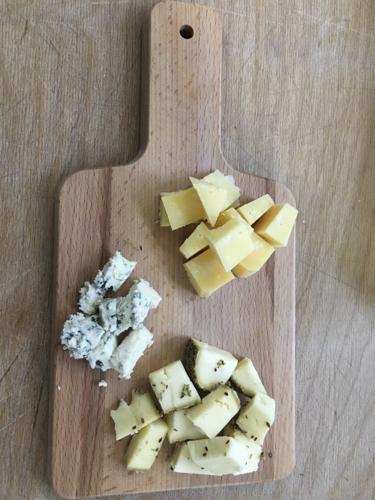 Be sure to taste the delicious Van Eyck cheese, created in honour of the artist, while the perfect pairing with an aged goats milk gouda is a glass of their craft-brewed Lousberg Blonde Tripel ale.
Green Space
Theresia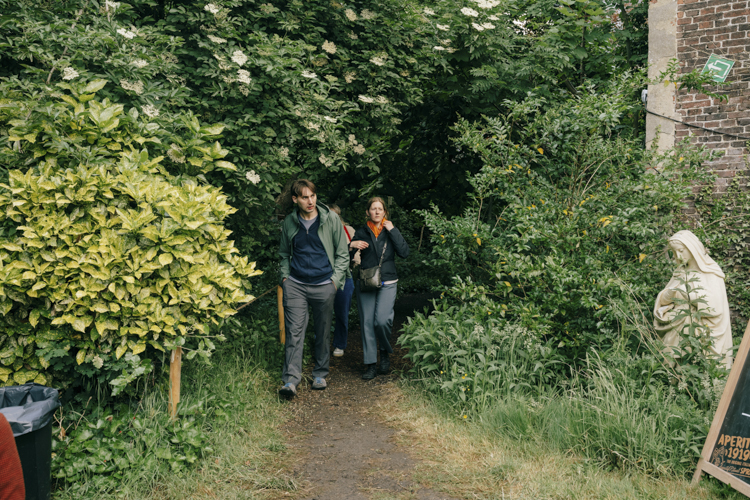 An imposing high red brick wall runs along Theresia Street, hidden away in a sleepy residential neighbourhood, and few tourists are curious enough to push open an ancient wooden door to discover what lies behind. But the reward is to enter another of the city's unique locales that have forged Ghent's reputation as a pioneer for offbeat culture. The sprawling grounds behind the wall house the former Theresia Convent, founded 363 years ago for a silent order of nuns, abandoned from 2007 for 15 years, until it was recently brought back to life as an alternative community venue for visual and performing arts, cinema screenings, workshops and of course eating and drinking.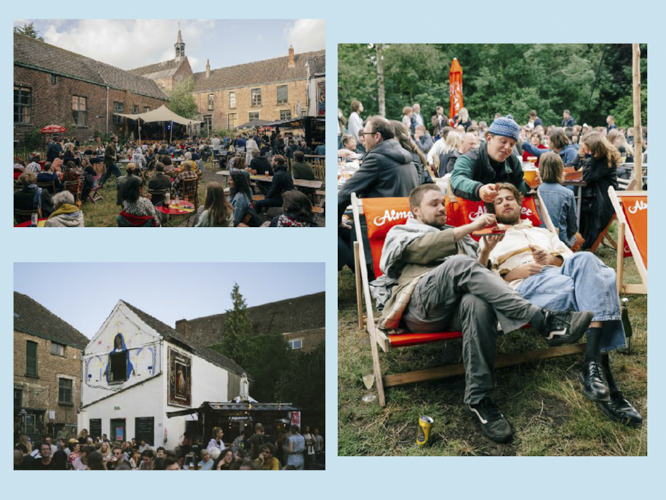 The wonderfully wild, overgrown grounds are open from June through till September as a casual beer garden and concert venue, with deckchairs and a tiny deconsecrated chapel serving as the bar, while inside the convent there are art exhibitions, with the kitchens used either for foodie pop-ups or communal cooking by the local neighbourhood.
Markets
Sint-Jacobs flea market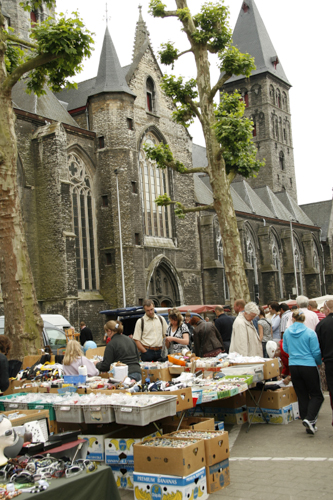 This is a city where different markets pop up every day of the week, from the chaotic Friday Market sprawling across the grand Vrijdagsplatz square, whose raucous traders sell local sausages, cheeses, North Sea fish and seafood, to markets specialising in books, birds, flowers, arts and crafts. But nothing compares to the irresistible flea market bargains laid out on the bric-a-brac stalls covering the ancient cobbled square in front of the Sint-Jacobs church every Friday, Saturday and Sunday morning. The grand medieval church is one of the official stages for pilgrims travelling to Santiago di Compostella, and this bohemian neighbourhood was where the Ghent Festivities first began in the hippy summer of 1969, today a wild 10 day music festival every July.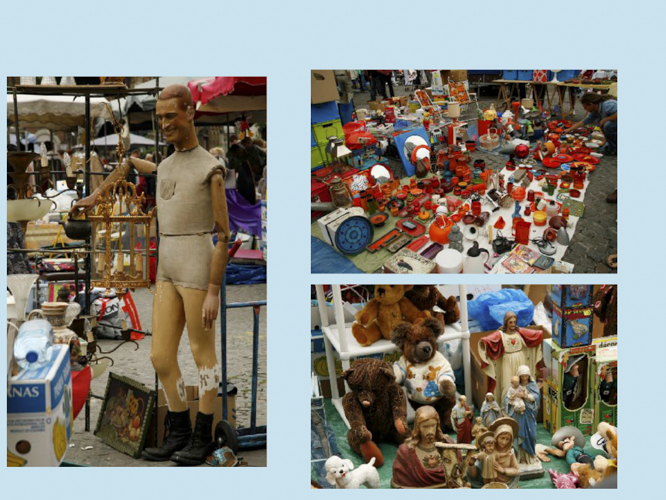 The market spans expensive antiques like ancient crystal, lace and porcelain, to vintage fashions, retro signs, collectable teddy bears. The square is also lined with designer thrift stores, art galleries and old-fashioned Brown Cafés like Afsnis, perfect for a warming bowl of homemade soup and a foaming glass of Chimay Trappist beer.
Out of Town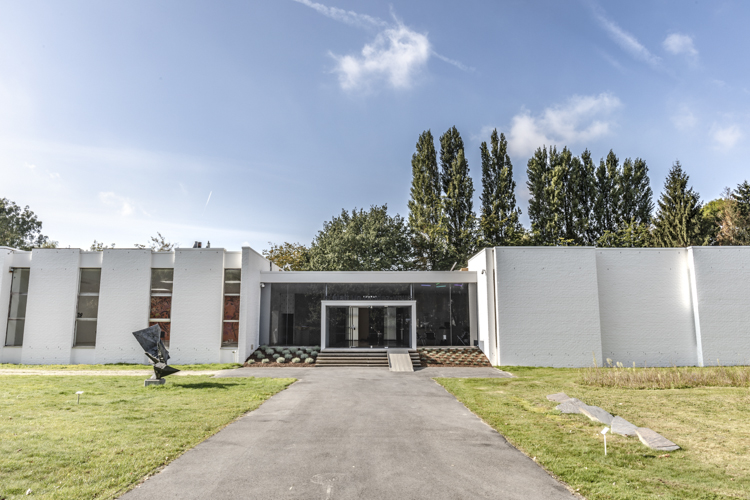 Museum Dhondt-Dhaenens
Ghent's ancient medieval streets are rapidly replaced by the bucolic Flemish countryside during a scenic one hour bike ride that follows the meandering Lys river valley until arriving at the eye-catching minimalist building of glass and white concrete that houses Museum Dhondt-Dhaenens.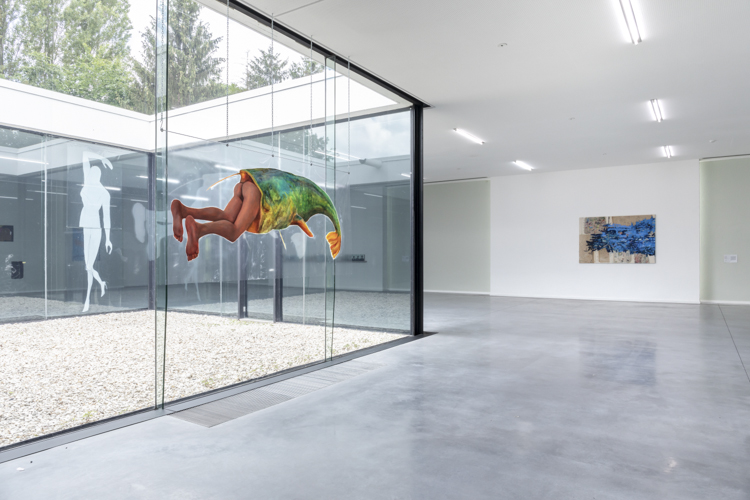 This private foundation is housed in a landmark example of Belgian modernist architecture, a built 55 years ago initially to house the founders own private collection of 20th century Flemish art featuring the likes of James Ensor and Gustave and Leon de Smet.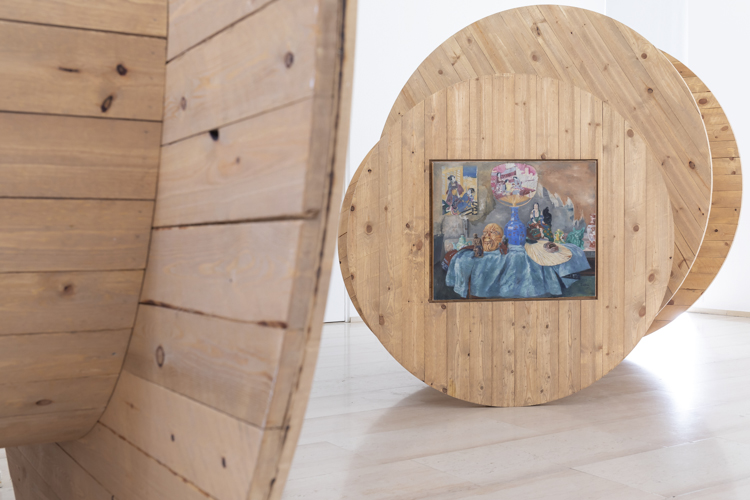 Today, after a recent renovation and extension, the museum hosts cutting edge temporary exhibitions completed by a permanent collection of avant-garde sculptures installed in the verdant gardens, its own historical collection and an active centre for artists-in-residence.
FOOD&DRINK
Le Bal Infernal
Another typically eccentric Ghent concept, this cool used book cafe has been a cultural institution looking out on the grand Vrijdagstag Square for over 30 years.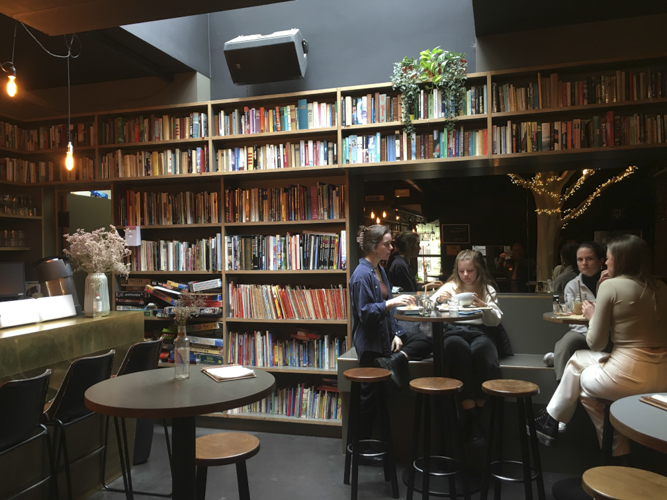 Once a wild late night bar, today the cosy interiors resemble an Ali Baba's cave of book-lined shelves, where laid back customers browse at their leisure, ordering a Belgian Abbey beer with a fresh vegetable soup, or foamy cappuccino and homemade biscuits. Bring your own book and you can even swop it for a new one.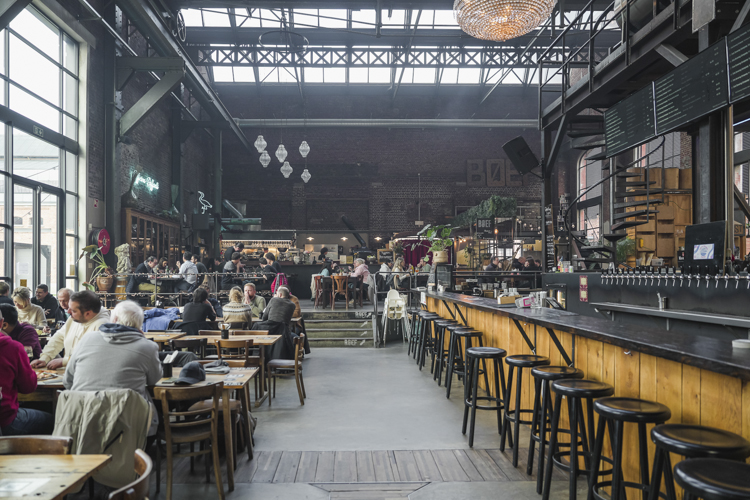 Dimitri Messaens loves creating new craft ales, and each of the 150 brews he has created are one-off, single batch creations, never to made again. So when you see crazy labels and distinctive names like Whats Hop Dok, Just Married, My Own Private Idaho or Respect Your Elders, order soon before the pump runs dry. Regulars can rest assured though that Dok's two signature ales – 13, an award-winning Pilsner and Gentse Pale Ale, their take on IPA – are always on the drinks menu. Housed in a vast industrial warehouse in Ghent's old docks, the funky microbrewery also serves delicious finger-licking barbecues.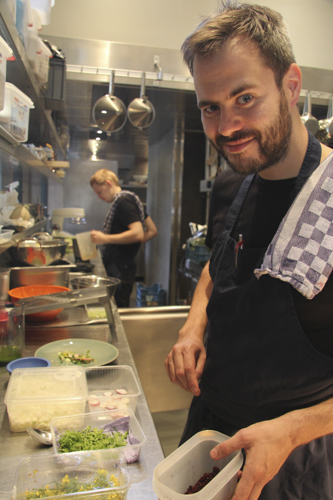 Chef Olly Ceulenaere is the perfect symbol for Ghent's distinctive eating out scene, a chef who has moved effortlessly from the irreverent, rock&roll Flemish Foodies movement to the ultimate establishment recognition of a Michelin star, without sacrificing any of his principles; sustainability, local kilometre-zero produce, seasonality, minimal waste, informality and above all, originality.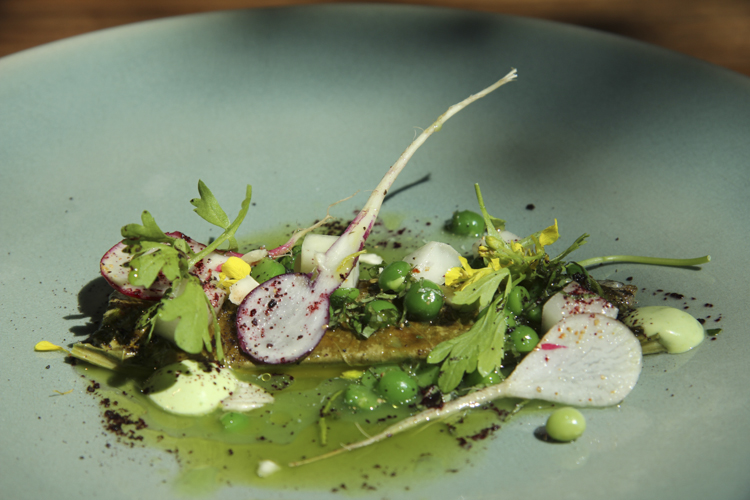 The menu changes each lunch and dinner in his cosy, casual Publiek diner, where dishes range from crunchy cabbage topped with smoked eel and pickled parsnip root or marinated herrings smothered with baby radishes, fava beans and smoked seaweed.
ARTY STAY
Comic Art Hotel
2023 is very much going to be the year the Comic Strip in Ghent. A new museum dedicated to what locals love to call The Ninth Art, has just opened its doors, offering visitors the chance to discover the secrets of favourite characters like Asterix or the mischievous Smurfs.
And in the same building, a sprawling old school adjacent to the medieval Augustijn monastery, fans can already book a room decorated with bold murals illustrating the likes of Hugo Pratt's Corto Maltese or Lucky Luke in the newly-opened Comic Art Hotel.