INTRODUCTION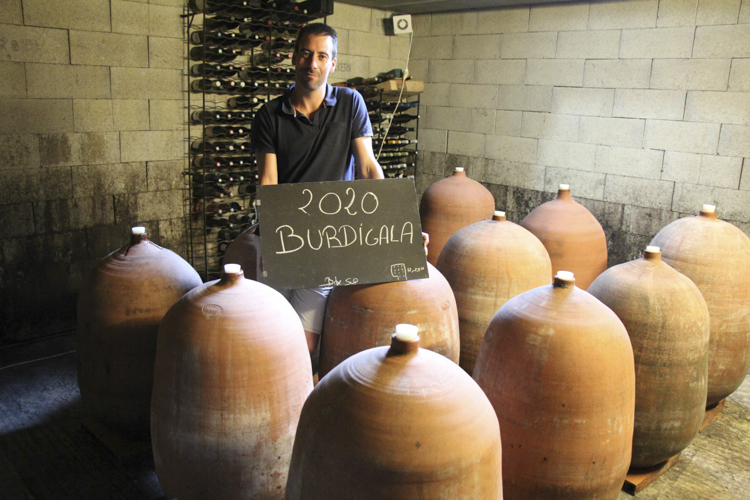 While many winemaking families of the prestigious châteaux of Bordeaux can claim a history stretching back centuries, travelling around today, wine lovers are increasingly likely to come upon one of the new generation of vignerons who have chosen to start a new adventure in the vineyards of Bordeaux. Sometimes this is the latest in the family line who after trying an alternative career cannot resist the allure of their vineyard home, others who convert midlife, abandon successful jobs and open a new page as a debutant winemaker, full of enthusiasm. And an influential proportion are women, eager to make their mark on the Bordeaux wine scene.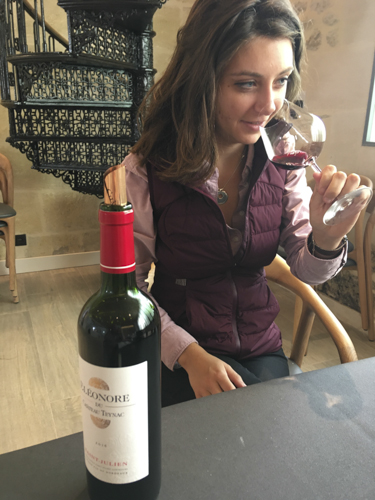 These are contemporary vignerons, without all the weight of history and tradition, who are embracing new ideas when making and then marketing their wines, ready to produce wines that are not just organic but biodynamic or zero sulphite, who look beyond the classic cellar of oak barrels and stainless steel vats, to innovative new vinification and ageing methods using terracotta or ceramic amphorae, even returning to retro cement cisterns but no longer coated with epoxy. The results mean there is a new generation of wines to discover, and here are ten of these top new winemakers to track down.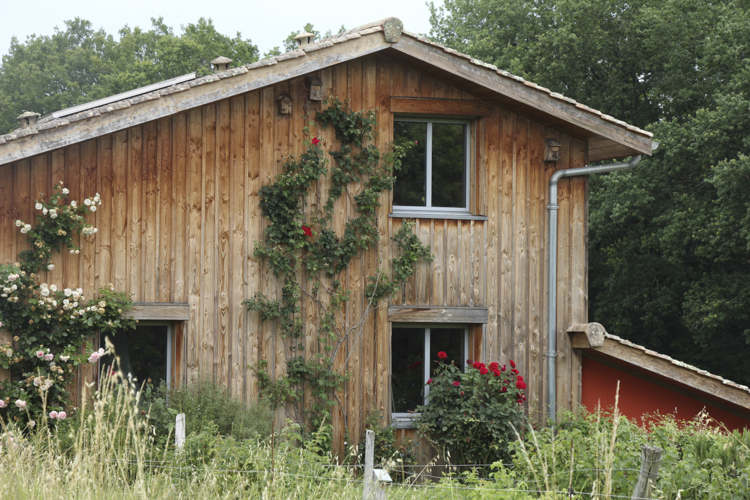 A long winding drive through forests, pastures and parcels of vineyards ends at a path lined with cypress trees, climbing to a plateau marked by a modern wooden cellar and rustic chalet. This is the hidden kingdom of Sophie and Yorick, idealistic young vignerons who realised a dream of creating their own Domaine in 2010, the same year of the first vintage of the new Cadillac Côtes de Bordeaux appellation. The couple manage full time jobs alongside running the winery, meaning they can afford to keep to their principles and not compromise. 'We were so proud in that first year to make 2,500 bottles,' recounts Sophie nostalgically. 'Today it has risen to 20,000 bottles, though 60% of the harvest is sold to our supportive Cave Coopérative. We prefer selling grapes to them rather than putting all our effort into making a wine that just gets pumped into a lorry and taken off to a négociant.'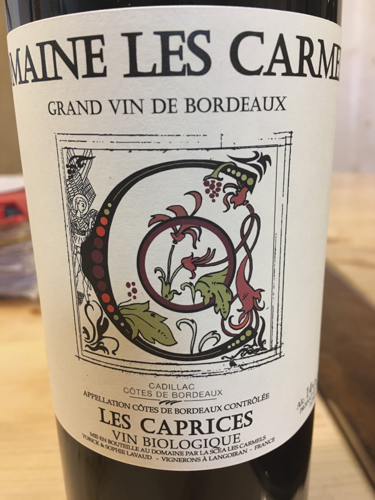 They make just two wines, Les Vendanges, an elegant blend of Merlot and Cabernet Franc, and Les Caprices, a distinctive zero sulphite pure Merlot, made to be drunk straightaway. Sophie emphasises that, 'I have a message to young winemakers who want to start out on their own. Have a good look around here because while properties in the famous appellations may cost millions, some parts of the Bordelais are among the lowest cost vineyards in France. In 2010, our 15 hectares cost us the grand sum of €140,000. There were 5 hectares of vines, but biodiversity was vital for us, so there are also 5 hectares of meadows, where we will grow cereals, and 5 hectares of forest, because people still don't understand that monoculture just weakens your soil in the long term. '
On the topic of organic cultivation, she just smiles, saying, ' we have been certified since the beginning, because organic is our way of life.'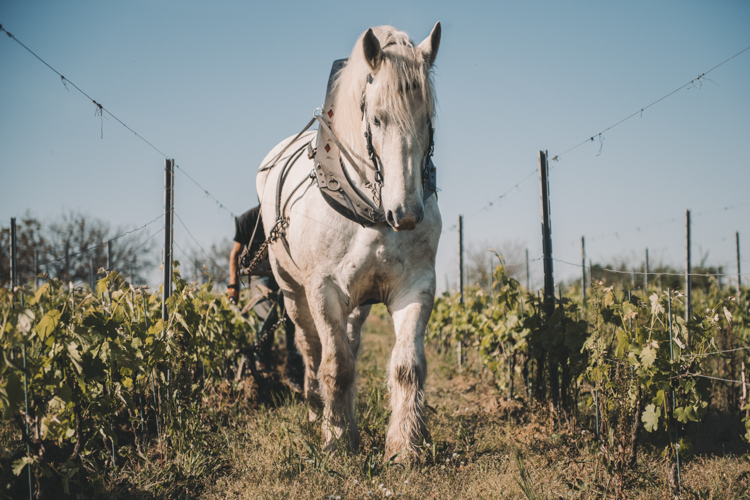 Don't expect to see a grand Entre-deux-Mers château when visiting artisan winemaker, Fabien Lapeyre. With a little luck, your GPS will track down his hangar-like garage cellar, piled high with barrels, samples, test tubes, vats and boxes. Only downstairs is there some order where half a dozen terracotta amphorae stand like a clump of mushrooms shooting up after the rain. He was one of the first Bordeaux vignerons to use amphorae, back in 2015, creating an outstanding cuvée offering roundness and less astringent tannins for a blend of Cabernet Sauvignon, Petit Verdot and Malbec. And now states mischievously that, 'I think my next step may be to move away from metal vats and bring back cement cisterns, because wine is a bit like people and I personally would rather sleep in cement than stainless steel'. In-between opening his numerous different wines, Fabien has strong opinions, stating that 'I sometimes think that in Bordeaux we have lost the soul of being a real vigneron – getting your hands dirty, tramping through the vineyards in muddy boots. We also have forgotten the personality and characteristics of the terroir. Instead of always wanting to increase the size of the vineyard I am looking to reduce it, pulling up vines to plant maybe wheat, barley, tobacco to combat monoculture and increase biodiversity.' While Fabien's parents still help him out on the estate, he has instituted nothing less than a 'terroirist' revolution here; certified organic next year, provocatively planting an hectare of Syrah, using a horse to work the soil,launching a range of 6 single variety wines, replanting Bordeaux's historic Carménère, and insisting that, 'our traditional grapes that have disappeared, like Castets and Saint-Macaire, should be replanted as they could flourish due to Global Warming, a much better option rather than bringing in varieties or hybrids from other regions or even other countries.'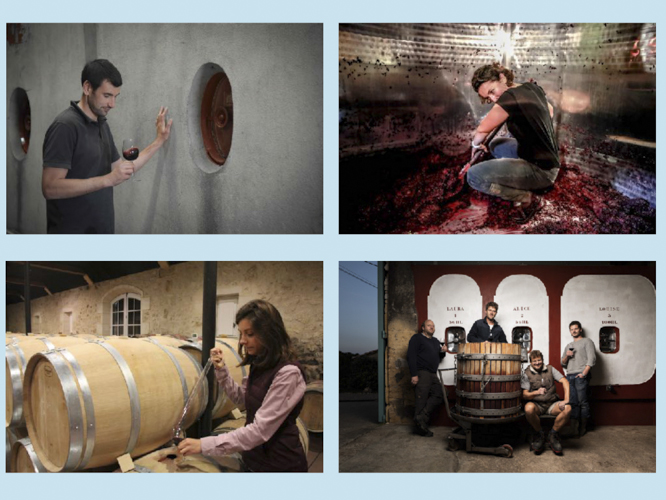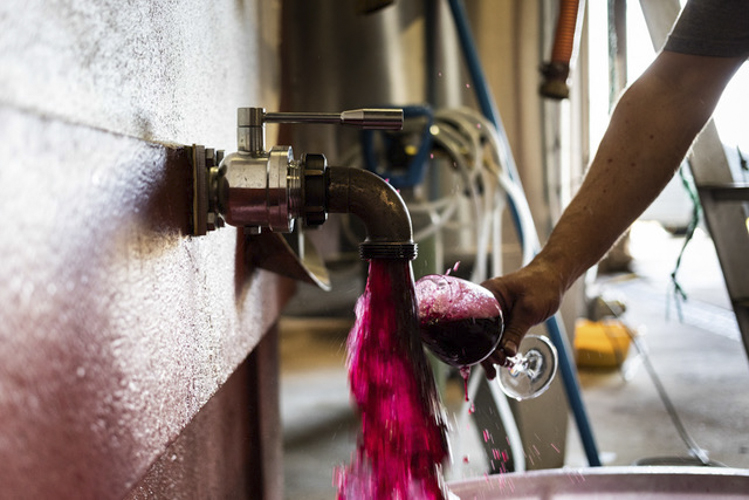 Although the Thienpont family's history goes back to the 1920's, when the founder of the dynasty arrived in Bordeaux from Flanders to become one of the region's most important wine merchants, the present generation, Jan and Florian only returned to manage the family estates in 2013.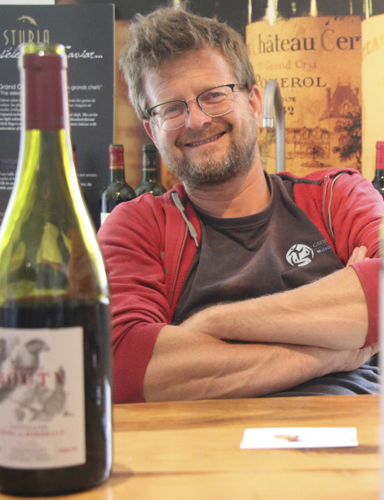 Opening bottles in their cluttered tasting room, Jan is rightly proud of the excellent wines they are producing, smiling as he explains how, 'neither of us studied oenology but we grew up around the vineyard and all our boyhood friends are vignerons so we don't lack advice! Moreover we only produce reds and they are much easier to make than whites! I ran a transport business in Africa, Florian was a chef and food consultant, but knew we would come back one day to take over.' They took quick, decisive action to create today's estate, 'because economically speaking, we could not survive with Clos Fontaine's 20 hectares in the Francs Côtes de Bordeaux appellation, so we purchased Château Bouty and Château Robin, both in the neighbouring Castillon Côtes de Bordeaux appellation, with each château characterised by very different soils.' And it is terroir that best describes their distinctive artisan wines. 'We are the furthest appellations from Bordeaux, so our wines are more continental than oceanic.' It is the variety of their wines that really surprises, some aged in stainless steel vats, others in raw concrete cisterns, classic Bordeaux blends contrasting with a 100% Merlot. 'If I am meant to represent the new generation,' says Jan pensively, 'then I reckon I am probably worse than most of the older generation as I don't have a website and don't even think about the likes of Instagram. All our energy goes into producing the wine.'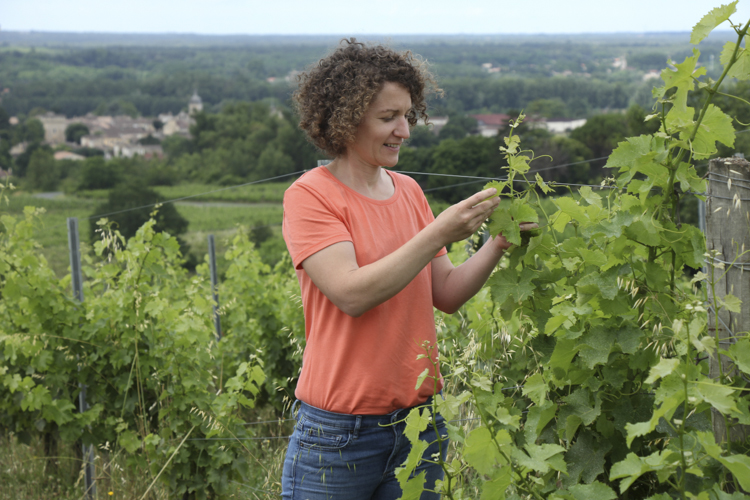 Situated just outside the beautiful medieval village of Rions, this 80 hectare vineyard stretches across the rolling hills of the picturesque Cadillac appellation, and was created just 30 years ago by a couple who chose to move away from their respective winemaking families in Alsace and Champagne, to settle in Bordeaux. Today, Michel and Isabelle Dietrich have handed the estate over to their bouncy, curly-haired daughter, Pauline. She chose to study oenology in Montpellier because of its unconventional view of wine, 'and although I am very proud to continue the work of my parents, I know which direction I want to take. While committed to the region's historic grape variety, Sémillon, crucial for the blend of our Bordeaux Blanc, we are also experimenting with monocépage and zero sulphite cuvées, while my husband and I have bought a small 7 hectare vineyard, Les Vignes de Coulous, that is already certified organic. It is learning process to transform all of Château Haut-Rian's vineyard. So if all goes plan, the Château will become certified organic, and then we continue the experiment by turning Coulous biodynamic.'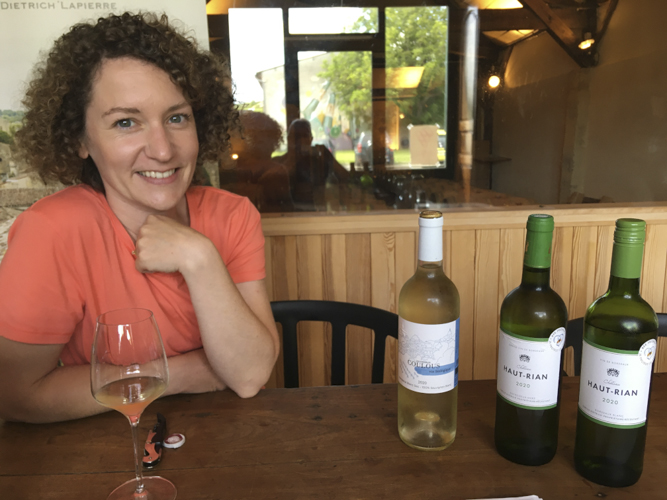 She has also moved away from selling their wine in bulk, insisting that, 'you have to learn how to sell your wine direct if you want to survive today. When I took over, I went straight to Paris to visit wine sellers, arriving on my bike with the basket filled with Petit Verdot vine plants as presents.' Pauline has created a young, dynamic team, people who have often converted from other professions, passionate not just about wine but nature, the environment and biodiversity. 'I am convinced that wine should be like bread, reasonably priced so everyone can enjoy it without fear of opening an expensive bottle, thinking they should hide it away in the cellar. That is not our spirit.'
Lussac-Saint-Emilion adjoins some of the world's most famous châteaux – Petrus, Cheval Blanc, Angelus – so not the obvious place to buy your own first vineyard. But Julie and Mathieu Mercier are a very determined couple. Both oenologists graduating from Bordeaux, they immediately set off travelling to make wine in Chile and Napa Valley before running a high profile winery in British Colombia's Okanaga Valley. 'They just gave us the keys of this 32 hectare estate, ' recalls Julie, 'and let us get on with it. It was a terrifying but amazing experience, giving us the courage to come back to France to buy our own domaine. This is a wonderful vineyard and château, and we received crucial financial aid from the government to encourage young people in agriculture.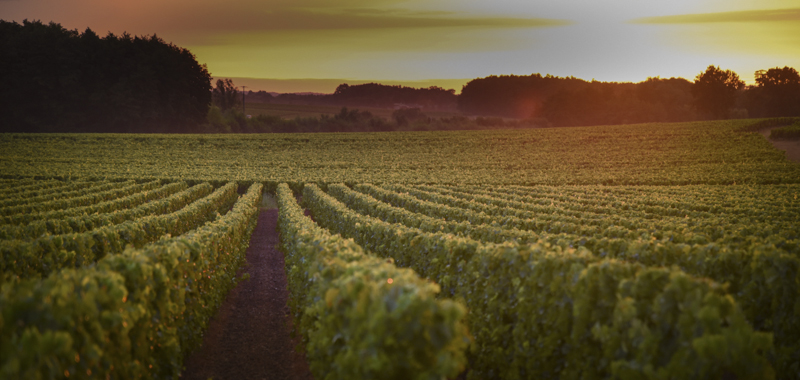 When we drove up and saw the sun set over the vines, well it had to be for us, perfect to make wine, perfect for our wine tourism projects.' Today, they are converting to organic, with Mathieu overseeing the cellar while Julie prefers the vineyard where she gets to drive the tractor. They have two charming guestrooms, a chic tasting room, and blending ateliers where you go away having created your own wine. While their flagship wines are classic Bordeaux blends, Julie stresses that, 'in today's competitive world, a vigneron cannot just go into a wine boutique and say here is my Lussac-Saint-Emilion. Frankly they are not excited.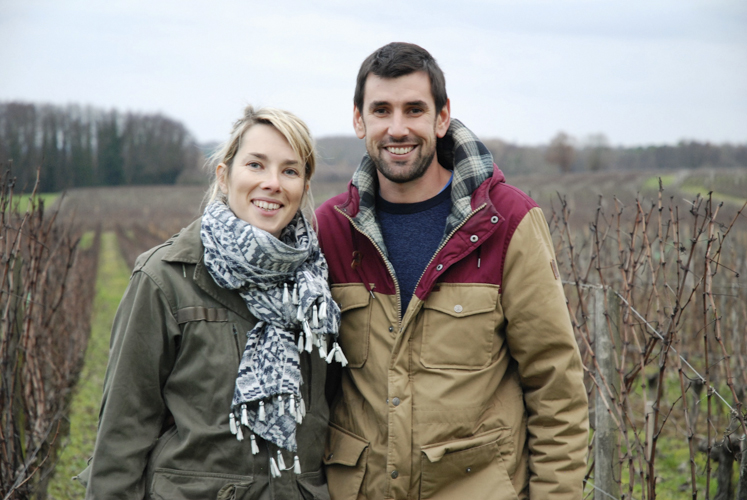 People no longer buy an appellation they buy the story of the winemakers, so we create original wines to catch attention; from our tannic L'Envolée, made to age from 80 year-old vines, to L'Essentiel, a fruity, easy to drink Merlot and Malbec blend. I even pop it into the fridge for 10 minutes which is heresy here in Lussac.'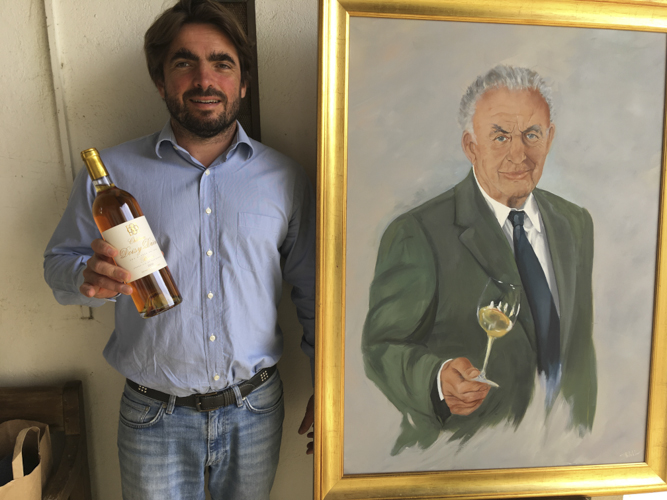 An imposing portrait of the late winemaker, Pierre Dubourdieu, swirling a glass of white wine, dominates the entrance to the cellar of this historic château, overseen today by his grandsonson Jean-Jacques. The Dubourdieus have been vignerons in the Barsac, Sauternes and Graves since 1774, and Jean-Jacques, stands out from many of his contemporaries, accompanied by a certain weight of expectation. He recalls that, 'my childhood playground was hanging around my father in the cellar, where we made my first cuvée at the age 12. That is probably why I never studied oenology and chose marketing instead, learning how to sell other people's wines. But now I am more attached to our family roots than ever before, and selling a bottle of our wine is telling our family story, not some fashionable modern trend. Because being part of the so-called New Generation is also building on the traditions of the 6 generations before you, while the soil, the terroir, is forever, and the vine you plant will grow for at least 50-60 years.'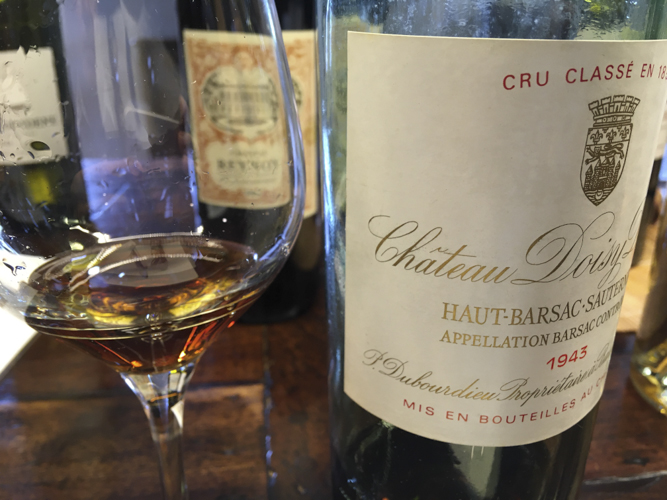 Carefully pouring a luscious glass of the Château's 1943 vintage, he declares that, 'a great Barsac is made to be drunk a century later, and that can never happen with a modern 'sans sulfites' wine.' Apart from running the family's six châteaux, Jean-Jacques enjoys the role of joint President of the Sauternes Syndicat Viticole, and is proud of the region's pioneering initiatives for wine tourism. 'Attracting winelovers here is the future, as they will become your loyal customers. We are planning to build a B&B guesthouse, and I always advise visitors to take one of our electric bikes to Le Ciron, where the mist rises up where two rivers meet, helping form the unique botrytis, the Noble Rot that is the secret of Sauternes.'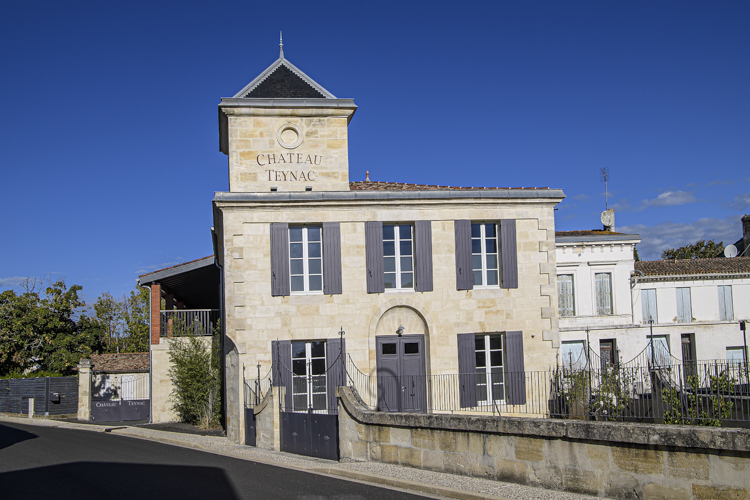 Standing in the impressive ageing room of Château Teynac's spotless cellar, delicately siphoning off a pipette from the barrel, Eléonore Pairault proudly tastes the 2020 Saint-Julien vintage, brimming with fruit and potential. She is also full of the news that her family's wine has just been selected to join the exclusive cellar of Président Macron's Elysée palace. Yet a couple of years ago, Eléonore was pursuing a very different career path in the aeronautical industry before deciding to pursue the life of a Bordeaux vigneronne by returning home to her parents winery. She still follows her initial passion though, working with the blossoming new industry of using drones as an innovative aide for vineyard cultivation.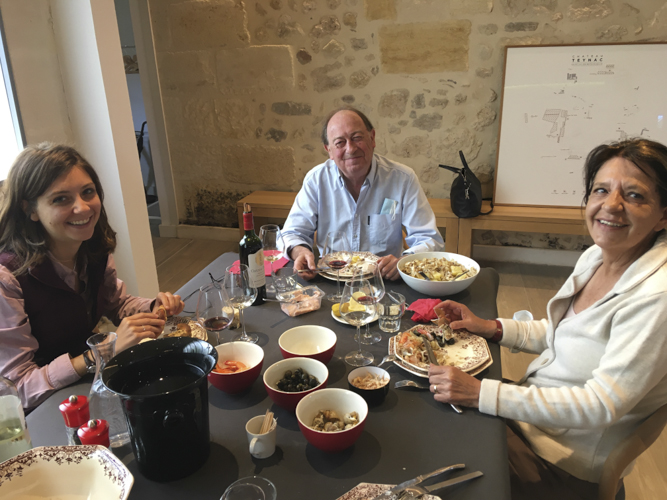 This is by no means a typical Medoc estate, as Eleanore's parents, Fabienne and Philippe, also abandoned a Parisian lifestyle and high-profile jobs back in 1990 to embark on a wine adventure, purchasing Teynac and Chateau Corconnac, then the neighbouring Château Les Ormes, to create a formidable domaine that stretches over 20 hectares of vines, producing 100,000 bottles a year. The family have succeeded by following a very clear, distinctive philosophy. After choosing a consultant oenologue, all their efforts these last 30 years have been concentrated, firstly on the vineyard, to ensure high quality grapes, creating a modern cellar, and then renovating the buildings and tasting room of the elegant Château Teynac, perfectly located in the middle of the prestigious winemakers village of Saint-Julien-Beychevelle. While global sales of their wines have been always entrusted to a small group of négociants, the situation for the future is taking a new direction, as Eléonore, is concentrating on increasing social media and website presence, alongside optimising the château's wine tourism potential, declaring that 'we have always been a discrete domaine, and now is the time to a higher awareness.'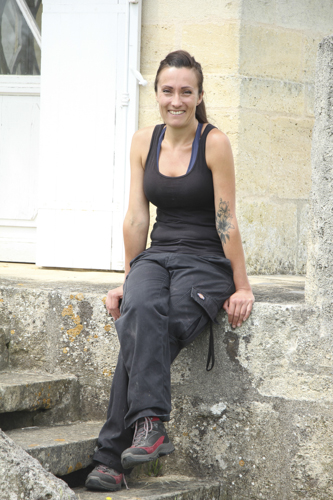 Amélie Osmond and Victor Mischler are proof that you do not need to wait till the approach of middle age to change your life. They have transformed this historic château into a modern winery and tourism destination since buying the property in 2015. Holding court in their modern tasting room, Amélie recounts how, ''at 28 I had already worked for 10 years in the stressful world of interior design, while Victor began his carpentry apprenticeship just 14 years old. We both wanted to work for ourselves, Victor preferably outdoors, so perfect for looking after the vineyard, while I was interested in learning about winemaking in the cellar and the marketing of our wines. So we enrolled at Bordeaux to study oenology and agronomy, then fell in love with the still undiscovered Côtes-de-Bourg. Not just the vineyards and wines, but the long, fascinating history of Bourg's commercial port on the Dordogne river. And this Château seduced us immediately with its fabulous location overlooking the river. There was terrific potential for wine tourism, so we converted old outhouses into two family gîtes and built a pool overlooking the vines.'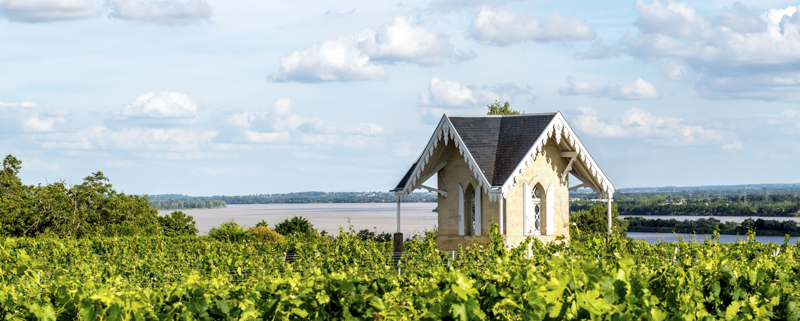 Le Clos du Notaire certainly has a quirky history, built 200 years ago on the site of a 14th century abbey, purchased by a local solicitor in the early 1800's, hence the name, The Lawyer's Vineyard. For Amélie it was immediately obvious to launch a premium cuvée, La Cravate, marketed almost exclusively to lawyers, and then to break into the wine bar market, came the offbeat Borderline range, with easy drinking single grape varieties and a sans sulfites cuvée aged in amphorae. 'And I always make it clear that I don't make zero sulphite wines to jump on a fashionable bandwagon but because I saw what a difference it makes to the intensity of colour, fruitiness and aromas.'
The farmhouse and cellar of Château Castagnac is dominated by a cluster of towering outdoor stainless steel wine vats that were installed by Bernard Couderc in the 1990's when he sold most of his wine direct to merchants in Bordeaux.
Today it is his dynamic daughter Lydia, the fifth generation, who is giving a completely new image to an estate that was founded back in 1865. This working mother, whose high-spirited children, Margot and Raphaël, are always running around the cellar, has a plan to build a new, modern cellar, bringing all the vats inside, and intends to sell the majority of her wine directly rather than through merchants. She admits that, 'I left a high-powered career in the energy business to come home 5 years ago, with no diplomas in oenology. But I am working with an innovative young cellar master, and direct sales have already increased from 10% to 50%. Our vineyards cover the Fronsac appellation, Bordeaux and Bordeaux Supérieur, and I have initiated a lot of changes! Most importantly is a move from 2019 towards zero sulphites.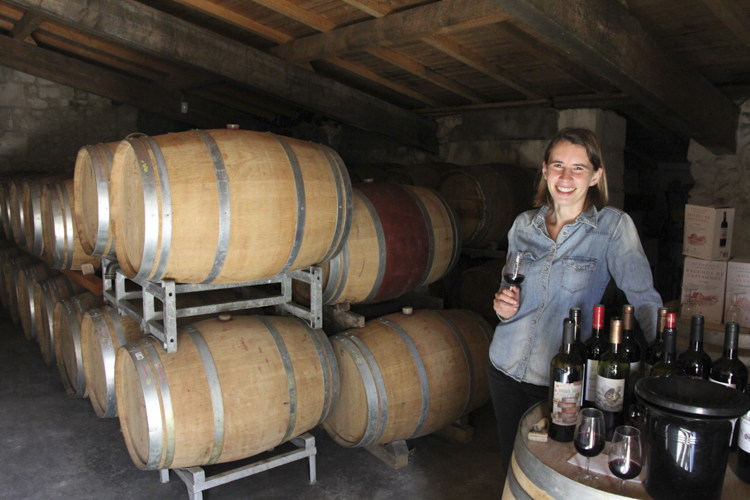 We now have a series of very successful wines that have no added sulphites; drinkable, fruity, with distinctive, modern labels inspired by comic strips. We have even tried ageing a zero sulphite in oak barrels, Barrique Rebelle, no easy task but producing a wonderfully intense, deeply coloured cuvée. And rather than continuing with classic Bordeaux blends, these new wines are all single grape.' Looking at her little daughter, proudly holding a bottle, Lydia says with a smile that, 'my Papa never put any pressure on me to take over the domaine, and I will never seek to influence Margot and Raphaël, even if you can see that Margot's bottle already has her name on the label.'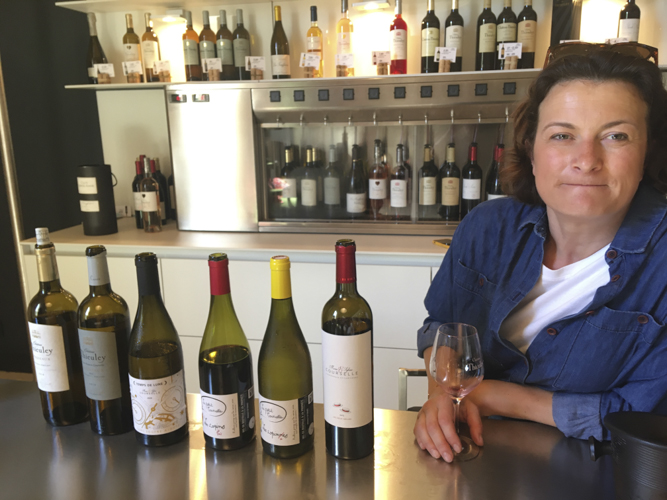 Francis Courselle was well-known for establishing one of the most influential châteaux in the Entre-deux-Mers appellation, but he probably had little idea of the impact his two daughters, Marie and Sylvie, would make when they took over the reins of the property. Both sisters studied oenology and agronomy, though today, Sylvie concentrates more on the commercial side while Marie oversees the winemaking. Marie recounts that, 'we had always known from young that we would take over our father's winery – maybe even before he knew it. Although we both went our separate ways after our diplomas, travelling and making wine in California, Australia, Spain, Italy, Languedoc and Burgundy, it was always our plan to come back to Château Thieuley. When I first arrived here I was passionate about wine. Today I am passionate about the grape, as a healthy grape is what makes a great wine.'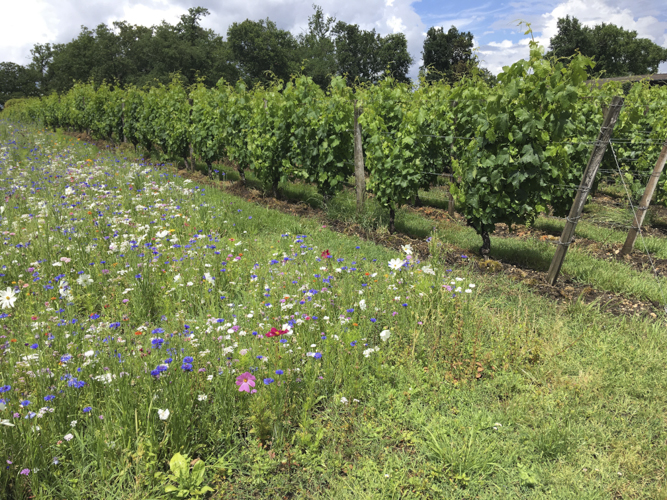 Though not officially organic or biodynamic, their vineyards are bordered by prairies of multi-coloured wild flowers, while olive groves, truffle oaks, fig trees, shelters for insects and bees, increase biodiversity. The Courselle family has always been avant-gardiste, and Marie is defiant that, 'there may have been a decline in the demand for Bordeaux white wines – the glass of 'un petit blanc' replaced by first Pastis, today the dreaded Spritz – but we have never ceded to the temptation to plant more red, keeping our 76 hectare estate firmly 50/50 red and white, and our Entre-deux-Mers are always made to age at least 2-3 years.' What they have done though is to adapt to the market demands for innovation by launching an easy drinking bistrot wine, Le Petit Courselle, and the funky Temps de Lune, where everything from harvest to bottling follows the lunar calendar.
where to eat
This historic Entre-deux-Mers Château de Chevilette organises casual winemaker brunches with owners, Jacques and Florence Borel, where a selection of wines are paired with cold cuts, cheeses and dessert, along with cellar and vineyard tour.
To experience hip Bordeaux dining then reserve a table at Symbiose, where a creative menu of sustainable local produce – octopus carpaccio, foie gras with plum chutney – is paired either with wine or their signature cocktails.
Hidden beneath one of Saint-Emilion's gothic mansions, this 14th century cellar is transformed into a romantic candle-lit restaurant serving hearty terroir dishes like succulent duck magret or chunky cod with chorizo, complemented by a sensational wine list from neighbouring vineyards.
what to do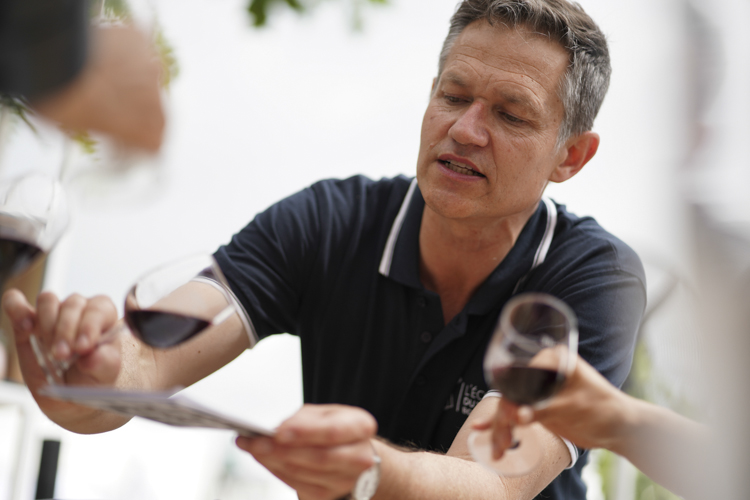 Any wine lover discovering the region's vineyards should take the time to join a tasting workshop in Bordeaux's famed Wine School. There are courses for everyone, from beginners to enthusiastic amateur experts, sensorial or blending, pairing with chocolate or cheeses.

In the heart of the Graves vineyards, Bertrand Amart, passionate pilot and owner of Château Vénus, organises a unique experience flying over vineyards and châteaux in his fleet of small planes. Simply unforgettable.
where to stay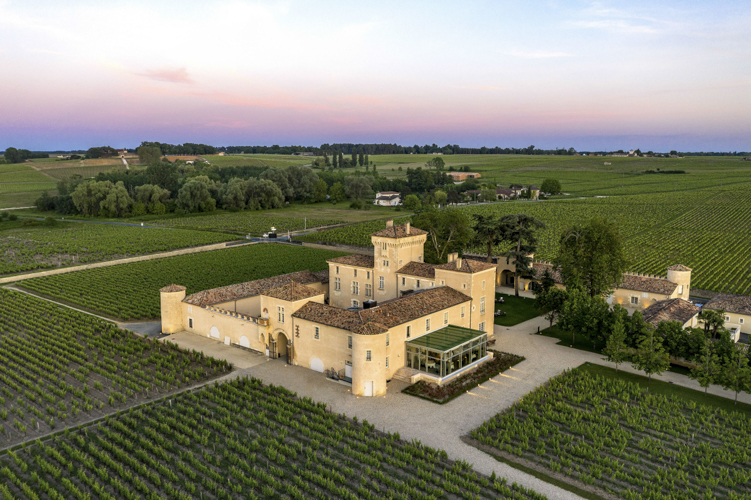 Just down the road from Château d'Yquem, there are few places as prestigious and luxurious to stay than this splendidly renovated 400 year-old château, surrounded by Premier Grand Cru Classé Sauternes vineyards, serving Michelin starred cuisine in their René Lalique restaurant.