INTRODUCTION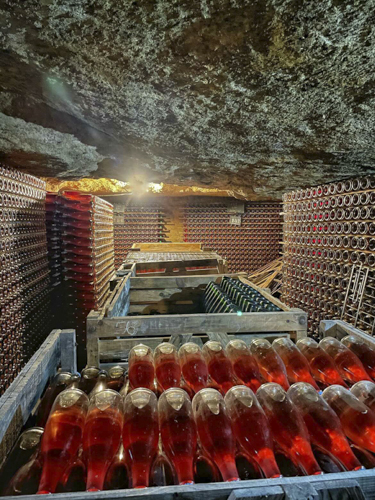 Bordeaux wines are globally renowned, its famous châteaux producing remarkable reds, distinguished whites and luscious sweet wines. What may not immediately come to mind are bottles of bubbly, sparkling white and rosé. Yet these light, wonderfully drinkable Crémants de Bordeaux are already playing a vital role in changing the image of France's most famous wine region. Although the Crémant appellation is one of the youngest in Bordeaux (1990), the production of sparkling wines in the region is a century-old tradition. For the curious wine tourist, tracking down different crémants opens the door not just to one region like Médoc or Graves, but lets you explore all vineyards that traverse the Bordelais, because today, everyone is making their own crémant, from a Grand Cru Classé 1855 to a smallholder cultivating a tiny vineyard. Today's Crémant de Bordeaux offers not just quality and outstanding value for money, but a new spirit of democratisation. Bordeaux's bubbly is made in the same age old traditional method made famous initially in Champagne, but it can be enjoyed as aperitif or in a creative cocktail, and why not paired with oysters and fish freshly-caught in the bay of Arcachon, or even an elegant gastronomic rosé or zero dosage Brut served with a juicy entrecôte steak.
With Crémant the old rules of wine no longer need to apply, and to discover some of the diverse winemakers of this new-look Bordeaux, plan a trip around the following suggestions.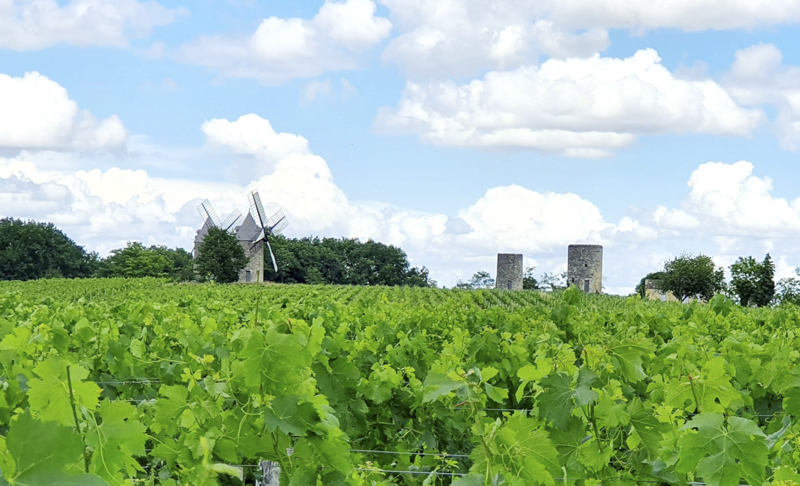 Just outside the vine clad hills surrounding Saint-Emilion, a visit to the tasting room of Château Tour Calon is the perfect introduction to the sparkling world of Crémant de Bordeaux. Some 700,000 bottles of bubbly are stored in a subterranean maze of cellars and tunnels, quarried out of the stone to build the grand mansions of Bordeaux, and stretching for some 2 kilometres till they come out at a secret entrance right in out vineyards. This is the home of the historic Lateyron family, who have been cultivating vines since 1897.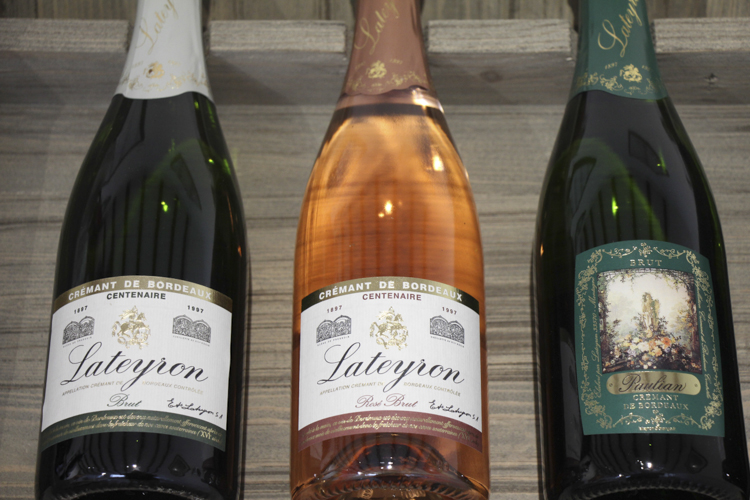 They may own three châteaux producing high quality, predominantly organic reds, but their reputation rests firmly on their own flagship line of Lateyron Crémant, alongside the skill and expertise to transform the wine of other vignerons using the classic 'méthode traditionelle '. This is the work of the 'élaborateur', who 'elaborates' still wine into sparkling following the age-old process of double fermentation, storing on the lees, turning, disgorging and ageing. So while Lateyron produce 100,000 of their own crémants, they are also making another 500,000 for other winemakers.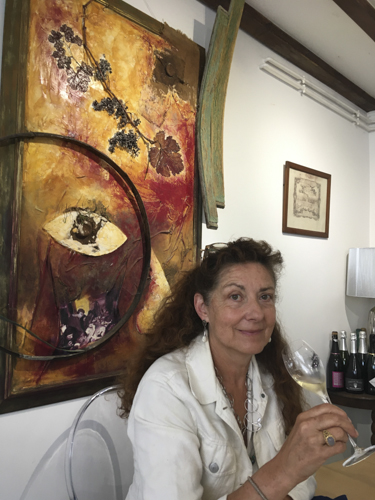 Corinne Lateyron is the family winemaker and recounts how, ''I studied oenology here in Bordeaux, then spent time first in Champagne specialising in sparkling then in California because it was the only place where the cellar master was a woman. Our family have always had a reputation for making crémants and even in the 1930's, Pomerol vignerons would turn up with a barrel and ask my grandfather to make it into a sparkling.' While the label and style of the family's own crémant is essentially traditional, concentrating on quality rather than following fashions, Corinne is considering launching an organic cuvée, and enthuses about her flagship Abel, a Brut Nature that is, 'an elegant blend of Sémillon grapes with a little Cabernet Franc, zero dosage of sugar, and frankly tastes like a great Burgundy or a Pessac-Léognan'.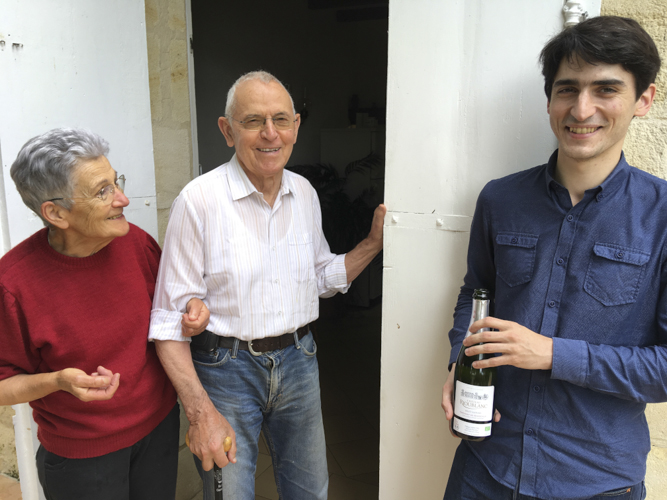 When Edouard Carretero bought the romantic Château Rioublanc 58 years ago there was farmland and forest, but scarcely 3 hectares of vines. At 87, he still lives in the château, with a garden full of rose bushes, fruit trees and free-range chickens running around, while his son Philippe, along with grandson Pierre, manages what has become a formidable 55 hectare vineyard. And while they may not be located in one of the prestigious appellations, Château Rioublanc's renown comes from being one of the pioneering Bordeaux domaines to convert to certified organic back in 2009. Although today, two thirds of the vineyard produces red wine, sparkling crémant has always been made here, though as Paul explains, 'it was initially in very small quantities, popular for Christmas and festivities with our loyal client base, essentially in the north of France, where my grandfather had historically established the base of nearly all our sales.' But that is all changing today, as, 'in the last two years, our sparkling wine production has almost tripled to over 30,000 bottles with increased interest coming from export markets. In fact, right now we can hardly keep up with orders from new markets in the UK, USA, Norway and Japan.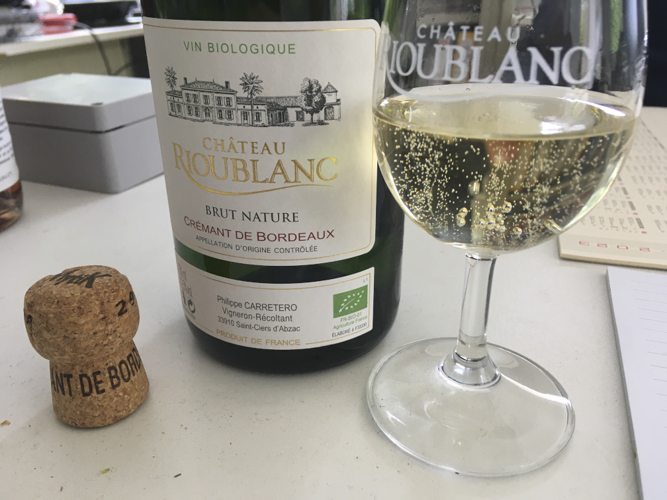 What we are seeing is a clear demand for organic crémant, while the launch of our Brut Nature, which has a zero dosage of both sugar and sulphites, has also been a huge success.' While the family follows the crémant tradition of hand-picked harvesting and selecting their own grape blends – Sémillon and Colombard for the Brut Nature, Merlot, Cabernet Franc and Cabernet Sauvignon for the fresh, fruity rosé – like the great majority of Bordeaux vignerons, they then use an expert 'prestataire' for the 'élaboration' of their still wine into sparkling. This means entrusting their production to a specialist oenologue in Saint-Emilion, whose own cellar transforms, bottles and ages what becomes Château Rioublanc's crémant.
This innovative and dynamic Cave Coopérative has played a major role in the development of crémant de Bordeaux ever since the creation of the official appellation in 1990. And today some 4 million bottles are produced in their dazzling state-of-the-art winery, a staggering 50% of all Bordeaux's crémants. Although Louis Vallon produces red and white wines, its reputation rests as Bordeaux's leading 'producteur élaborateur', controlling all elements and stages of their crémant production from the vineyard through to the winery.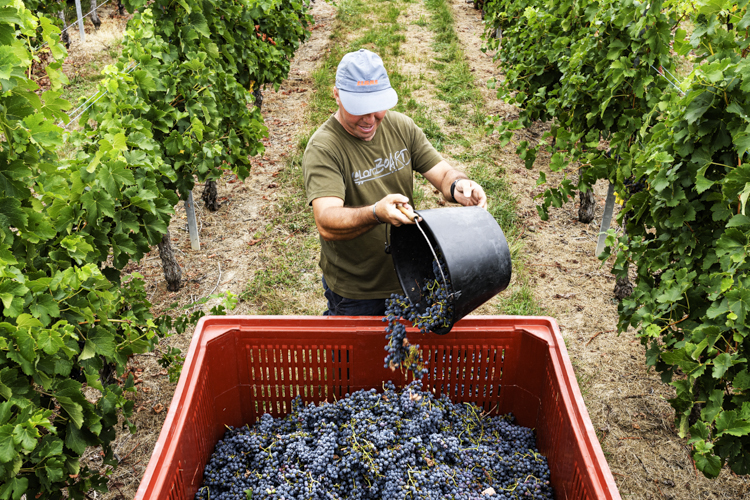 The Cave is made up of 130 members, known as 'coopérateurs', cultivating 1,200 hectares of vines, essentially in the Entre-deux-Mers region, whose abundant plains and fertile soils are perfect for vines producing high volumes of grapes with high acidity and low concentration. What the Coopérative's Président, Dominique Furlan, describes as 'the perfect recipe for a crémant. In Bordeaux,' he explains, 'we can make use of our Merlot grape that other crémant producers do not grow, and this is perfect for rosé and blanc de noir, adding a unique fruitiness'.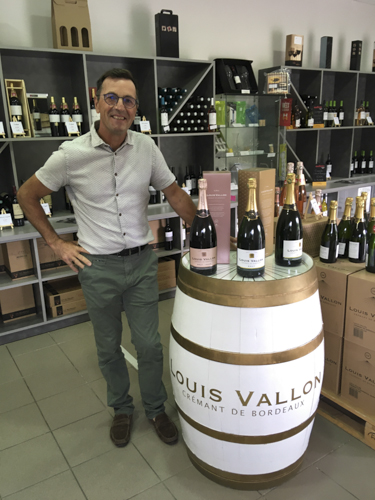 This thoughtful, innovative vigneron is a typical 'coopérateur', the son of Italian immigrants who came here as agricultural labourers, slowly buying plots of vines until he now cultivates 12 hectares. He is convinced that, 'in both France and overseas, we are seeing a huge demand for crémant, following the success of Prosecco. But traditional crémant regions, like Burgundy and Alsace, simply do not have the capacity to increase production. Well we in Bordeaux have that capacity and are ready to take their place.' And visitors for a tasting at Louis Vallon are certainly spoilt for choice, with 6 cuvées to discover, as well as a brut and rosé Pet'Nat, the funky natural fermentation bubbly that is suddenly attracting a new younger consumer.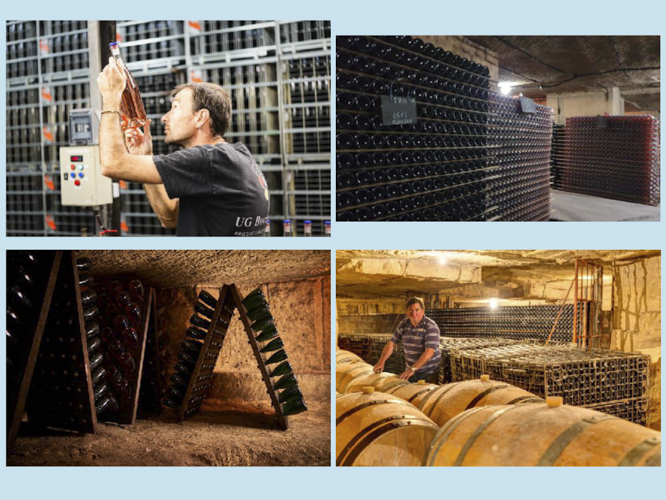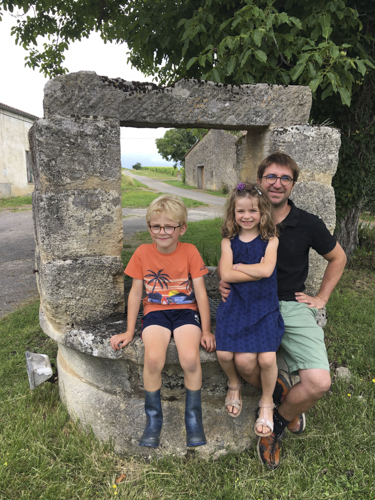 Located in the bucolic countryside just outside the Entre-deux-Mers region, this rambling 19th century manor has been home to six generations of the tightly-knit Fournier family. Beginning in the 1980's, Bernard and Colette transformed what was a rustic cattle farm cultivating cereals and a few vines into a modern 50 hectare winery, run today by their two children, Sylvaine and Yannick. Bernard began producing crémant straightaway in the 1990's when the appellation was created 'and at first it was an anecdotal, seasonal wine, something fun for our loyal customers,' recalls Yannick. 'But in the last 5 years production has really taken off and although we only make two cuvées, a brut and a rosé, this years production of 20,000 bottles is already 10% of the chateau's total output, with increased demand not just here in France but overseas, especially after celebrity chef Gordon RamsAy asked us to create a special label crémant for the launch of his Brasserie 'Le Bordeaux'.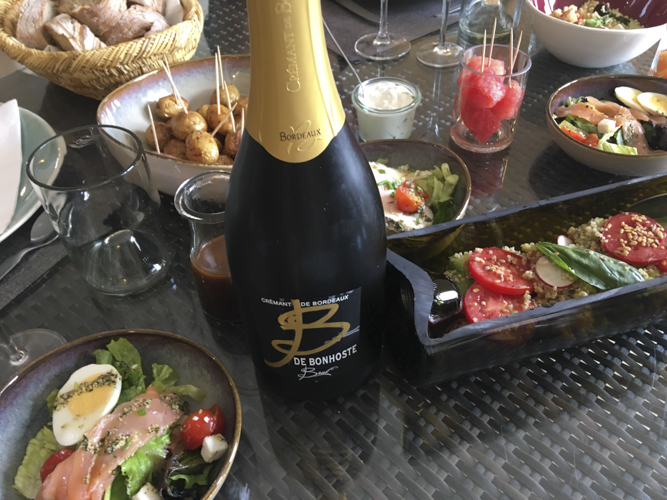 Tasting their crémants is just the tip of the iceberg of the fun wine tourism activities proposed at the pioneering Château Bonhoste. The first step 30 years ago, when they opened a tasting room, was to put a sign on the busy road running past the winery, ensuring a steady stream of curious new customers. Then for 17 years the Fourniers have organised an annual Farmers Market, attracting 1,000 visitors to showcase both their wines and local specialities from farms and artisans. They charge no fee for camping vans to park outside the cellar, with free access to toilets and showers.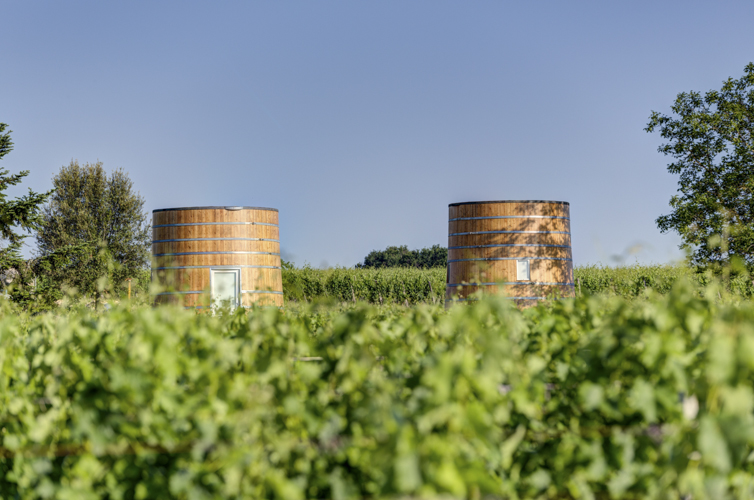 And in 2014, they commissioned a Bordeaux barrel maker to construct two enormous wooden casks that are used as a unique glamping bed & breakfast right in the heart of the vineyards.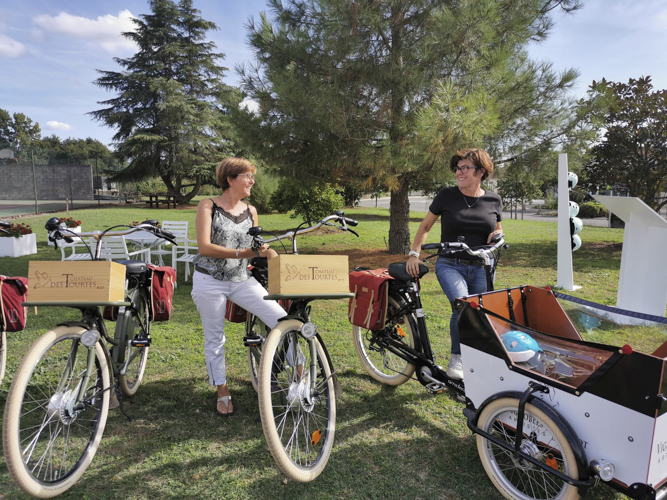 Ready and waiting for an idyllic wine tasting picnic in the vineyards, a row of retro-style electric bikes line up outside the wine cellars of Château les Tourtes, one of many oenotourism initiatives thought up by the owners of this lively domaine; wine blending workshops, gourmet pairing classes, cellar tours. The Château of Doves winery run by two dynamic sisters, Marie-Pierre and Emmanuelle, who describe themselves as 'Artistes du Vin'. They certainly never stop having ideas on how to create and sell their wines, insisting that , 'in Bordeaux we really need to bring back the fun, the smiles of making wine.' The sisters abandoned different careers to return in 1997 to manage the family estate in the heart of Côtes de Blaye. 'Our parents always made crémant,' remembers Marie-Pierre, 'though let's not forget that we had the right to call it Méthode Champenoise at the time.' She believes that crémant can become a flagship for Bordeaux, because, 'our sparkling wine is made across the whole Bordelais, from Médoc to Blaye, Graves to Saint-Emilion, and market studies show that the future of global wine markets is definitely bubbly! For sure everyone is surfing on the consumer wave created by Prosecco, but with premium-priced Champagne leaving the door open, it is the moment for Bordeaux to promote its quality, affordable sparkling wine.' For the moment Château des Tourtes produces just two crémants, a brut and an intriguing 100% Malbec rosé, but the sisters are always coming up with new ideas, so with crémant demand increasing, they are always looking to develop new wines, 'because winemakers here need promote Bordeaux, and show wines that can be young and fun.'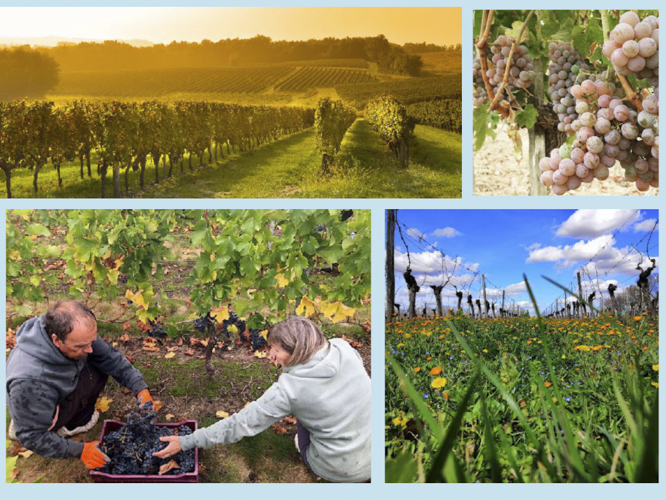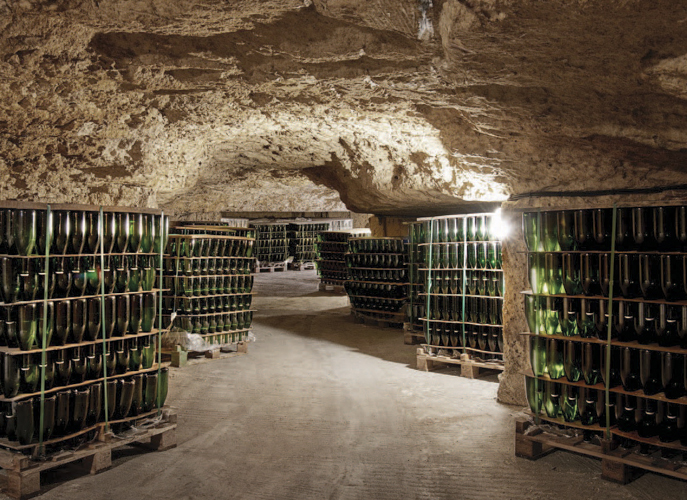 It is quite a surprise to learn that beneath the modern winery of Célène, there lies an 18th century cellar running over 3 kilometres where some 2 million bottles of crémant are stored. This winery is one of Bordeaux's historic elaborators of crémant, dating back to 1947. But it has been revolutionised by new owners who have thrust it into the vanguard of contemporary sparkling wine.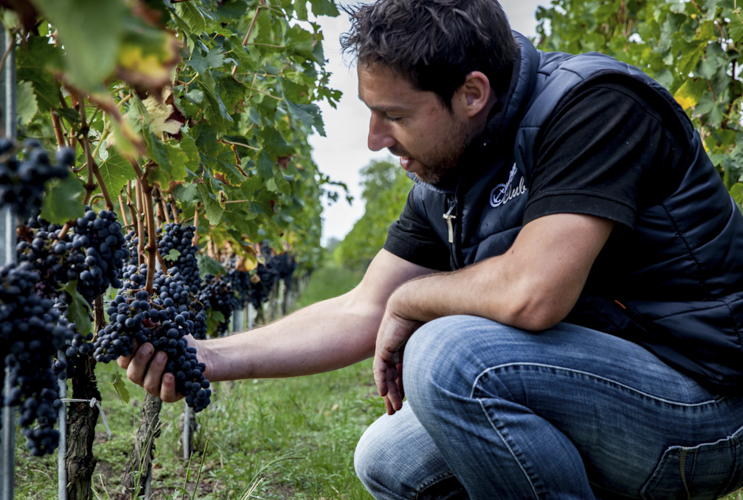 Working with oenologue, Frédéric Costella, it is the dynamic, 32 year-old Céline Lannoye, whose vision is driving Célène. Her family already own several prestigious châteaux, so why crémant? 'When I first visited in 2015, I found the whole process of transforming still wine into sparkling totally fascinating. But I also realised that crémant is seriously underestimated here. Yes Bordeaux has superb terroir for making great red wines, but that terroir can also make superb crémants. Today, I am totally convinced about the future of crémant, especially adding in the prestige of the name Bordeaux which counts enormously overseas. Then there is the possibility of producing different kinds of crémants; different blends, single grape, different dosage, ageing, the use of sulphites. That is what makes our work so exciting.' Céline's passion is in the blending of the original still wine, while admitting that, 'it can be a frustrating process, as the wines you are deciding how to blend, will only be tasted as a crémant three years later. People often don't realise just how long the process is.' Her final word of advice is that, 'the quality of the crémant depends absolutely on the quality of the 'vin de base', the original still wine. I cannot emphasise this more.' So be prepared for a lengthy tasting of 10 different crémants, and Céline is always thinking up new cuvées.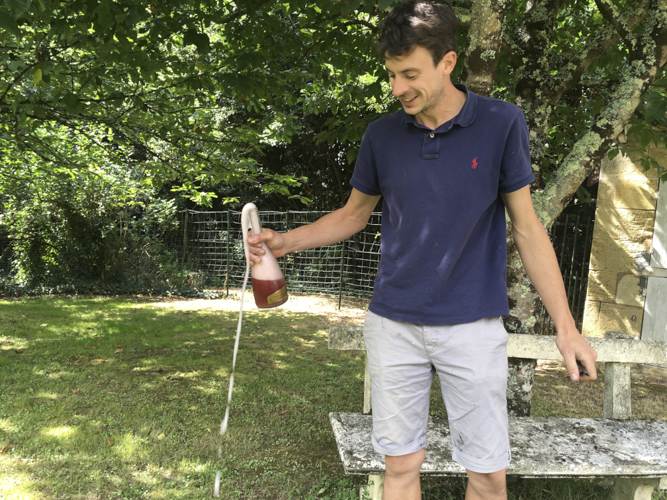 Sitting under a shady tree of the lush garden in front of his cellar, Maxime Barreau enthusiastically starts popping open his range of bubbly crémants. Although he looks after the family's 75 hectare vineyard pretty much on his own – with a little help from Papa – he is a relaxed, smiling vigneron, even if at just 32 years of age, he is the 6th generation, inheriting a 200 year old history of winemaking. 'Like many wineries in Entre-deux-Mers, we were mixed farming until the 1960's, though now it is just grapes along with 15 hectares of woodland. I could cut down the trees and plant more vines, but right now I'm happy to keep the forest to preserve our biodiversity, and I am even thinking of reducing the vineyard and planting something new. Not cereals like my forefathers but hops, as there is a big demand from craft breweries and it has the same spirit as a vineyard. He echoes the thoughts of many Bordeaux winemakers, saying that 'crémant has changed from being an occasional seasonal product, into a small but significant part of our range. And I am certain the market will increase because it has become a viable alternative to Champagne.' Maxime uses his favourite 80 year-old Sémillon vines for the brut cuvée, while the rosé is 100% Cabernet Franc, and he is planting Colombard to make a blend in 2-3 years time.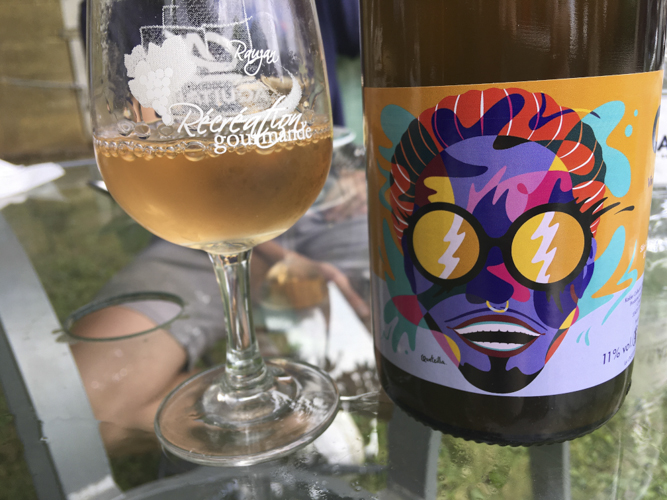 He is never short of new ideas, planning to convert to organic cultivation next year, experimenting with a Pet'Nat natural sparkling that literally explodes on opening, 'a little unpredictable, so not yet ready to go on sale', he says with a smile. And don't leave without trying his funky Orange Wine cuvée, made from 40 day macerated Sémillon grapes, and currently selling out.
Just outside the bustling town of Saint-Germain-du-Puch, surrounded by the vineyards of Graves-de-Vayres, this picturesque château may have no connection with the famous painter, Edgar Degas, but it is home to a vibrant matriarchal family of winemakers who are forging a very individual path in the world of Bordeaux wines.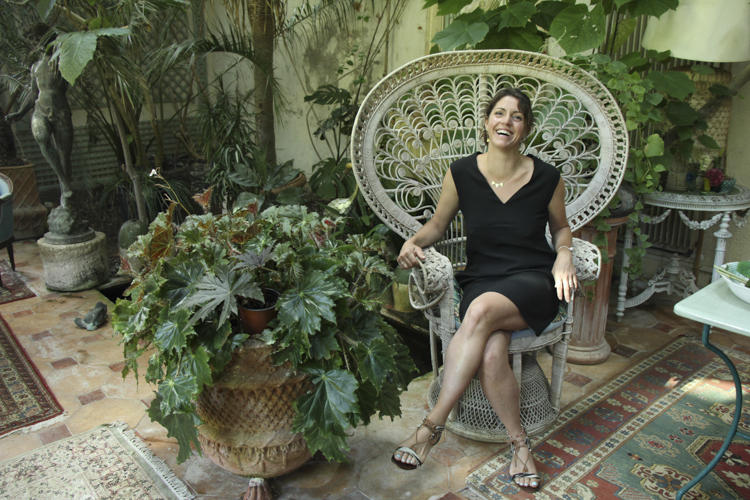 Since 2018, two sisters, Eugénie and Diane, known locally as Les Filles Degas, The Degas Girls, manage the family's sprawling 87 hectare vineyard spreading over 6 local châteaux. As far as crémant is concerned they are very much New Kids on the Block, making a single cuvée that was only launched in 2021. Eugénie is the winemaker, as bubbly as her crémant, and recounts how, 'I was determined to make a sparkling wine and it was just a question of agreeing with my sister exactly what kind we both wanted, which is never easy. But it was a fun process; buying lots of crémants, sitting down for a mammoth blind tasting, and fortunately we both came out choosing a pure Sémillon and not a blend. And when we make a decision we stick with it.' The sisters are certainly a breath of fresh air with their positive attitude, creating a hugely successful Bar à Vin in the gardens of Château Degas, with live concerts, wine and tapas. Their grandmother lives down the road in Château Moulin de la Souloire, where her sprawling gardens are a botanical marvel of exotic plants and flowers, lakes and green houses, and this has become the perfect venue for bigger promotional events like their annual Wine and Food festival. Not surprisingly, their first crémant vintage quickly sold out and now they want to add to their Sémillon vines to increase volume and launch both a blend and a rosé.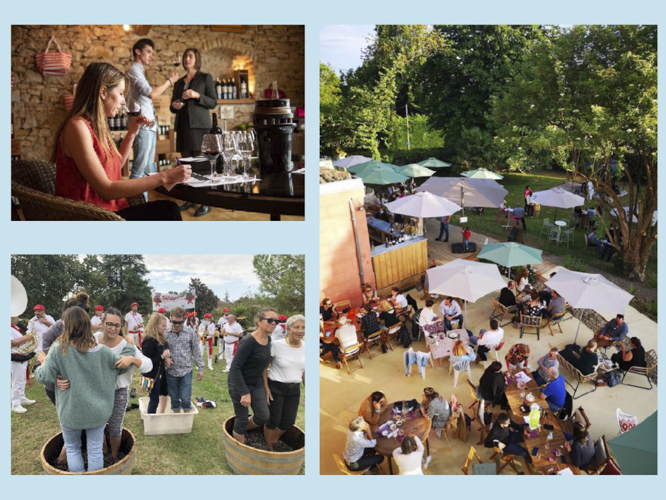 Where to eat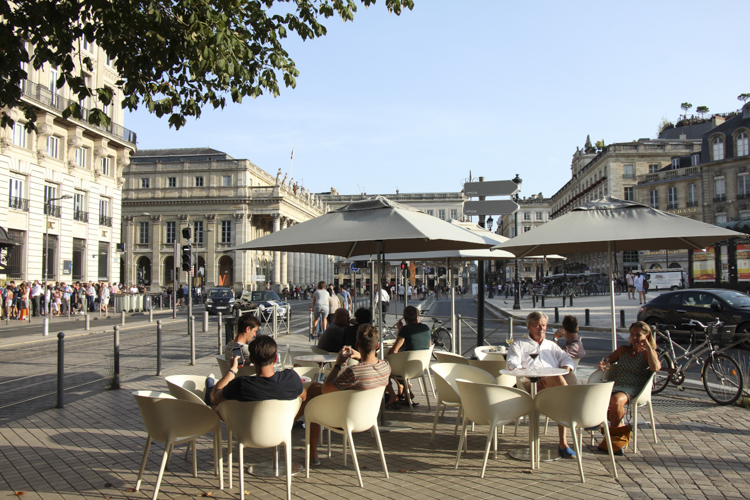 The name says it all, as the mythical Art Deco bar is the absolute place to discover Bordeaux wines, showcasing by the glass around 35 rotating producers from the 8,500 Bordeaux Châteaux – from bubbly crémant to Sauternes to Pomerol. Accompanied by delicious plates of cheese, ham and saucisson.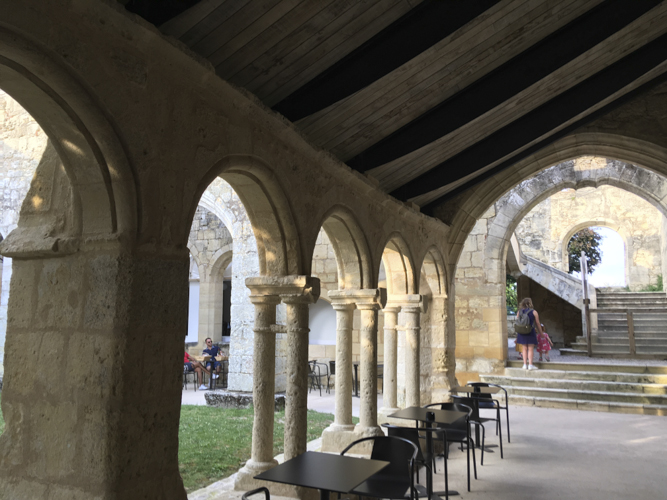 The medieval village of Saint-Emilion is full of surprises but nothing prepares you for the romantic cloisters of this 13th century Franciscan convent, perfect for a sunset aperitif of bubbly crémant produced in the ancient cellars down below, accompanied by a picnic basket or a tasty selection of local charcuterie.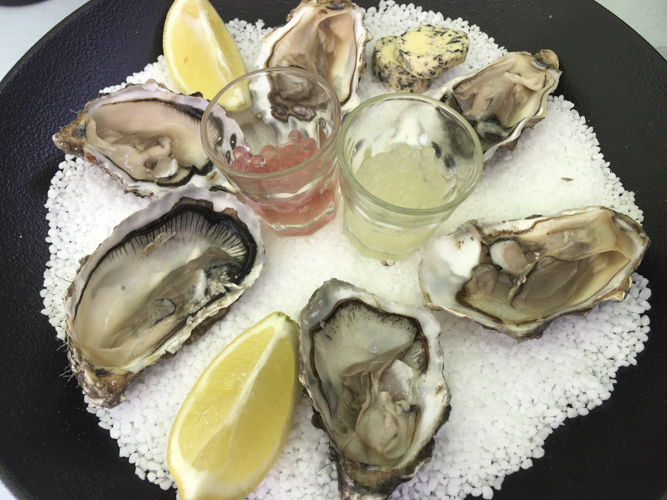 Where to stay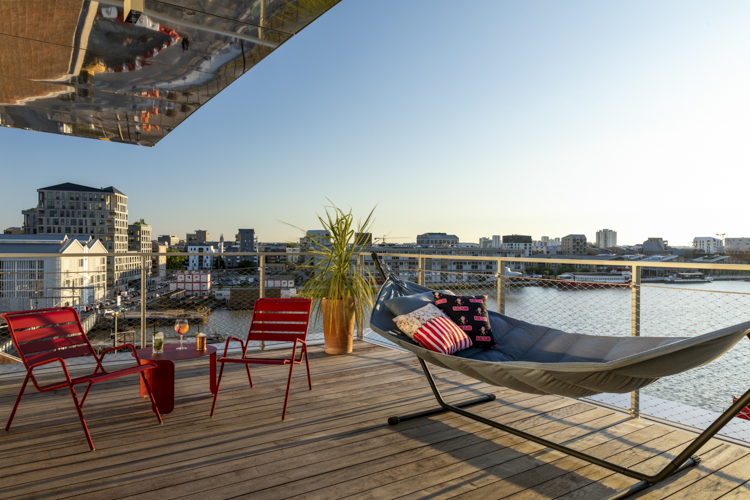 Latest hotspot to stay in downtown Bordeaux, the hip Moxy is fun and casual with modern functional rooms, lively bar in the evening.
What to do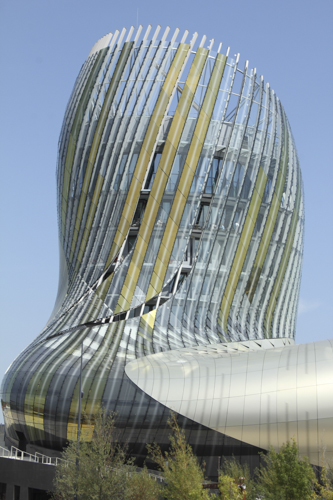 One of the world's ultimate wine experiences, where amateur or professional winelovers are taken on a virtual reality journey across the world's different vineyards with digital holograms and 3-D movies, sensorial challenges and a real-life tasting on the panoramic rooftop bar.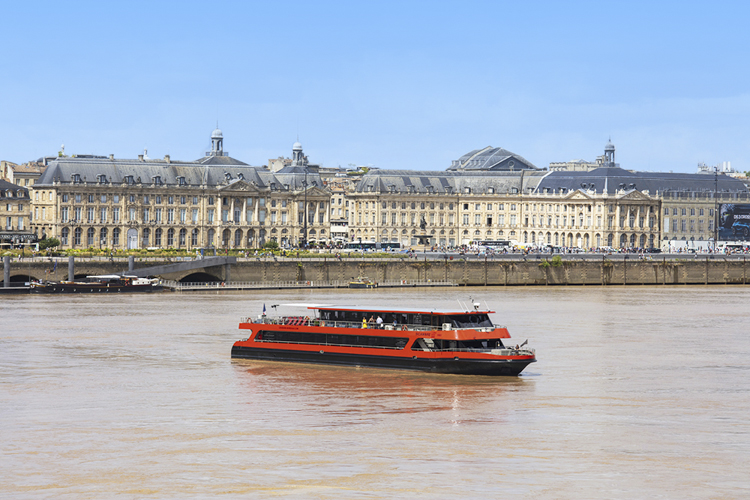 Take a lazy boat ride along either the Garonne or Gironde rivers, sipping a sunset glass of bubbly crémant on board or stopping at grand châteaux by the water's edge for a cellar visit and tasting