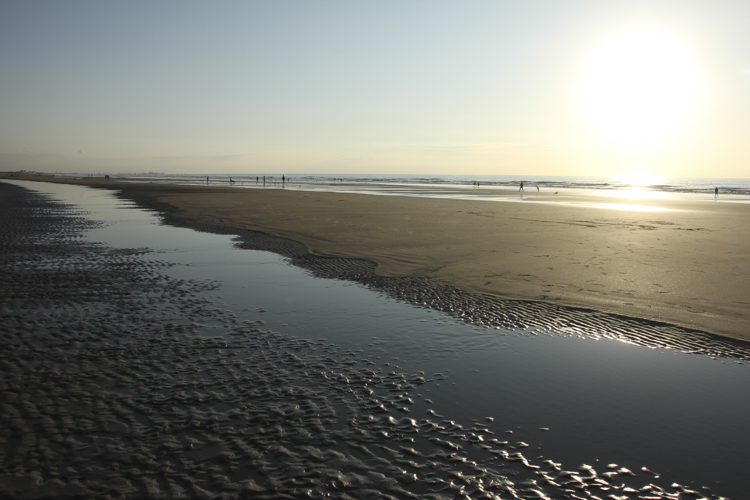 INTRODUCTION
The spectacular 67 kilometre stretch of endless North Sea beach lined by untamed sand dunes must rank as the most spectacular secret of the Kingdom of Belgium. A coastline filled with surprises runs from the nation's frontier with France right until the border with Holland, interrupted at regular intervals by a dozen delightfully offbeat seaside resorts that offer saucy postcard retro nostalgia to cutting edge art venues, hip boutique hotels to family-fun camping sites, traditional bistrots to gourmet fine dining, surfing to sand castles. And this is the perfect carbon-zero holiday road trip to respect the environment as no one even needs a car.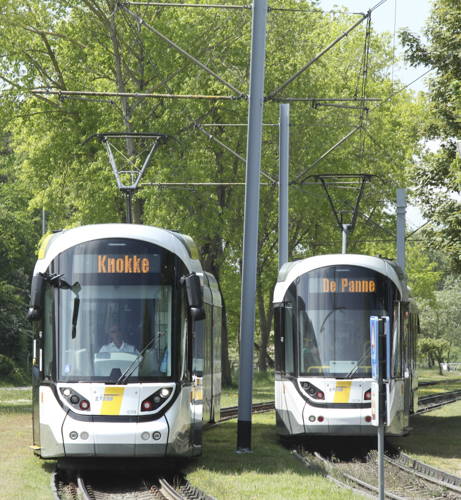 The entire coastline is linked by the world's longest tramline The Coastal Tram, which slowly hugs the sea from De Panne all the way to Knokke, with a grand total of 68 possible beach stops to jump off at. There is another underlying theme here that merits the local expression of 'époustouflant', breathtaking, and this the Beaufort Triennial of Contemporary Art by the Sea. Every three years since 2003, a series of monumental contemporary sculptures by renowned international artists are displayed on the beaches, dunes, promenades and in the sea itself. Today, 40 landmark pieces remain as a permanent sculpture park, and the next edition will be unveiled in March 2024.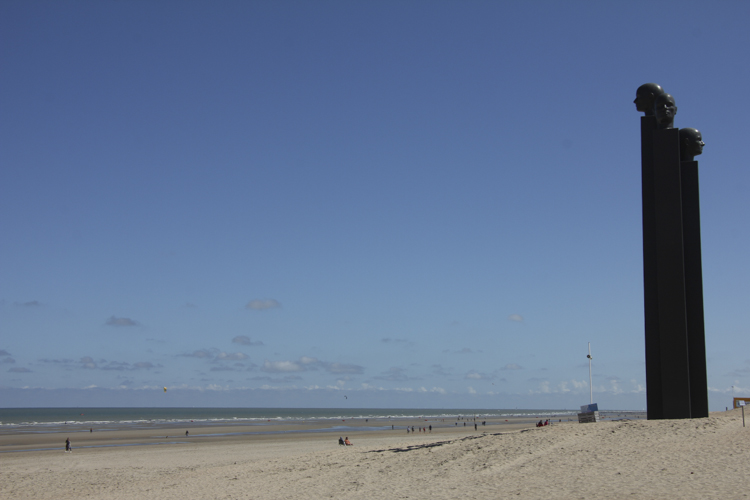 DE PANNE
The Belgian coast opens up in spectacular fashion alongside the French border at Westhoek Nature Reserve, an untamed landscape of peaked, rolling dunes that stretch as far as the immense North Sea beach of the popular De Panne resort.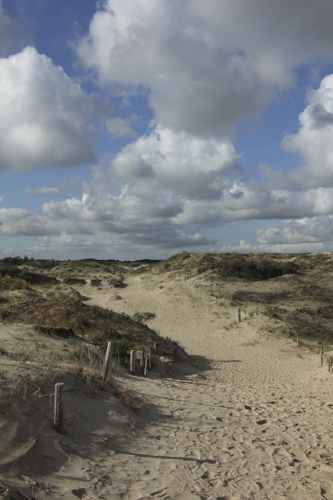 The wild Reserve is criss-crossed with hiking paths that dramatically cut through the steep slopes of the dunes, some covered with a biodiverse kaleidoscope of yellow, purple and mauve flowers, others bare, desert white sand, causing locals to dub this ¨Little Sahara¨.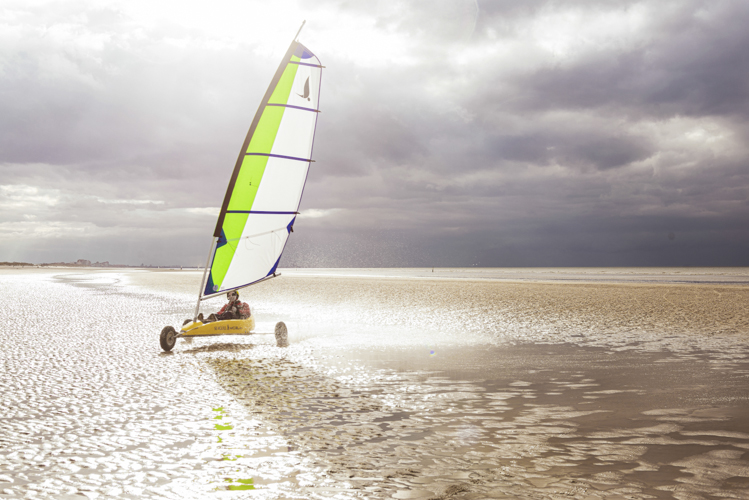 De Panne begins in a lively fashion with high-velocity sand yachts whizzing along the beach, with the chance to take a beginner's lesson at the historic Royal Sand Yacht Club, where the sport was invented a century ago. Otherwise at the packed Sportstrand there is everything from beach soccer and volley to wind and kite surfing.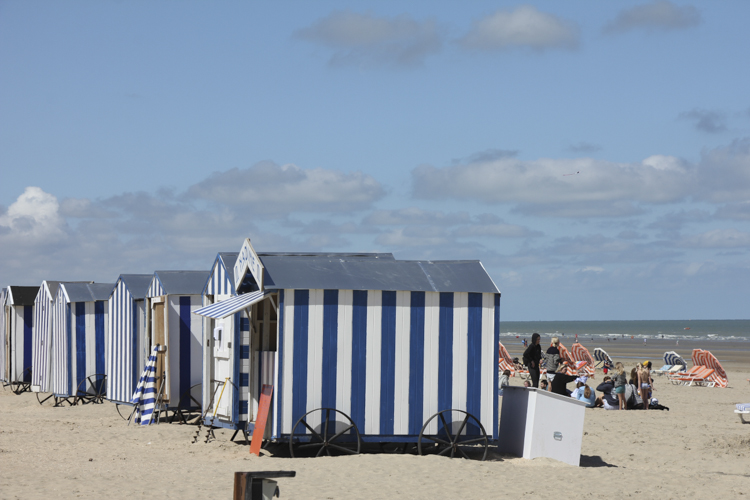 Afterwards De Panne resembles a Victorian seaside postcard with brightly striped wind breakers and retro bathing huts, families having all the usual fun of building sand castles, avidly hunting for crabs and shrimps, paddling and swimming. Don't miss the buzzing Saturday morning market when the centre of town is taken over by colourful stalls selling handicrafts and summer fashion outfits, craft beer and lethal genever gin, fresh farm vegetables and a tempting array of local cheeses, cured ham and artisan charcuterie. Perfect to stock up for a quiet picnic hidden way in the dunes.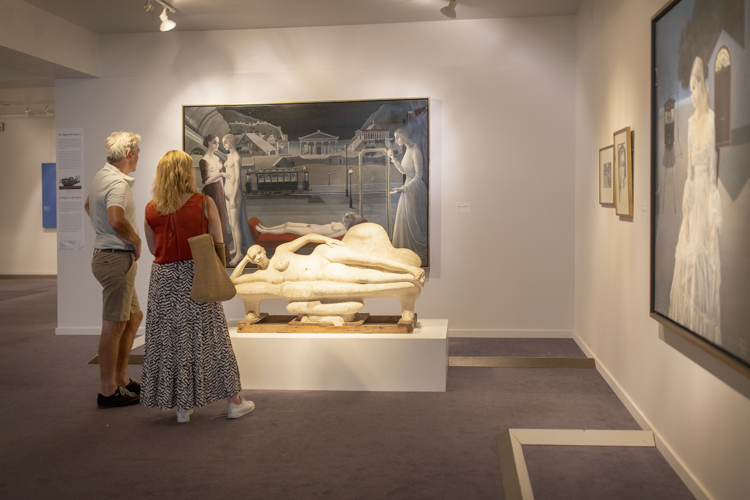 Hidden gem
Away from De Panne's tempting sea and sand, seek out the Foundation Paul Delvaux in Saint-Idesbald, an exceptional museum dedicated to the visually-arresting works of one of Belgium's greatest 20th century artists, who lived and worked here for much of his life.
KOKSIJDE-OOSTDUINKERKE
A long beach runs from one end to the other of these seemingly similar resorts. But while Koksidje concentrates on catering for holiday visitors, Oostduinkerke offers an insight into when the whole of the coast relied on fishing rather than the tourist industry.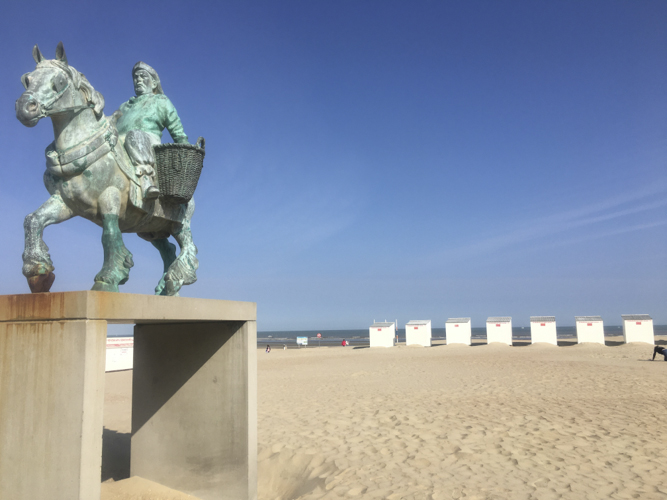 The beach huts here are overshadowed by two turquoise statues of traditional shrimp fishermen astride giant horses. This pays tribute to the ancient craft of shrimping on horseback, when fishermen mount tall dray horses, head out into the low tide waters to drag the sand for wriggling grey shrimps and crabs. This was once practiced along several coasts, but today, the municipality support the world's last remaining 17 fishermen and women, together with 14 horses, recognised ten years ago as UNESCO intangible cultural heritage.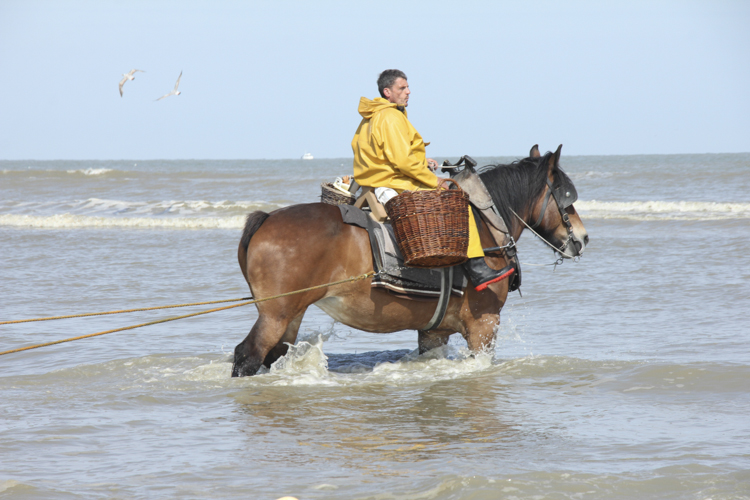 For those lucky to choose to visit on one of the fishing days it is a remarkable spectacle as the horses parade through the town, traverse the beach as their riders, kitted out in bright yellow oilskins, attach drag nets and wicker baskets before trotting into the waves.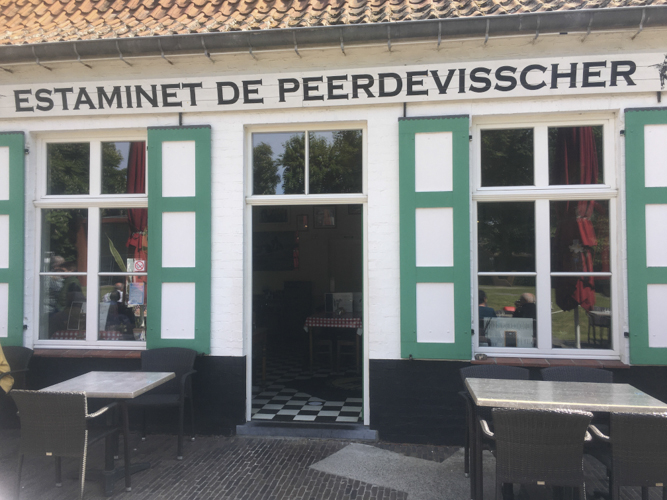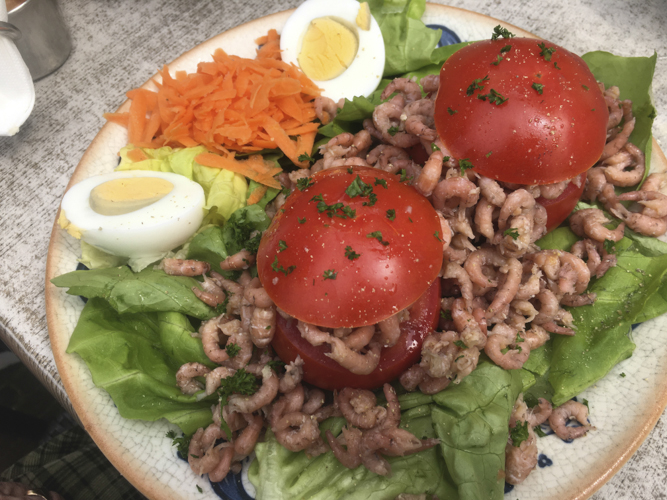 Come lunchtime, everyone heads to De Peerdevisscher, a raucous estaminet, to feast off two local specialities: the famous shrimps, peeled and presented in a hollowed-out tomato, and a plate of tasty 'sliptong' soles, perfectly filleted and lightly fried in butter.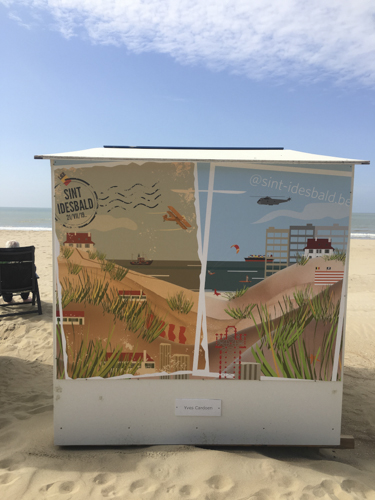 Hidden gem
The coast's iconic beach huts are almost uniformly white, except at the tranquil hamlet of Saint-Idesbald where a local initiative allows artists to create their own paintings and hang them at the back of the cabins; an eclectic mix of pastel seascapes, exotic fishes, psychedelic deckchairs and the distinctive local architecture.
NIEUWPOORT
Sitting on the bank of the Yser river as it flows into the sea, Nieuwpoort is much more than meets they eye. The old historical town, dating back to the 12th century, is actually located some 3 kilometres from the coast where a modern seaside resort and yachting marina have more recently developed.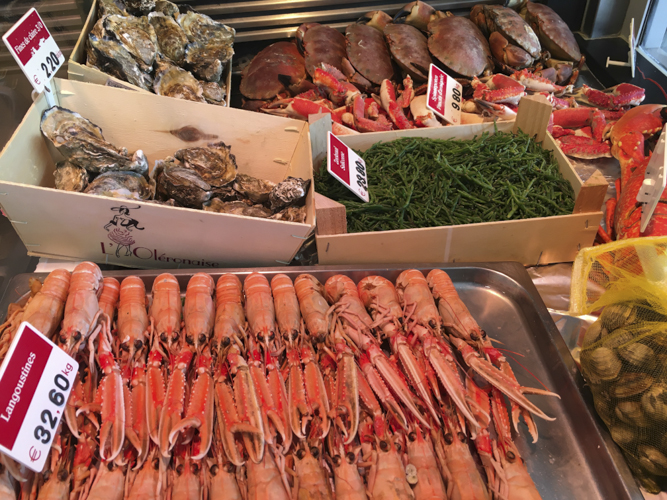 Jump off at the tram's Stad stop where fisherman's wharf begins, with one side bordering the river, while the other hosts a cornucopia of fish shops and specialist seafood restaurants. Each fishmonger tries to outdo each other with extravagant displays of the treasures of the North Sea; dried cod and smoked haddock, pickled herrings and marinated sprats, crabs, oysters, minuscule grey shrimps, and the famous 'anguille au vert', eels caught in the nearby polder fields and cooked in a creamy parsley sauce. Walk into Marktplein, a typically grand Flemish square bordered by an historic town hall and belfry listed as UNESCO world heritage. Surprisingly though, all the buildings are barely a century old as most of Nieuwpoort was destroyed during the First World War.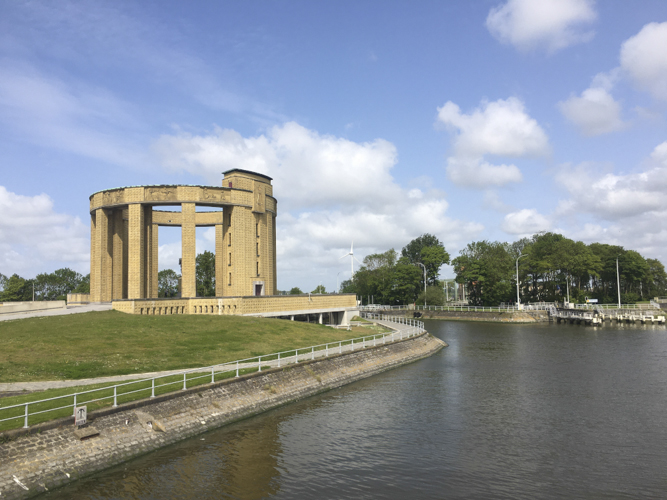 To learn the secrets behind this, visit Westfront, a striking yellow rotunda at the mouth of the river. Originally a war memorial, the ground floor has recently been transformed into a modern interactive centre explaining how in 1914, local lock-keepers flooded the polder plains at the beginning of the bloody battle of the Yser, holding back the advance of the invading German army. Be sure to go up to the top for panoramic views.
Hidden Gem
Nieuwpoort's Church of Our Lady is marked by a vast interior, and only the determined track down a tiny altar tucked away in a dark corner.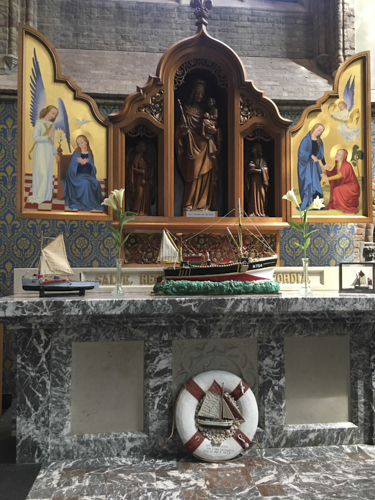 This emotive ex-voto is decorated with replica sailing boats, a lifebuoy and seashells, a tribute to the many fishermen here who lost their lives at sea.
WESTENDE-MIDDELKERKE
While the entire Belgian coastline is dotted with eye-catching installations of the Beaufort Park of Sculptures, the adjoining resorts of Westende and Middelkerke display their own impressive selection along a never-ending beach and boardwalk. Just by the fun De Kwinte Surfclub,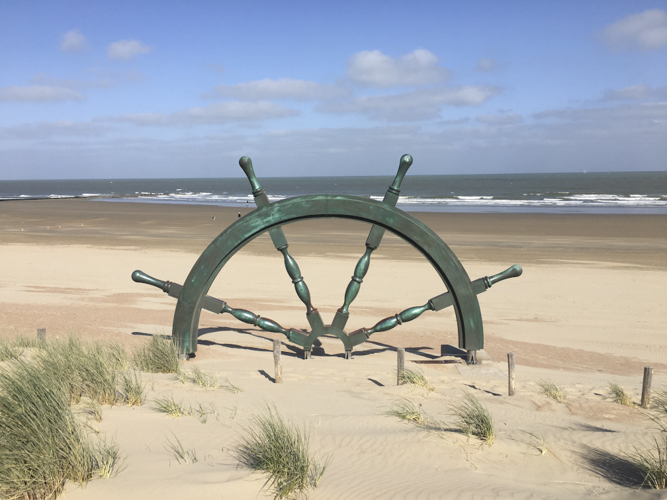 The Navigator Monument nestles at the edge of the dunes, a giant ship's wheel half-buried in the sand, while up on the newly-renovated sea promenade, everyone stops to gaze at Metamorphosis, an intriguing sequence of sculptures by Austrian artist, Olivier Laric, where a toad slowly transforms into a table.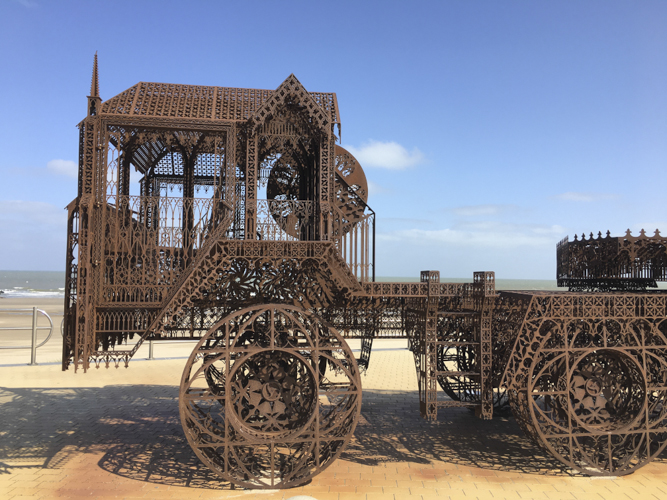 After two more beach installations, be sure to carry on to the start of Middelkerke's beach, overlooked by Wim Delvoye's massive rusted metal monster, Caterpillar and Flatbed Trailer. A must for all Instagrammers. And with the next Beaufort Triennial launching in 2024, locals here are waiting with excitement to see what new cutting-edge creations will pop up. As the coastal tram glides past Middelkerke, look away from the sea and you can't miss a thinly-disguised line of concrete bunkers. These form part of the Atlantic Wall built by the occupying German army during World War Two to protect against an Allied invasion, and are actually part of a fascinating museum, Atlantikwall Raversyde. A maze of tunnels, spartan living quarters, gun turrets and observation posts, all hidden beneath the dunes, visitors gain an insight into a soldier's daily life here, always waiting for the invasion which eventually came 500 kilometres up the coast in Normandy.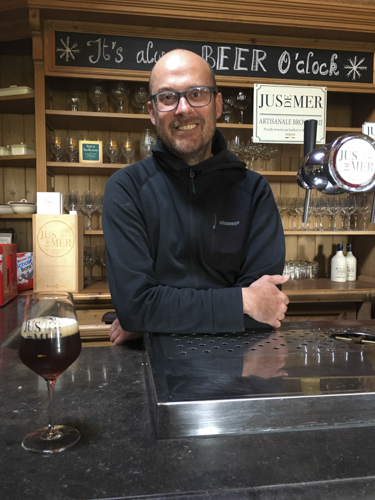 Hidden Gem
In the bucolic countryside behind Middelkerke, discover the coast's very own craft brewery, Jus de Mer. Their signature ales – fresh pilsner and malty brown -are served in local bars, and it is possible to visit on Saturdays for a tour and tasting.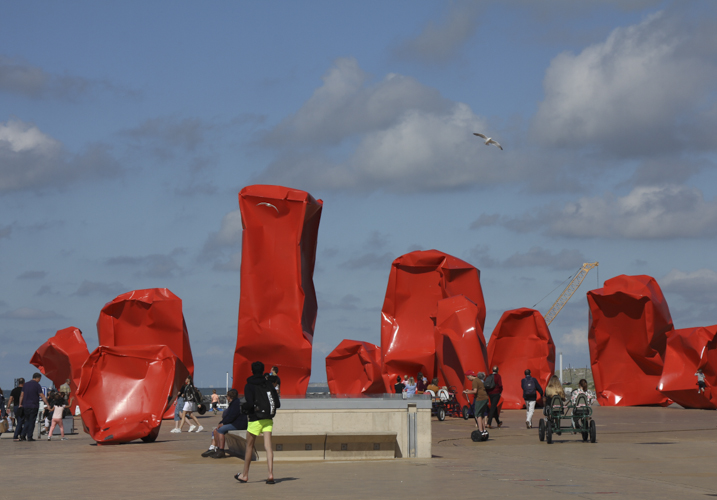 OSTEND
The unofficial Queen of Belgium's seaside has been reborn and transformed over the last few years from a resort that lived essentially for a summer invasion of sea and sand tourists, into the coast's dynamic cultural capital. Ostend now attracts visitors throughout the year, drawn by its outstanding permanent museums and private art galleries, creative initiatives, with a busy festival calendar from January to December.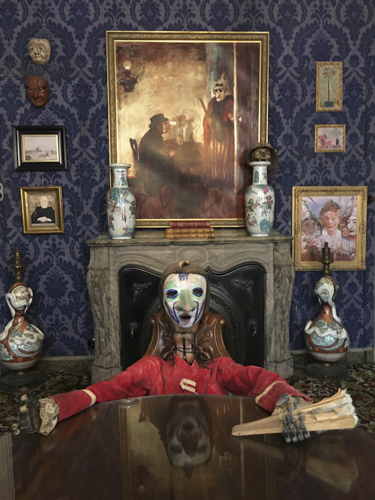 Art lovers begin at the new museum in the house of local artist, James Ensor. Part of the museum is interactive, especially popular with kids, while the tour of his home gives a fascinating insight into the influence of his mother's curiosity shop, who's weird and wonderful masks inspired Ensor's unsettling paintings. Then walk across town to Mu.ZEE, housed in a former department store. This cutting edge museum showcases its unparalleled collection of contemporary Belgian art, including important works by the likes of Rik Wouters, Spillaert and of course, Ensor.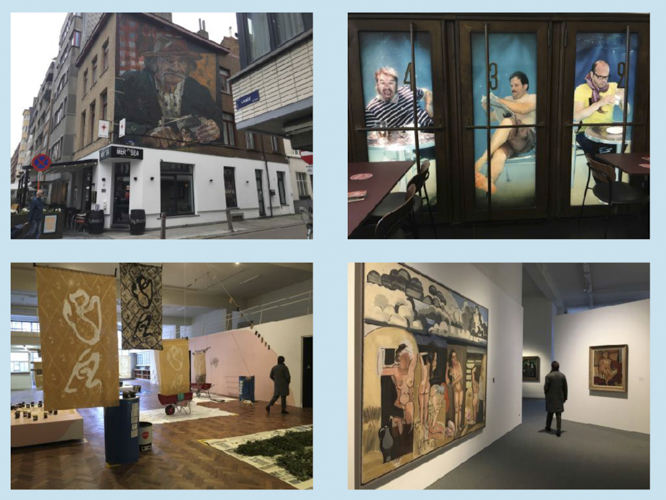 Next stop is De Grote Post, an innovative project that began ten years ago to preserve and transform the splendid architecture and interiors of the main post office into a dynamic cultural centre with resident artists, film screenings exhibitions and concerts, plus a funky diner and cool summer rooftop bar for sunset cocktails. Food is always on the menu when visiting Ostend. Down at the port, the tradition continues of a daily fish market of colourful stalls that are run by the wives or sisters of local fishermen whose boats are moored just below. For eating out, two contrasting experiences are the lustrous Brasserie Albert in Ostend's majestic 1930's Thermae Palace Hotel and Café Mosselhuis, a no-frills haunt of local fishermen, perfect to try Ostend's famous shrimp croquettes.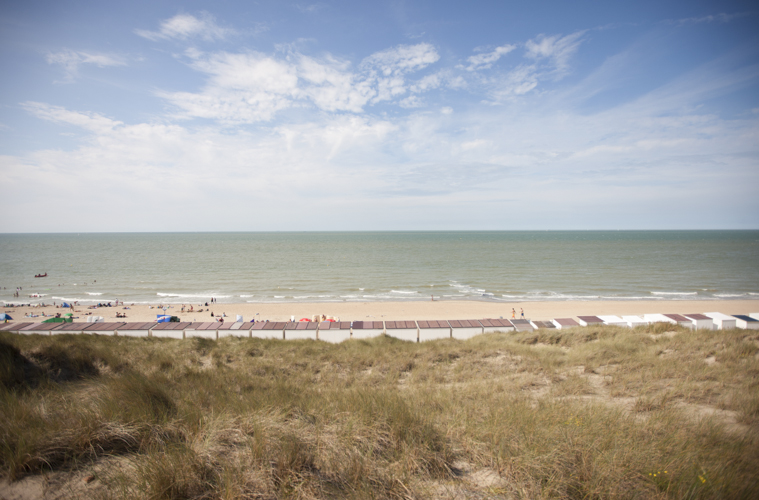 BREDENE
Bredene is a hidden treasure, with no construction at all along the sea, just a protected dune reserve, pristine white sand beaches and a couple of casual bars perfect for early evening aperitifs. It is the only resort that has no manmade seafront promenade, you just walk for four kilometres along the sand or through the dunes where wild orchids and asparagus grow amid prickly thistles and rough heather gorse. There are 6 different beaches in all, though watch out for signs that indicate the single nudist zone. The modern town of Bredene lies inland, on the other side of the highway, a genuine Camping Paradise where some 28 sites offer self-catering chalets and caravans, while independent travellers can pay to pitch their own tents.
Hidden Gem
Out of all the camp sites along Bredene's coast be sure to check out
Veld&Duin. It is impossible to miss as right outside the entrance, a battered car sits alongside an upturned caravan.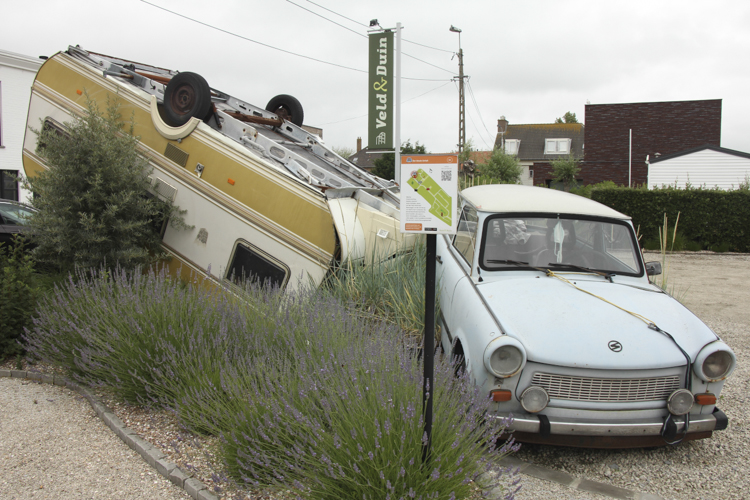 Don't be put off though as this is actually an art installation, another example of Belgium's Magritte-style surreal humour.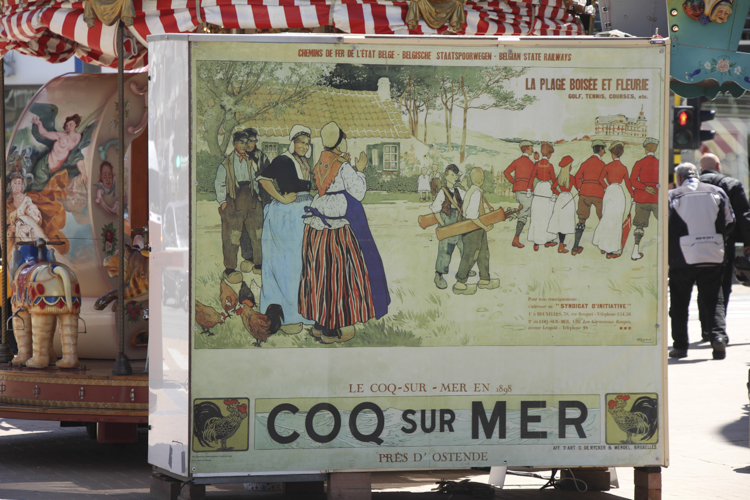 DE HAAN-WENDUINE
Alighting at the imposing Art Nouveau tram stop here – usefully also the tourism office – signs indicate both De Haan, as everyone refers to the resort today, and Le Coq-sur-Mer, the name it started out with in 1899 when there was literally nothing but dunes and beach.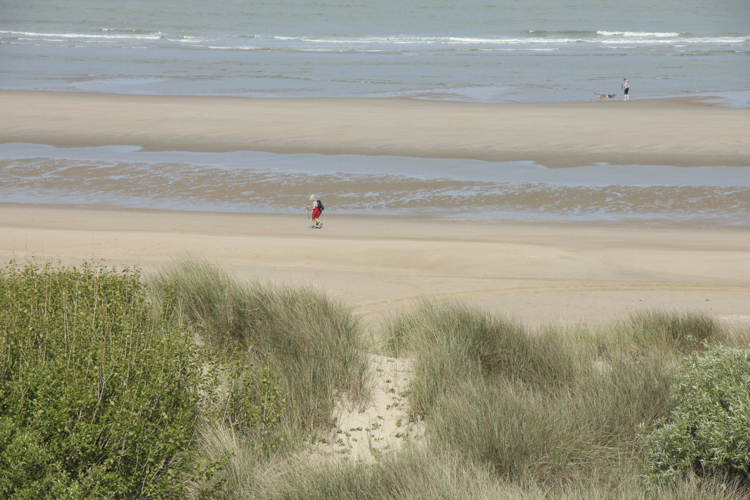 Inspired by France's Belle Epoque hideaway of Arcachon, Belgium's King Leopold II granted his famous 'Concession' allowing entrepreneurs to build an exclusive weekend seaside escape.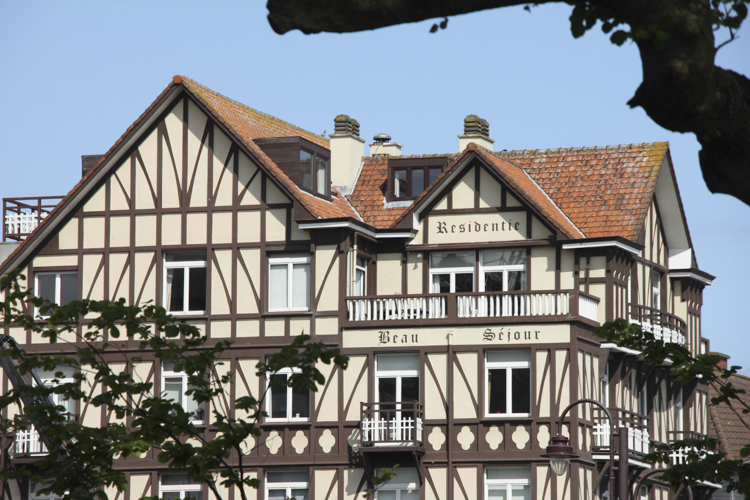 Located between two stretches of sprawling dunes, De Haan resembles a dolls house village unchanged for over a century; picturesque, perfectly-preserved half-timbered Anglo-Normand villas, thatched cottages, chic bed&breakfasts, grand old-fashioned hotels. This is the only spot on the coast with no modern high-rise construction, and pleasures here are simple, from an artisan gelato to renting a pedal cart.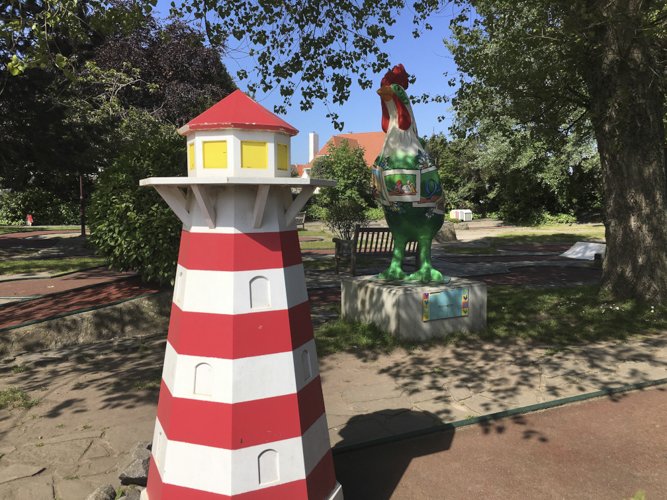 Everyone takes a promenade at some time of the day through La Potinière, a verdant English garden with brasserie and bandstand plus tennis courts and a formidable Mini Golf, adored by visitors and tourists alike. And outside town is a more serious 18 hole links golf course.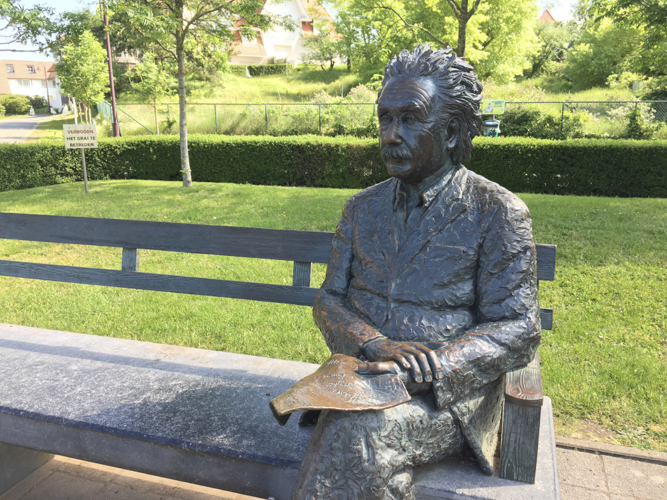 In 1933, when he fled Nazi Germany, Albert Einstein spent a summer here at Villa Savoyard. You cannot visit as the villa is privately owned, but there is a reflective statue of the renowned physicist sitting on a park bench in De Haan's main boulevard.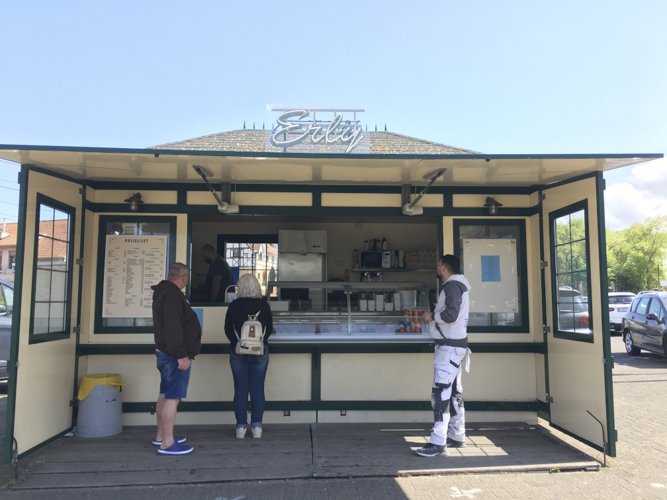 Hidden Gem
The venerable 'Frituur Erly', a classic Belgian chip stand, has stood opposite the De Haan tram stop for over 50 years. Tourists getting off the tram or waiting for the next one should not miss the chance to try a 'cornet de frites' smothered with mayonnaise or mustard.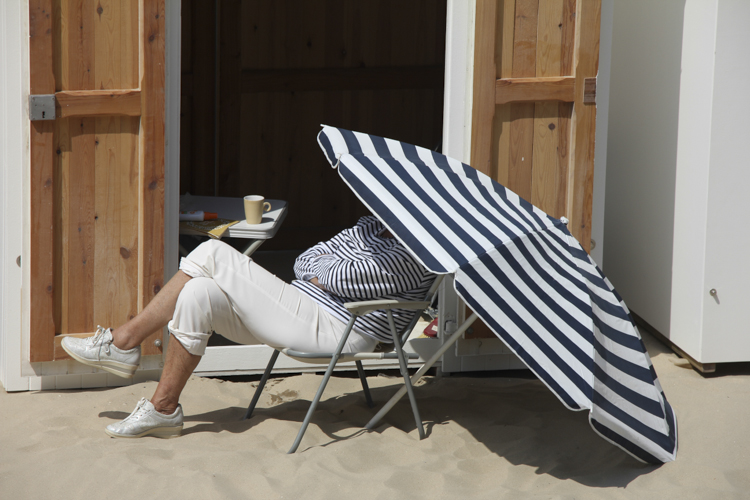 BLANKENBERGE
Located imbetween the chic resorts of De Haan and Knokke, Blankenberge revels in its reputation of noisy neighbour, a seaside resort for all visitors, from family day-trippers sitting on the sand eating waffles and frites to a hip young party crowd sipping mojitos at the funky Bamboo Beach Bar.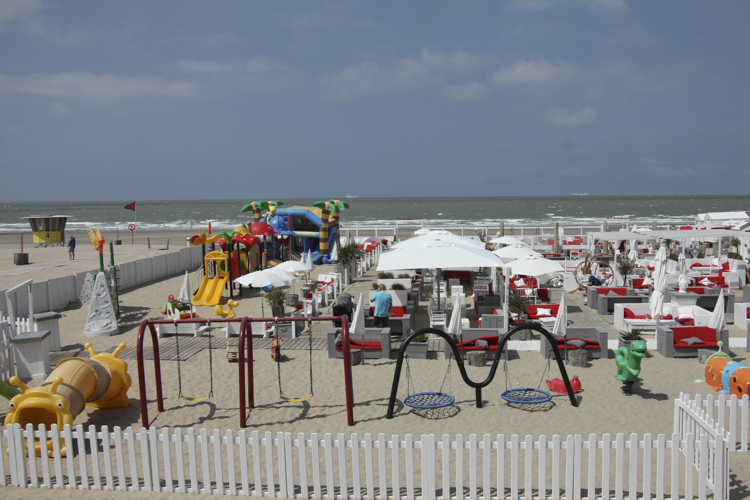 Fun highlights of the year include carnival parades, riotous Halloween celebrations, colourful flower festivals.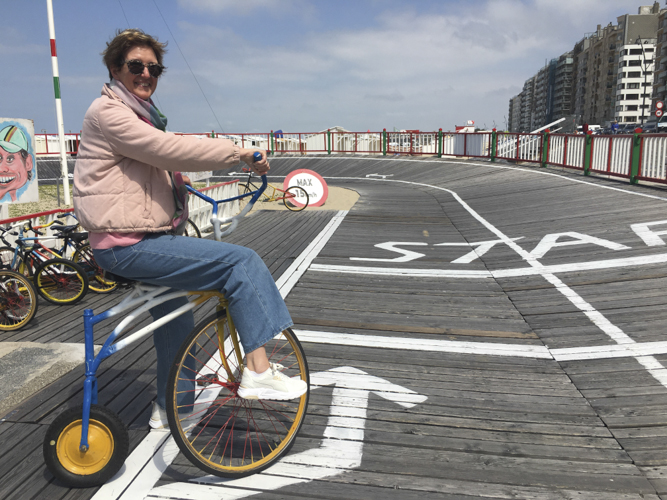 And no one – not even a schoolboy Eddy Merckx – can resist a ride on one of the Wacky Races funny bikes of the seafront's wooden 1933 Lustige Velodrome. Despite its fair share of modern construction, Blankenberge has succeeded in retaining a delightful lustre of its splendid Belle Epoque past.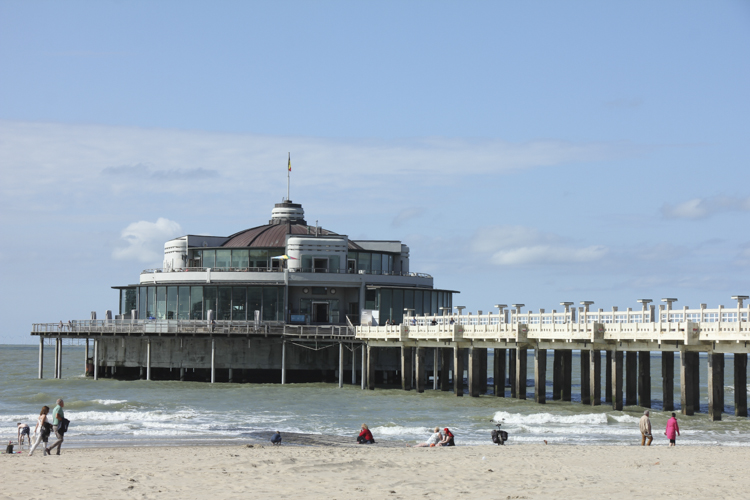 First and foremost is the landmark art deco Belgium Pier, opened in 1894 as the first pier on continental Europe. Stretching out over the sea for 350 metres with a panoramic restaurant at the end, this summer sees the completion of lengthy restorations restoring it to its former glory. Wandering the streets behind the modern promenade there are numerous opulent turn-of-the-century mansions dating back to when this was an exclusive escape for European royalty and aristocracy.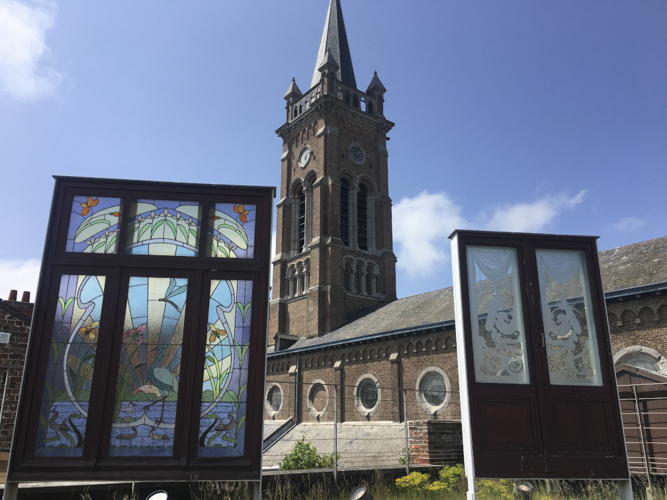 To get a feel for daily life in this era, stop off at the Centrum Belle Epoque, a restored villa decorated with ornate art nouveau furnishings, tiles and stained glass. Eating out is also an exciting mix of old and new, ranging from a feast of broiled lobsters and bowls of steaming mussels at the traditional De Oesterput, to creative world fusion cuisine served at the contemporary Onism.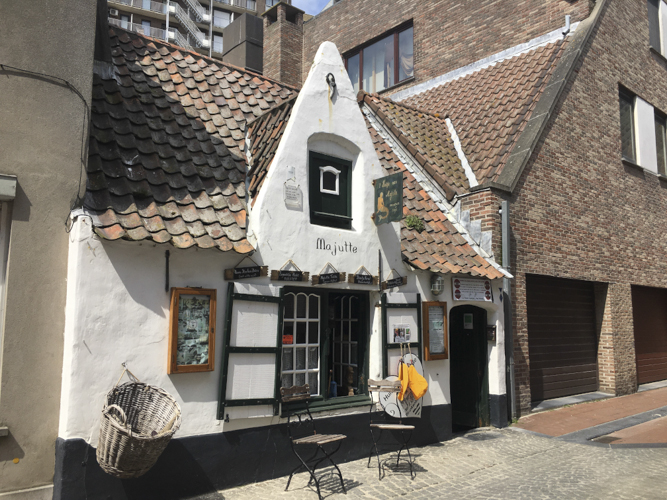 Hidden Gem
Back in the 18th century, Blankenberge's built-up promenade consisted only of dunes and tiny cottages. A reminder of that time exists in a narrow backstreet, the Majutte House, a wonderfully-preserved fisherman's cottage
converted into a cosy museum-cum-cafe filled to bursting with antiques and paintings. Not to be missed.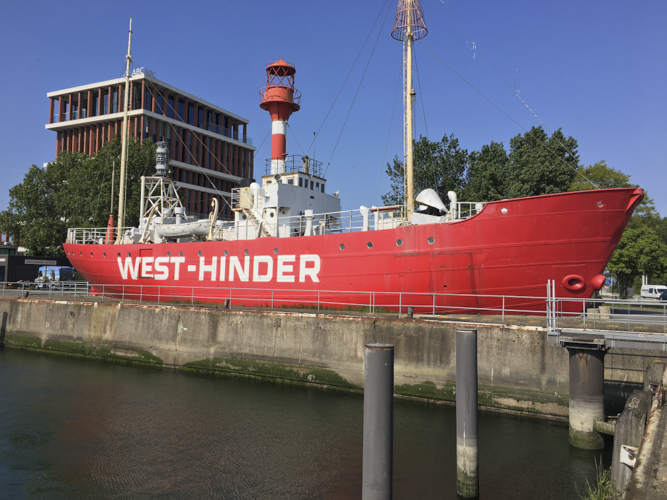 ZEEBRUGES
One of Europe's biggest commercial and passenger ports is always going to be a very different destination compared to its neighbouring seaside resorts. Zeebruges is a melting pot of cruise ships and ferries, tankers and giant container ships, as well a commercial fleet of industrial fishing smacks that make it Belgium's unofficial Fish Capital.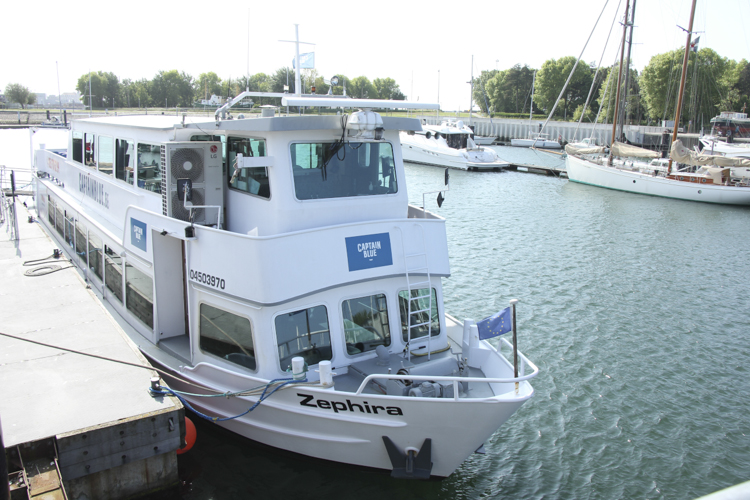 To get a unique birds-eye view of all this, jump on the Captain Blue harbour tour boat that weaves its way past cargo giants, tugboats and luxury yachts. Just by Captain Blue's mooring is a long warehouse that once housed the port's fish market. Today it has been transformed into an eclectic pop-up venue with everything from fitness club and rock climbing gym to fashion boutiques, bars and coffee roasters.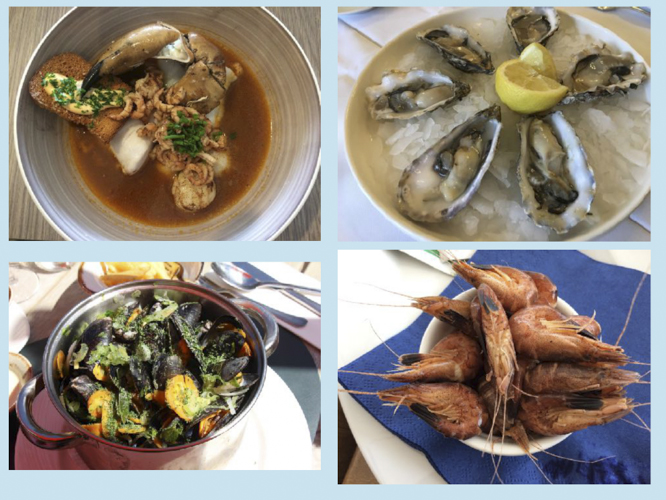 Another result of the fishing here is an abundance of brilliant seafood diners. Tijdok has a great outdoor terrace above the water and serves bowls of freshly-caught shrimps and a stellar North Sea bouillabaisse, while the local favourite, 't Werftje, is a century-old wood-panelled estaminet overlooking the marina, serving vast seafood platters and shrimp croquettes all through the day.
Hidden Gem
It is easy to forget that outside the bustling harbour and port, Zeebruges also boasts a long stretch of pristine beach. For anyone interested in sports, the Icarus Surf Club nestles at the edge of the dunes, offering everything from aerial yoga to wind surfing, cycling to surfing.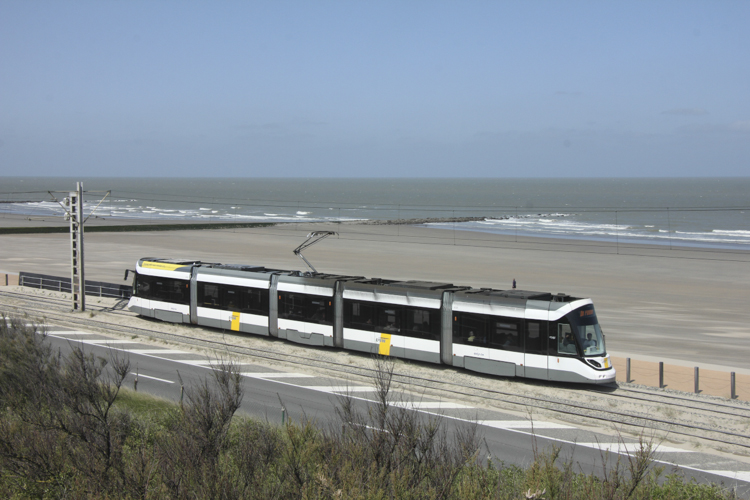 KNOKKE-HEIST
As the faithful tram pulls in for its last stop at Knokke, just before the Dutch border, it is quickly clear that this is a very different world from the other resorts along the Belgian coast. Dubbed the Belgian Saint-Tropez, there is certainly no lack of Lamborghinis, Porsches and Ferraris zooming along the narrow streets, while glamorous fashionistas shop till they drop for haute-couture brands like Hermès, Louis Vuitton and Dior.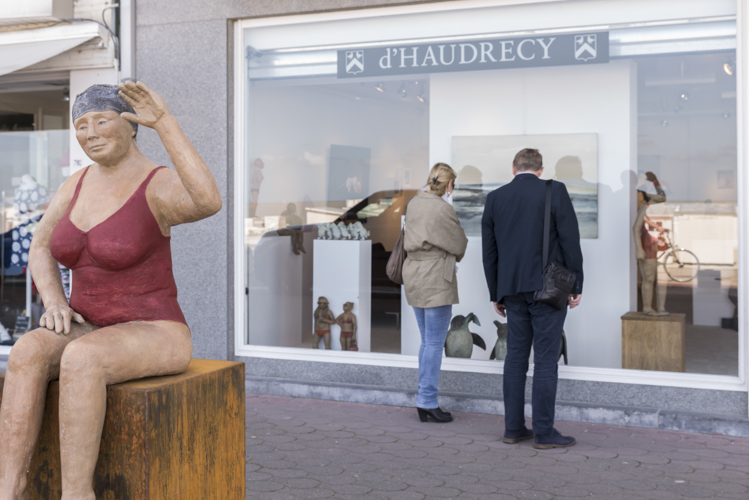 But behind the glitzy facade, you can also discover cutting-edge art galleries displaying the latest contemporary artists, while gourmets are spoilt for choice deciding between half-a-dozen Michelin-starred restaurants. Then the coast reserves its final surprise for those who carry on out of town past the beach bars, luxury hotels and exclusive private villas as far as the entrance of Zwin Nature Park.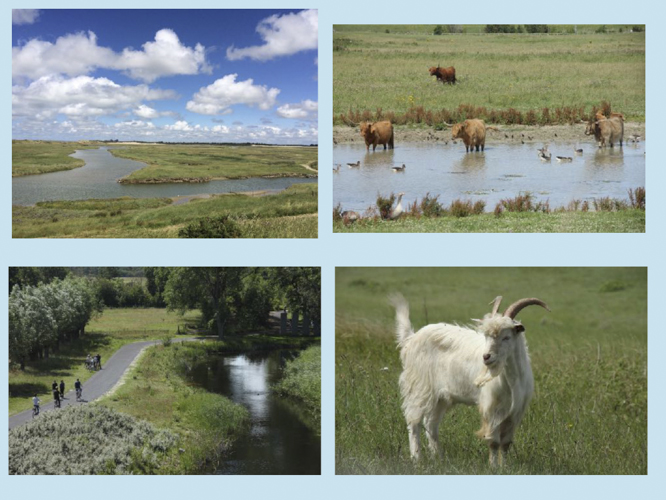 This breathtaking wetlands and bird reserve, inspired by the educative parks created by British naturist, Sir Peter Scott, is as beautiful as the Winhoek reserve back at De Panne. At Zwin, everyone follows marked trails aided by helpful guides, with numerous look-out spots equipped with high-powered Swarovski telescopes for birdwatching. This is a popular migratory stop-off, with the chance to see spoonbills, avocets, geese and terns, as well as a dozen families of storks perched on high poles. At the other side of the park's boundary are grassy mudflats, whose changing landscape ebbs and flows with the North Sea tides. Adventurous visitors don Wellington boots or go barefoot to cross the watery maze of inlets, curiously observed by grazing Highland cattle, sheep and wild goats.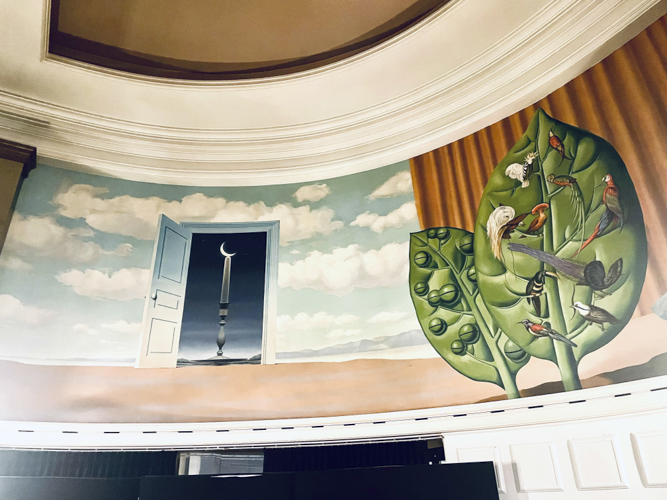 Hidden gem
Several coastal resorts are marked by a monumental Casino, a glamorous venue for both gambling and concerts. The difference with Knokke's Casino is that certain parts are only accessible by private tour, revealing the stunning Salle Magritte with a glittering Murano chandelier and breathtaking 360° fresco by Belgium's master of surrealism.
All Information www.belgiancoast.co.uk