INTRODUCTION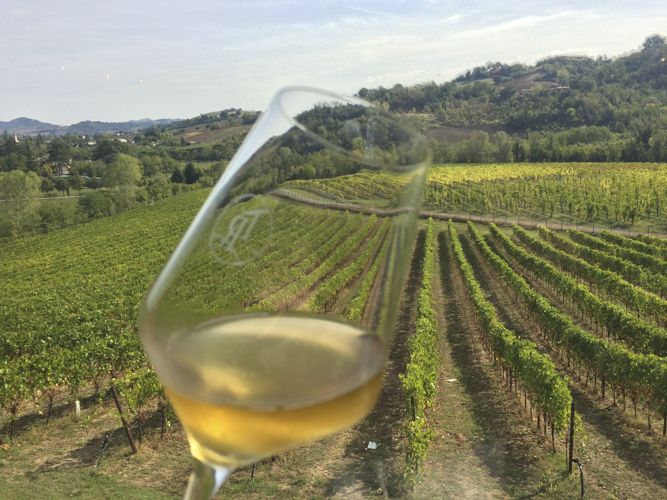 The grandiose medieval city of Bologna sits at the foot of the Apennine Mountains, and just a handful of kilometres outside the city walls, the urban landscape rapidly disappears, replaced by wild natural scenery of steep hills and rocky ridges, hilltop hamlets and ancient abbeys, and above all, a glorious patchwork of vineyard slopes that produce the unmistakable wines of the Colli Bolognesi. The Bologna Hills are a genuine hidden secret for wine lovers, little-known even by most Italians themselves. And there is none of the monoculture of grapes that so marks regions like Tuscany and Piedmont, as the Colli explode with an exuberant natural biodiversity of woods and forests, meadows and farming land, alongside the vineyards which tend to be dotted across the countryside in small parcels. The vines here have been cultivated since the start of civilisation, first by the Etruscans, then the Romans, and winemakers today excel with the region's famed and versatile autochthonous grape, Pignoletto – also known as Grechetto gentile – transforming it into a wonderfully light Frizzante, a bubbly Spumante, or an elegant still white wine. And nowhere in Italy is a wine so intimately tied to the local cuisine as Pignoletto with the rich terroir cuisine of Bologna. Not for nothing is Bologna known as La Grassa, and a sparkling Pignoletto is quite simply the perfect pairing to handmade tagliatelle smothered with a luscious ragù Bolognese, deep-fried gnocchi, irresistible mortadella and prosciutto.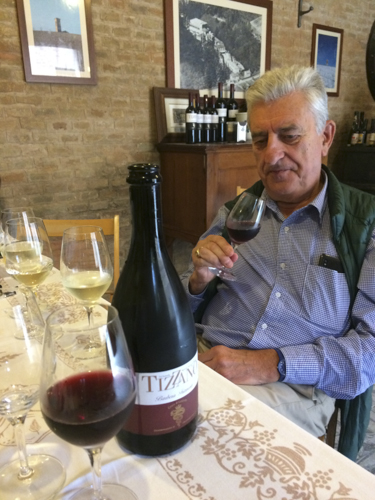 But Pignoletto is just the beginning of this wine journey, as the Colli's mainly small, artisan vignaioli have also mastered the art of blending Cabernet Sauvignon and Merlot for their signature Bologna Rosso. The distinctive Barbera grape is also made both a still and sparkling red wine. While these wines are beloved and eagerly purchased by a loyal local market, there is also now emerging a wave of unconventional, inventive winemaking bubbling under the surface, experimenting with amphorae and biodynamic cultivation, zero sulphite and orange wines. And the Colli Bolognesi are also a paradise for hospitable wine tourism as many estates offer not just tasting and tours, but affordable, comfortable places to stay and eat, an authentic Agriturismo experience. Start discovering this surprising region with a trip around ten of the top wineries to visit.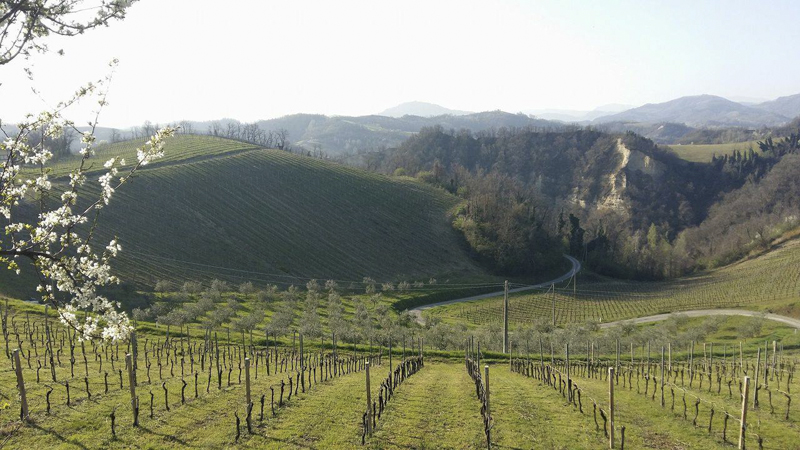 The drive up to this sprawling estate is the perfect introduction to the unique landscape of the Colli Bolognesi, where geometric vines line vertiginous slopes, patched between contrasting lush valleys and remarkable rocky ridges known as calanchi. The owner of the 70 hectare property, Alessandro Galletti, unabashedly claims it is geologically unique, ' with sandy granite soil now covered by green vegetation dating back to when this was all under water, and bare clay bluffs, the same you will find in Montalcino or Barolo. Perfect for making great wines.'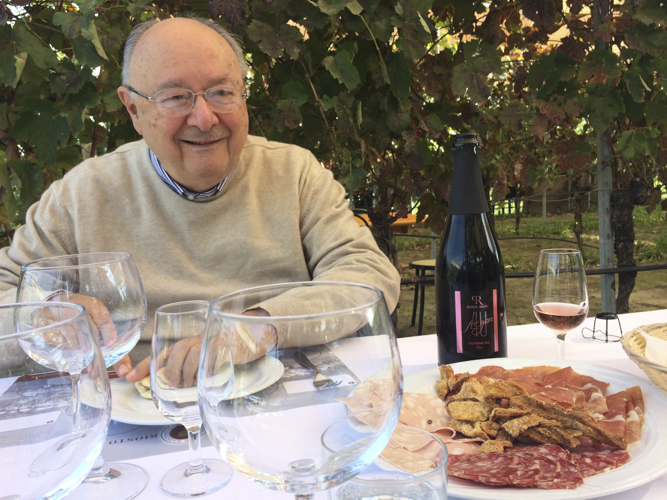 Now 81 years old, he may leave much of the running of the business to his dynamic daughter, Cristiana, but looking out from the terrace of the family home, he recalls how, 'after the Second World War, these hills were nothing more than a battlefield, like Monte Cassino. And we still dig up bombs today when cultivating the fields. Serious wine production of our 16 hectare vineyard began in 1991, and in 2007 I built a modern cellar of steel vats, small French barrels and Slovanian casks across the hill.' Today, the cantina also houses an immensely successful agriturismo, including a romantic open-air restaurant in the middle of the vineyard, and Alessandro admits that 'it is the agriturismo that allows us to survive, producing 50% of our income, and attracting 15,000 visitors a year, who all become new local customers and spread the word about our wines.' While his flagship wines are Bologna Rosso, still and fizzy Pignoletto, be sure to taste his intriguing Fantini, produced both as a sparking rosé and red. This is an exceptionally rare native grape, that Alessandro claims is only grown on Podere Riosto. Working with a researcher, he spent 7 years studying Fantini before it was officially accepted as N°435 of Italy's autochthonous grapes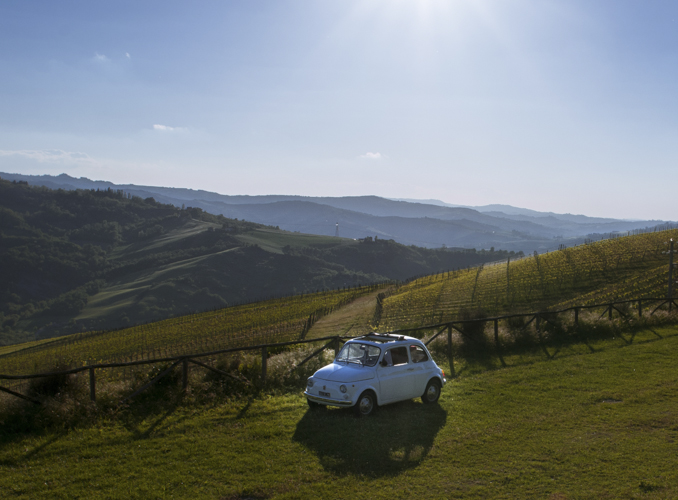 It can be quite an adventure finding this hidden winery, lost in the Bologna hills, beginning as you cross the narrow one-way Ponte Oca, the Goose Bridge. Climbing high on a narrow route through forests stacked with towering larches and pine trees, the road eventually comes out at a lofty plateau marked by a massive farmhouse with an idyllic panorama over vineyards tumbling down into a valley that only rises anew into craggy peaks. While the farmhouse dates back to the 1600's, the present cantina was built in 1963, when the grandfather of the present youthful winemakers, Silvia and Angelo Lambertini, decided to buy an abandoned 100 hectare estate, immediately planting 15 hectares of vines. Neither Silvia nor her brother Angelo studied oenology, and only took over recently after the premature death of their father.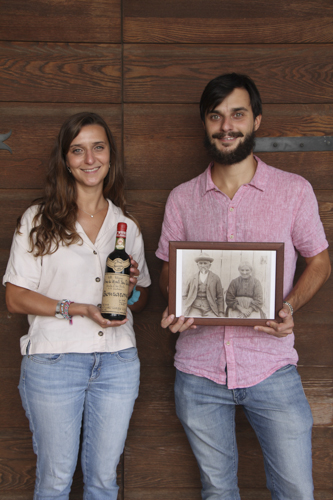 But their enthusiasm for the future of this quintessential family enterprise is infectious as they outline their future plans. 'We are still starting out, with our mother and the family oenologue here to advise and guide us. Maybe we will look at organic farming later, for now we must concentrate on increasing exports, make greater emphasis on native grapes, and develop wine tourism and events as the Tenuta is famous as a wedding venue.' Slowly imposing their own personality, their first wine is called #1.0, a curious 100% Negretto, showing the potential of a grape that is usually only used as a 'taglio' to fortify and give colour to Barbera. It is light, fresh, a delightful, drinkable summer wine. With some of their older vines growing at altitudes over 500 metres, they tend to harvest later, producing a complex Pignoletto with a glorious straw yellow colour. And although their signature red remains the classic Bologna Rosso blend, they also produce single grape cuvées of Cabernet and Merlot.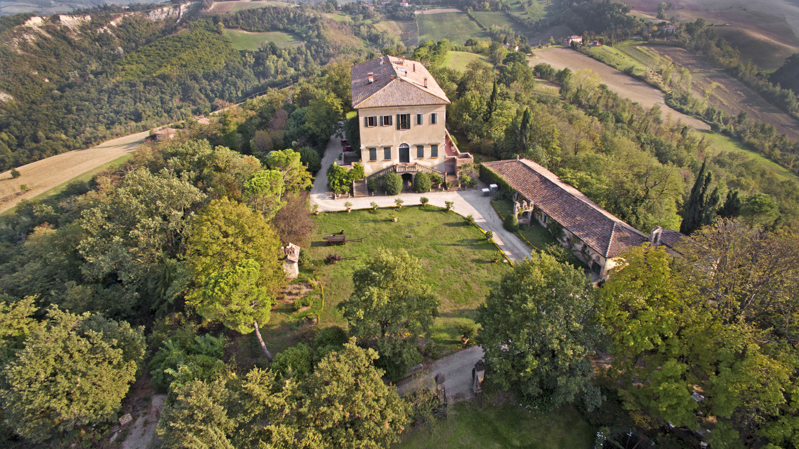 It is quite an emotional experience tasting wines produced on this historic estate sitting at an old oak table in the ancient vaulted cellar beneath a magnificent 15th century palazzo. Ownership of this 100 hectare property has not changed since 1456, and today's descendants, the two brothers, Gualtiero and Francesco Cavazza Isolani, still live upstairs with their families in the palatial mansion. Gualtiero has overseen the vineyards since 1972, 'when my Papà took me aside and said; the grapes and the wines are yours to look after'. Popping open a bottle of his latest experiment, a fizzy Pignoletto, non-filtered and naturally fermented in the bottle, this jovial, aristocratic figure exudes an enthusiastic passion for his wines, insisting that, 'I believe in tasting wines at room temperature, both red and white. Put a bottle in a modern fridge and it can get so cold as to be undrinkable.'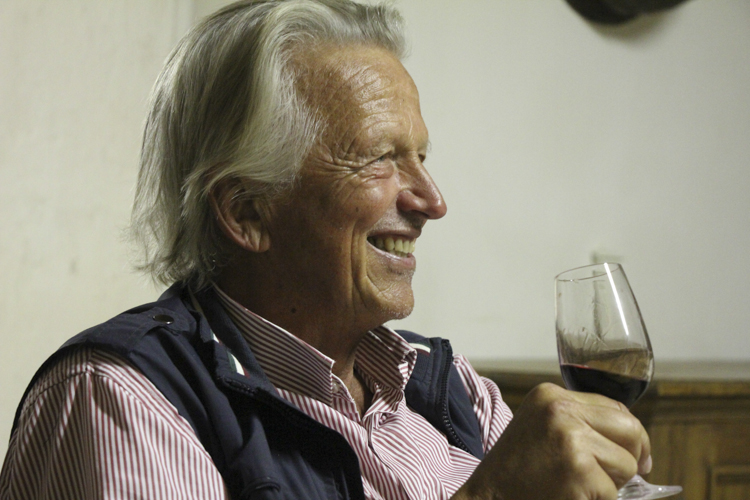 And he has firm views about his winemaking, recounting how, 'I have gone back to using our traditional cement cisterns. They date to the 1960's, but were vitrified in the 70's and 80's, and may look like antiques but are perfect for ageing my reds. I certainly don't see the need to change my techniques, to use oaky barrels of experiment with amphorae. And remember, we have been certified organic since 2015. My brother and I agreed to go organic with hardly any discussion, a miracle as usually we are never in agreement about anything!' Gualtiero becomes more pensive when tasting his elegant red wines, subtle blends of Merlot and Cabernet Sauvignon that can easily age 10-15 years. In fact, he declares philosophically that, 'what is the only thing you can leave your children? For me it is wine. I make it because I love it, and hopefully I make something of quality, that my children can enjoy by opening a few bottles long after I have departed.'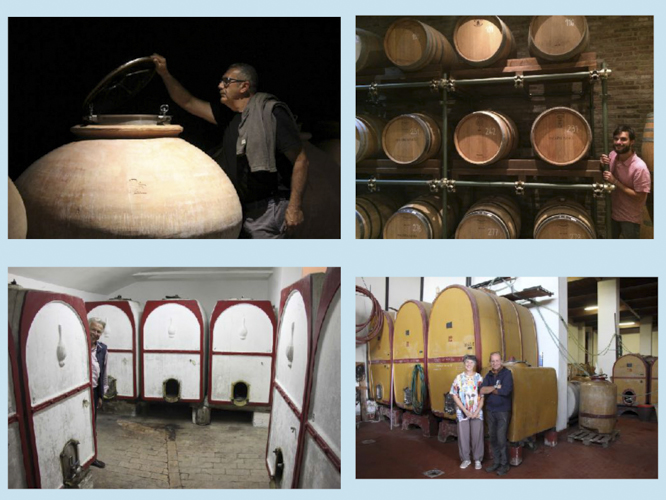 The sign outside Francesca Zanetti's rustic cantina says 'Vignaioli Independenti' and as soon as she starts explaining her winemaking philosophy you know you are dealing with a feisty independent spirit, fully-convinced of her own ideas.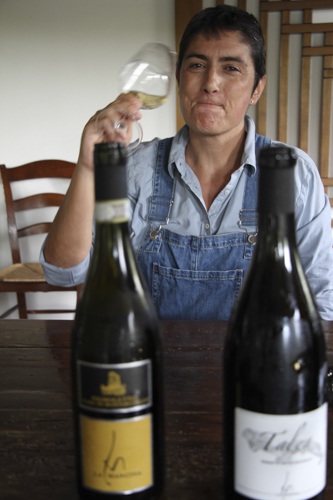 After working as the village schoolteacher, she entered the cantina in 1996, with no oenology training but a fierce passion for wine. 'I had to force my Nonno to accept me, and back then it was not easy for a woman,' she recalls. Her cantina looks right out over rolling hills covered with the family vineyard, and she enthuses about the potential of this particular corner of the Colli Bolognesi, 'because here in the Terre di Montebudello we merit the recognition of our own Cru.' Francesca has made a name for herself with the region's signature Pignoletto grape. 'In Bologna they call me Signora Pignoletto,' she declares. 'This is a unique grape that I love, that I adore. I am mad about Pignoletto, but as a still wine rather than sparkling. It is tannic, impossible to work with, but with the exposure we have on our hill slopes, the results can be spectacular. Of course, for my loyal local customers I still make all the Pignoletto Frizzante and Spumante they demand. But to be honest, the only reason that there is so much sparkling Pignoletto here is because of Bolognese cuisine, which needs a bubbly wine to cleanse the palate, 'pulisce la bocca' as we say.' Every few years, Francesca experiments to create a new wine, a different sort of cuvée, like a fizzy natural fermentation made not from Pignoletto but from Barbera.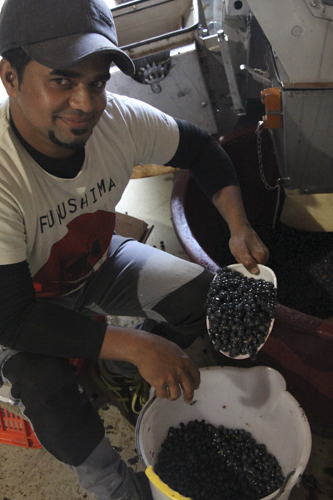 Then there is her unique Cabernet and Merlot blend where the grapes are hand squeezed then macerated, fermented and aged for 18 months in a wooden barrel. And for the next one, 'well', she says enthusiastically, 'why not an Orange wine made with our Barbera grapes.'
Turning off the road through imposing metal gates into the Tizzano estate, a white gravel route meanders through an idyllic countryside landscape of vineyards, fields of cereals and woods that resemble a secluded kingdom.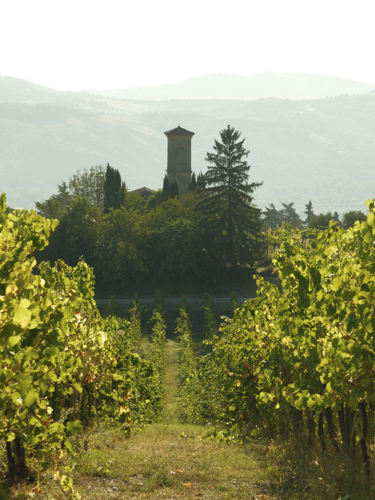 No exaggeration as Tizzano spreads over a vast 230 acres. The present owner, Luca Visconti di Modrone, lives partly in Milan, where his family is one of the oldest noble families, and part here in this rambling redbrick manor that resembles a private village; palazzo, shady French-style arcades, chapel, stables, old animal stalls converted into barrel-ageing rooms, barns that now house a modern winery using traditional cement tanks alongside steel vats and wooden casks. Tasting the estates wide selection of vintages with this courteous aristocrat, he is visibly proud of the quality of his wines. 'At Tizzano and in much of the Colli Bolognesi, vine cultivation was historically much less important than cereals. But today the vineyard takes precedence, so we effectively replanted our entire 25 hectares of vines, creating one single vineyard in the perfect geographical location to make great wines, replacing the previous mismatch of small plots all over the place.' For the future, the Count is clear that, 'we aim both to valorise our indigenous grapes, while also increasing our exports rather than relying on local sales.' But he admits that, 'we are fortunate, though, to have such a loyal local clientele, with 30% of sales direct here from the tenuta.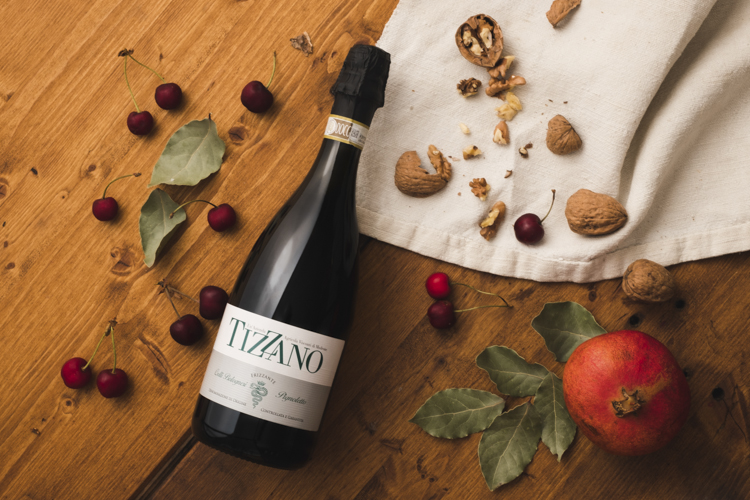 Outsiders rarely understand how proud we are here in the Colli Bolognesi of our own particular wines. They perfectly match our rich cuisine – tagliatelle al ragù, deep-fried polenta, thick slices of mortadella and crusty bread. Many people even add a dash of fizzy Barbera into a bowl of tortellini in brodo.'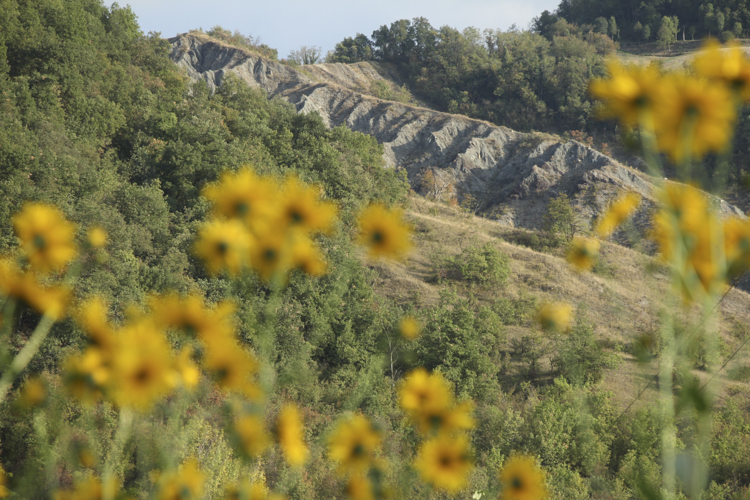 Driving past the picturesque village of Montebudello, a tiny road weaves through vineyards and low lying hills into the Corte d'Aibo estate, a winery like no other in the Colli Bolognesi. The first thing to catch your eyes is a stunning modern glass, steel and wood cantina, something you would expect to see more in Tuscany or Piedmonte. Miraculously constructed throughout the Covid lockdown, it is a testament to the commitment of Corte d'Aibo to this region. Founded back in 1988 by an idealistic cooperative of 9 like-minded friends, mostly from nearby Modena, everyone who owns a share of the estate works here too, a guiding principle. Their 20 hectares of vines have been organic since the first day, and Demeter certified biodynamic since 2010, almost unheard of in this region. They are also located in the middle of a protected National Park. Today there is a plush Agriturismo with an eco swimming pool that is actually a small freshwater lake, gourmet restaurant, and boutique selling not just their wines, but honey, balsamic vinegar, homemade jams, and bio cosmetics. The new cantina is surrounded by lush wild flowers and vegetables planted in giant wooden casks, perfect for a romantic sunset aperitif.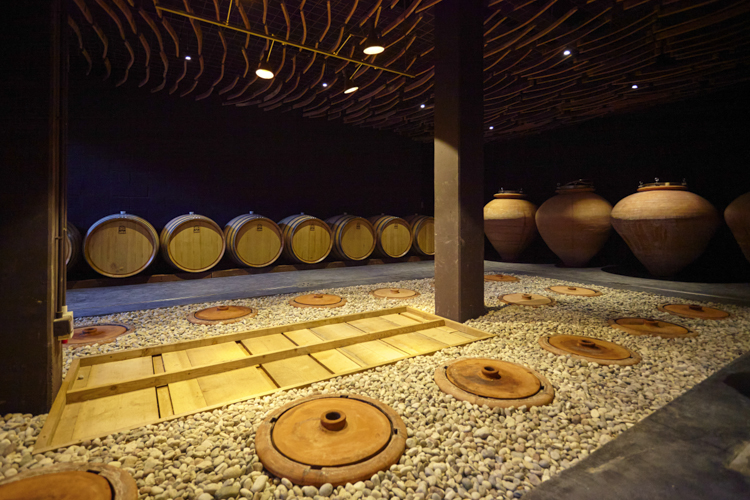 Downstairs in the cellar is a state-of-the-art installation of sunken and standing terracotta amphorae alongside lines of oak barrels. And the wines made here are certainly distinctive, as winemaker Mario Pirondini, also makes use of cement tanks to age some reds. So prepare for a marathon, eclectic tasting, passing from zero-sulphite cuvées, orange wine, a surprising blend of Pignoletto and Malvasia, a still Barbera rather than the expected sparkling. And these are not winemakers jumping on the amphorae bandwagon, as is often the case today, as Corte d'Aibo started using them in 2010, and have 22 amphorae today. A serious investment for any winery.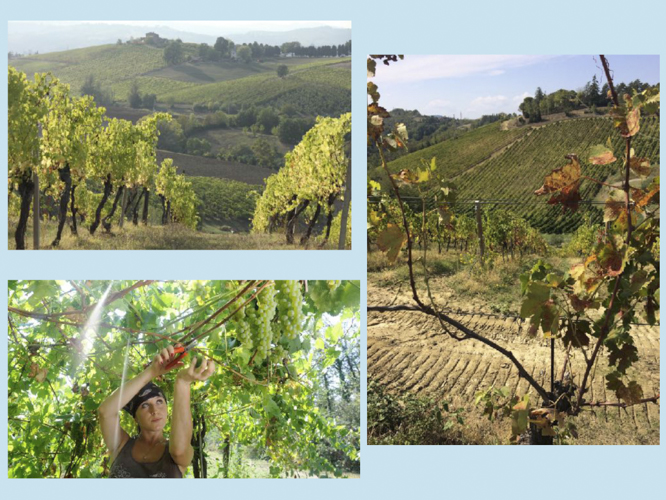 The busy highway into Bologna runs right past the Lodi Corazza cantina, though walk through to the back and the urban landscape is immediately replaced by bucolic vineyards climbing up into the hills. This is how close the Colli Bolognesi are to Bologna. And the family have records of the Tenuta selling wines to faithful customers in the nearby city going back to 1726.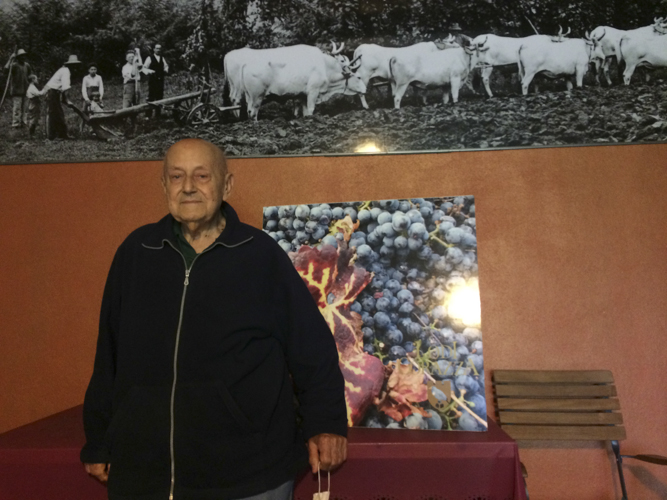 While the family patriarch, 90 year-old Corrado, quietly sips a glass of his favourite Barbera, the present winemakers, his son and daughter Cesare and Silvia, declare how, 'We are proud that this is an historic cantina as we were born here, live here today as our parents do, and we are still farmers as much as vignaioli.' While Cesare heads out on the tractor it is Silvia who oversees an unorthodox cellar, dominated by cement tanks. 'The quality and reputation of our wines, has been born with cement cisterns that we have no intention of changing even though some people visiting the cantina think it is more of a museum and ask out where the modern vats are. The wine simply does not change when it is ageing in the cement, untouched by fluctuations in outside temperatures. And we have some wonderful vintage oval tanks, which are even better than round barrels to ensure that the wine is always in movement.' While their excellent range of sparkling Pignoletto include both a Metodo Classico and natural fermentation, Silvia insists that 'the ultimate interpretation of a Pignoletto is a still wine – complex, elegant – rather than a light drinkable bubbly. For me, our great wines are the still Pignoletto Superiore and Classico Superiore.'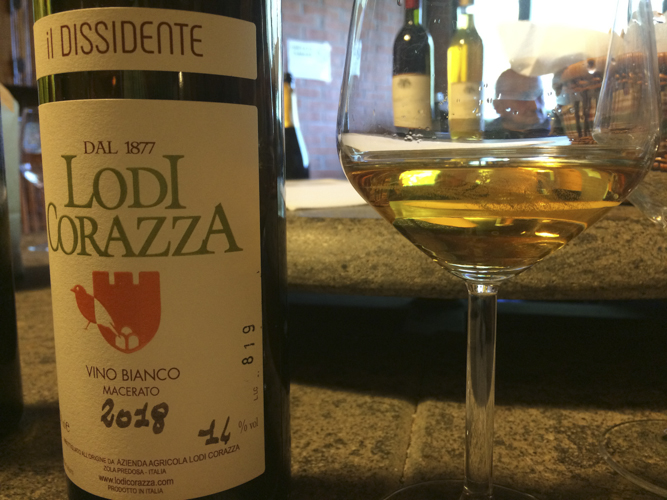 And recently she has pushed the frontiers by producing the very surprising Dissidente cuvée. 'Again this is a pure Pignoletto but the result is a genuine orange wine, even though the grape is white. Harvested late, the wine is left to macerate in an open barrel. We have been making this since 2017, and exhibit at Orange Wine festivals around Europe.'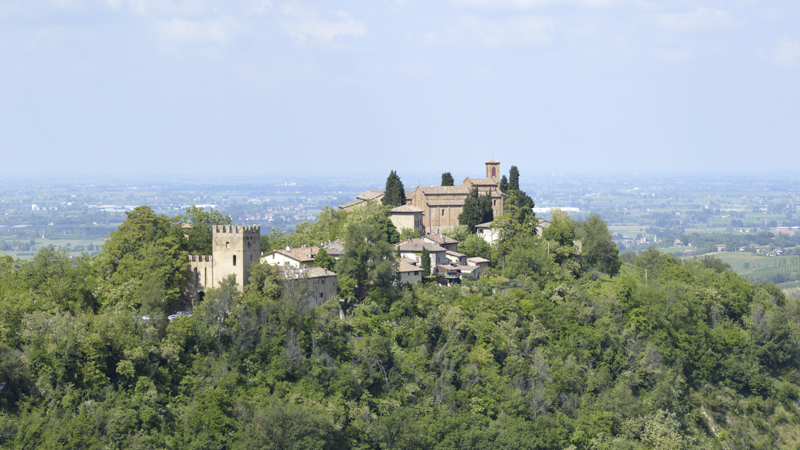 The Chiarli family own one of the largest and most influential wine groups in the Emilia-Romagna region, operating from their historic base in Modena since 1860. And it says something about their commitment to the Colli Bolognesi that they have purchased and built up a single winery, Tenuta Santa Croce, dedicated to the distinctive wines from here. Their 30 hectare vineyard sits on the slopes beneath the iconic Abbazia di Monteveglia, and the state-of-the-art winery and tasting rooms they have created is overseen by a representative of the latest generation, Giorgio Chiarli, along with his brothers Carlo and Stefano.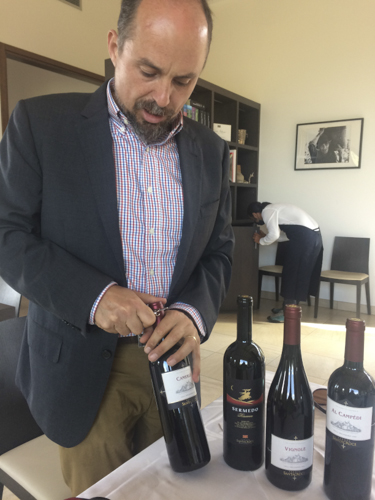 Giorgio typifies the family's no-nonsense, business-like approach when he relates how, 'we bought this estate 20 years ago to valorise, to prioritise, the Pignoletto grape. It makes up 80% of our production here – Spumante Brut Nature with zero sugar added, blending 90% Pignoletto with 10% Chardonnay, a classic Frizzante, using Metodo Charmat but also a Metodo Famigliare, where the wine is bottled, then fermented on the lees with no filtration. And we make two still wines, a Superiore, where the Pignoletto is blended with 10% Riesling, and a 100% Pignoletto Classico Superiore, taken from a tiny terroir that for us is the essence of the grape's potential, a genuine Cru.' The identity of Chiarli has always been closely tied to their region of Emilia Romagna, dedicated not just to Pignoletto here in the Bologna Hills, but other indigenous grapes like Sangiovese di Romagna and their flagship Lambrusco di Modena. And Giorgio stresses that, 'this commitment has been a deliberate choice, because in the 1990's we could easily have taken a money-making direction by bottling millions and millions of bottles of Prosecco.' And the Chiarli commitment to the Colli Bolognesi extends to a personal level as well, as just recently, Giorgio chose to have his wedding at the nearby Abbazia di Monteveglia, looking down right over Tenuta Santa Croce vines.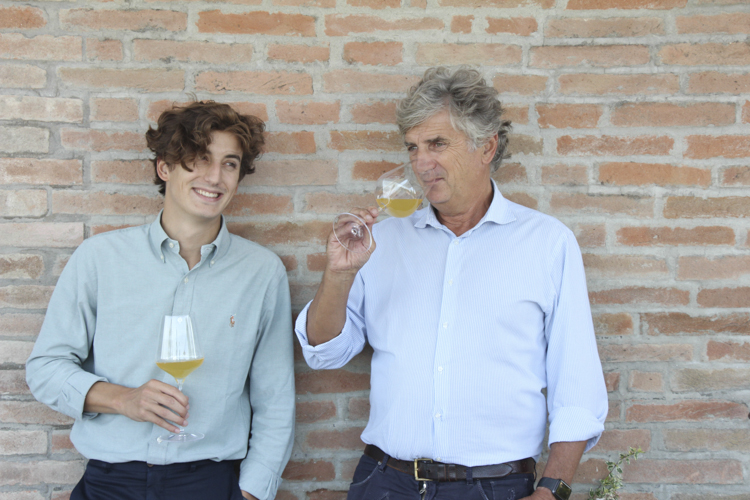 Sandro Cavicchioli is one of Italy's most renowned sparkling winemakers, an expert oenologue who decided 11 years ago to sell the estate bearing his name to the leading international wine group, Gruppo Italiano Vini. But rather than disappearing to enjoy his windfall, Sandro has stayed on as chief winemaker of Cantina Cavicchioli, now an umbrella Cantina Sociale covering an astonishing 4,000 hectares of smallholders spread across the whole of Emilia Romagna. There are 455 hectares of Pignoletto alone, producing some 3 million bottles. Tasting his signature Metodo Classico and Ancestrale bubbly, Sandro explains that he is a winemaker enjoying the best of both worlds, 'because I also founded Cantina Francesco Bellei, with my son Carlo, whose vintages we are tasting now, a garage winery where I am creating some unique sparkling interpretations of Pignoletto from a small organic vineyard. Unlike the Glera grape of Prosecco, Grechetto Gentile is tough and tannic, full of potential for ageing, and even our first naturally fermented vintages in 2009 are exceptional today.'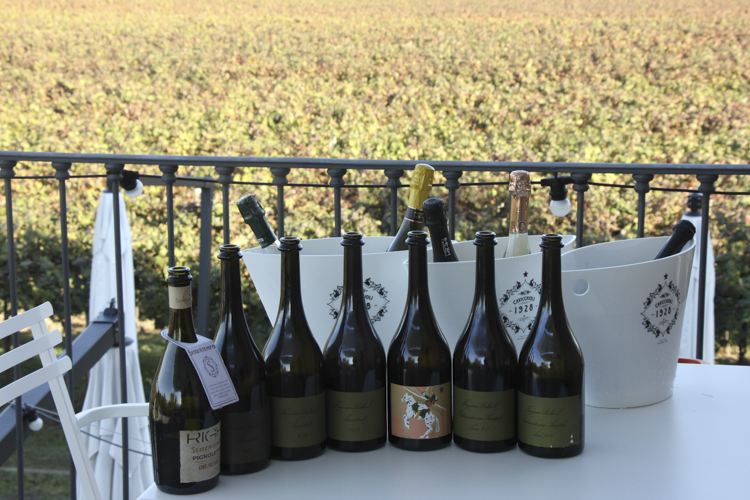 Outside his private winery, the great majority of the Pignoletto that Carlo makes is grown on flat plains rather than the famous Bologna Hills. 'The belief used to be that the Colli produced the good wines while we in the plains made inferior wines,' he states provocatively. 'But the reality today is the reverse, because while the Colli producers still concentrate on selling their wines around Bologna itself, we in the pianura sell Pignoletto across the world, establishing a global identity for the wine. Much of this is to do with global warming, as on the plains it used to be difficult to make a wine of even 8 or 9 degrees. But today our wines are at least 2 degrees higher, increasing quality and meaning we can finally make what I call 'vini veri'.'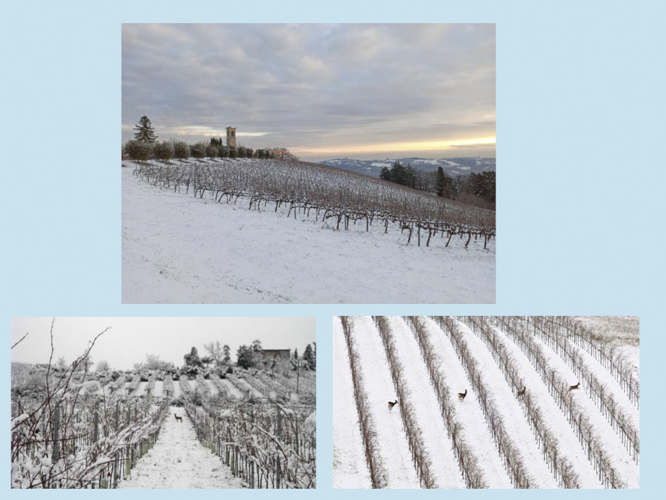 Alberto Zini is very different from most of his contemporary Colli Bolognesi winemakers. He has no background as a vignaiolo, abandoning a successful engineering business to start a new life back in 2013. And his wines are equally different, as he has dedicated himself to making exceptional bubbly Pignoletto, using not the usual Frizzante or Spumante methods but by Metodo Classico, determined to rival even French champagne. 'I wanted to return to my agricultural roots as both my father and grandfather were farmers before I became an entrepreneur,' he recounts.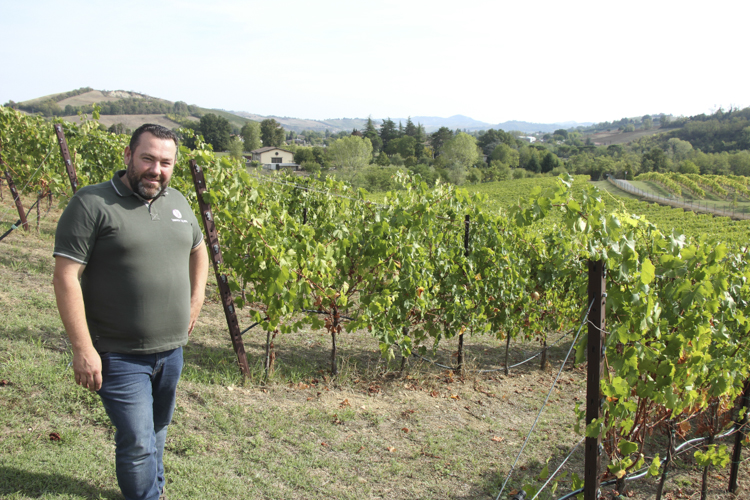 'So in auction, I bought this property and changed my whole life. Look around you outside the cantina, the location is simply spectacular, and I just fell in love with this natural amphitheatre of sloping hills lined with vineyards, mountains and bare rocky outcrops, our distinctive calanchi. From the first day I decided, no Metodo Charmat, no making my bubbly in steel vats the way everyone here does. I want my wines to stand out from the rest, and I have always adored Metodo Classico; fermentation in the bottle, on the lees, ageing for up to 60 months.' Alberto is also single-minded in that 80% of his vines are white grapes, with a massive 70% sold as sparkling. And 2021 will be the first year the 13 hectare vineyard is Certified Organic.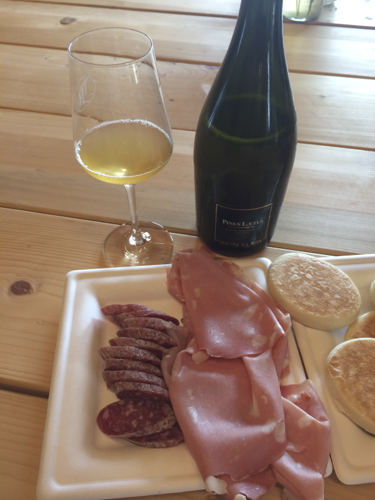 Apart from his flagship Metodo Classico range, which also includes surprising Trebbiano and Chardonnay cuvées, he yields to tradition with an excellent Pignoletto Frizzante, naturally fermented in the bottle, but insists that, 'all my wines, still and sparkling, are aged at least 24 months in the bottle as I refuse to sell young. Simply because I know my wine is better when it has been properly aged, and I want my customers to appreciate the wine at its best.'
Eat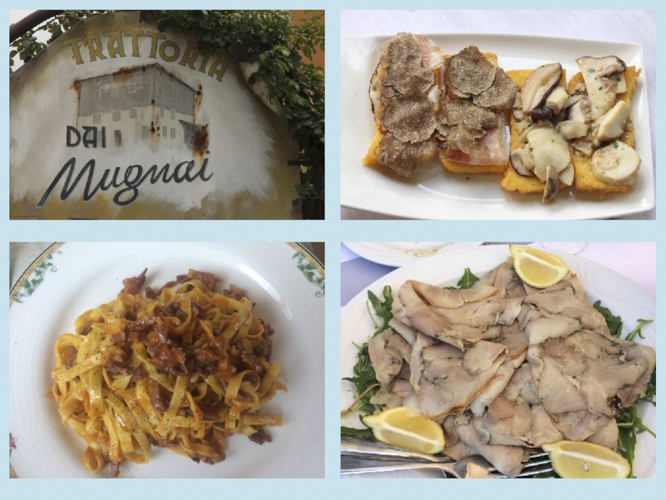 Hidden away in the medieval burg of Monteveglio, a feast of salami, prosciutto and formaggi adorn the ancient marble bar, while the menu offers the adventurous foodie the chance to savour Bolognese specialities like grilled gnocchi, traditional tigelle fried scones topped with creamy mountain lard and squacquerone cheese.
Housed in an ancient red-brick grain mill, don't miss the deep-fried polenta smothered with prosciutto, thinly sliced truffles and chunky porcini mushrooms, followed by traditional ragù bolognese, slow-cooked for at least 7 hours, with either tagliatelle or gramigna pasta.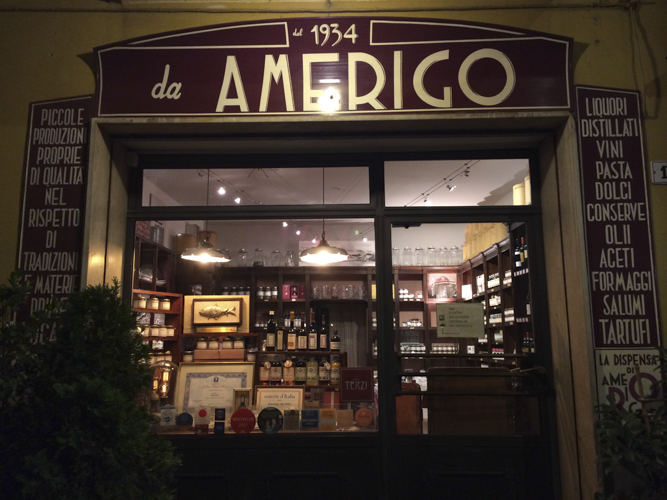 Part foodie delicatessen and cantina, part vintage trattoria, it is no surprise that Michelin decided to bestow one of its precious stars on this unique locale on the high street of picturesque Savigno.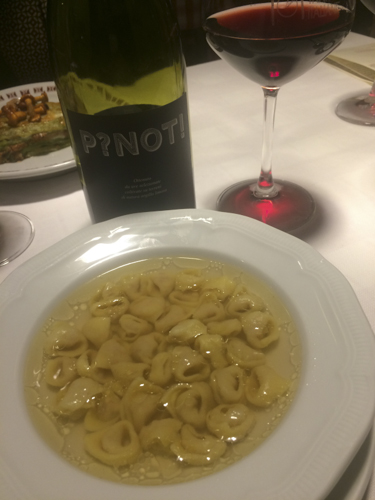 Some signature dishes have been on the menu for 30 years, so try succulent rabbit roasted with balsamic vinegar, pan-fried calzagatti, polenta, with pickled vegetables and the best tortellini in brodo. They offer accommodation too.
Where to Stay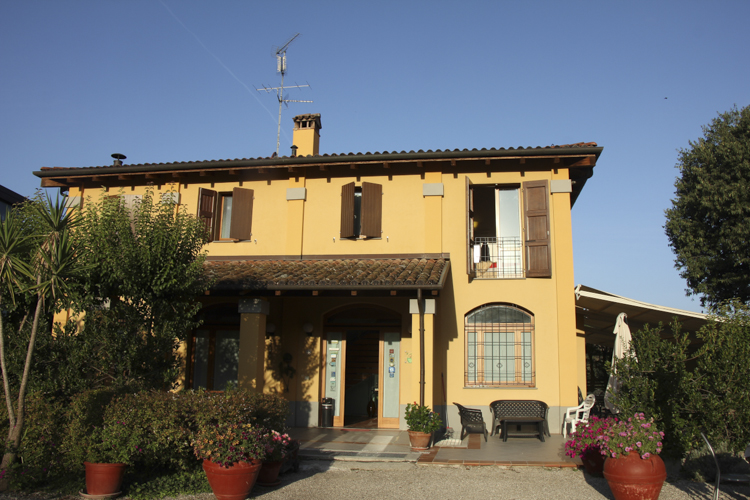 A classic Colli Bolognesi agriturismo, with simple but comfy rooms, beautiful vineyard landscapes, a friendly cucina casalinga taverna, and the chance to taste the estate's vintages with legendary 91 year-old winemaker, Carlo Gaggioli