INTRODUCTION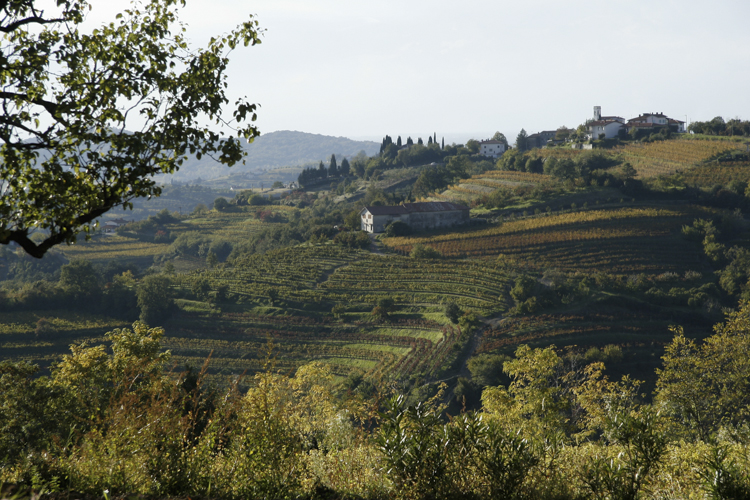 Just an hour's drive north east of Venice, in the heart of the rugged Friuli countryside, the rolling vine-clad hills of the picturesque Collio region, with a remarkable clay and sandstone soil,  produce some of Italy's greatest white wines and surprising reds too. This wine trail runs for 50 kilometres from Dolegna del Collio, past the unofficial wine capital of Cormòns, as far as Oslavia and Gorizia, sitting right on the frontier with Slovenia. It is the perfect destination for enthusiastic wine travellers, who are warmly welcomed in friendly family-run cantine, many of whom now offer comfy b&b accommodation, while tastings with the local vignaiolo are invariably accompanied by delicious artisan cheeses, salami and smoked ham. What really surprises in the Collio are the contrasts, with  each winemaker following his own ideas, his own passions.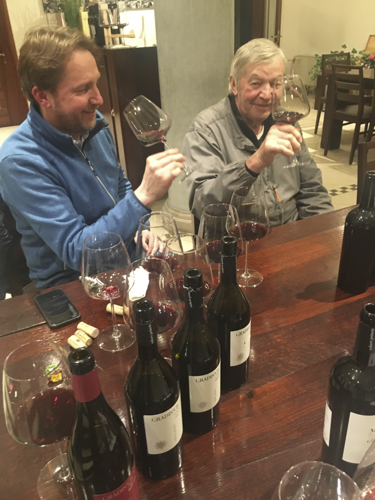 While some of the family-run cantine have grown into ultra-modern wineries producing over 300,000 bottles, at the other spectrum there are committed artisans who  are content to make their living  with 10-20,000 bottles. While some viticolotori concentrate on international grape varieties, like Sauvignon and Pinot Grigio many see the future as the Collio's own native grapes; Ribolla Gialla, Malvasia and Friulano. In the cantina, techniques range from stainless steel vats to wood barrels or amphora, and while some embrace grape skin maceration to produce distinctive orange wines, now a worldwide movement that found its first expression right here in the Collio, others prefer to make more traditional vintages, often looking to blend grape varieties together for the region's signature Collio Bianco line. And while certified organic cultivation is still taking roots, you will discover a firm commitment for biodiversity and sustainable agriculture along with a low carbon footprint. The distinctive local cuisine is hearty mitteleuropean rather than classic Italian, tasty seasonal fare that is perfect for food and wine pairings; plump gnocchi and susina plums with a fruity Friulano, a rich goulash stew and full-bodied Merlot, crunchy red radicchio and quail eggs with Ribolla Gialla, traditional apple strudel and Picolit, a luscious dessert wine. And all budgets are catered to, from an elegant Michelin-starred dining room to a wood-beamed osteria or rustic agriturismo farmhouse. The website of the Consorzio Collio is a mine of information for wine lovers,  and as you prepare to hit the road, here are a selection of stop-offs for the perfect vineyard trip.

TOP WINEMAKERS TO DISCOVER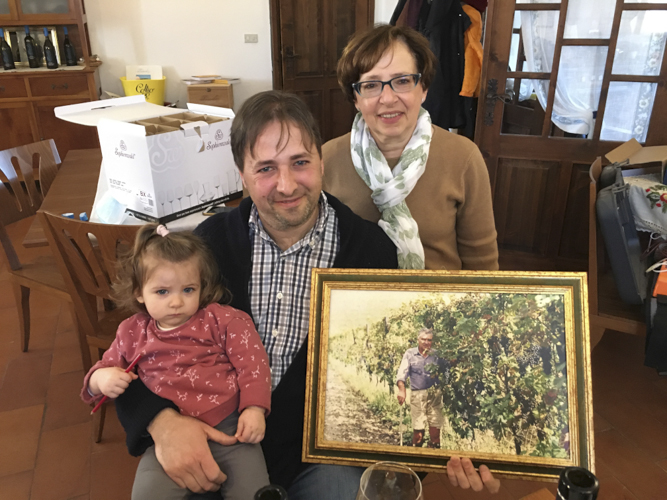 Alessandro Pascolo says he believes in the simple life, and he certainly seems to have created something special for himself and his young family in this idyllic corner of the Collio. 50 years ago, his grandfather, Angelo, who worked in the furniture industry in Udine, invested in 13 hectares of vines and woods surrounding an ancient farmhouse just below the village of Ruttars, which sits at the top of one the the Collio's highest hills. Alessandro still cultivates his grandfather's original 6 hectares of vines surrounding the cantina, the vineyards steeply tumbling down against a dramatic backdrop of snowcapped mountains.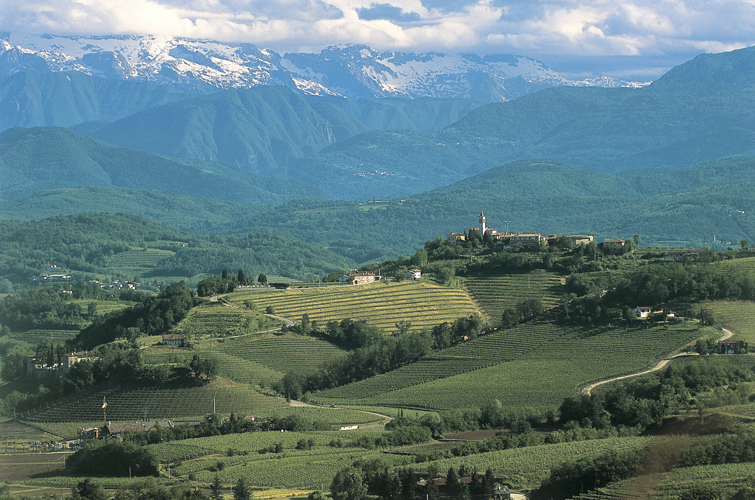 He produces a modest 25,000 bottles a year, of which 30% is sold at the winery, because 'it is very important for us to sell directly to our consumers, to explain our passion, our work. So we are always open for tasting visits and this way people can genuinely appreciate our wines.' And Alessandro is very clear about what kind of wines he want to make – don't expect to see international grapes like Chardonnay as he is totally committed to native varieties like Ribolla Gialla, Friulano and Malvasia.  'In our cellar you will find essentially steel vats, with few wooden barrels. Rather than creating blends, what interests me are single variety vintages to express the maximum identity of each grape and our unique 'territory'. I want clean, fresh wines, with acidity, mineralogy, salinity. This is what our soft clay ponca soil brings – the secret of Collio's quality – and this is what is important rather than technique in the cellar. If you cultivate your grape perfectly, harvest at the perfect moment, then frankly the winemaker should be invisible in the cellar and just let the grape do its work.' And to appreciate the potential of these exceptional wines, be sure to try his new Riserva range, aged for at least 3 years.
Saša Radikon and his sister Ivana are the the third generation of vignaioli at this unique cantina set in the tiny winemaker village of Oslavia. Saša is a gentle giant of man and recounts how his grandfather started off in the 1960's with a few cows, cultivated fields and a small vineyard.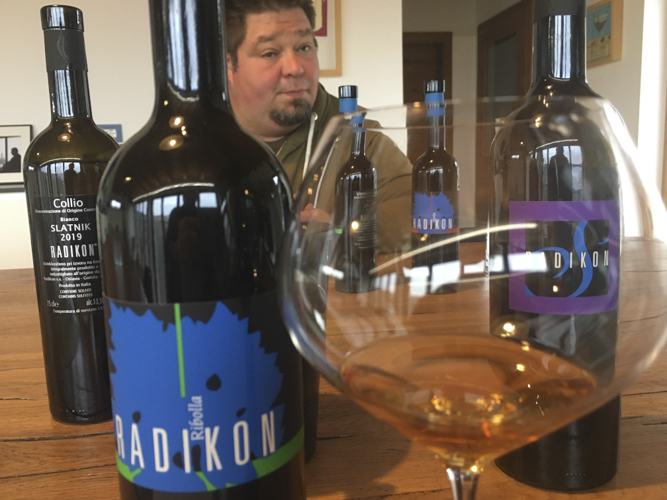 Today the estate is monoculture of grapes with a vineyard  stretching over 19 hectares, producing 70,000 bottles, essentially of what the world now knows as Orange wine, whose colour, distinctive flavour and aroma come from lengthy maceration of grape skins. His father, Stanko, was the pioneer of this movement at the beginning of the 1990's along with Josko Gravner whose cantina is just down the road. While Gravner took the path of using amphora for macerating, the Radikons have always favoured wood barrels. It is easy to drive straight past this discrete cantina as there is no sign on the roadside, 'if we put a sign up there would be people stopping by all the time' say Saša with a smile, 'and that interrupts out winemaking work, so we only do tastings by appointment.'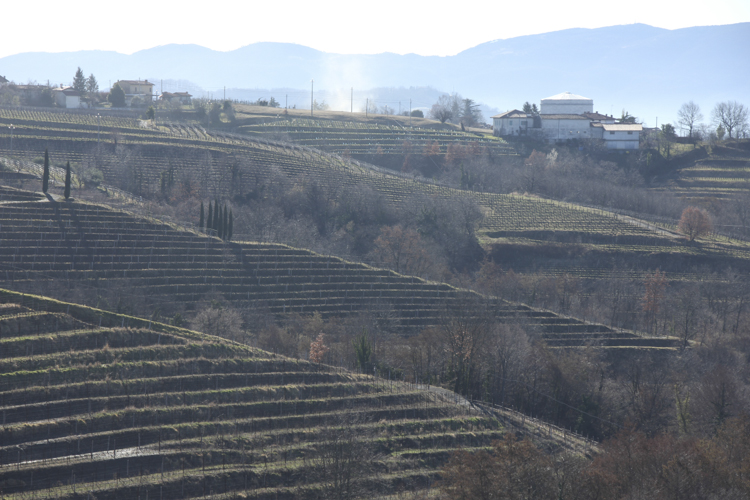 The tasting room offers drop dead views over hillside vineyards, and a visit down to the cellar really gives you the feel of how Radikon's unique wines are made. It is filled with huge old Slavonian barrels, which Sasa and Ivana mount to punch down the macerating grape skins. One part of a wall is left exposed to reveal the unique geological formation of the Collio. 'What you see here is Ponca, a soft crumbly clay that may be poor quality and with little nutrition but which is incredibly rich in minerals,  giving our wines a unique character and quality.' Orange wines tend to divide winelovers into two distant opposing  camps, and Radikon's wines are exported the world over, but as Saša opens bottle after bottle, it is impossible not to be impressed; the Ribolla has incredible red and orange hues, aromas and body, reflecting 3 months maceration, 4 years cask aged then 2 years bottle-ageing, while their Merlot, after similar maceration and lengthy ageing, is like none other I have tasted. A memorable experience.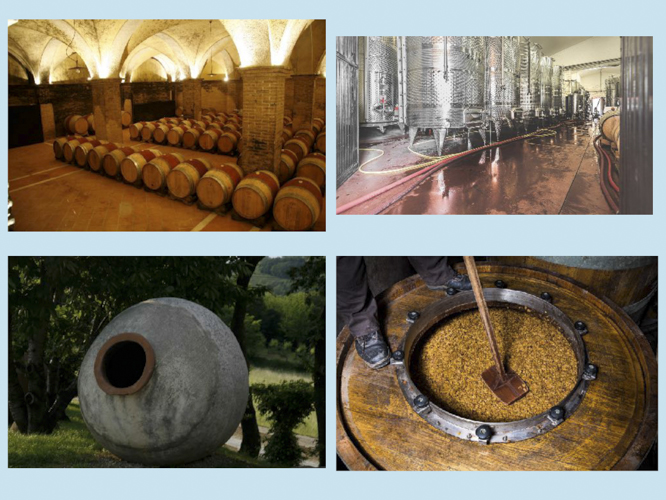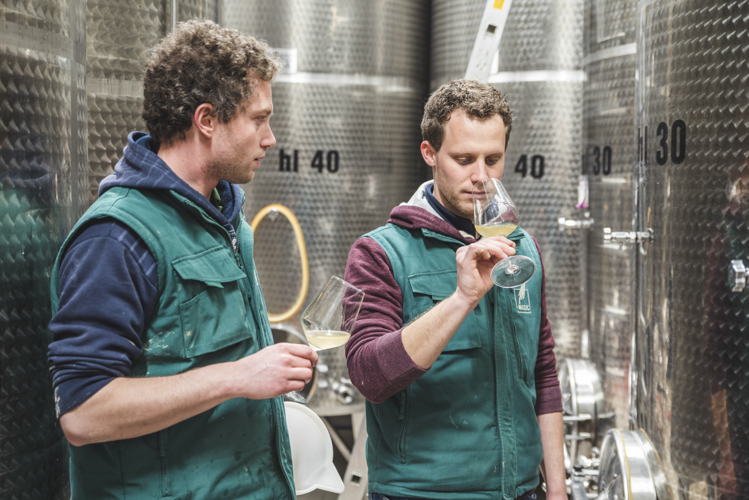 The Muzic cantina is just down the road from Radikon in the neighbouring commune of San Floriano, but it could be in another world when you taste and discuss their highly distinctive, individual wines. Most of their 24 hectare vineyard tumbles down the cantina's steep hillside, with spectacular views as far as Gorizia, and the daily running of the estate is shared by Fabijan and Elija Muzic, two dynamic twenty-something brothers. Fabijan speaks with such incredible passion about his region and its distinctive native grapes, that it would be easy to describe him as Mr Autochthona. 'Although we propose a selection of wines with international grapes like Chardonnay and Sauvignon, some 70% of our production comes from 3 white autochthonous grapes of our unique territorio: Ribolla Gialla, Friulano and Malvasia.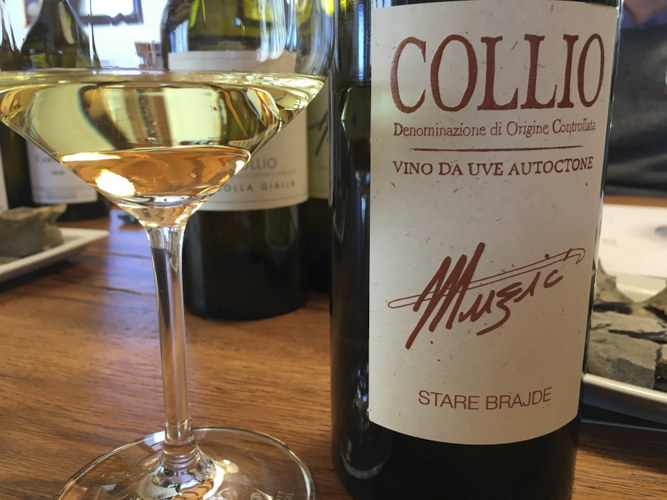 When we are planting new vines we never buy clones from nurseries but create our own from the vineyard itself so there is no outside influence. We are working to create our own yeast from the vineyard and also plan to have our barrels made from local wood, which has to be better than the easy choice of buying French oak. This a traditionalist winery, where we try and give each grape its own personality. So our cellar is essentially stainless steels vats, including small tanks for experimental microvinications.  Don't look for amphorae or cement eggs, and don't expect to taste any orange wines, which for me, express first and foremost the maceration rather than the specific grape variety. When tasting orange wines I honestly have no idea what the grape is, be it  Malvasia or Friulano. But that does not mean I do not respect neighbouring vignaioli who may make orange, natural, organic and biodynamic wines. And on a Sunday, when I go the the local osteria after Mass, well I want to enjoy a glass with everyone as long as we all taste and respect each others wines.'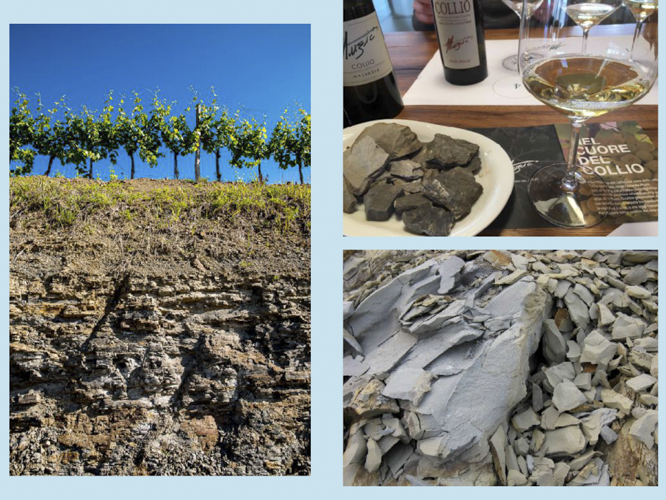 From the family home in the village of Dolegnano, where  their main cellars are still based, the Livon family have built a genuine wine empire that produces some one million bottles, stretching across the Friuli vineyards of Collio, Colli Orientali, Grave di Friuli and on to Tuscany's Radda in Chianti.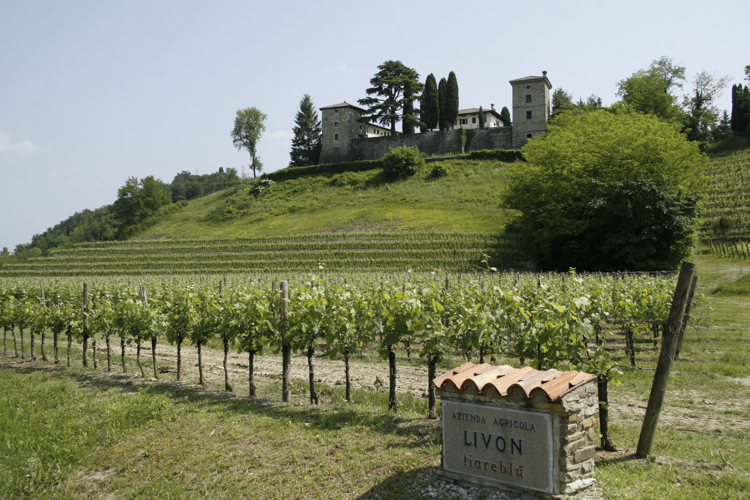 Livon's heart and soul is located where they first began, specifically on the highly-prized vines that cling to the steep slopes below Ruttars. And the perfect place to taste a selection of their elegant refined wines is on the panoramic terrace of the family 'acetaio', a barrel-ageing cellar for wine and balsamic vinegar. Selecting a bottle of their signature Braide Alte, Matteo Livon, the third generation running the winery, recognises the priceless heritage the family received from his grandfather. 'Nonno had the foresight to realise that Ruttars was the optimum location in Collio to create vineyards that would produce quality wines. He was a visionary whose last words to his sons were – never sell our land. And we have always believed in the potential of the soil here, the altitude, the cooling winds.'  Braide Alte is certainly an exceptional white wine  blend, which Matteo explains, 'is the ultimate expression of Livon's winemaking philosophy.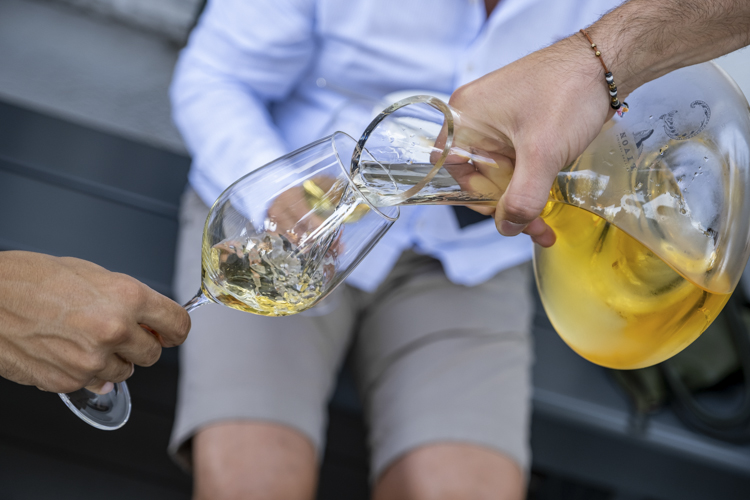 A small single Ruttars vineyard, around 1 hectare, was created in the 1990's,   planted with Sauvignon, Chardonnay, Picolit and Moscato Giallo. There are 4 individual harvests for each grape spreading over more than a month, with barrel-ageing of some 13,000 bottles.' And now a new generation of wines will mark the future of Livon, with a young oenologue advising Matteo, the innovative Giovanni Gessio, and ambitious plans for, 'a new cantina, a cellar where we want to create a series of options for our winemaking, spanning stainless steel, cement and amphora.'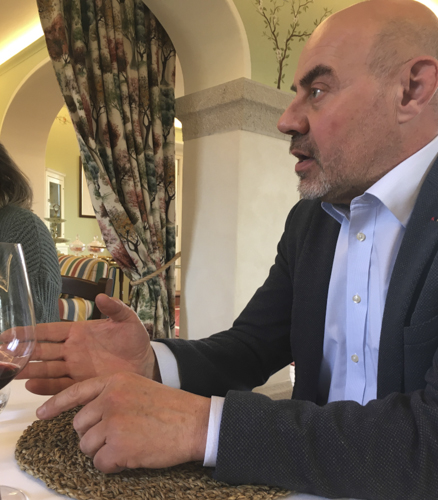 This historic Collio cantina and its magnificent 19th century mansion,  is personified by its respected oenologue, Paolo  Corso, who has been overseeing the winemaking here for over 30 years. He is the beating heart of today's modern, dynamic wines and an historical reference for a tenuta that has gone through many changes under his supervision. Paolo recounts how, 'The founder of this winery, Giovanni Vescovo, was a visionary who was instrumental in the establishment of Collio's DOC status, one of the earliest in Italy. He started in 1975 with one hectare producing 10,000 bottles and today the estate spreads over 30 hectares, producing some 300.000 bottles.' Vescovo sold the winery in 2002, and today it has recently become part of the Villa Sandi group, one of Italy's major Prosecco producers, who are committed to promoting and supporting Borgo Conventi's identity, including new wine launches like a Pinot Nero and an excellent white blend, Luna di Ponca, dedicated to the Collio's distinctive Ponca soil.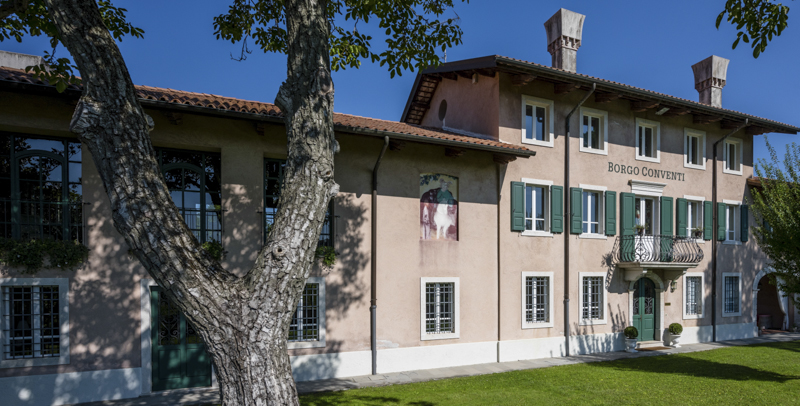 As Paolo says, 'Most of our team have been here more than 30 years, quietly running the winery like gardeners carefully keeping the garden perfect, waiting for the arrival of dynamic new owners like Villa Sandi who are committed to potential of the estate.' Paolo's vision of oenolgy has created some very distinctive wines here. Against current trends, he uses very little maceration, preferring to ensure freshness, and bemoans how 'increasing global warming creates intense grape maturation that almost makes it too easy for Collio winemakers to make what everyone loves calling 'important' high alcohol vintages.'  This thoughtful winemaker also adds that, 'on a personal level I feel Friuli is a difficult region to implement organic cultivation. The climate is problematic with too much rainfall, meaning to comply to organic rules there are too many treatments with high carbon footprint every time you take the tractor out.'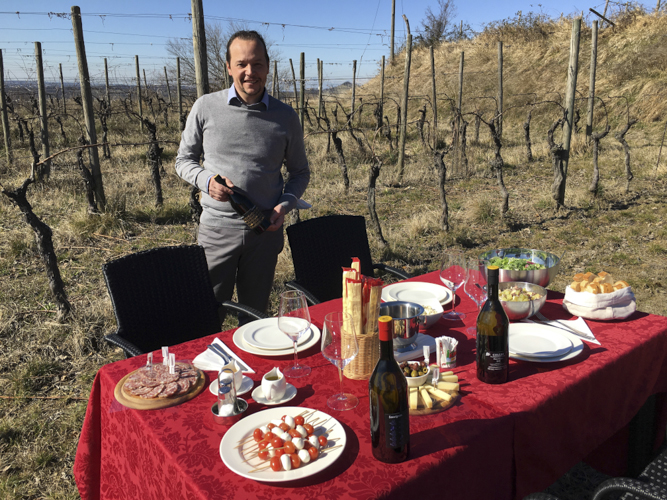 Lucio Bernot is a delightfully eccentric, welcoming winemaker, ever ready to set up a table in his picturesque vineyards for wine lovers to taste his latest vintages accompanied by a hearty plate of local prosciutto and cheeses. Pulling the cork of a chilled bottle of his excellent Malvasia, he states that,'I am proud that our tenuta has been able to welcome oenotourists to stay since 2006, and I only wish more wineries would open guest rooms, not to sell their own wine, but to sell our Collio region to tourists. This is better than any advertising or publicity to promote our wines.' A tiny backroad behind Ruttars village brings you out to a rather grand 16th villa encircled by sloping vineyards,  that contrasts with a very modern wine cellar.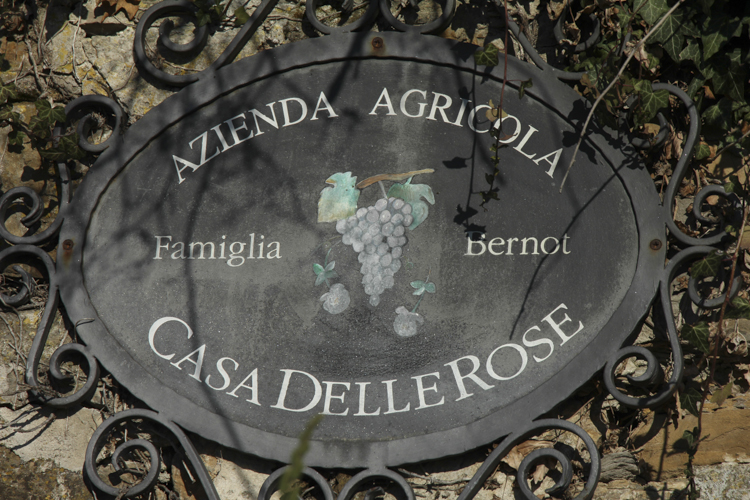 The Casa delle Rose dates back to just 1993 when Lucio  and his mother made their first vintage. 'I was only 14 then, but started work straight away in the cantina. We began with mainly international grapes, but since I took over in 2008 I have followed my own philosophy. We only cultivate 2.5 hectares, producing 12,000 bottles but I have moved firmly to our local autochthonous grapes. First I dug up mamma's favourite Chardonnay to plant Malvasia, while this year it is Ribolla Gialla, and then Friulano.' Lucio's wines are uncomplicated  and eminently drinkable. He explains that, 'I am happy with my small vineyard and most importantly, happy with the quality of the wines we produce. You will find they are all around 13° alcohol because I am against the historic trend here to create so-called 'important wines' – important just because they are over 14° alcohol. That is not my way of thinking as I am looking for freshness and mineralogy rather than potent, full-bodied vintages.'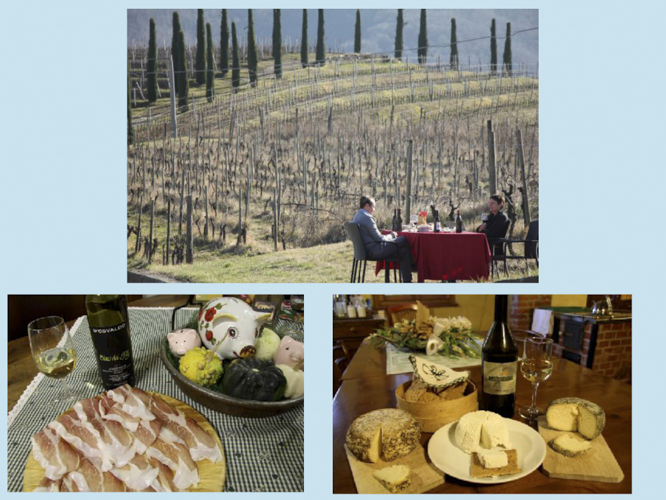 This quintessential family-run tenuta sits in the idyllic hamlet of Pradis,  atop a vine clad hill overlooking Cormons in one direction and Slovenia on the other. There are only 8 houses in Pradis and each one is a winery.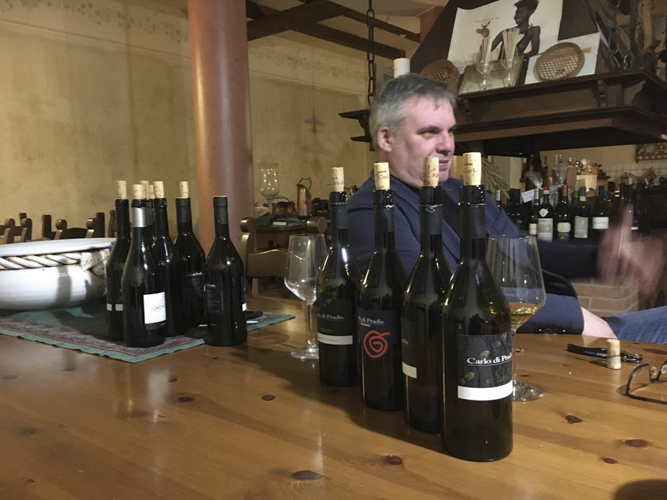 'Welcome to the wine republic of Pradis' says David Buzzinelli, as he recounts how his grandfather bought this farmhouse just after the Second World War. Like many people in this border zone between Italy and Slovenia, David and his family speak Slovene at home and he reveals that their name was 'Italianized' from Bužinel during the era of Mussolini. David and his brother Boris inherited the estate in 1992, when he was just 21. Today they run a 15 hectare vineyard, and their modern cellar houses essentially steel vats, with little wood-ageing, reflecting how David has very clear ideas about the wines he wants to make.  'In 2010 we decided to make only white wines in our Collio vineyards, and although we follow responsible, sustainable agriculture, because the vineyard surrounding our house is like our garden, I am not convinced about the necessity of certified organic.' The cantina presents a small, quality selection of single variety, whites but no bubbly Ribolla Gialla, another band wagon David does not intend to jump on. However, when he opens a 2001 vintage of their Collio blend, you can see his pride in the quality of colour, aroma and expression the wine still retains after 20 years. Unlike many of his neighbours, he has not created an agriturismo to host wine tourists, but says he is waiting for his 16 year old daughter to decide if she want to run that business later on. Likewise a tasting room is on his to do-list, but visitors are still warmly welcomed to try wines in the farm's unofficial 'tavernetta', originally created for serving meals to grape-pickers doing the harvest.
Driving along the highway between Cormons and Gorizia, you can't miss the majestic Spessa castle as it dominates the bucolic vineyard landscape with its distinctive red-brick turrets and towers.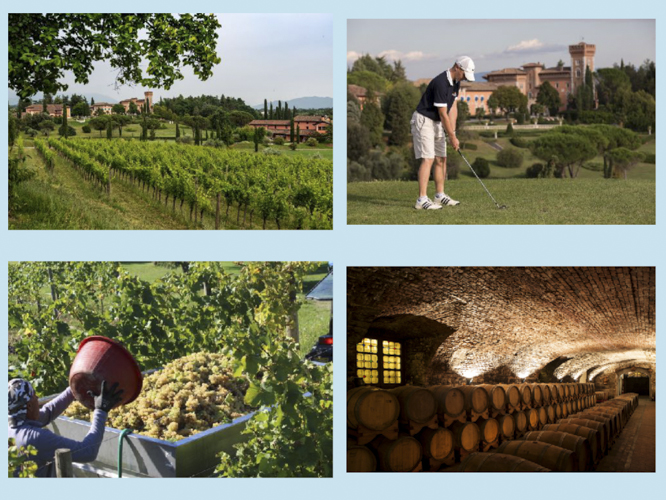 But it also stands out as a world-class wine resort. Spessa's 100 hectare vineyard  spreads from the Collio across to Isonzo, and the Castello has been transformed into a showcase for the wines produced here, offering a total immersion for wine lovers A Vinum Spa uses exclusive vinotherapy beauty products created from the Castello's wines, and tastings can even take place during treatments and massages. Part of the castle's magnificent gardens have been transformed into a sprawling 18 hole golf course, with a fun osteria clubhouse for relaxing afterwards. For wining and dining, there is the gourmet Tavernetta restaurant,  a casual bistrot, as well as the possibility for a tasting either in the castle's plush salons or down in the medieval cellars which today are used for barrel ageing. And then there are 45 rooms and suites for a romantic winelover holiday.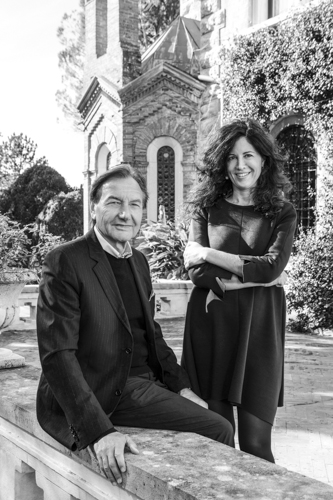 Loretto Pali bought Castello di Spessa back in 1987, as a means to diversify his business empire which was based on making designer furniture. His wife Barbara admits that originally, 'it was a business decision rather than because of a love of wine. But over the years, Loretto has become passionate about the world of wine. When we first bought the Castello it was seriously run down and over 25 years we have renovated and transformed every single part of the property. Today we live with our 7 year-old daughter in one wing of the building and the atmosphere with staff and guests is very much of one big family. The winemaking is overseen by Enrico Paternoster, a Trentino oenologue, who surprises with  the likes of a fruity Pinot Nero or an elegant 2016 Metodo Classico bubbly, aged for 40 months on the lees. Not what you would expect in Collio.
A tasting in the welcoming Gradis'ciutta cantina is an opportunity to see the past, present and future of Collio winemaking. Robert Princic proudly recounts  that, 'we are a genuine MittelEuropa family that cross the borders of Italy, Slovenia and the former Habsburg empire.'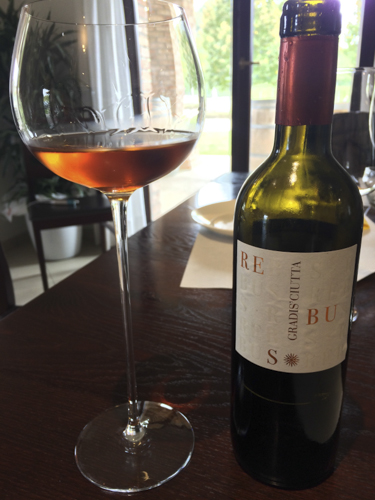 The winery is in the rural village of Giasbana, just outside Gorizia, and Robert recounts how his grandfather, Franz, began the long journey from being a contadino to viticoltore. 'He was a mezzadro, a sharecropper for the local nobility until opting out of this semi-feudal system to be an independent subsistence farmer. My father, Doro, took over in 1972, started renting plots of vines. Although he made his own wine, it was sold in bulk and he never had a bottle with his own name. The day I graduated from my agriculture and oenology degree he did not even ask about the result but just said that now was time to come back to work in the cantina. So I took over in 1995 and the first bottled vintage with my own personality and identity was in 1997. Then we had 10 hectares, and today Gradis'ciutta stretches over 40 hectares, that I can proudly say are 100% certified organic, no easy achievement in Collio, and something I am committed to not just for the quality of the wine but the health of my workers who have suffered too long from the indiscriminate use of chemicals in the vineyards.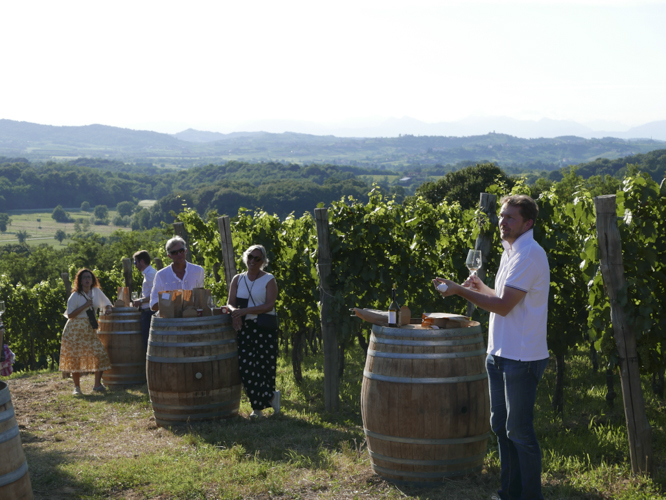 This year we will open our own wine resort, Borgo Gradis'ciutta, the final piece in the jigsaw of my dreams and ambitions, a 16th century country mansion transformed into an elegant 12 room guesthouse.' Tastings tend to concentrate on Robert's flagship white wines, including Ribula, a unique frontier vintage whose grapes are grown on Slovenian vines across the border in Brda, but vinified here in Giasbana. But save some time for the intense Cabernet Franc and Merlot, which are a reminder that the Collio has a terrific potential for red wine too.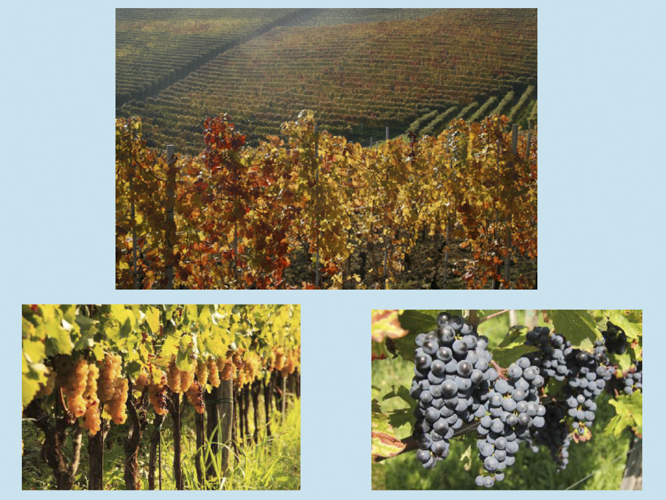 Where to stay
The perfect way to discover Collio and its wines is to book a stay with a winemaker, and today travellers are spoilt for choice all over the region.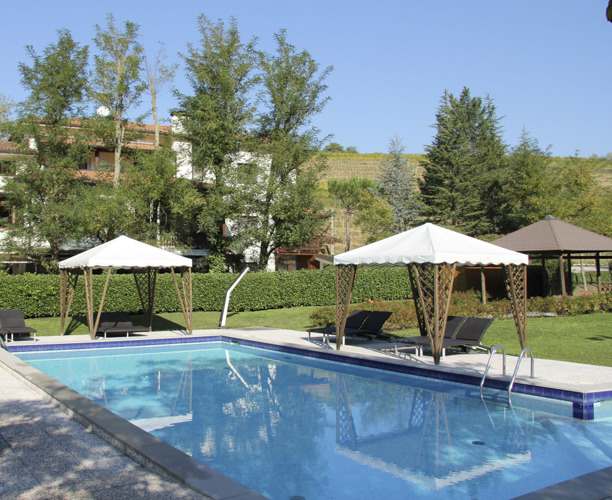 Pioneers of this ecotourism initiative were Gianni and Giorgio Venica, who opened their relaxing wine resort in 1985, with tasteful rooms and appartments in a country house, pool and tennis court, and tastings in the cellar with the family.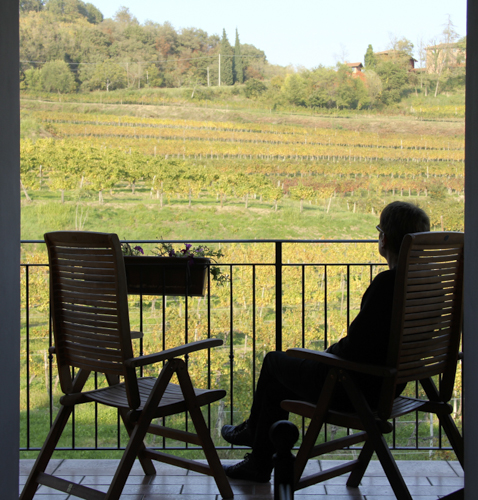 Guests are really made to feel part of the Picech family, from Alessia's splendid morning breakfast through to early evening wine tastings with Roberto. Fabulous vineyard views from the rooms and apartment. Bikes to hire.
Where to eat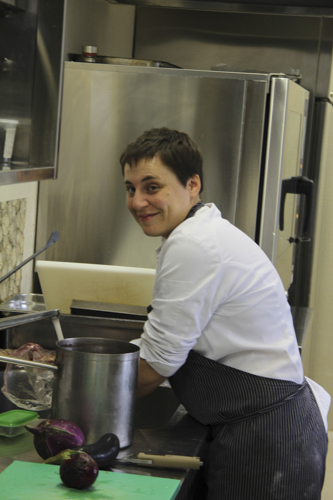 Michelin-starred chef Antonia Klugman has created her own corner of paradise with a modern minimalist restaurant showcasing her creative cuisine. Don't miss the wine pairing tasting menu with dishes like sage risotto or beef carpaccio stuffed with bone marrow and black cabbage.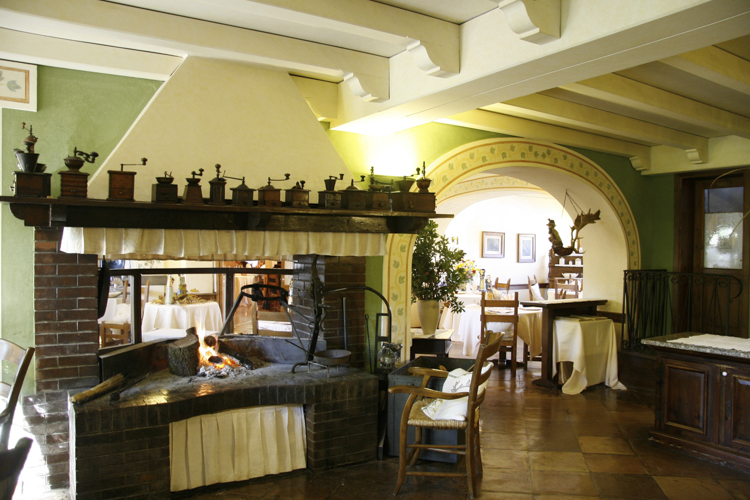 La Subida is a Collio institution where the welcoming Sirk family are renowned for their hospitality, be it luxurious guesthouse cabins, hearty Friulano specialities served in their rustic Osteria, or sublime gourmet creations like deer filet topped with trout eggs of chef Alessandro Gavagna in Trattoria al Cacciatore.
Artisan vignaiolo Ferrucio Scubin has created a cosy restaurant and comfortable guest rooms to welcome winelovers and showcase his Collio vintages accompanied by a cuisine that blends Friulano, Italian and MittelEuropa influences, with delicious dishes like wafer-thin prosciutto wrapped around creamy celeriac with a tangy horseradish sauce.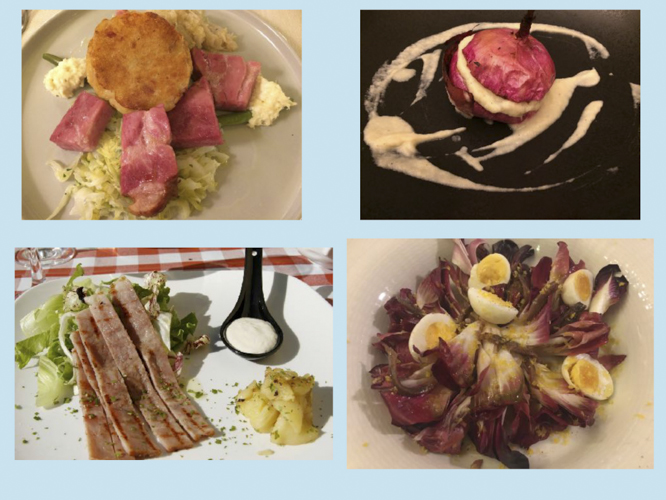 What to do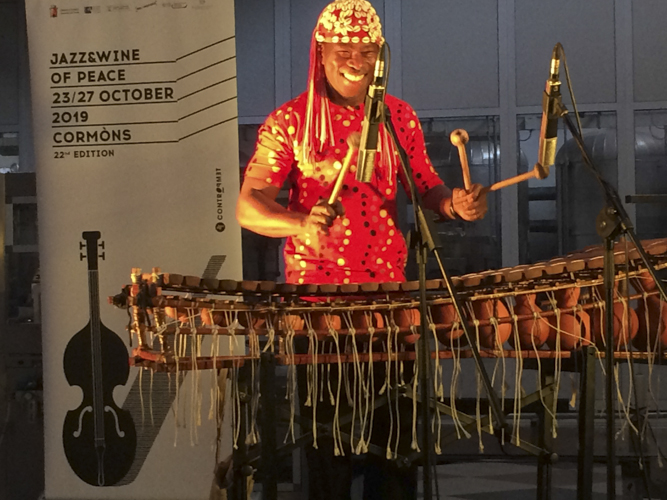 The unofficial capital of the Collio vineyards is the perfect place to taste Friulano, Ribolla Gialla and Malvasia alongside local winemakers at lively locales like Enoteca di Cormòns and Il Cantiniere. Don't miss the brilliant music festival, Jazz&Wine of Peace , and cantina visits during Enjoy Collio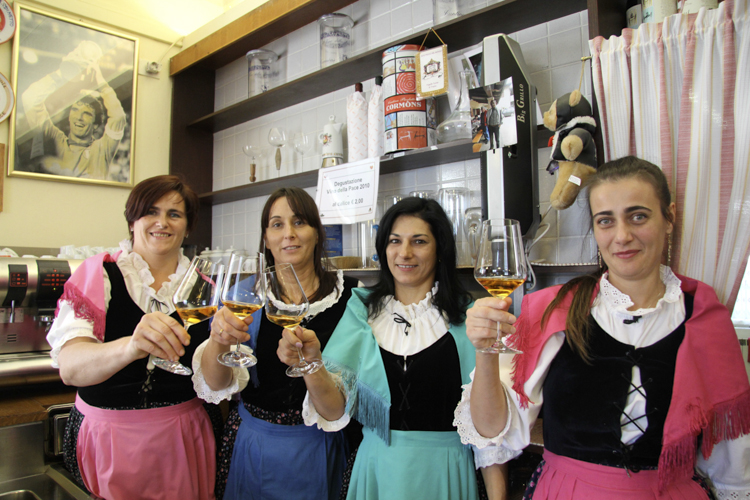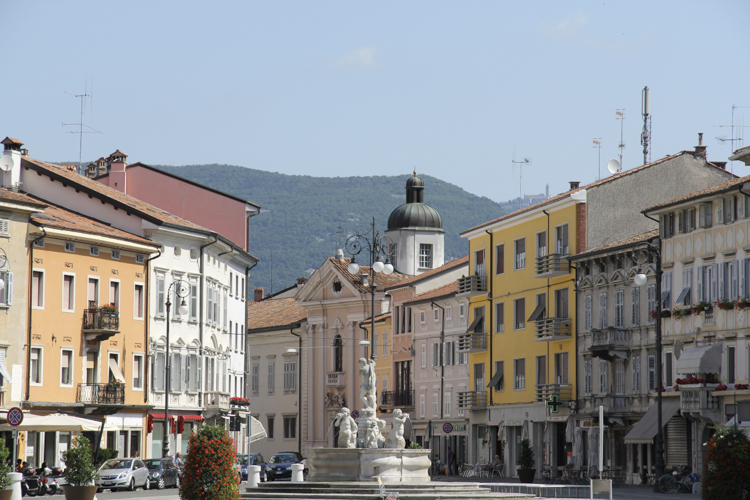 Historic frontier city between Italy, the Habsburg Empire and ex-Yougoslavia, literally divided in two like Berlin at the end of World War Two, Gorizia will take centre stage along with Nova Gorica in Slovenia in 2025 as a unique European Capital of Culture. Taste the cosmopolitan flavours of this unique region at the annual food festival, Gusti di Frontiera