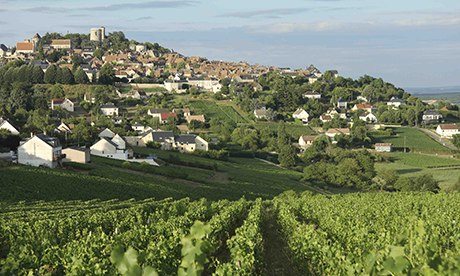 The town of Sancerre, a grand medieval hill town with a rich winemaking heritage.
Sancerre is a firm fixture in restaurants and wine bars around the world and a trip into its vineyards – only a couple of hours drive from Paris – offers the chance to explore one of the most welcoming regions in Francefor wine lovers. Sancerre itself is a grand medieval hill town, with dozens of cafes, bistrots and "caves" to taste wine in. Set off into the countryside, and every winery is open for visits: as a sizeable part of their production is sold directly at the Domaine, with loyal customers often coming back for decades. Best known for its crisp sauvignon blanc, Sancerre has increasingly high-quality pinot noir and rosé too, and there is an exciting new generation of little-known vignerons to discover, many working to make organic wines. It is also well worth going to the adjoining Menetou-Salon appelation – whose vineyards are coming out of the shadow of their noisy neighbour and producing some outstanding wines.
---
WINEMAKERS TO VISIT
Domaine Paul Cherrier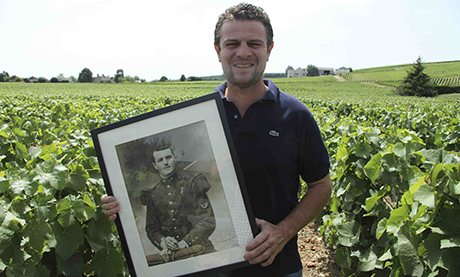 Stéphane Cherrier of Domaine Paul Cherrier with the picture of his grandfatherStéphane Cherrier only took over the family vineyard a couple of years ago, and although he is very respectful of the past – even hanging a photo in the cellar of his grandfather in military dress during the first world war – he is seriously shaking up this small, 14 hectare, estate. Having travelled to vineyards in Chile, Australia and New Zealand for experience, he is on the way to becoming organic and his traditional blanc is sharp and mineral, everything you would expect from a sancerre, and priced at €7.50 a bottle. Stéphane only has three hectares of pinot noir but he is ageing them in a mix of stainless steel tanks and large barrels that bodes well for the future. The Domaine is between the hamlets of Chaudoux and Verdigny, much less well-known than winemaking villages such as Chavignol, but whose vignerons are among the most welcoming you will find in the Sancerrois.
• 
Chemin Matifet, Chaudoux, 18300 Verdigny, +33 2 4879 3728, no website
Domaine Pascal et Nicolas Reverdy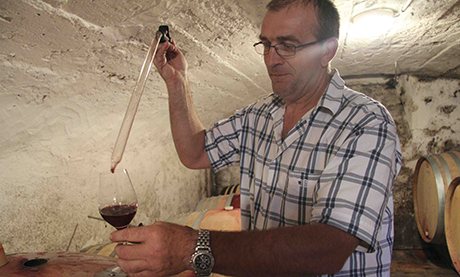 Pascal Reverdy at workMaimbray is well-off the usual sancerre wine route, and although it is best to call first to fix a visit with Pascal Reverdy, it is worth the effort for his spectacular vintages – and he takes plenty of time to explain his winemaking techniques. The sign driving into this picturesque spot says Village de Vignerons and Pascal explains that out of 40 inhabitants 10 families are vignerons. He took over the estate in 1992, when it was still a working farm with grapes sold-off to the local co-operative, and began vinifying and bottling his own wine, aided by his brother Nicolas, who tragically died six years ago. His cellar looks more like a museum, filled with ancient farming tools, and the cosy tasting room is also where the "vendangeurs" have dinner during the grape harvest. It is a surprise that Pascal starts by opening his red wines first, but explains that "sancerre blanc is too aromatic to taste first as afterwards the red and rosé will appear bland".
• 
Maimbray, Sury-en-Vaux, +33 2 4879 3731, no website
Domaine Martin
Pierre of Domaine MartinChavignol is the prettiest of the dozen or so villages that make up the Sancerre appelation, enclosed by two steep hillsides tightly laced with vineyards. These slopes are incredibly difficult to work: to tend the vines and pick the grapes, by hand. The results, though, are fabulous wines, especially the chavignol blanc. Young winemakers like Pierre Martin are now looking to the future by creating an organic vineyard, while he and his wife are also aiming to open a B&B soon. It does not take much to persuade Pierre to jump into his van and drive up to the top of his two finest parcels of vines: Les Culs de Beaujeu and Les Monts Damnés (the cursed mountains). Don't go if you have vertigo though, as the vineyard drops off like the edge of a cliff, with perilous narrow steps linking each terrace. These two cuvées cost €3 or €4 more than his classic €10 chavignol blanc but it is well worth the extra.
• 
Le Bourg, Chavignol, +33 2 4854 2457, no website
Domaine Pellé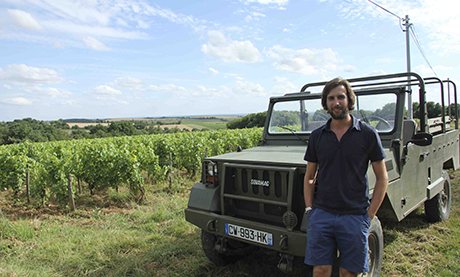 Paul-Henry Pellé of Domaine Pellé with his old army jeepThe Domaine Pellé straddles the boundary between the appelations of Sancerre and Menetou-Salon, with vineyards in both. But forget Sancerre for a moment and take the opportunity to discover the subtle differences offered by a Menetou-Salon sauvignon and pinot noir. The estate is run by 28-year-old Paul-Henry Pellé, who is clearly the star of a new generation of winemakers: making important decisions in the cellar, where he ages in vast tronconic vats, which limit the woody effect as wines age, or hurtling around his extensive vineyards in an old army jeep. He enthusiastically opens up a lot of bottles in the cellar; special vintages from small parcels of vineyards, a range dedicated to the village of Morogues where the winery is based; special cuvées for the different soils that can completely change a wine – the flinty silex compared to the more rounded, chalky "terre blanche". Paul-Henry explains: "Yes, I make a lot of different cuvées – that is what is exciting about making wines, otherwise I would get fed up and bored."
• 
Morogues, +33 2 4864 4248, 
domainepelle.com
---
BISTROTS
Au P'tit Goûter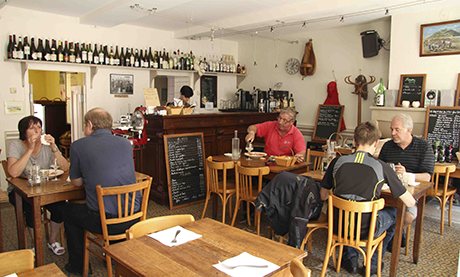 Chavignol's village bistrot reopened at the beginning of this year, now run by the Dubois-Boulay family, previously well-known as affineurs of the famous Crottin de Chavignol goats' cheese. Gilles Dubois-Boulay is a genial host, serving simple local cuisine throughout the day, while a glass of sancerre at the bar costs €2.50. There is a terrace garden with a small wooden stage, and at night, Gilles often gets out his vielle, a local instrument, and jams traditional Berrichon music with a winemaker who plays bagpipes. The place is open all day, every day, "from 10 in the morning till the last customer leaves", laughs Gilles. Dishes such as juicy strips of steak "a la plancha" and a "friture" of tiny deep-fried fish caught in the Loire, are priced from €8.50-€13.50. The choice of sancerre wines is sensational, with vintages from more than 50 different producers at affordable prices.
• Bourg Chavignol, +33 2 4854 0166, no website
Auberge l'Ecurie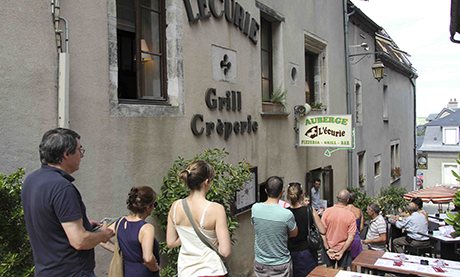 Tourists wandering around Sancerre often walk past Auberge l'Ecurie, with its old-fashioned signs offering everything from pizza to crepes, but to really experience a genuine slice of local life, this is the unmissable address – whether it's to drop in for a drink at the bar or for a hearty meal of regional cooking. You'll find everyone from the wine business here, from viticulteurs entertaining overseas agents to grizzled vineyard workers taking a break from the long hours tending the vines. Chef Daniel Fournier, again from a winemaking family, is expert at traditional recipes such as quenelle de brochet (pike dumplings) or beef cheeks slow-cooked in red wine, while you have to be very hungry to get through his four-course "menu terroir", priced at €21.20. If you prefer a gourmet dinner, then upstairs is La Tour (la-tour-sancerre.fr), a chic gastronomic restaurant where his young son, Baptiste, has just been awarded a Michelin star.
• 31 Nouvelle Place, Sancerre, +33 2 4854 1650, auberge-ecurie.fr
C'Heu l'Zib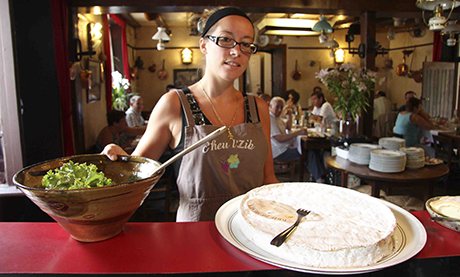 Cheese at C'Heu l'ZibAnyone interested in food should take the 30-minute drive from Sancerre to Menetou-Salon and discover a restaurant of legend: where the recipes and style of slow-cooking have not changed since it opened 75 years ago. There are long tables where everyone sits together; this is not the place for a romantic meal but rather the chance to meet locals. L'Zib is fiercely loyal to the Menetou-Salon vineyards, with no other kind of wine served here and when it comes to the cooking, forget about calories and be prepared for rich sauces and serious portions. After a tasty chicken terrine, the famous 
brochet
 (fresh-water pike) arrives, smothered in a delicious creamy sauce, then a succulent 
lapin à l'ancienne
 that has been simmering on the stove for hours, followed by a dozen different cheeses. The whole table is then covered with different desserts, including a wicked
charlotte au chocolat
. Main dishes cost €15, but for the full experience, sample the €39 six course "menu degustation".
• 
2 route des Aix, Menetou-Salon, +33 2 4864 8120, 
cheulzib.com
---
VINEYARD STAYS
La Côte des Monts Damnés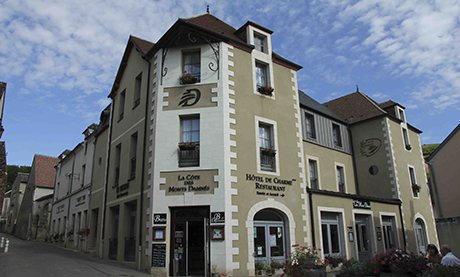 Jean-Marc Bourgeois is the grandson of Chavignol's most famous vigneron, Henri Bourgeois, but he chose to work in the kitchen rather than vineyard, cooking with some of France's top chefs before returning home to transform La Côte des Monts Damnés into the smartest place to stay in the Sancerrois. The hotel also boasts a gourmet restaurant and down-to-earth bistrot packed each lunchtime with winemakers and tourists tucking into local favourites such as coq au vin and a hearty andouillette (tripe sausage) with frites maison. The rooms are elegantly furnished, some looking out over steep vine-covered slopes and Jean-Marc often organises for guests to visit the cellars of winemakers. Surprisingly, he does not push his own family's vintages that much but wants visitors to explore vineyards all over the region – not just Sancerre and Chavignol – so he promotes a different "wine of the week" at virtually the same cost as from the estate.
• Chavignol, +33 2 4854 0172, montsdamnes.com. Doubles from €97, breakfast not included
Moulin des Vrieres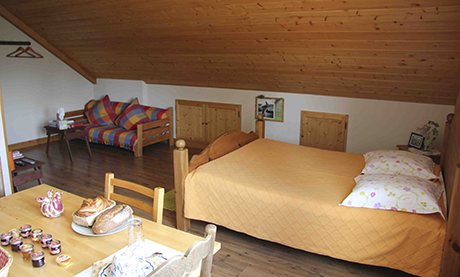 A bedroom at the Moulin des Vrieres B&BChristian and Karine Lauverjat opened their two-room B&B in 2006, and it is so popular you need to book well in advance. Decorated in stripped pine to resemble a mountain refuge, these spacious studios include a comfy lounge and fully-equipped kitchen. Breakfast is ready-prepared in the room, though Karine leaves freshly-baked bread and brioche outside in the morning. She runs a shop in Sancerre, stocked with regional products and souvenirs reflecting this area's reputation as the cradle of sorcery in France. The nearby winemaking hamlet of Bué is known as Witches' Village, and the Lauverjat's produce a wine called réserve du démon. Her husband, Christian, spends a good hour with guests showing them round the cellar, and his classic sauvignon is excellent value at €7.90 a bottle. They also have a Vin de France, made from vineyards 100 metres outside the Sancerre appelation, and that is only €5.50 a bottle.
• Sury-en-Vaux, +33 2 4879 3828, 
sancerre-online.com
. Double room €59 B&B (minimum two nights)
---
REGIONAL SPECIALITIES
La Ferme des Chapotons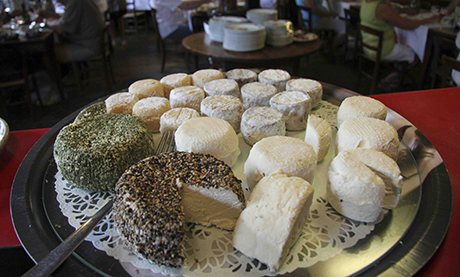 Crottin de Chavignol goats' cheese at La Ferme des ChapotonsThe Crottin de Chavignol goats' cheese is inextricably linked with this region's wine, not just because it is the perfect accompaniment to a chilled glass of white sancerre but as economic salvation for winemakers back in the days when they barely made a living tending the grapes. Although there are cheesemongers all over the Sancerrois, it is much more fun to actually visit a farm, and Patricia Godon's family have been making Crottins for five generations. Although officially retired, she starts at 6am each day producing 600 cheeses, runs the farm's boutique and milks 180 goats each evening. Her sons also have a small vineyard, and their crispy sancerre blanc costs €7, while the Crottin is priced at €1.45 compared with €1.75 in the shops. When the Crottin is freshly made, it is creamy and mild, then the longer it is aged, the drier, smellier and more delicious it gets.
• 
Le Bourg, Menetou-Ratel, +33 2 4879 3638, 
lafermedeschapotons.com
Flybe
, 
Jet2
 and 
easyJet
 offer flights to Paris from Birmingham, Manchester and Glasgow. 
Eurostar
 has trains from London to Paris from £69 return. Car hire was provided by 
carrentals.co.uk
. For more regional information visit 
berryprovince.com
 and for further details on wine visit 
maison-des-sancerre.com