The vineyards outside Cape Town offer superb value, with bottles for under £3. From sunset tastings against a backdrop of mountains to renting a thatched cottage overlooking the vines, we have the lowdown on where to drink, eat and stay.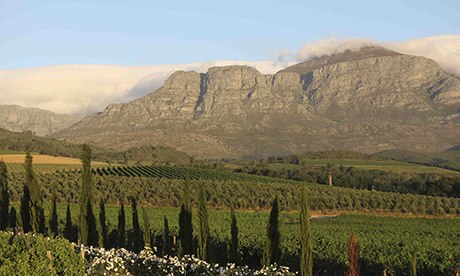 The Cape wine route offers stunning mountain views, while you drink. Photograph: John Brunton
Just a half an hour drive outside Cape Town you are already at the beginning of the Cape vineyards, where cultivation of grapes dates back to the 1600s. Today this is the largest winemaking region in South
Africa
, and organised 
wine
 tourism has become a big business. Estates are large, and every winery seems to offer cosy accommodation, fine dining, casual bistros, gourmet wine pairings and elaborate tastings, which in the more established regions are not free but still don't break the bank at around R50 (£2.80) per session. Most importantly, there is a young generation of winemakers that are producing better and better wines, not just the classic chenin blanc and robust pinotage, but complex bordeaux blends, elegant shiraz and what the locals would call seriously "quaffable" bubbly.
The best plan is to travel independently, call wineries first so you meet the people actually making the wine, and spend time in established wine valleys, such as Stellenbosch and Franschhoek, then explore further afield, including the lesser-known but very welcoming vineyards in the Swartland, Wellington and Tulbagh. The South African rand is weak right now, which means that prices often begin at £2.80 a bottle, while restaurant prices are very affordable – dishes such as tender springbok braised in red wine or freshly-caught seared tuna cost around £5.50–£7.
---
BISTROS AND RESTAURANTS
Franschhoek Kitchen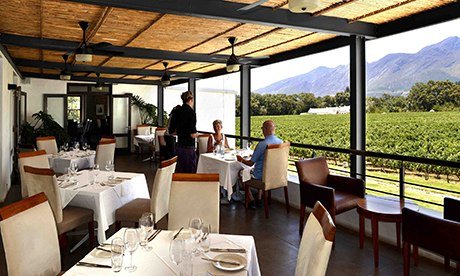 Dining at Franschhoek Kitchen. Photograph: John BruntonTucked away down a country lane just outside bustling Franschhoek, this funky restaurant of the Holden Manz winery has idyllic views over vineyards with a stunning backdrop of towering mountains. Chef Maryna Frederiksen cooks simple, well-priced bistro dishes based on seasonal, locally sourced products, such as pumpkin gnocchi, oak-grilled trout, or slowly braised pork belly paired with sweet potato mash. You can also order a picnic hamper for £9 per person and sit out where the vines taper off by a bubbling stream. Holden Manz is a relatively new estate, but their dynamic 30-year-old winemaker, Schalk Opperman, is already winning prizes for his excellent blend of cabernet sauvignon and franc, and a fragrant rosé that when you close your eyes makes you think you are in Provence. The owners run a hip contemporary art gallery in Franschhoek and rent out five luxury cottages by the restaurant.
• Green Valley Road, Franschhoek, +27 21 8762729,
holdenmanz.com/restaurant
Fyndraai Restaurant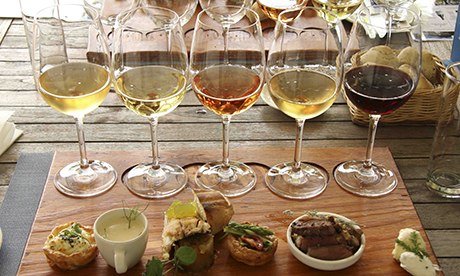 Wine pairing at Fyndraai Restaurant. Photograph: John BruntonThe sprawling 320-year-old Solms-Delta estate sits near the border between the vineyards of Franschhoek and Stellenbosch, and both the winery and restaurant are unique places to visit. Young chef Shaun Schoeman is reinventing classic Cape cooking by mixing ingredients and flavours from native Khoi nomads with Afrikaner and Cape Malay influences. You'll need to ask the waiter to explain local plants like the aromatic koekemakranka, but the food is delicious and many of the rare indigenous herbs and fruits are grown on the farm itself. The four-course heritage menu costs £9.40, or for the same price, choose a wine pairing, where six glasses of the estate's wines are accompanied by six tasty tapas, like smoked snoek pâté (similar to mackerel pâté), chicken broth with wild fennel, braised lamb and a white carrot purée. There is a big effort at Solms-Delta to address the apartheid legacy, with a museum that examines the slave-labour history of the farm, while today, one third of ownership has been handed over to a cooperative of the farm's workers.
• Delta Road, Franschhoek Valley, +27 21 8743937, 
solms-delta.co.za/restaurant
Readers Restaurant
Readers Restaurant is a good spot for a glass of wine – and maybe some unusual homemade ice-cream. Photograph: John BruntonTulbagh is well off the Cape's usual wine routes, a quiet valley with several outstanding cellars to visit, especially 
Rijk's, 
where Pierre Wahl, makes some of the best chenin blanc and pinotage you will taste. Tulbagh itself is a sleepy, picturesque town, where 18th-century Church Street has been immaculately rebuilt after an earthquake in 1969. One of its most beautiful white, thatched cottages is where Carol Collins runs the Readers Restaurant, a favourite local hangout, where she cooks a mix of modern recipes like tuna steak with wasabi butter, and tasty traditional dishes such as bobotie, a unique Cape Malay curry with rice and sambal. This is a great place to taste Tulbagh wines with over 50 local vintages on the wine list. And don't miss Carol's exotic homemade icecreams – flavoured with everything from balsamic to olive oil. Main dishes cost around £5.70, with wines beginning at £3.70 per bottle.
• 12 Church Street, Tulbagh, +23 230 0087 
readersrestaurant.co.za
---
WINEMAKER B&B
Basse Provence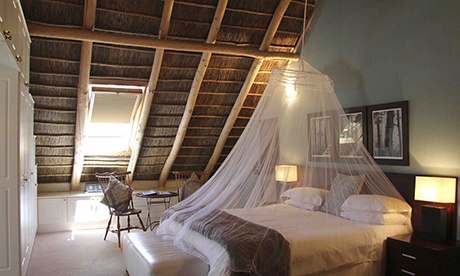 Under the thatches of Basse Provence. Photograph: John BruntonProvence was the name of one of the original nine farms given to Huguenots who settled in Franschhoek (meaning French corner) after fleeing France in 1688, and today the four idyllic cottages of Basse Provence offer one of the best B&B deals in town – comfy and cosy rather than the five-star treatment offered by many wine estate hotels. Looking out over vineyards, the spacious bedrooms of these white, thatch cottages are elegantly furnished in art-deco style with a breakfast room and lounge decorated like a rustic country manor with antiques and paintings. Each cottage has a pool and the obligatory 
braai
, for cooking up a barbecue, while a short path through the vines leads to the cellars of Rickety Bridge, which owns Basse Provence. Ask for a tasting with the winemaker, Wynand Grobler, who makes a crisp semillon, one of Franshhoek's historic grapes, and an excellent MCC – nothing to do with cricket but a methode cap classique, 
South Africa
's very drinkable bubbly.
• Main Road, Franschhoek,+27 21 8762994, 
ricketybridgewinery.com
. Double room from £54 a night with breakfast
Diemersfontein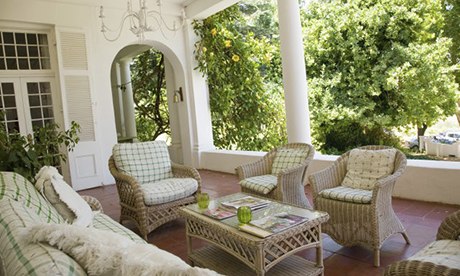 Diemersfontein's manor houseDiemersfontein is the perfect place to stay and explore the up-and-coming wineries that surround the busy town of Wellington. There are reasonably priced guest cottages with kitchenettes dotted around the lush gardens of the estate, but the best idea, with no difference in price, is to reserve in the historic Manor House, where you can taste wines sitting out on a shady colonnaded verandah. The rooms are comfortable, many with four-poster beds and mosquito nets, and guests get the run of the plush family salon, which is like stepping back into colonial days. But the owner of Diemersfontein is anything but stuck in the past. David Sonnenberg is actively engaging his farmworkers in ownership, running a separate wine label and aiding them to buy property in town rather than living on the estate. His wines are radical too, as his cellar master invented coffee pinotage here – putting toasted barrel staves in steel vats to give the rich red pinotage wine a mocha aroma and flavour – which experts treat as heresy despite a huge commercial success. Buy his bargain For The Birds wine (£2.60) and 10% goes to a charity saving seabirds, especially the Cape's endangered penguins.
• Jan van Riebeck Drive, Wellington, +27 21 8645050,
diemersfontein.co.za
. Double Room £52 with breakfast
---
WINEMAKERS TO VISIT
Chamonix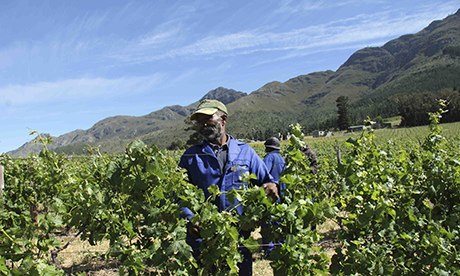 Working the vines at Chamonix. Photograph: John BruntonA new generation of bold thirtysomething winemakers is transforming the bucolic Franschhoek valley into the most exciting region for Cape wines right now, and this is typified by Gottfried Mocke at the stellar Chamonix winery. A narrow road takes you high up into the mountains to Chamonix's cellar, where a 17th-century blacksmiths has been converted into a tasting room and casual restaurant. Call Gottfried first and he or one of his assistants will show you round the cellar, where he experiments with vast oak casks and smaller French barrels, classic steel and cement tanks and the latest trend, Nomblot Eggs weird-looking concrete vats that could be in the next Doctor Who episode. And the wines are diverse too, from a fruity, unoaked chardonnay to a luscious 2009 sauvignon, which Gottfried deliberately holds back "because people here are becoming interested in how wines develop rather than wanting to drink everything young". He also makes a wonderfully supple pinotage, and a pinot noir that could rival a top burgundy wine.
• Uitkyk Street, Franschhoek, +27 21 8768426, 
chamonix.co.za
Glenwood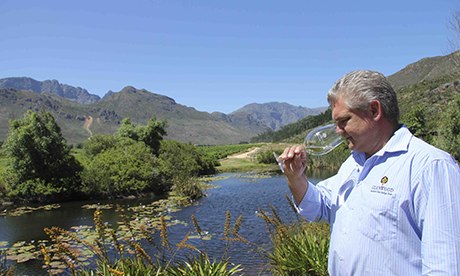 Glenwood winery's waterside setting. Photograph: John BruntonYou have to drive seven kilometres down a dusty dirtroad before arriving at this gem of an estate, hidden in a remote valley away from the main Franschhoek wineries. The place looks like a big country ranch with almost 50 hectares of vines spectacularly enclosed on all sides by steep mountain slopes. The genial winemaker, DB Burger, is very much old-school type, enthusiastic and friendly, and has been running the show here for 23 years. Try his award-winning semillon and spicy, almost smoky syrah. The winemaker suggests visitors call first, "because a tasting here is more personalised than most places, I hope. I try and be available, and there is not the feeling you are being told what to think by some student taster who is repeating comments on the wine that he has learnt by heart."
• Robertsvlei Road, Franschhoek, +27 21 8762044,
glenwoodvineyards.co.za
Nabygelegen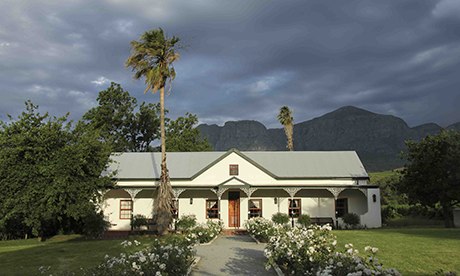 One of Nabygelegen's guest cottages. Photograph: John BruntonJames Mackenzie is typical of the down-to-earth winemakers in the less well-known vineyards around Wellington, where visitors are not charged for tastings and guest accommodation is reasonably priced (see the romantic 1748 cottage he rents out). This gentle giant of a man, always accompanied by a horde of faithful dogs, bought the farm in 2000, with 17 hectares of vines that are mostly 40–70 years old. Rather than ripping them up and replanting – the usual trend here – he prefers to work with the old vines, which means lower yield but higher quality. James reckons he lives in paradise, with Nabygelegen protected by the craggy snow-topped mountains and his home looking out on an idyllic lake, perfect for tasting wines at sunset. He makes an outstanding chenin blanc, priced at £4.30, and tells visitors that, "this grape was planted initially to make brandy, but over time it has adapted to our climate and soil and can now be considered an authentic South African variety."
• Bovlei Division Road, Wellington, +27 21 8737534, 
nabygelegen.co.za
Adi Badenhorst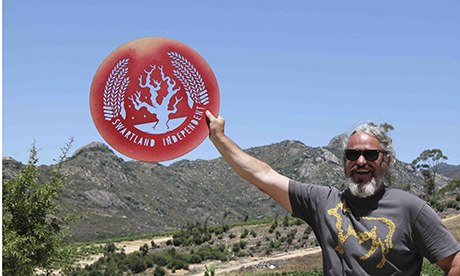 Winemaker Adi Badenhorst. Photograph: John BruntonFor a completely different experience in Cape wine tourism be sure to visit the Swartland, a region previously known for its wheat production, where a new generation of maverick vignerons are breaking down traditions. Book an unforgettable visit with the charismatic Adi Badenhorst, a founder of both the 
Swartland Revolution, 
a wild annual wine festival, and the Swartland Independent Producers Association. Don't expect the usual elegant tasting room – there isn't one – as Adi starts opening bottles from a battered old fridge in his garage cellar, while putting 1970s soul on his vintage turntable. He bought the 30-hectare estate in 2007, for one main reason: "the vines date back to the 1950s, and are what we call bush vines, free-standing, low off the ground – they look so funky and make great wines!" He creates mainly red and white blends of different grapes – more like an alchemist than winemaker– and regularly releases a Funky White – this year something similar to a vin jaune from the Jura, while in the cellar he is experimenting with a natural no-sulphur "orange wine", using the muscat de frontignan grape. He already brews his own beer and future projects involve sherry and brandy.
• Kalmoesfontein Farm, Jakkalsfontein Road, Malmesbury, +27 82 3735038, 
aabadenhorst.com
Tokara
Young vines at Tokara. Photograph: John BruntonNo trip to the Cape vineyards can miss out on Stellenbosch, the unofficial capital of wine tourism, home to the university where future South African winemakers study and the nation's most famous grape, pinotage, a unique cross of Burgundy's pinot noir with Châteauneuf-du-Pape's cinsault, or hermitage, was created in 1925. For a taste of tradition – and great pinotage vintages – stop off at an historic, traditional estate, such as 
Kanonkop
. But if you only choose one winery, then Tokara is the future for this region. To begin with, wine tastings are free (almost unheard of in Stellenbosch); the modern cellar features startling avant-garde art and architecture; and dynamic oenologist Miles Mossop makes refreshing, modern wines. Sadly the majority of Tokara's pinotage vines were destroyed recently in a fire, but be sure to try the powerful syrah and the outstanding sauvignon blanc. There is a casual deli and gourmet restaurant by the tasting room, and this is also the place to try fruity South African olive oil, as the farm has 60 hectares of olive groves.
• Helshoogte Road, Stellenbosch, +27 21 8085900, 
tokara.co.za
The trip was provided by South African Tourism. For more information, see southafrica.net and wine.co.za.badem